Why is Apple CarPlay Not Working in My Car? [Solved]
OGG Vorbis, or OGG, is an excellent open-source file type for audio compression. This format is accessible to anyone for free and can compress files much smaller than other audio formats. However, despite being an open-source format with a smaller size, OGG has a drawback. Some of the hardware creators don't like OGG. Some Operating Systems, Safari, and Adobe Flash Player, don't support OGG. On the other hand, some audio file formats are supported by almost all platforms, like MP3. In that case, if OGG is not playable on some platforms, it is better to convert OGG to MP3. Luckily, the post will introduce you to numerous OGG to MP3 converters you can use online and offline. Read the article to discover various software to convert OGG to MP3.

Part 1. Reasons Why CarPlay Is Not Working on Car and Phone
Why is Apple CarPlay not working? There are several reasons why this car system device won't work. In this part, we will show you why this problem persists on both your car and your phone.
Why the CarPlay Does Not Work in the Vehicle
• If the device is not compatible with your car and your phone.
• If CarPlay's physical wires, including the USB connection, are defective or damaged.
• When there is a software glitch in the infotainment system.
• When there is an update on your car manufacturer's end.
• When your CarPlay has a loose connector and USB port.
• If there are certain settings or security apps that interfere with the system.
Why Does the CarPlay App Not Work on the Phone?
• When there is an Apple CarPlay update.
• If your phone restrictions settings are restricting CarPlay.
• When our Bluetooth is interfering with your car system device.
Part 2. 8 Solutions to Fix CarPlay When Not Working
1. Ensure the Configuration of CarPlay on Your Phone
Before starting, make sure that your infotainment device is enabled and configured correctly. It's important to note that even if you've already configured it, it may occasionally get switched off accidentally
Step 1Go to your Settings app, tap the General tab, and tap the CarPlay button.
Step 2Go to the My Cars section and pair both devices.
Step 3Then, go to the Content & Privacy Restrictions to enable the CarPlay.
2. Allow CarPlay Even When Your iPhone is Locked
Another important setting you need to enable is allowing the CarPlay to work even without a passcode.
Step 1Go to the General menu in your Settings app and tap the CarPlay button.
Step 2Choose your connected car.
Step 3Then, toggle the Allow CarPlay While Locked option on the next screen.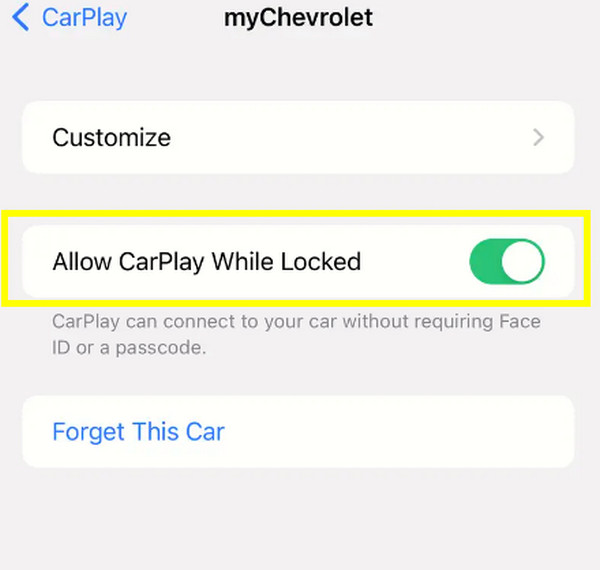 3. Enable Siri
With the help of Siri, Apple CarPlay can work. It helps your car device to work properly to fix complications.
Step 1Press the side button of your iPhone to access Siri.
Step 2Or, press the Home button if your iPhone has it, and activate Siri.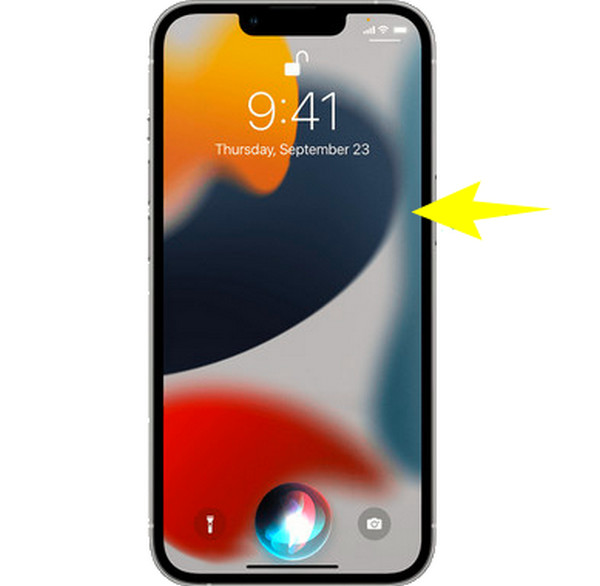 Once you've solved the problem, relax yourself and check the funny stuffs you can ask about the Siri on your iPhone.
Further Reading
Funny Things to Ask Siri for a Hilarious Response
4. Change the USB Cable
Try to change the USB cable wire you are currently using, for it might be the wires malfunctioning, which is why Apple CarPlay stopped working. This can only work on the CarPlay that is not connected wirelessly.
5. Restart Your iPhone and CarPlay
Restarting your device can stem from issues and glitches in your system. Thus, restarting both can ensure you a new beginning.
Restart the iPhone
Step 1Press and hold the power button with one of the volume buttons.
Step 2Then, pull the prompted slider, and wait till your phone shuts down.
Step 3Once it is done, wait for a couple of seconds, then you may turn it on.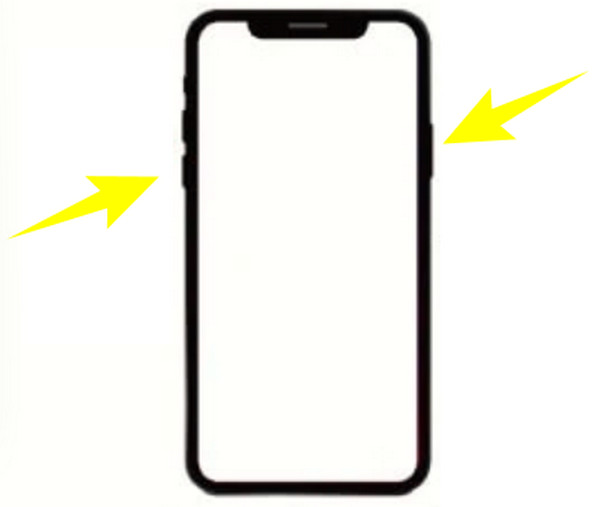 Note: To restart your Apple CarPlay, you may rely on its user manual, as it provides you with the steps to restart it. Moreover, restarting has always been an ultimate solution to fix all kinds of issues on iPhone. Stuck screen? Restart it! The iTunes won't play music? Restart the iPhone!
6. Re-Start Your Bluetooth
As mentioned above, one reason why Apple CarPlay keeps on disconnecting is because of the interfering Bluetooth connection. Therefore, you can try to restart the Bluetooth on your phone by toggling it on and off.
Step 1In your iPhone Setting app, tap the Bluetooth tab menu.
Step 2On the next screen, toggle the Bluetooth off.
Step 3Wait for a few seconds before you toggle it on again.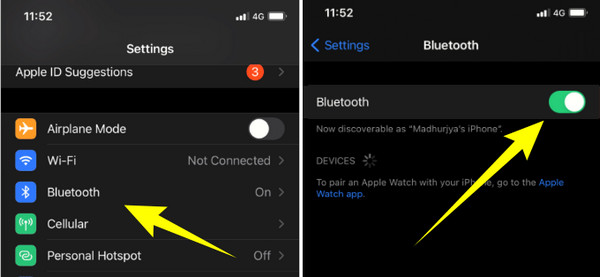 7. Reset Your Network Settings
Networks-related settings can hamper the connection between your iPhone and CarPlay. Now, to fix the crash and errors brought by your existing network settings, you can reset the network settings by following the steps below.
Step 1On your iPhone Settings app, go to the General tab.
Step 2Find and tap the Reset button that is somewhere at the bottom-most part of the screen.
Step 3On the next screen, tap the Reset Network Settings button, and wait till your phone finishes rebooting itself.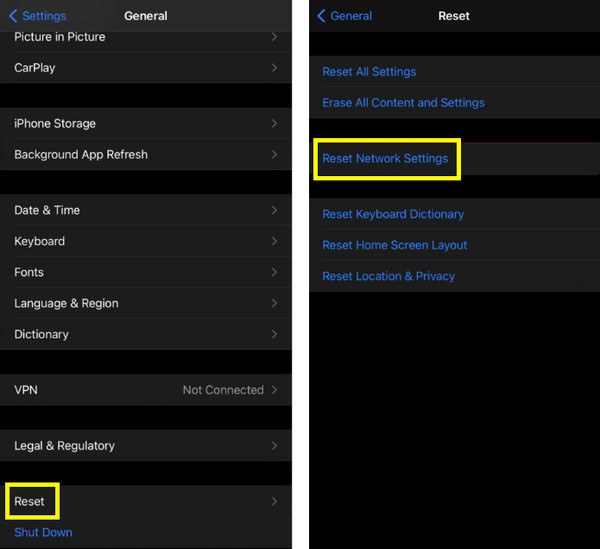 8. Turn Off the USB Restriction Mode
This restriction mode on your iPhone is one of the protection mechanisms of Apple. When this mode is turned on, it automatically disables the data links via a USB, causing Apple CarPlay to black screen and other issues.
Step 1Tap the Face ID & Passcode or the Touch ID & Passcode from the Settings app.
Step 2Enter your passcode on the prompted screen, then set it to allow access.
Step 3Reach the USB Accessories button, and slide it to the left to turn it off.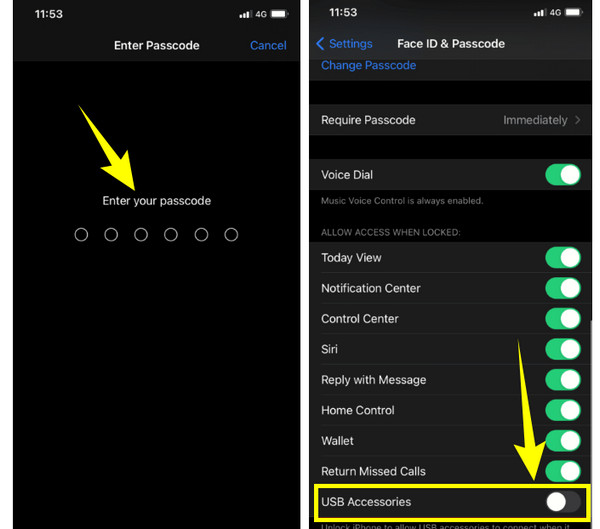 Tipard Video Converter Ultimate
For your video and music conversion that will produce high-quality Apple-supported formats, Tipard Video Converter Ultimate is the best help. It will surely bring out the best in your favorite files, allowing you to edit them like a pro before or after its ultrafast conversion process. Transform your media files into more than 500 various formats, and enjoy them on your iPhone or CarPlay.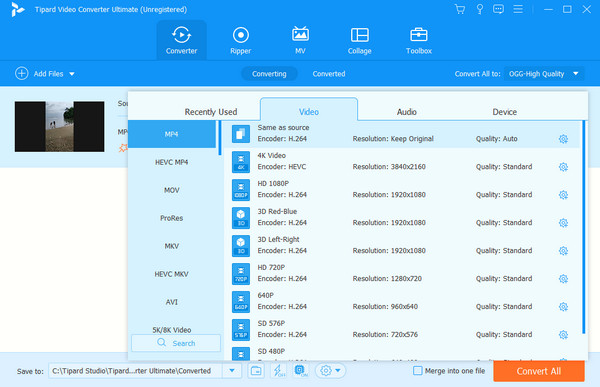 Part 3. FAQs About Apple CarPlay
Does Apple CarPlay only work when the phone is plugged in?
No. CarPlays also comes with a wireless connection, allowing you to connect your phone via Bluetooth.
Why won't my iPhone connect to my car with USB?
There might be a problem with your USB port and wire. Otherwise, check if the USB restriction mode is turned on from your Settings app.
Why is CarPlay not showing in Settings iOS 15?
Check if CarPlay is not restricted on your iOS 15. Also, consider that your iPhone may not be compatible with your CarPlay.
Will Apple ever update CarPlay?
Yes. There has been an update for the new version of CarPlay, that will be presented for iOS 16. The said update will a greater customization to the infotainment system.
Does iOS 17 change CarPlay?
Yes. It has a newer interface for its messaging app.
Conclusion
When your Apple CarPlay is not working, you must first trace the root of the problem. Fortunately, this article has given you the potential reasons for acquiring this problem, and with that, practical solutions are also given. If you find this post beneficial, you may share it with your friends. Also, try the Tipard Video Converter Ultimate for your multimedia conversion tasks, as it gives you a 60 faster conversion speed that will leave you in awe.