HIEC Viewers: How to Easily View HEIC Files on Android and Windows
HEIC is a photo format adopted by the latest iOS devices. This file format is popular for having high quality maintained in a compressed image. However, this HEIC format has the limitation of being viewed and supported by Apple devices only, which means incompatibility with other non-Apple devices. It is why Android and Windows-based computers have trouble opening and sharing the said files. There may be a good solution: a conversion to another more compatible format, but sometimes that solution won't work for all. Therefore, a HEIC viewer is what we know works for all.
Thus, allow this post to present and discuss the best programs that cater to your HEIC files. So, without further adieu, let's begin the presentation by reading the information below.

Part 1. Top 2 HEIC Viewers on Android
Since HEIC is a native photo format for iPhones and isn't supported by Android, then you must know about the 2 listed Android HEIC viewers below.
Google Photos
Google Photos is multimedia storage that is based on the cloud. It is a management service developed by Google, allowing you to organize, store, and share photos in various formats and make movies and video files across various devices. To ensure that your precious files are preserved even if the phone is lost or damaged, Google Photos enables you to upload media and automatically backup them from connected devices of your Google account. Furthermore, this program employs advanced technology to recognize your photos easily. It enables you to search for your HEIC photos using keywords, people's faces, and objects.
Moreover, this cloud service of Google provides tools and features for basic editing of photos, including a cropper, brightness adjuster, and filter applier. Meanwhile, when facilitating sharing, HEIC image viewer allows you to share your created albums with others via inviting people or direct links to collaborate on the albums shared.
Features:
• Support for various formats, including HEIC photos.
• Back up and sync files automatically.
• Unlimited storage.
• It organizes the albums easily.
• Sharing photos made it easier.
• Offline access.
• Google lens integration.
Dropbox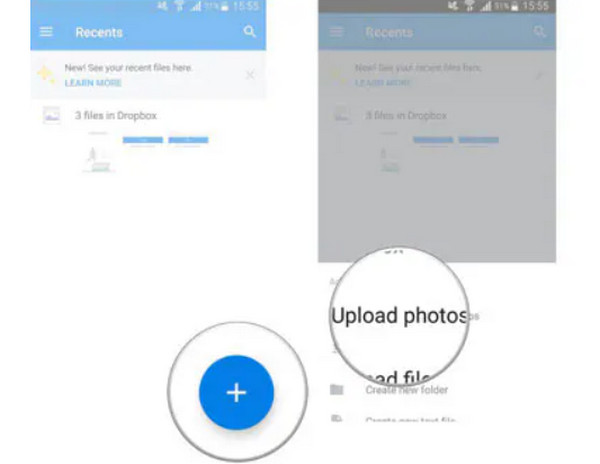 This Dropbox is another cloud-based storage that enables you to open and share your HEIC photos. Dropbox lets you enjoy its synchronization service, enabling users to store, open, and share photos and data files across different devices like Google Photos does. Furthermore, this program also offers an app for your Android and other platforms, allowing you not only to upload but manage and organize different types of files, such as documents, videos, and of course, photos. Additionally, it comes with features such as automatic camera uploads, collaborative sharing, and offline access, making it another good choice for backing up the iPhone photos without iTunes. Also, this HEIC file viewer provides a seamless way to maintain a convenient device flow for files where you can collaborate with others while serving the files as a backup solution to secure the data and access it anywhere as long you have an internet connection.
Features:
• Automatic camera upload.
• Built-in file viewer.
• Encryption security for files.
• Compatibility for cross-platform.
• Storage plans upgrades.
• Document scanning.
• Encryption security.
Bonus: Unique Yet Dominant Way to Open HEIC on Any Android
Please note that even the apps to view HEIC files have limitations. As mentioned in the introduction, another way to enjoy viewing and sharing such files is by converting them to a more suitable format like the JPG. That being said, allow us to present to you the perfect program that will enable you to convert your HEIC while maintaining its compression and quality.
Tipar Video Converter Ultimate
With Tipard Video Converter Ultimate, you can convert your bulk HEIC photos to a format supported by your Android phone, like JPG, PNG, BMP, and more. This computer program is capable enough to produce and provide you with good-quality photos to view on your device. With it, you can grab your HEIC from your cloud storage, convert them, and bring them back to your phone. Furthermore, it offers advanced acceleration technology for your hardware and GPU to help you convert bulk HEIC files with a 60× speed.
You can be sure about its capability to handle HEIC photos since the Image Converter within its Toolbox will do the job. This powerful tool lets you choose your desired output formats, including JPG, MPB, PNG, TIFF, WEBP, TIF, and DDS. Aside from that, it also allows you to adjust the quality and zoom it in or out as you wish.
Features:
• Batch conversion.
• 60x faster conversion speed.
• Numerous photo format support.
• Powerful features and editing tools are available.
Step 1Grab the HEIC photos and prepare for the conversion. On the program's interface, go to the Toolbox and click the Image Converter tool. Then, on the next window, upload the HEIC files by clicking the Plus button.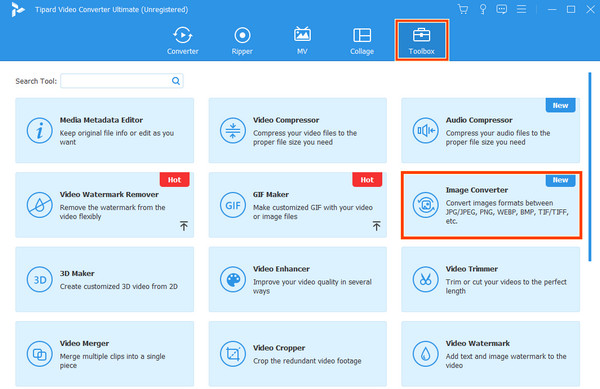 Step 2When the photos are uploaded, set them to your desired output format by clicking the drop-down arrow of the Convert All To section.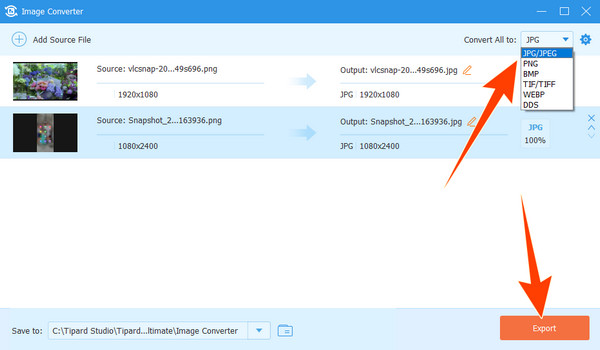 Step 3After that, click the Export button to save the new files.
Note: Once you save the converted photos, you can now transfer them to your Android for viewing.
Part 2. 4 Best HEIC Viewers on Windows 10/11
HEIC Image Viewer: Open PNG, JPG, and more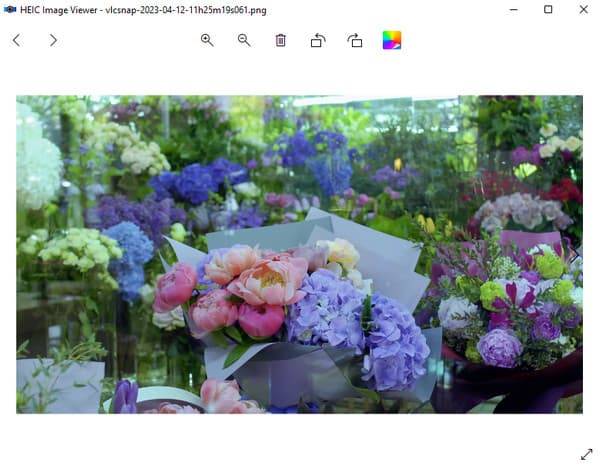 First on the list is this HEIC Image Viewer that you can get from the Windows Store. It is the HEIC viewer for Windows 10, and later can also be used to open HEIF images aside from the PNG and JPG image files. It is also available on mobile, Surface Hub, HoloLens, and of course, on PC. Furthermore, it comes with a neat and minimalist interface because it is a dedicated viewer of photos and videos. Meanwhile, while viewing your HEIC photos with it, you are free to rotate them according to your preferred orientation. You can also zoom in and out of the photos if you want.
Features:
• Minimalist interface.
• Rotate photos at 360 degrees.
• Zoom in and zoom out feature.
• Wallpaper integrations.
Real HEIC File Viewer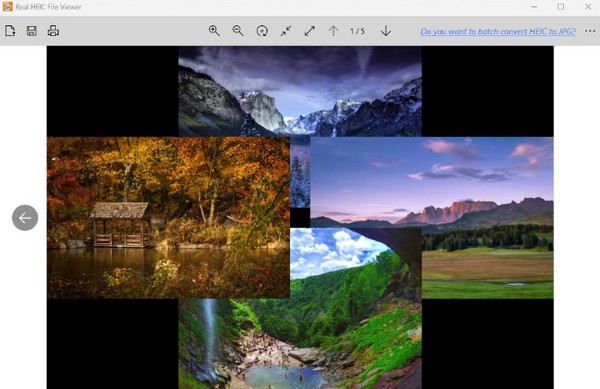 This Real HEIC File Viewer is a fast and simple program that can open, view, and save your HEIC photos into various photo formats like JPG, PNG, and BMP. With this HEIC photo viewer, you can already view all of your saved photos continuously by just opening one photo. When it comes to its supported input formats, you can be confident to open raw formats and others, including 3FR, ICO, MIF, NEF, PCX, PSD, SFW, SVG, TIFF, WMF, TIFF, TAG, CR2, GIF, and many more.
Features:
• Direct photo viewing on your PC.
• Convert photos through saving.
• Raw format viewer.
• HEIC print.
Microsoft Photos Software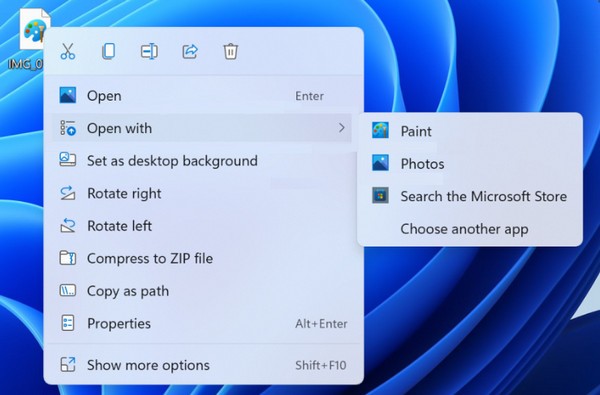 If you use a desktop that runs a Windows 11 OS, then you can use the built-in Photos app to open your HEIC files. Actually, this app doesn't have the compatibility of HEIC files by default, but if you select the app from the menu, then you can try to open an HEIC photo transferred from your iPhone to the computer. Once you open a HEIC file, you must click the button that says to download and install it now. This way, the HEVC extension will display and lets you open your HEIC files successfully.
Features:
• Microsoft extensions integrations.
• Free usability.
• No need to install it.
• Opens regular photo formats.
IrfanView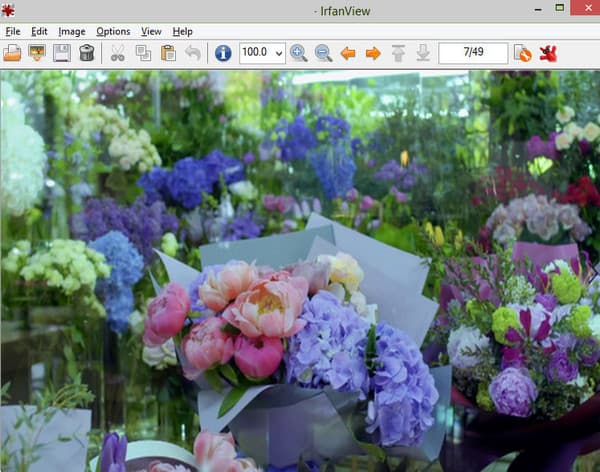 Here is a generous program that you can install on your desktop. IrfanView is a software that was designed to be a simple solution for beginners and yet a powerful tool for professionals. This program claims to be the first desktop graphic viewer worldwide supporting various animated or GIFs. As a matter of fact, it was the first graphic viewer that supports Multipage TIF and multiple ICO. Meanwhile, it is also one of the chosen HEIC viewers for Windows 11, 10, and earlier.
Features:
• Multi-language support.
• Toolbar skins selections.
• Conversion functions with batch support.
• Rotate, crop, and change the date of HEIC photos.
Part 3. FAQs About HEIC Viewers
Can Windows 11 open a HEIC photo by default?
It is because Windows 11 and the other OS do not have built-in support for HEIC photos since this file is a recent format developed by Apple.
Why can I not view HEIC images on my iPhone?
There are different reasons why. You may want to consider the version of the iPhone you use because older iPhone models do not have compatibility with HEIC.
Is there any online HEIC viewer?
Yes. Many online programs will enable you to view HEIC images, such as iMobile HEIC Converter.
Is there a free HEIC viewer?
Yes. Most of the built-in HEIC viewers on iPhone are free to use.
Why do my photos become HEIC instead of JPG on iPhone?
This is because the default image format on the latest iPhones has been changed from JPG to HEIC.
Conclusion
There you go, the 6 best HEIC Viewers for your Windows and Android devices. Hope you may be able to try all of them and see which will fit your device. On the other hand, if you want a convenient image converter, then the Tipard Video Converter Ultimate is the ultimate choice.