14 Best GIF Compressor Applications You Should Not Miss
GIFs or Graphic Interchangeable Format has become a widely-used image format on the internet. Although it is smaller than a video file, the GIF is still very large. It takes time to load a web page or social media page if there are several GIFs. Moreover, all social media platforms have file size limit. That makes GIF compressors an important tool for every internet user. Fortunately, you can learn a top list for Windows, Mac, iPhone and Android users.

Part 1: Top 5 GIF Compressors on Desktop
Top 1: Tipard Video Converter Ultimate
As a customer GIF compressor, Tipard Video Converter Ultimate can meet all your need to shrink a GIF file size. More importantly, the software is pretty easy to use and does not require any technical skills.
Pros
1. Compress a GIF or GIFs by cropping and cutting.
2. Equip a user-friendly interface.
3. Protect the quality as much as possible.
4. Create GIFs from video clips.
5. Include bonus features, like GIF converting.
Cons
1. After the free-trial, you have to purchase a license.
Top 2: PhotoScape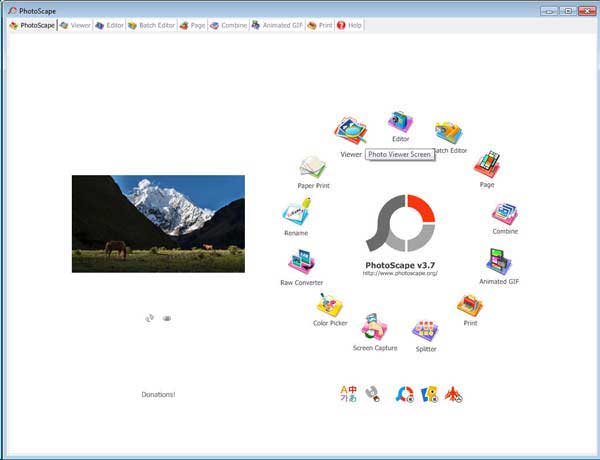 As its name indicated, PhotoScape is a photo solution for PC and Mac users to edit and convert images. It was released by a Korean software company. The software also includes a GIF compressor to make animated GIFs smaller.
Pros
1. Include a wide range of features.
2. Compress a GIF image efficiently.
3. Support plenty of image formats.
4. Batch edit GIFs.
Cons
1. It only supports lossy GIF compressing.
2. The GIF editing features must be improving
Top 3: RIOT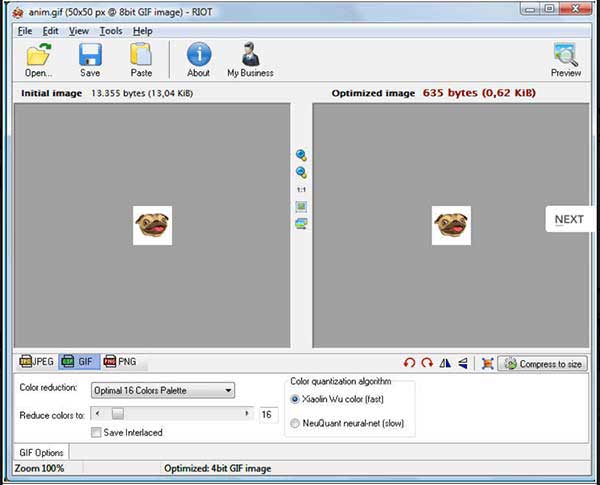 The full name of RIOT is Radical Image Optimization Tool. It is a free GIF compressor. Besides, it supports a variety of image formats, like PNG, JPG, PSD, RAW, etc. You can compress a GIF file to a specific size.
Pros
1. Free to use.
2. Compress GIFs by reducing color.
3. Preview the output.
4. Support all image types.
Cons
1. It installs third-party software, so you must be careful.
2. The setting process is not very smooth.
Top 4: Moo0 Image Sizer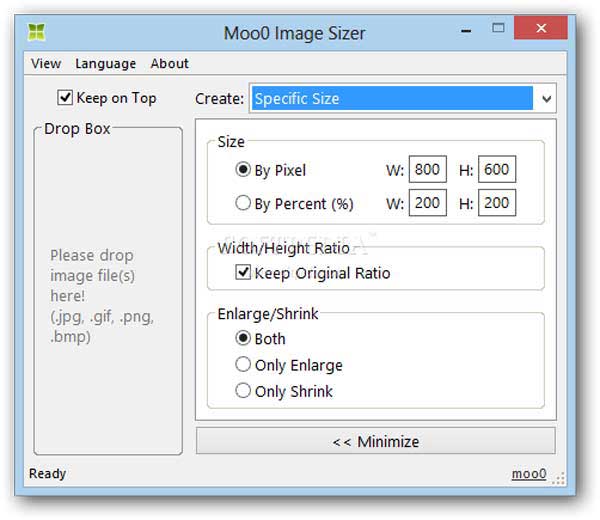 Moo0 Image Sizer is a tiny GIF compressor program for PCs. It allows you to resize GIF images in a snap. All you need to do is dragging the image into the software and it will work as you wish.
Pros
1. Available in multiple languages.
2. Compress GIFs to a variety of size.
3. Free of charge.
4. Convert image formats.
Cons
1. The interface looks outdated.
2. It is still not compatible with macOS.
Top 5: GIF Optimizer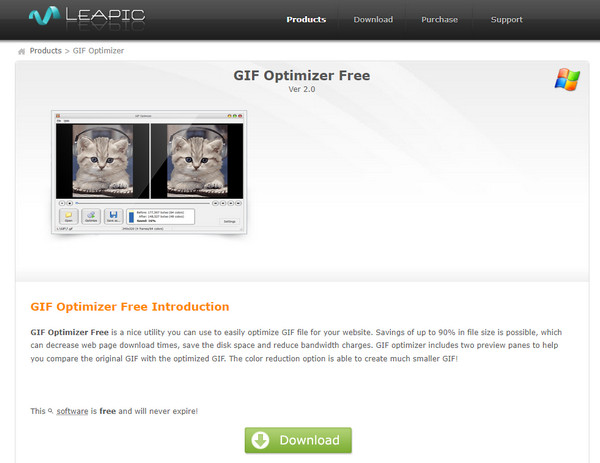 GIF Optimizer is another nice GIF compressor you can use to optimize your GIF file size for websites or social media. According to the developer, the software can save of up to 90% in file size.
Pros
1. Compress GIFs for free.
2. Reduce color with presets or manually.
3. Offer custom options.
4. Compare the original and compressed GIF.
Cons
1. It is not available to PCs.
2. The software has not been updated for years.
Part 2: Top 3 GIF Compressors Online
Top 1: Aiseesoft Free Image Compressor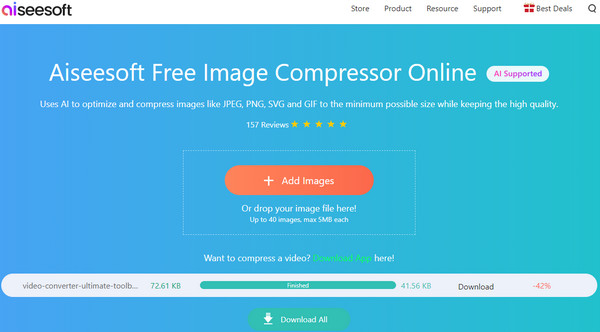 If you do not like desktop GIF compressor software, Aiseesoft Free Image Compressor is a nice alternative solution. As an online app, it enables you to compress animated GIF images without installing anything.
Pros
1. Compress GIFs online in almost all browsers.
2. Totally free of charge.
3. Batch process up to 40 GIFs per time.
4. No watermark, registration, or other limit.
Cons
1. The maximum file size is 5MB each.
2. It lacks the GIF editing features.
Top 2: EZGIF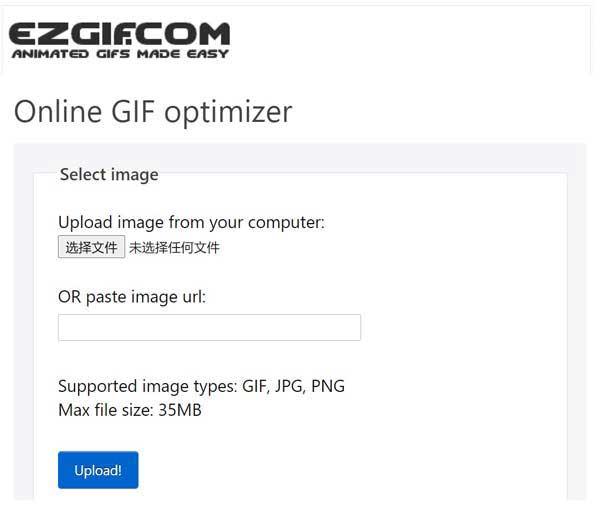 EZGIF is a popular GIF solution online. Many vloggers and social media users process their images before posting. Although there are restrictions, everyone can use the app with a browser for free.
Pros
1. Compress an animated GIF for free.
2. Work online and not installation.
3. Support GIF, PNG, and JPG.
4. Create a GIF from a video.
Cons
1. The GIF compressor online can only process a GIF per time.
2. The maximum file size is 35MB.
Top 3: GIF Compressor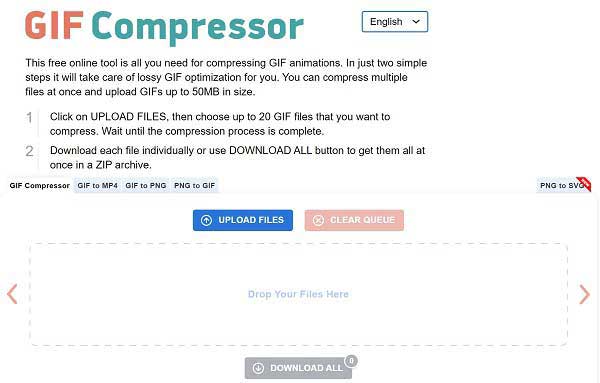 It makes sense that people prefer to web-based apps, such as GIF Compressor. It promises to delete your GIF images in one hour after compressing. That makes it a safe choice to produce smaller image file size.
Pros
1. Compress up to 20 GIFs per time.
2. Convert GIFs to MP4, PNG, and more.
3. Get what you want without installing.
4. Available in a variety of languages.
Cons
1. The maximum file size is 50MB in all.
2. There is no custom option at all.
Part 3: Top 3 GIF Compressor Apps on Android
Top 1: GIF Mini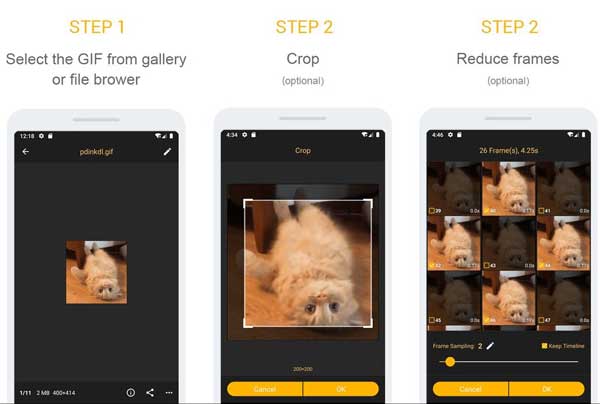 GIF Mini is a one-step GIF compressor app for Android 4.1 and above. It allows you to use the features for free by viewing ads. In addition, you can find some bonus features related to GIF editing and retouching.
Pros
1. Scale down the GIF image size.
2. Crop a GIF or remove unwanted frames.
3. Adjust the speed or add text to a GIF.
4. Lightweight and work well on old phones.
Cons
1. Some users reported that the app was not available.
2. It cannot create GIFs.
Top 2: Super High Definition GIF Editor - Crop And Resize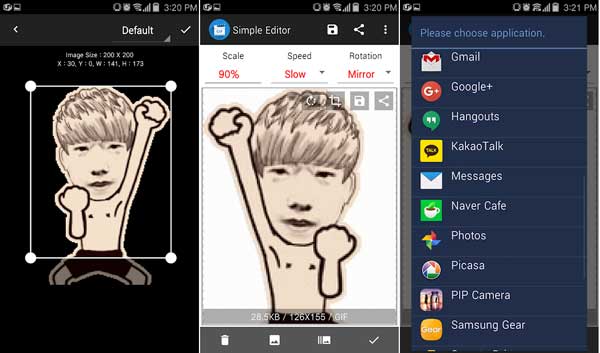 Super High Definition GIF Editor is a GIF compressor app released by a Korean developer. It is a simple way to edit and compress a GIF image on Android smartphones for beginners and average people.
Pros
1. Reduce a GIF file size.
2. Adjust the dimensions, speed, and more.
3. Rotate a GIF for fun.
4. Crop, merge or converter a GIF.
Cons
1. It is only available in English.
2. The interface seems to need improving.
Top 3: Photo Compress 2.0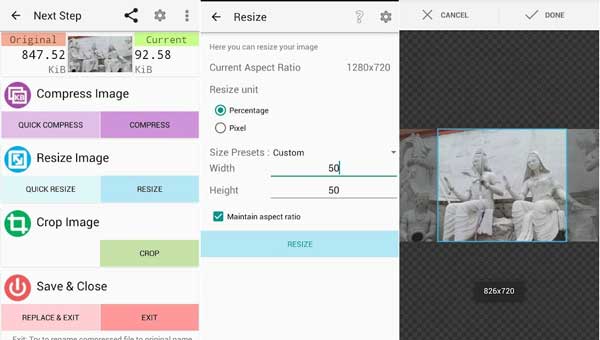 Compressing a GIF image is not as difficult as you though if you have the right tool, such as Photo Compress 2.0. It enables you to compress a GIF image on Android 3.2 and later without a computer easily.
Pros
1. Compress, resize, or crop a GIF.
2. Process multiple images at one time.
3. Let you decide the output quality.
4. See preview after compressing.
Cons
1. It requires too many permissions.
2. There is image rotation issue.
Part 4: Top 3 GIF Compressor Apps on iPhone
Top 1: GIPHY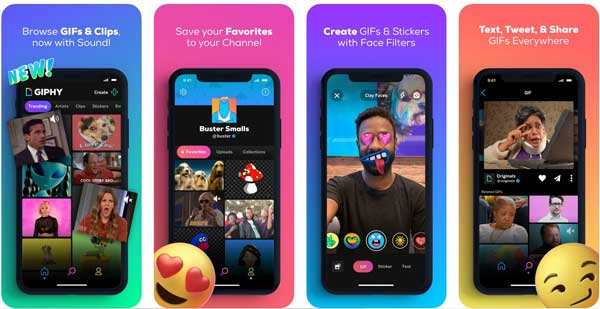 GIPHY is not only a GIF compressor app for iPhone and Android devices, but also a GIF community. You can find oceans of animated content or make and edit your own GIF images easily.
Pros
1. Compress a GIF by trimming.
2. Completely free to use.
3. Include tons of GIF stickers and images.
4. Keep the animation while editing.
Cons
1. It is only available to iOS 13 and later.
2. It cannot resize your GIF images.
Top 2: GIF Maker - ImgPlay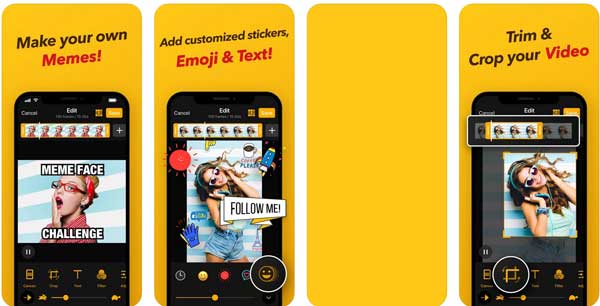 ImgPlay is the all-in-one GIF compressor app for iPhone users with iOS 12.0 and above. It can generate a GIF from a video on iPhone without computer and then edit or decorate it directly.
Pros
1. Make GIFs from videos on mobile.
2. Crop, trim and resize your GIFs.
3. Add stickers, texts and other elements to GIFs.
4. Share your GIFs to social media, like Instagram.
Cons
1. The advanced features require extra payment.
2. It is large and takes space.
Top 3: Kompressor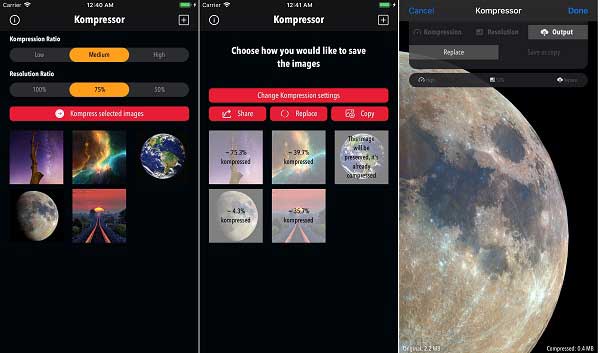 Kompressor is a paid GIF compressor app for iPhone users. It is able to compress a GIF up to 80% size of the original image, if you pay for $0.99 to buy it from your App Store on iOS device.
Pros
1. Provide compression ratios and resizing ratios.
2. Save compressed GIFs as new files.
3. Support batch compressing.
4. Offer an extension to the Photos app.
Cons
1. It is not free.
2. The languages supported are limited.
Part 5: How to Compress a GIF
To help you understand how to compress a GIF, we explain how to create an animated GIF image from a video clip and compress the GIF file size at the same time using one of the best GIF compressor, Tipard Video Converter Ultimate.
Step 1 Open a video
Launch the best GIF compressor as long as you install it on your PC. There is another version for Mac. Go to the Toolbox window from the top ribbon and choose the GIF Maker. Now, click the + icon in the Video to GIF section and open the target video. If you intend to make a GIF from a photo series, click the + icon in the Photo to GIF area.
Step 2 Compress the GIF
After loading, you will be presented with the main interface. To compress the GIF by trimming, click the Cut button, and then remove unwanted clips. The maximum duration of a GIF is 15 seconds. The shorter the GIF, the smaller the file size.
Plus, you can crop the GIF to compress it further. Click the Edit button to open it in the editor window. Next, go to the Rotate & Crop tab, and adjust the cropping box until you are satisfied. Click the OK button to confirm it.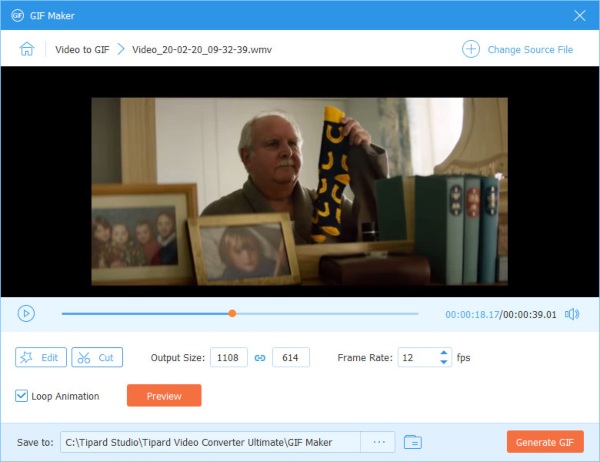 Step 3 Export the GIF
Click the Preview button and view the GIF with the built-in media player. You can compress the GIF by downscale the Output Side and Frame Rate. Set the output folder in the Save to box by hitting the Folder button. Finally, click on the Generate GIF button.
Related:
Part 6: FAQs about GIF Compressor
Is the online GIF compressor safe?
Most online GIF compressor apps promise to delete your GIF images after compressing. Therefore, they are safe to use. However, we suggest you not to upload private images on the internet in order to prevent from data leak.
Can I make a GIF smaller without losing quality?
It is difficult to keep the original quality when compressing a GIF. To get the good image quality, you'd better use a GIF with high quality. Plus, the GIF compressor tool that you are using almost determines the image quality. That is why you should read our list above.
What is a typical file size for a GIF?
With animated GIFs, the file size is equal to the resolution times the frames. For example, a GIF of 800 pixels high x 800 pixels wide x 100 frames. Then the file size is 64,000,000 bytes or 64MB. You can get the file size according to your GIF image easily.
Conclusion
This article has identified and shared top 14 best GIF compressors on Windows, Mac, online, iPhone and Android. You can pick an appropriate tool according to your condition. Tipard Video Converter Ultimate is the best option if you mind about the output quality. If you have other questions or suggestions about this topic, please feel free to leave a message below this post.