How to Create Pixel Art GIF Using the 3 Best Tools on Computer
Creating a GIF can use various images and videos from your device. And if you want it to be attractive, you must create one creatively. One way of making it creative is turning them into a pixel GIF which everybody thinks is difficult to do. On the other hand, many are being inspired to make their own as it is part of the trend. And you know it only takes a proper amount of strategy to succeed in making one. Fortunately, this article can be your first step in that strategy, as it outlines the best tools to use with simplified steps to follow. So, without further adieu, let's get it on by reading the content below immediately.

Part 1. What Precisely is Pixel GIF
Before we proceed to comprehend how to create pixel art GIFs, let's first take a leap of learning about it. This kind of GIF or Graphics Interchange Format is an animated image that uses pixelated graphics or art. Wherein pixel art refers to digital art created with small square-shaped pixels that appear to be nostalgic or retro.
Furthermore, in the context of this GIF, the pixel animation has a sequence of frames that depicts various arrangements of pixels that create an illusion of change or movement. In addition, these pixels' gifts are usually limited in resolution and color palette, intentionally emulating an aesthetic video game or even the earlier games' vibes.
Part 2. 3 Best Ways on How to Make a Pixel GIF
1. Tipard Video Converter Ultimate
If you are seeking multifunctional software that will enable you to do various video editing tasks, then try this Tipard Video Converter Ultimate. It is software that works with various types of media files, including GIFs. As a matter of fact, this program comes with a GIF maker where you are also allowed to customize it according to your desired design. Furthermore, it offers tons of filters, themes, and other settings options to help you achieve the animated pixel GIFs you want. You will be glad to see how wide the filter options are, where you can use an aesthetic to colorful filter that includes the pixel option that will make your GIF pixelated. Aside from that, there are also the basic effect options on the side, allowing you to adjust the contrast, saturation, hue, and brightness accordingly.
Another reason for you to choose this wonderful software is because of its simple and easy-to-manage interface that gives you a rapid process even if you are a novice to it. Plus, it is full of advanced technologies that empower it even more, such as GPU acceleration, Artificial Intelligence, Intel, Dolby, and many more to mention.
How to Create Pixel Art GIF Easily
Step 1Start by clicking the Download buttons below to grab the software on your computer. Install the tool by following the prompt shown after.
Step 2Cast the software after the quick installation process. Then, once the program's interface is shown in front of you, click the Plus sign to get the GIFs you need to pixelate in. Please note that you can upload countless numbers of files when uploading GIF files.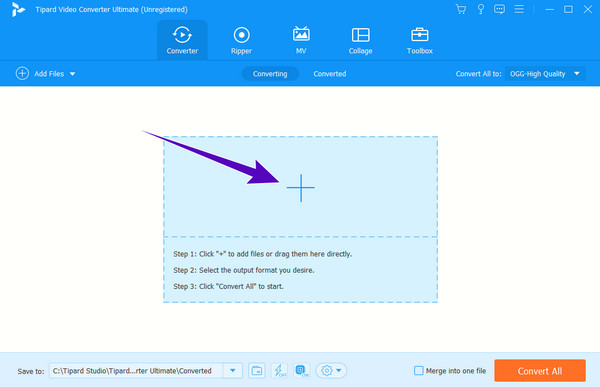 Step 3Next is to click the Star icon under the uploaded GIF to enter the editing window. On that window, hit the Effects & Filter tab menu, and look for the Pixelate option to select. Then, apply the changes by clicking the OK button.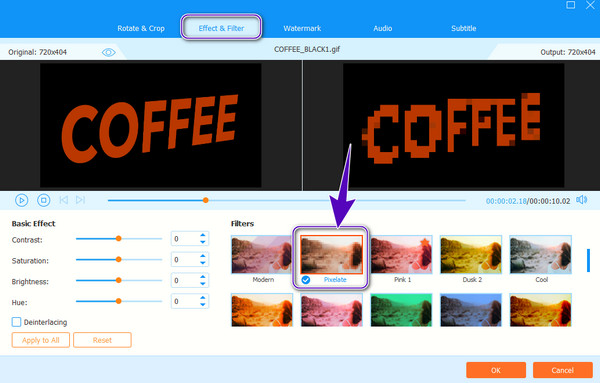 Step 4Finally, click the Convert All button to save your edited GIF.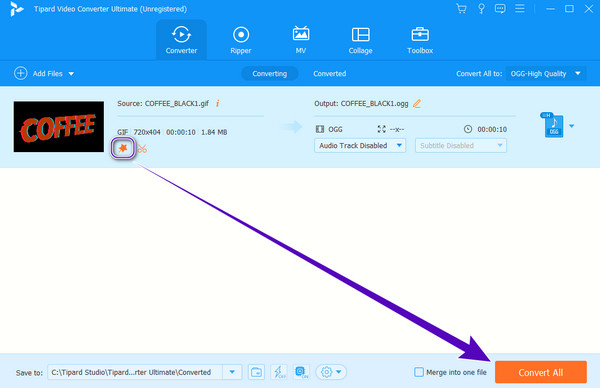 2. Wondershare Filmora
Another software that will help you make a pixel GIF is the Filmora of Wondershare. It is a video editing program that offers an extensive option of tools and features that are categorized as elements, effects, transitions, split screen, titles, and many more. Furthermore, it also comes with tons of filters where its pixelate animation lies for your GIFs. In addition, this tool, similar to the first one, also allows you to share your output online. And so, if you wish to use Filmora for your GIF task, then here are the steps to follow.
How to Use Filmora on Pixelating GIFs
Step 1Open the software, and click the New Project to see the Import tab menu. Once you click the tab, upload the GIF you need to pixelate.
Step 2When the GIF is on the timeline, go to the Filters and choose the Gamers option. Then, click on Pixelate 1. Once you pick that option, drag it to your GIF.
Step 3After that, click on the Export button to save your edited GIF. And that's how to make a pixel GIF with Filmora.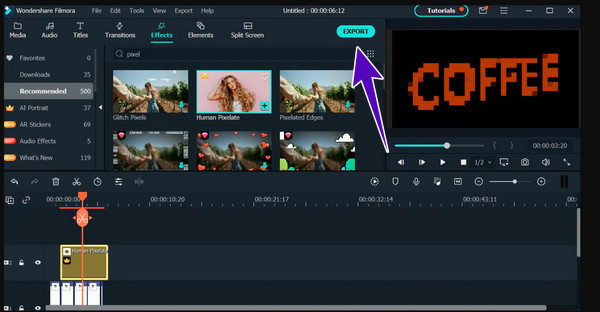 3. GIPHY's GIF Maker
Lastly, here is GIPHY's GIF Maker. It is the program that enables you to create a GIF for free. Furthermore, it comes with tons of options allowing you to make your own GIFs from your existing GIFs, photos, videos, and online links. Furthermore, it allows you to trim the duration and add captions, stickers, drawings, and styles where the pixel is included. Plus, navigating is simple, so you will never be pressured to be an expert. However, this tool doesn't provide you with an option to let you set GIFs private.
Step 1Launch the GIF maker and upload the media file via the drag-and-drop procedure.
Step 2Then, you can adjust the duration of your file to make it a GIF. Then, hit the Continue to Decorate tab to go to the style.
Step 3On the next page, choose the Pixel option under the style section. And that's how to create pixel art GIF with this tool.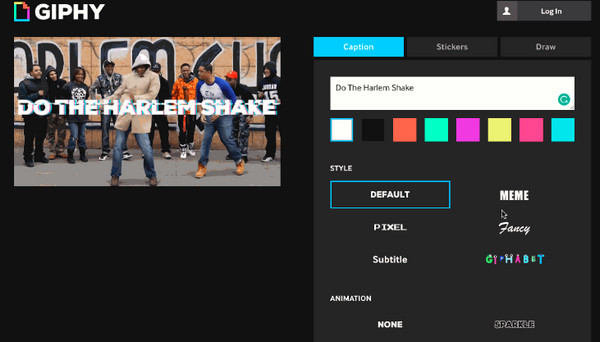 Part 3. FAQs about Pixel GIF
Can pixel GIFs be edited?
What is the advantage of making a pixelated GIF?
Making pixelated GIFs evoke an appealing charm and are also lightweight giving you an easy sharing process.
Can I use a video to create an animated GIF?
Yes, you can. You can use videos and photos to create animated GIFs.
Conclusion
Perhaps, you are now thinking about working on your pixel GIFs. But remember to acknowledge the tools that were presented here. Then, you can be more artistic in producing your own aesthetic GIF to load and share with your friends. Now, if you still do not know what to use among the programs presented, then we highly urge you to use what is placed on the top. Use the Tipard Video Converter Ultimate since it has all the best features of Filmora and GIPHY combined in one ultimate tool.