Windows DVD Maker and Best Alternatives

Many Windows computer users have heard of Windows DVD Maker. Some people even have used this DVD authoring utility. The program was developed and rolled out by Microsoft for Windows Vista. Windows 7 also included this utility. Microsoft has made many improvements on Windows 8, and now it is discontinued. The target of Windows DVD Maker is to simplify the process of staging and burning optical media on Windows Vista. As more and more advanced DVD authoring software released, the program lost the predominant position on market. In this article, we will share the review of the software and the best alternatives. You can learn multiple best solutions of DVD authoring on different platform.
Part 1. Introduction and review of Windows DVD Maker
Windows DVD Maker is still a good DVD authoring program for Windows 7 and Vista. This DVD authoring program has many useful features.
1. This DVD maker supports to create audio CD and video DVD.
2. It is compatible with most digital file formats, including various video formats. When it comes to output formats, all major DVD formats are supported.
3. Windows DVD Maker allows users to create animated DVD menus and test the menus before burning to DVD.
4. It also offers basic video editing features, such as transition effects.
5. Users could create photo slideshows for DVD burning within Windows DVD Maker.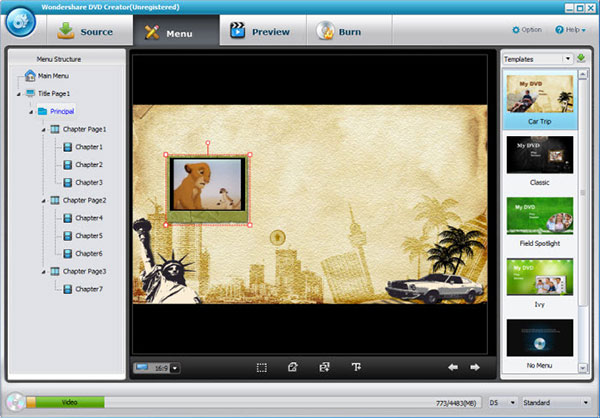 Pros
1. The Aero Wizard-style user interface is intuitive and user friendly.
2. It supports a wider range of disc formats.
3. This utility works well on Windows 7 and disc authoring speed is high.
4. It is free of charge.
Cons
1. It is only available on Windows 7 and Vista.
Part 2. The Best Alternatives for Windows DVD Maker
1. Tipard DVD Creator
Tipard DVD Creator is one of the best DVD authoring software on market. This application provides more useful features than Windows DVD Maker and produces much better output quality.
1. As Windows DVD Maker, DVD Creator supports all video and audio file formats as input source.
2. All commonly used disc formats are supported by this DVD authoring application, such as DVD-5, DVD-9, DVD-R, DVD+R, DVD-RW, DVD+RW, DVD+R DL and DVD-R DL. It also has the capacity to create ISO image and DVD folder.
3. You can make use of downloaded videos for DVD burning.
4. There are extensive templates that could help you to create custom DVD menu.
5. With Tipard DVD Creator, you can use plentiful video editing tools to trim and merge video clips, crop images, add watermark, apply effects and filters on videos.
6. This easy-to-use DVD maker has an intuitive interface and simplifies the work of DVD making.
2. DeVeDe
DeVeDe is open-source DVD making software, so everyone could use this powerful tool for free. Its useful features include:
1. Similar to Windows DVD Maker, this DVD making application could create video DVD, video CD, CVD, DIVX and other disc formats with AVI, MP4 and MPG.
2. Users could create custom menu and add subtitles for video DVD with DeVeDe.
3. It allows users to customize some parameters, such as aspect ratio, video rate, audio rate and more.
4. This DVD maker has the capacity to save the disc structure for burning later.
Pros
1. This DVD maker is totally free.
2. The output quality is great.
3. It is compatible with Windows 10 to Vista.
Cons
1. It does not offers video editing features.
2. The video format supported is limited.
3. Corel VideoStudio
VideoStudio is not only a DVD authoring application, but a powerful video editor. Its powerful features include:
1. The built-in disc burning tools could write the video and photo projects to DVD, AVCHD or other discs.
2. Compared Window DVD Maker, this DVD authoring program offers more video editing features, such as video color enhancement and over one thousand effects and filters.
3. Allows you to edit videos and audios on timelines.
4. This DVD maker has professional level audio editing features.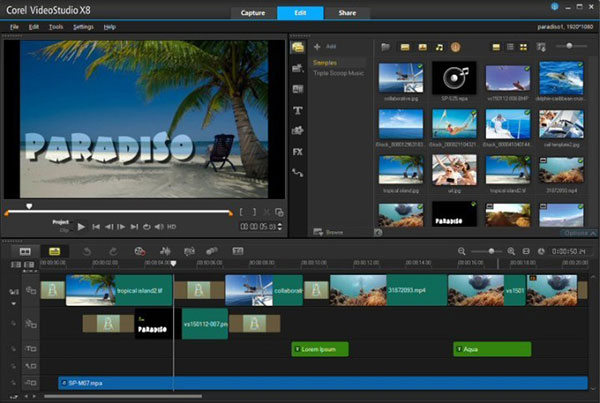 Pros
1. This Windows DVD Maker alternative supports a wider range of video formats, including 360-degree videos.
2. DVD burning speed is higher than average.
3. The output quality is good.
Cons
1. The video editing and DVD making features are complicated to beginners.
2. If you want to use the Blu-ray feature, you have to pay for an extra plug-in.
4. AnyBurn
As its name said, AnyBurn is a DVD maker that allows you to burn anything on discs. Its basic features include:
1. Create CD, DVD and Blu-ray disc with digital files and folders.
2. Burn disc image files to discs.
3. Copy a disc to a blank one in 1:1 ratio.
4. Extract ISO image from digital files or variety of discs.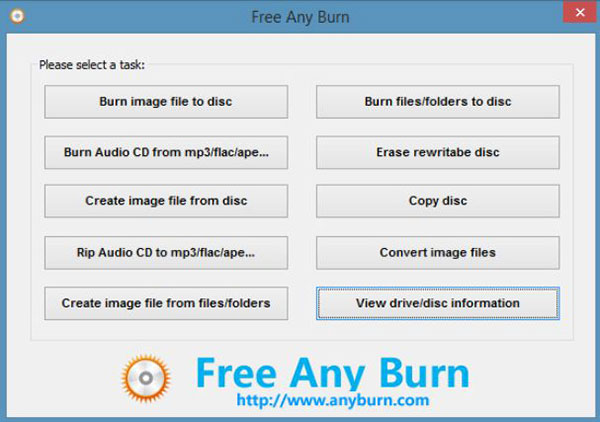 Pros
1. This Windows DVD Maker is compatible from Windows 10 to Windows 2000.
2. It is a free DVD maker.
Cons
1. It lacks some necessary features, such as video editing tools and DVD menu feature.
5. DVDStyler
DVDStyler is a cross-platform DVD authoring program available to both Windows and Mac. Its principal features include:
1. Make DVD with various video file formats, such as AVI, MOV, MP4, MPEG, OGG, WMV and more.
2. It allows you to create interactive menus with templates for DVD.
3. You can write different video and audio formats on one DVD.
4. This Windows DVD Maker alternative also supports to add multiple subtitles and audio tracks on videos.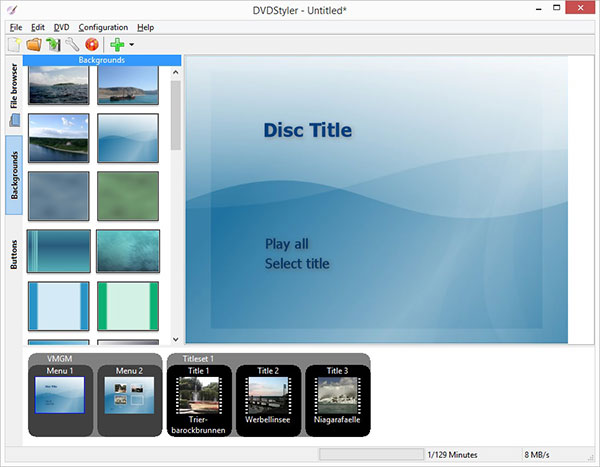 Pros
1. The straightforward interface makes this application easy to use.
2. It offers many custom features to create personalized disc.
3. It is freeware.
Cons
1. The DVD burning speed is slow.
Part 3: FAQ about Windows DVD Maker
Is Windows DVD Maker free?
Windows DVD Maker is free software that comes pre-installed with Windows 7 and Windows Vista (Home, Professional, Ultimate, and other versions) systems. You can check the program on your PC by going to the Start Menu and looking for it in All Programs list.
Does Windows 10 have a DVD Maker?
It is going to disappoint you. Windows DVD Maker isn't supported on Windows 10. If you want to create DVD-Video or Blu-ray discs compatible with home-theater components, you need another software. Here you would like to try Tipard DVD Creator. You can use Windows Live movie maker to create movies and later you can use Tipard DVD Creator to Burn.
What is the best DVD Maker for Windows 10?
That must be Tipard DVD Creator. It provides the best solution for you to create DVD with any video file like MP4, AVI, MOV or recorded videos. With it, you can add audio track and subtitles to DVD/Blu-ray and merge/split chapters. It also enables users to edit video files and customize DVD menu, frame, button, text, background music and picture
Conclusion
In this article, we have introduced Windows DVD Maker and shared the expert review. Considering it is only compatible with Windows 7 and Vista, we also identified some best alternatives for Windows and Mac computers. These alternatives all have some advantages. DeVeDe, for example, is an open-source DVD authoring application available to Windows 8 and 10. Corel VideoStudio offers amazing video editing features for DVD burning. AnyBurn is a simple DVD maker that supports almost all Windows operating systems. And DVDStyler is a good DVD maker for both Windows and Mac computers. If you are looking for the best cost-effective choice, you can try Tipard DVD Creator.

Click here to join the discussion and share your comments