The Best Ways to Play DVD on Wii

The article provides different ways to play DVD on Wii. You can find the methods to solve the problems for playing DVD on Wii. You can choose the most effective way accordingly. Thanks to Tipard, the best DVD Ripper, you can find it easy to achieve the requirement.
When you wanna play DVD on Wii, you might take the following things into consideration first, or else, you might find it complicated or fails to play DVD on Wii.
1. How to unlock the Wii? Make sure you can read more details before you unlock the Wii.
2. How to play DVD with different regions?
Method one: Rip DVD to Wii format
It should be the most effective way to play DVD on Wii. You can simply rip DVD to Wii compatible format and use Tipard DVD Ripper for ripping a DVD to play on Wii Console. Besides, it is the most convenient method you can use to play DVD on Wii. You can ignore the method to unlock the Wii or DVD from different regions. Just follow the next steps and use Tipard DVD Ripper to do it.
1. The best DVD ripper for you if you want to play DVD on Wii
2. Customize the video file with the optimal presets
3. Rip DVD to MP4, AVI, FLV, MKV and more 100+ video formats
4. Only need a few steps to achieve your requirement easily
Step 1
Download Tipard DVD Ripper on your computer and install it on your computer.
Step 2
Launch this ripper to begin your conversion. Now you need to load the DVD to Tipard DVD Ripper. Open the Load DVD menu and select Load DVD Disc, Load DVD ISO, or Load DVD Folder.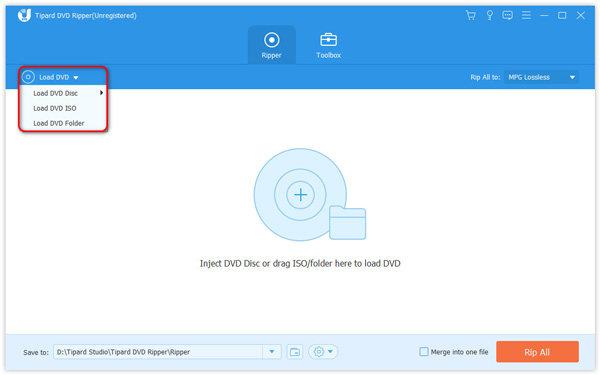 Step 3
Search and choose "Wii" format from the "Device" tab of "Rip All to" dropdown list. It is the most important step in this way.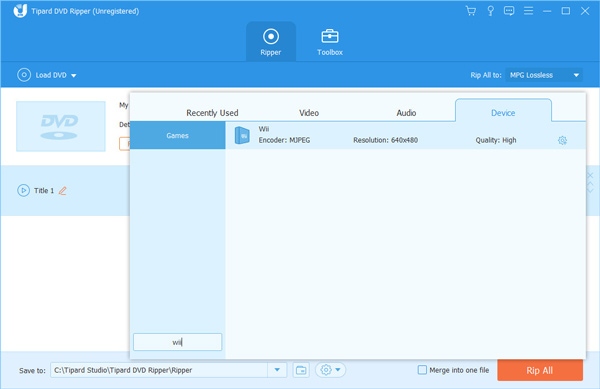 Step 4
Click on the Rip All button to rip the DVD file to format playable for Wii Console.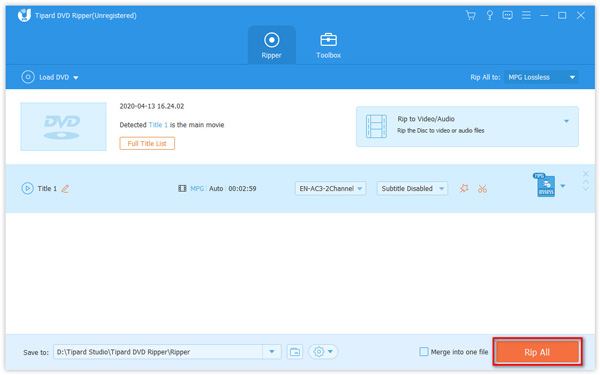 You can copy the file compatible with Wii console to the SD card and use the SD card to play DVD on Wii.
Method two: Unlock Wii to play DVD
When you want to unlock Wii, you can play DVD on Wii as well as other video and audio format, or use homebrew games/classic console on Nitendo Wii. But there are some risks for unlock Wii, it might also ruin the Wii.
When you select the program to unlock Wii to play DVD, you may consider the next four conditions.
• The ease of use. If this software is hard to use, there is no doubt that it won't be very popular with users. It is better that the software you download have an easy guides or videos to follow.
• The Bonuses that they provide. It is a service which can increase customers' goodwill. Even though no necessary, you can also try to get the best out of your buck.
• The price. Every user want to choose the best product in the lowest price, it should be a major factor of the price.
• The customer service. A good customer service can show how considerate the company is. When you have some problems, the company has to help you and solve the problem thoroughly.
You can choose the most suitable software to unlock will according to these conditions we mentioned above. It is recommended to use the following programs for unlocking Wii to play DVD.
1. Wii Unlocker Ultra
It is the best product on the Internet that provides a detailed guide to unlock Wii for playing DVD. And the guide is really an easy to use e-book so that you can unlock the Wii in an easy and simple way. Besides, Wii Unlocker Ultra can guarantee your Wii will be safe and unlocked period.
Rating: 5/5 – The Best There is.
Price: $37.95 – Limited Time Only (Retail: $75.00)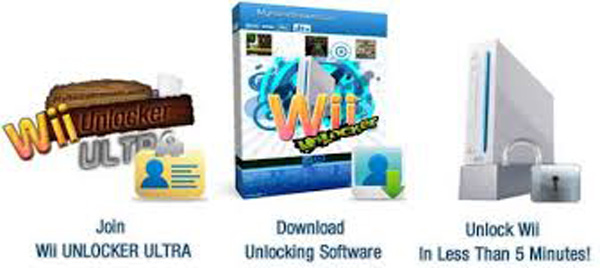 2. WII Unlock Plus
WII Unlock Plus is another excellent program for you to unlock the Wii and play DVD. It provides some extras, and a step-by-step guides to give you a detailed solution. And Wii unlock plus is a onetime program where you buy something and after that you will not have to do anything with their website.
Rating: 4.7/5
Price: $29.95 – Limited time (Retail Price: $59.95)

3. Wii Unlocker
Wii Unlocker can also help you unlock the Wii without any hassle. It is completely compatible with the latest system and it will never void your warranty. Additionally, you can access your Wii channel when you have Wii Unlocker installed. It is totally safe to update your Wii with it installed as well.
Rating: 4.5/5
Price: $24.99 – Limited Time only (Retail: $49.95)

Method three: Use Homebrew to play DVD on Wii
It is another cool tool to play DVD on Wii, but it might be a little complicated to install Homebrew Channel. You need to install the DVD Player as well as Homebrew Channel in order to play DVD on Wii. If you want to know more about this method, here is the detailed guide to follow.
Step 1: Download "libdi" and "mplayer"
Download and launch "libdi" and "mplayer" software on your computer firstly. You can easily find the resources from Internet.
Step 2: Set the ".dol" file
Find a ".dol" file downloaded as "DL" and rename the file to "boot.dol". After that place it in a folder in the "apps" folder of your SD card.
Step 3: Add the mplayer to SD card
Before this step, you need to plug your SD card into your computer. Then you are allowed to move the "mplayer" downloaded to the "apps" folder, to add it successfully onto your SD card.
Step 4: Play DVD on Wii
Just running the software. When you open up homebrew channel, you can find the "mplayer" to play DVD on Wii.
It might be complicated to install Homebrew Channel, you can find more details from the link. You can find that it is easier to use Tipard DVD ripper to copy the file to Wii.
FAQ about Playing DVD on Wii
Why can't you play DVDs on a Wii?
This is because Nintendo chose to encode their games on disk in the way that is different from the way DVDs are read. Only few DVD readers can even register that there's a disc in there if you put in a Wii disc.
How to know what DVD drive my Wii has?
You can see it on the DVD drive when it's removed from the Wii. It's printed on a yellow background. And it starts with A, AM, AMV, AMW, AMX, NMX, NMY, etc. The DVD drive chip is the essential part to identify the version of the console.
Can Wii play Blu-ray?
No. Wii does not play Blu-ray discs or DVDs, CDs, partly because Nintendo's game console is designed for video games but not video entertainment. Nintendo does not want to pay licensing fees. And although Wii U plays Blu-ray discs, it will not load the movies. So if you want to play Blu-ray on Wii, you need to rip Blu-rays to Wii u.

Click here to join the discussion and share your comments