How to Burn MKV Video to DVD Disc/Movie with DVD Creator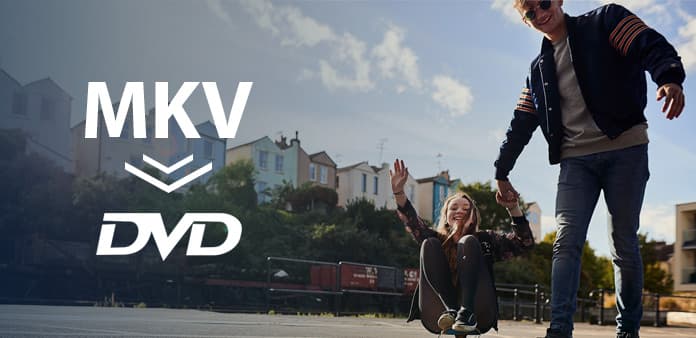 MKV or Matroska is an important video container, which is famous for its high quality content distribution. When you downloaded some MKV files or got from Camcorder, you might need to customize the DVD as a professional. One important thing you need is a professional MKV to DVD Burner.
When you wanna burn MKV to DVD as a professional, the following things should be important.
1. High Quality Output
MKV as a high quality video format, you need to convert MKV to DVD with high quality. The program should be able to handle high quality input, such as 4K MKV file, and also able to adjust video parameters and DVD types.
2. Multiple Editing Tools
A professional MKV to DVD Burner is able to trim and copy MKV file, add watermark to video file, adjust effect for the video and merge different MKV file together.
3. Customize DVD content
If you can customize menu, frame, button, text, background music and pictures, you can use the same theme to make the DVD looks professional when converting MKV to DVD.
If you are searching for the best way to burn MKV to DVD, we recommend Tipard DVD Creator. This utility is a professional MKV to DVD burner that is able to achieve all the requirements. Its advantages include:
1. Tipard DVD Creator is a cross-platform utility available to both Windows and Mac OS, including Windows 10 and the latest version of Mac OS.
2. This utility supports almost all media formats as input, like MP4, AVI, MOV, WMV, FLV, MKV and more.
3. The outputs produced by DVD Creator are playable on most DVD players, Home Media suite and other devices.
4. DVD Creator has the capacity to burn videos to DVD directly.
5. The extensive editing features and custom templates are available when you want to create personalized DVD.
How to Burn MKV to DVD as A Professional
Step 1
Load the MKV files
You can load MKV file to the programs by clicking on the Add Media File(s) button, the program also support batch loading and conversion.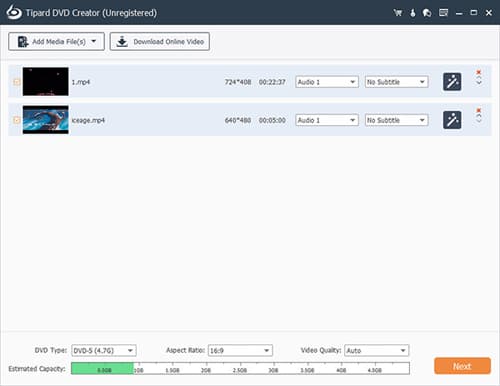 Step 2
Edit the MKV files
Crop the video files to a uniform standard. Merge and join the MKV files seamlessly. Add subtitle and audio track to make it professional with the built-in video editing tools.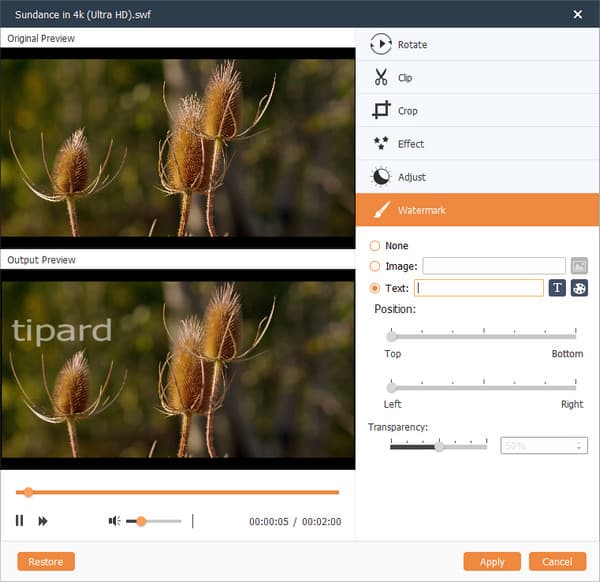 Step 3
Customize DVD content
Select or customize the DVD menu as your theme, choose the background, button and text to make everything perfect.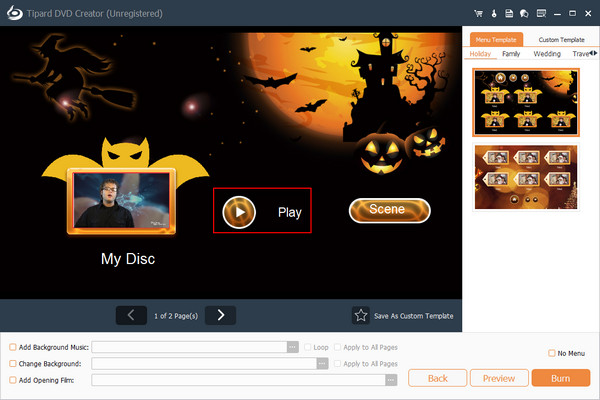 Just preview the effects of output DVD with the program. If you are satisfied with the result, click on the Burn button to start burning MKV to DVD.
After a few minutes, you can enjoy MKV videos on larger screen.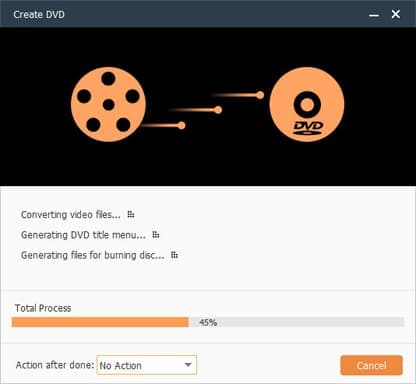 Part 2. The best free way to burn MKV to DVD on Windows
If you do not mind the limited features, you can try to use some free burners that support to convert MKV to DVD. Freemake Video Converter is one of the best free burners that have the capacity to burn MKV to DVD. The biggest advantage of Freemake Video Converter is easy to use.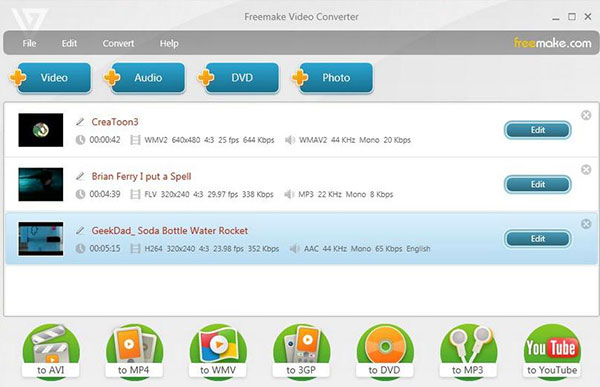 Step 1
Add MKV videos
Download Freemake Video Converter from its official website and install it on your computer. Then open this utility and click on the +Video button on the top ribbon. In Windows Explorer, select all the MKV videos you'd like to burn on DVD.
Step 2
Choose output
After MKV videos loaded, choose to DVD icon on the bottom and set your DVD drive as the destination. Insert a big enough blank DVD into DVD drive. Freemake Video Converter only allows you to customize several parameters, such as aspect ratio and title.
Step 3
Create DVD with MKV
Click on the Convert button to start creating DVD with MKV videos, when you are ready. Wait until Freemake Video Converter display the finish message.
Then you can remove the DVD from DVD drive and playback it on DVD player. Unfortunately, Freemake Video Converter only supports limited video formats, like MKV and MP4.
Part 3. Create DVD with MKV videos on Mac computer
Although Apple has developed or equipped some utilities to help Mac users to burn DVD, such as Disk Utility and iDVD, both applications support limited video formats. Only the videos playable on QuickTime are readable for Disk Utility and iDVD. In other words, if you import MKV videos into Disk Utility or iDVD, nothing will happen, neither the utility crashes nor the MKV videos loaded. So you have to choose other ways to transform MKV videos to DVD on your Mac computer, like Bombono DVD Free.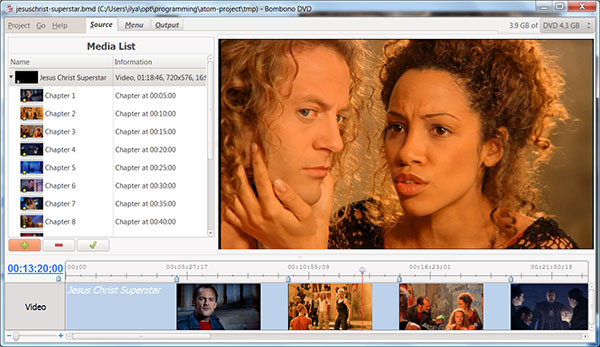 How to create DVD with MKV on Mac for free
Step 1
Import MKV videos
Open Bombono DVD Free and go to the Source tab. Click on the Plus button to import MKV videos from your Mac computer. Or you can simply drag and drop the MKV videos into the Media List. On the Media List, adjust the order of the video clips.
Step 2
Make a menu
Locate to the Menu tab, click on the Plus button to add a new menu and then customize it in Menu Editor by hit the Edit button. You can adjust the menu background by hitting Set Background Color and add text with Text tool.
Step 3
Create DVD with MKV
When the settings are done, navigate to the Output tab. Set up Output Folder with enough space and then choose Author Mode. Insert a blank DVD into your internal or external DVD drive. Once you click on the Burn to DVD button, Bombono DVD Free will start do its work.
You have to understand that Bombono DVD Free also has some limits. This utility, for example, will spend longer time to create a DVD.
Conclusion
We share the best ways to convert MKV to DVD and the details in this tutorial. If you are facing challenges to create a DVD with several MKV video clips, you can learn all you need above. For Window users, Freemake Video Converter could help them burn MKV to DVD easily. And for Mac users, Bombono DVD Free is a free-to-charge utility that has the capacity to create DVD with MKV videos. However, freeware usually has some limits, like lower speed, poor quality, fewer video formats support and more. If you need a more powerful tool to copy MKV to DVD, you can try Tipard DVD Creator. It could help you to burn MKV to DVD at professional grade simply and quickly.

Click here to join the discussion and share your comments
How to Burn MKV Video to DVD Disc/Movie with DVD Creator