Podcast Audio Editing: Easy Steps to Do it on Your Computer
You might hear a podcast and start listening to them every day. There are many channels or streams that you can now access that contain popular podcasts wherever on the internet. Perhaps you want to start your podcast. However, not all podcasts are immediately perfect after recording them. So, in this write-up, we will show you the best applications to edit your podcast perfectly. We will also show you the steps on how to edit podcasts on your computer. Read this article to learn how to edit podcast audio using the best audio editing software.

Part 1. What is Podcast
What is an audio podcast? You might not have heard of this, but it is now popular with many people. Simply say it, a podcast is an audio program, just like Talk Radio. However, when it comes to podcasts, you need to subscribe to them using your smartphone before you can listen to them wherever you want.
But how do you exactly listen to them? In detail information, a podcast is a string of spoken words and audio episodes, which are all focused on a specific topic or theme. The thing about podcasts is that you need to subscribe to the show using an app on your phone and listen to the episodes whenever you wish on your headphones, in the car, or using a speaker.
Are podcasts audio or video?
Nowadays, most podcasts are audio only, though video podcasts still do exist and are still popular. Video podcasts have grown in popularity because of the background content, which keeps the viewers and listeners entertained. So, to answer your question, podcasts can be audio or video.
Part 2. How to Edit Podcast Audio
Before sharing your podcast on different platforms, you must first do the post-production process, which focuses on slicing and dicing the audio you recorded. You must also arrange the audio podcast in a way that tells a compelling and exciting story for your listeners. In this part, we will show you the basic process of podcast audio editing.
Step 1 Before editing any edits on your podcast, you need to imagine how long your podcast episode will be. Podcast episodes usually last for about 20 to 60 minutes. And then, through your podcast editing, you need to make a compelling story. Focus on the most critical content when editing or cutting out parts from your video.
Step 2 When editing your podcast, you must ensure that the conversation is natural. When editing podcasts, you need to observe whether the show still sounds natural. When editing your podcast, you need to cut out the unnecessary words, moments, or pauses that can ruin the flow of your podcast.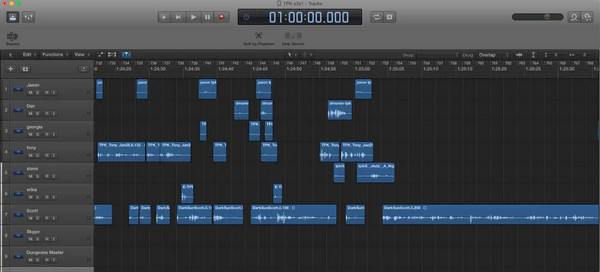 Step 3 Also, remove the obvious mistakes or awkward scenes, like if you produced loud coughs, sneezes, or background noises or accidentally spoke over your guest.
Step 4 Now, we will use sound design to enhance the quality of your audio. Sound designing focuses on the audio elements. So, to begin with, the sound design creates an unforgettable intro and outro which. Then, use music to enhance your podcast story, which can add emotions to your audio podcast.
Step 5 To spice things up, you can strategically add sound effects to your podcast. You can add ba dum tss after spilling a joke or some haha effects on your podcast.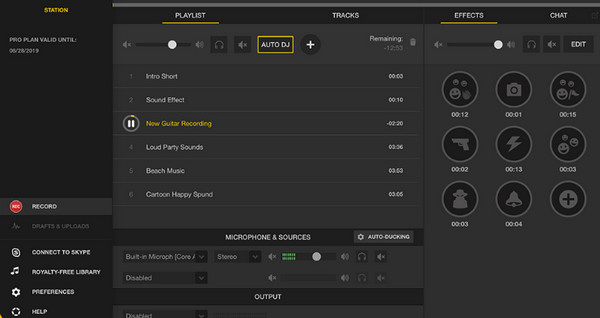 Step 6 You can also use noise reduction to give your podcast clarity and conciseness. You can remove background noise, employ de-verbing, or remove plosives and essing.
You might wonder what application you can use when editing an audio podcast. There are tons of podcast audio editors that you can download to edit your podcasts. Therefore, continually read this post to know the best application to record and edit your podcast.
Part 3. How to Record Audio for a Podcast
Recording an audio podcast can sometimes be tricky because only a few software can help you record audio. But you do not need to worry because we will show you the process and an application to record your audio for a podcast in this part.
Tipard Screen Capture is the easiest tool if you want an audio recorder for podcasts. This amazing software has a simple user interface, which makes it a beginner-friendly application. Also, this application allows you to record your audio through your microphone or your system sound. Moreover, it has a volume mixer or sound-checking feature to know if the audio you are recording is perfect. What's even excellent about this application is that you can set a schedule for a recording even when you are not around. Amazing, right?
Furthermore, with Tipard Screen Capture, you can record audio files and save them 100% of their original quality. It also supports the most standard audio formats, such as MP3, AAC, M4A, or WMA. Plus, it is downloadable on all operating systems, including Windows, macOS, and Linux.
How to record audio for podcast using Tipard Screen Capture
Step 1First, download and install Tipard Screen Capture by clicking the Download button below. Once it is installed, open the app immediately.
Step 2On the software's main user interface, you will see three options. Click the Audio Recorder to record audio.

Step 3And on the following user interface, select what medium you want to record your audio. You can choose between System Sound or Microphone.

Step 4And then, click the red REC button to start recording your audio.

Step 5Once you are done recording your audio, hit the Stop icon button to finish the recording. You will then have a preview of your audio. Click the Done button to save your output.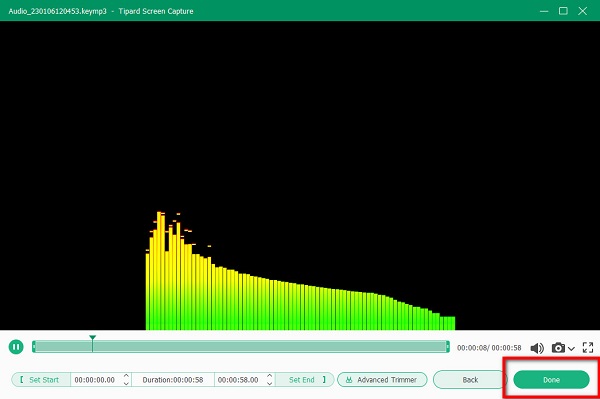 Part 4. Edit Audio for Podcast
With Tipard Video Converter Ultimate, you can edit your audio for podcasts easily. This audio editor for podcasts enables you to compress, boost, sync, and trim your audio. Also, it supports almost all audio formats and is easy to use. Additionally, it does not affect the quality of your audio when you use it to edit audio. So, if you want to edit your audio, read the audio editing features that you can use in Tipard Video Converter Ultimate.
Audio Compressor
With the Audio Compressor, you can change the audio settings, like size, format, channel, sample rate, and the bitrate of your audio.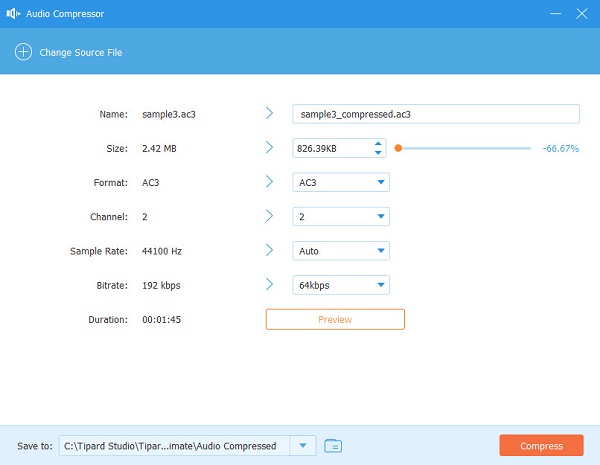 Volume Booster
With Tipard Video Converter Ultimate's Volume Booster feature, you can adjust the volume level and the delay of your audio.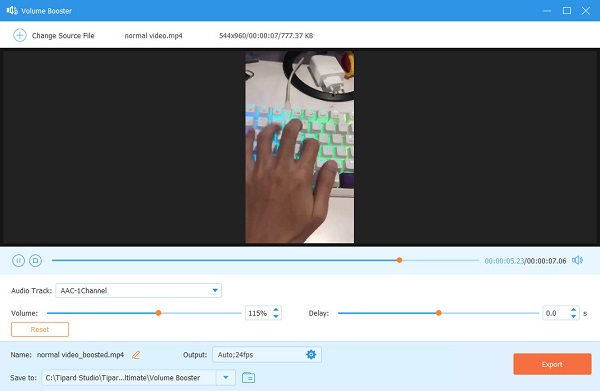 Audio Sync
Another feature to edit your audio using Tipard Video Converter Ultimate is Audio Sync. Audio Sync can help you synchronize your audio to the video.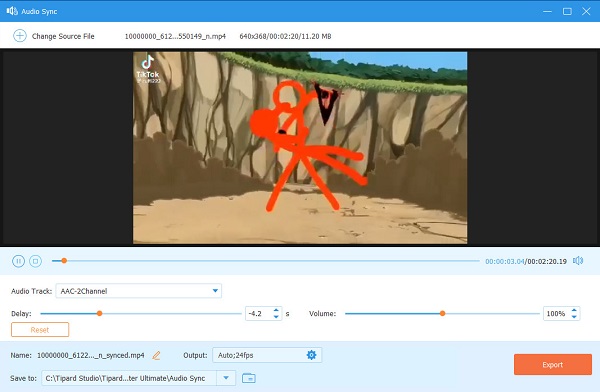 Audio Trimmer
On the Converter panel of the application, you can upload an audio file and trim it. You can cut out unnecessary parts of your audio with it.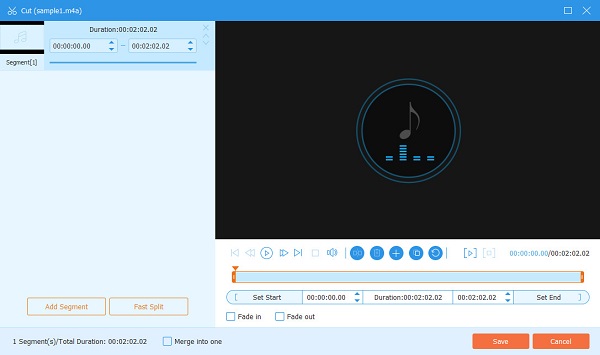 Part 5. FAQs about How to Make Audio for a Podcast
Where can I find podcast audio?
Here are some of the most popular applications where you can find an audio podcast:
iTunes
Google Play
Stitcher
TuneIn
What do audio podcasters use?
What is the most common audio format for recording an audio podcast?
MP3 files are the most common audio format for recording and sharing the audio podcast.
Conclusion
All the necessary information you need to know about recording and to edit an audio podcast is written in this post. Therefore if you are inspired to start recording your audio podcast, use Tipard Screen Capture. And if you want to edit the audio after recording, download Tipard Video Converter Ultimate now.