An Honest Review about 3D Video Players Without Glasses
There are many 3D video players that you can find on the market. Even on the PCs or laptops that you use, some built-in players support 3D videos. Nowadays, 3D movies continue to be popular, especially in cinemas and theaters. And watching 3D videos requires you to wear special glasses which enable you to watch a 3D video. But have you ever thought if it is possible to watch a 3D movie or video without wearing those irritating 3D glasses? In this article, you will know the most impressive 3D video players without glasses.

Part 1. Is it Possible to Watch a 3D Video Without Glasses
Watching 3D movies in theaters requires you to wear special 3D glasses for the special polarized light that stimulates a sense of depth. To see the special 3D effect, you need to wear 3D glasses, which many people find inconvenient. That is why researchers from MIT's Computer Science and Artificial Intelligence Laboratory (CSAIL) developed "Home 3D," which aims for users to watch 3D movies in their homes without wearing any special glasses.
Since the regular video images displayed on a TV or screen are 2D, our eyes can see the same single image. Now, what engineers have done to project a 3D video without wearing 3D glasses on a TV screen is to send two slightly different signals which target your left or right eye. The two parts of a 3D signal that need to reach your eyes require the use of Active Shutter or Passive Polarized Glasses. And when such images are viewed without special 3D glasses, you will observe that two overlapping images will slightly look out of focus.
Part 2. Top 3D Video Players Without Using 3D Glasses
There are only a few tools that support 3D videos. But, you can still find 3D video players for your PC, laptop, and even on your android phones. We searched on the internet and found these top-used media players that can play 3D videos without glasses. To know what these tools are, read this part completely.
ArcSoft Total Media Theatre 6
Price:$99.99
Available on:Windows 8 and above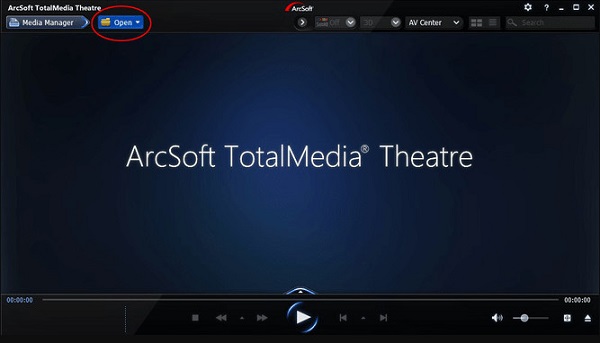 One of the most popular 3D movie players you can download on your computer is ArcSoft Total Media Player 6. This software application supports playing Blu-ray, DVDs, HD videos, and 3D videos. In addition, it has an intuitive user interface, making it a user-friendly tool. Also, it supports many file formats, such as MP4, AVI, MKV, FLV, MOV, WMV, and more. Even more astonishing is that you can control this software application using a smartphone. Amazing, right? And it has a small download file size, so you do not need to worry about the storage space it occupies on your device.
Pros:
1. It has a simple and neat software interface.
2. It has a remote-control mobile application.
3. Easy-to-download.
Cons:
1. It cannot play 4K videos.
2. It is expensive.
KM Player
Price:Free
Available on:Windows and AppStore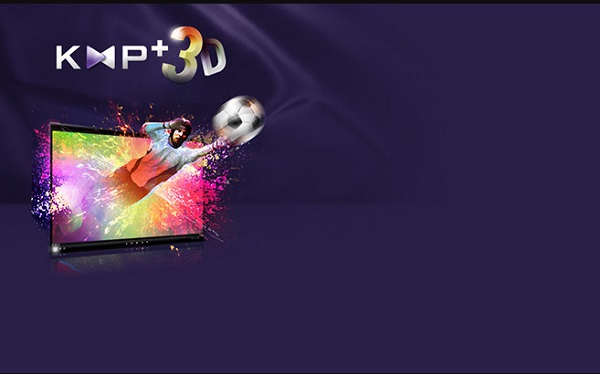 KM Player is a 3D video player that is free to download. This tool is free; that's why many people use this to play 3D videos. This software application can play various file formats and also supports HD videos. Furthermore, KM Player allows you to convert your videos to 3D videos. It also enables you to create an anaglyph 3D video which is enjoyed with the help of 3D glasses. Moreover, it can play any video from the web by entering a URL. Also, this software application has an equalizer which you can use for music or videos.
Pros:
1. It has subtitle settings to change subtitle colors, size, and position.
2. It supports Chromecast.
3. It has a user-friendly interface.
Cons:
1. It has bugs.
2. It supports limited video resolutions.
VR Player
Price:Free on Appstore
Available on:Any Android devices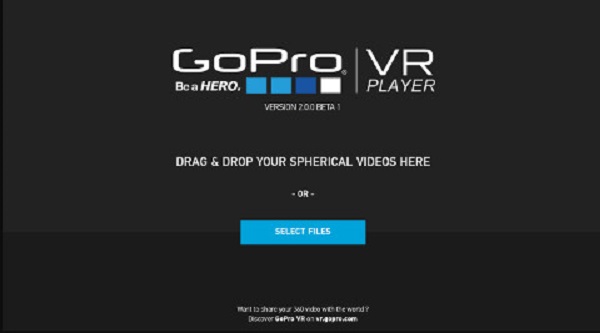 VR Player is a 3D video player for android without glasses. It is a popular app on the App Store, and many have used it. If you want to have a theater-like feel on your android phone, VR Player is the best choice. It can play 2D, 3D Anaglyph, 3D top-bottom, and 3D side-by-side on your smartphone screen. In addition to that, it supports almost all known video formats, including MP4, MKV, AVI, FLV, MOV, and more. Also, it can play content from SD cards or using an URL. What's even amazing is that it can play virtual reality videos, which are also on-trend nowadays.
Pros:
1. It has a simple user interface.
2. Free to download.
3. It supports high video resolution formats.
Cons:
Part 3. How to Watch 3D Videos on Laptop
Many famous media players are only available on PCs. But still, you can find media players for your laptop that can play 3D videos. And if you are interested in knowing the ultimate tool that can play 3D movies or videos on a laptop, read this part below.
Tipard Blu-ray Player is a media player that lets you play 3D videos on your laptop. This software application supports numerous video formats, such as MP4, MKV, MOV, FLV, AVI, M4V, WMV, etc. It is user-friendly because it has a straightforward interface and a guide that will help you understand the buttons. Moreover, you can play Blu-ray discs/folder/ISO image files without limitation. And if you want to select your favorite audio track or subtitle, this tool has that feature.
Pros:
1. It can play 4K UHD and 1080P HD videos on your laptop.
2. It enables you to adjust the screen size.
3. It has a snapshot function.
4. Downloadable on almost all media platforms, like Windows, Mac, and Linux.
Cons:
The snapshot only saves JPEG format.
How to play 3D videos on your laptop using Tipard Video Converter Ultimate:
Step 1Download Tipard Blu-ray Player on your laptop by clicking the Download button below. After downloading, open the app.
Step 2Click the Open File button to select the 3D video you want to watch. Your computer files will prompt; select your 3D video, and click Open.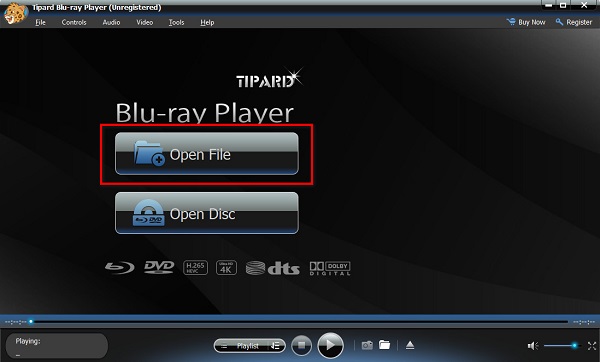 Step 3Now, you can enjoy watching 3D videos on your laptop.
Tip. Click the camera icon below the software interface to take a snapshot of the movie or video you are watching.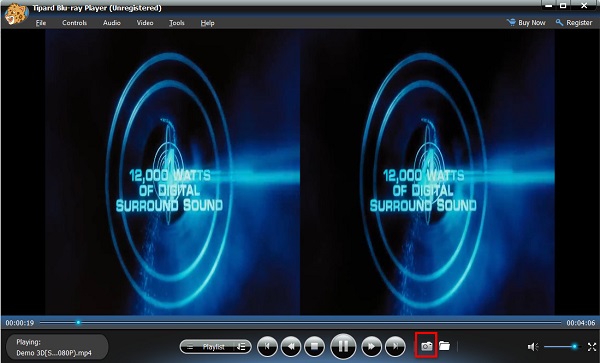 Extended Reading:
3 Most Outstanding 3D Music Video Makers for Windows and Mac
How to Edit 3D Video in Final Cut Pro [Detailed Steps]
Part 4. FAQs about 3D Video Players Without Glasses
Can the VLC media player support 3D videos?
The VLC media player supports all video formats that you can find. And, of course, it can also play 3D videos.
Can you watch 3D movies using glasses with specs?
If you are to watch a 3D movie, it is preferred to use 3D glasses over glasses with specs. However, it may be more uncomfortable than your normal glasses. People resolved to wear contacts, but it is not recommended.
Can any screen show a 3D video?
No. Not all screens can show 3D. Before, 3D videos used to be made using the red and blue lines called anaglyphs. But, with modern technology, 3D videos are now created with switching and timing.
Conclusion
The 3D video players without the glasses tools shown above have great features and capabilities. Although they have distinctions in price, features, and availability, they are all effective ways to play 3D videos without 3D glasses. But, if you are a laptop user and want to watch a 3D movie in your home, use the Tipard Blu-ray Player now.