3 Trustworthy Methods to Remove Grain from Video Using the Three Incredible Video Editing Programs [2023]
Have you been filming grainy videos? If yes, you might be asking why this is happening. And, to address your question, this occurs because you shot the video in low light or at night. Another possibility is that you were filming a video with improper settings. Or that you were capturing video clips with a lower aperture and a higher ISO. So, would you like to improve the clarity of your grainy videos? If yes, this post will benefit you since it will teach you three efficient ways on how to remove grain from video. As a result, this post will introduce you to excellent video editing programs such as Tipard Video Converter Ultimate, Adobe After Effects, and Adobe Premiere Pro. However, do not worry because it will explain the process of using each software.
As a result, please study this article to comprehend each strategy completely and effectively transform your grainy videos into more transparent video films.

Part 1. How to Remove Grain from Video with Tipard Video Converter Ultimate
Tipard Video Converter Ultimate is editing software that can handle and convert up to 500+ media types, including 8K/4K/HD videos. This software provides a free download version that allows you to test it out on your PC, whether Windows or Mac. Since it can also handle DVD files. It enables you to rip and transfer handmade DVDs to your PC without altering the quality. It also has a 60x quicker converting speed.
Since your concern is how to remove grain from the video. We would like you to look at the Video Enhancer feature in the Toolbox of its program. Follow the steps below to help you get there. But first, see its main features first.
Key Features of Tipard Video Converter Ultimate
1. It has a Toolbox that offers Video Enhancer, GIF maker, 3D maker, Video Merger, Video Compressor, etc.
2. It offers a free download version.
3. It is safe and easy to use.
4. It supports GPU acceleration.
Step 1Go to the Video Enhancer feature in Tipard Video Converter Ultimate.
Enter Tipard Video Converter Ultimate in the search bar. Then, return to the main website and click the free download icon to your operating system. Then, from the Toolbox, select the Video Enhancer function.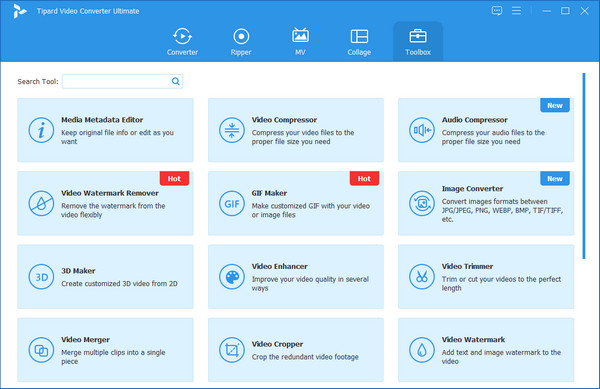 Step 2Include a video clip
After selecting the Video Enhancer tool, a new window will appear with a (+) icon button. As a result, you can post a video clip that you want to fix since it is grainy.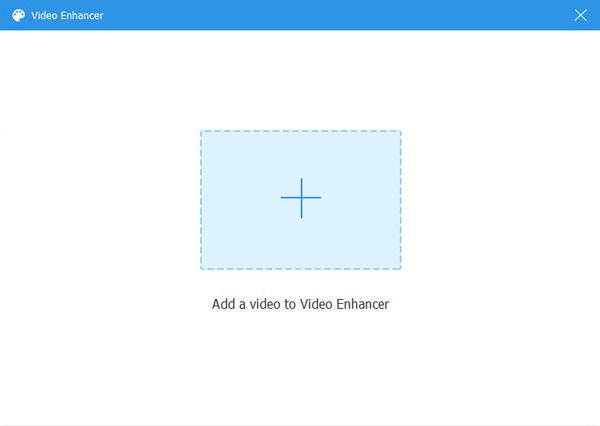 Step 3After uploading a video file, a new window with several options will appear. Then, to properly remove grain from the video, please check all boxes next to each option.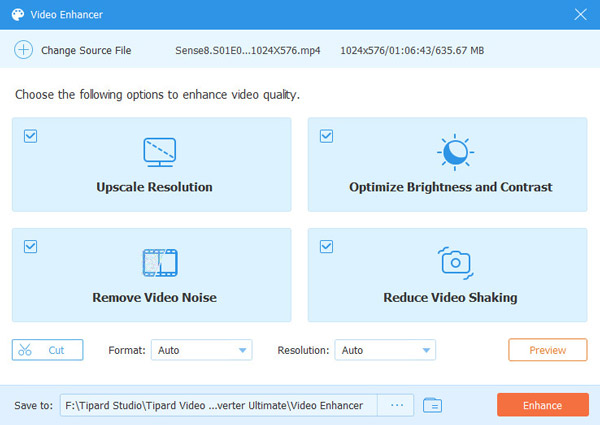 Step 4When everything is in line. To confirm all of the changes, click the Preview option. Then, by selecting the Save to option, you may specify the file location for the new output. Then, click the Enhance button to save the new result to the computer associated with your file folder.
Step 5To fully grasp the changes, please use the Tipard Blu-ray Player to play the new output. This media player will allow you to play all your media files without damaging them.
Part 2. How to Remove Grain from Video in After Effects
Adobe After Effects is a fantastic video editing tool that includes a variety of animations and effects. Hence, let us walk you through the basic steps on how to remove grain from video using this program.
Step 1First, download a free trial version of the program. After that, launch and install it on your PC. When you open it, click the File button, then the Import button, to choose the grainy video you wish to repair.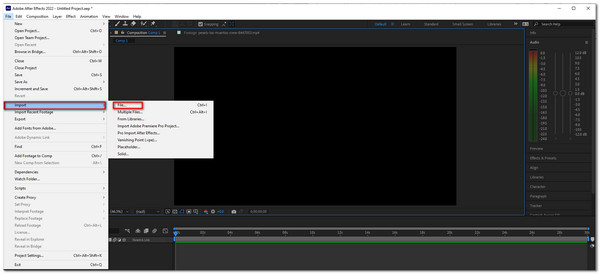 Step 2Following the selection of a grainy video. Select the Effects and Presets section. After that, drag it into your work and go to the Effects Controls to enable the remove grain effect.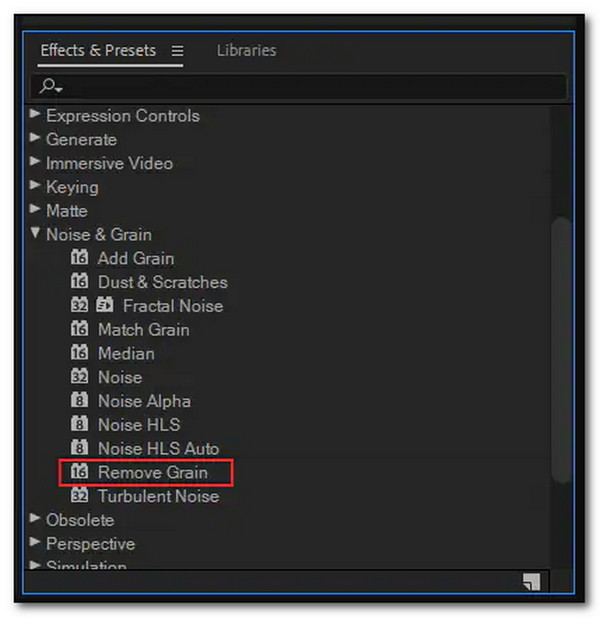 Step 3When you click the Effects Control panel, you will select the Remove Grain effect. The video will improve as you tweak the preview region, noise reduction settings, and temporal filtering.
Part 3. How to Remove Grain from Video Using Premiere Pro
Adobe Premiere Pro is also a great video editing program with a noise reduction filter in the Effects panel. This noise reduction filter is known as Median. If you want to use this tool to remove grain from the video, please follow the steps below.
Step 1Launch and open Adobe Premiere and create a new project to add a video clip that you want to fix.
Step 2After that, select the Effects button, then go to Video Effects. Then, click the Noise & Grain setting and go directly to the Median from the dropdown menu. Median must exist onto the timeline for your grainy video. Please remember that this will not immediately apply noise reduction to your video.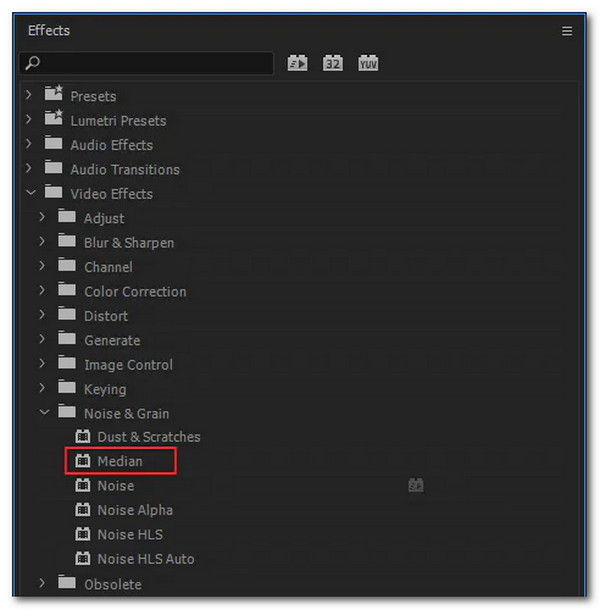 Step 3Examine the Effects Control panel for a dropdown menu to fine-tune the Median effect for the best results. To quickly preview the product, change the Radius parameter under Median.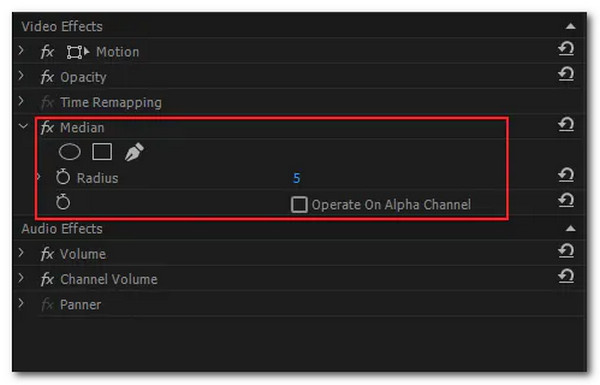 Part 4. FAQs of Removing Grain from Video
How can I eliminate grain from a photograph?
You can accomplish this with Mobile Motion. And the best way to get rid of grain in an image is to smooth it out. As a result, the program blurs everything somewhat to smooth out the noisy distortions. The disadvantage of this is that it will lose certain features and sharpness from the image simultaneously.
How can I reduce the grain from a video on Android?
To do this, download After Effects to your device. Next, right-click the video and select Replace with After Effects Composition from the menu that appears. Then, under the Effects & Presets menu, choose Remove Grain to remove the grain from your video.
What is the reason behind grainy videos?
The most common reason for grainy videos is improper camera settings or filming in low-light situations. However, you can still fix this kind of video by using ultimate software like Tipard Video Converter Ultimate. This video editing software can successfully remove grain from your video.
Conclusion
Finally, we would like to know whether you now have a better understanding of how to remove grain from video by following the three effective methods. However, as we all know, this will not be achievable unless you utilize effective video editing software. As a result, we highly recommend Tipard Video Converter Ultimate. This program comes with an intuitive interface that enables you to maneuver it easily. Also, it has editing tools to improve your video clips. Therefore, do not even forget to get the free download version. Nonetheless, if you have any further questions, please do not hesitate to bring them up, and we will gladly address them.
In addition, if you found this helpful information, please share it with your friends on social media. In this approach, we may also assist customers on how to remove grain from video.