Detailed Guide of How to Make a Split Screen Video on TikTok
You may easily access various double screen videos while hanging on TikTok. In fact, TikTok has added a new Duet feature recently that allows you to create video collages. Do you know how to do split screen video on TikTok?

This post gives you the detailed steps to make duets on TikTok. Whether you are using an iPhone, iPad or Android phone, you can follow this guide to make a video collage on TikTok. Moreover, we like to introduce you with a powerful video collage maker to do a split screen video for TikTok.
Part 1. How to Make a Video Collage on TikTok
Whether you are an iOS or Android user, when you want to make a split screen video on TikTok, you can follow the steps below.
Step 1To make a split screen video on TikTok, you should get the TikTok app installed on your device and sign in your account.
Step 2Open TikTok and locate the video you want to duet. Tap the Share button and then choose the Duet feature at the bottom screen.
Note that, if you want to use your own video, you can choose to upload it first, and then choose it from your uploaded videos.
Step 3Now you are allowed to start recording your video. The original video will be playing on the right side, and the new captured content will be displayed on the left. You can simply tap the red Video button to start the recording process.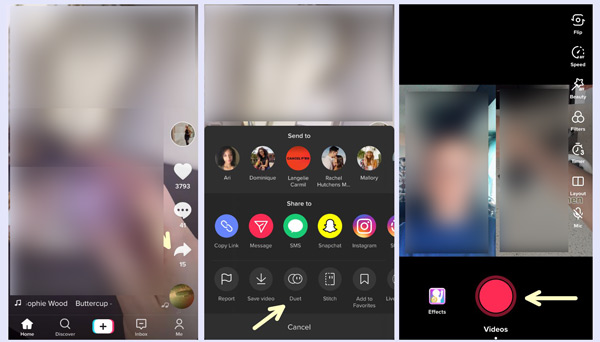 Step 4You can freely edit the split screen video. For instance, you can trim video, apply some effects, add texts, stickers, and do more operations based on your need. After that, you can tap Next, add hashtags, enter description, and then tap Post button for uploading on TikTok.
Get more details to split screen on Android phone, instead of TikTok.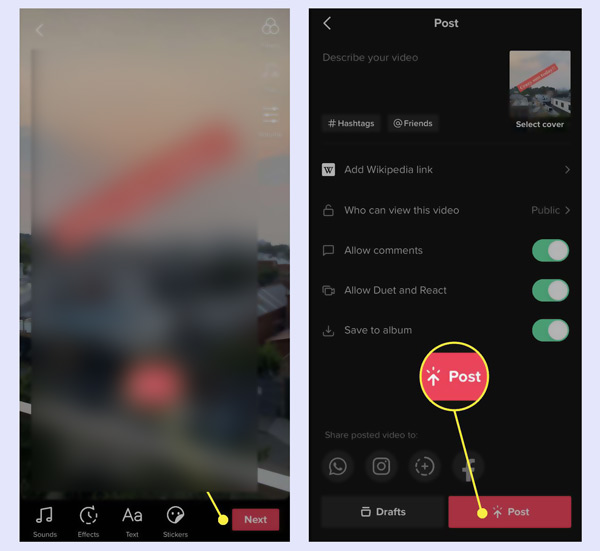 Part 2. How to Make a Split Screen Video for TikTok
If you like to make a split screen video on your computer and then upload it to TikTok, you can rely on the powerful video collage maker, Video Converter Ultimate. As an all-featured video converter and editor, it is designed with many useful functions including the photo and video collage creating.
Compared with the Duet feature on TikTok, it can support more video and audio formats. Any popular formats are supported, such as MP4, MOV, FLV, AVI, WMV, M4V, MKV, MP3, and more. More importantly, it offers more templates for you to make split screen videos. This video collage maker allows you to place 2 - 9 video clips together into one single frame. In addition, it enables you to make a video collage with any video clips, pictures and music you like.
This handy guide will show you how to use the MV Maker feature as a Photo Movie Maker:
Step 1Double click on the download button and follow the instructions to free install and run this split screen video creating software on your computer. Use the Collage feature to do split screen for TikTok.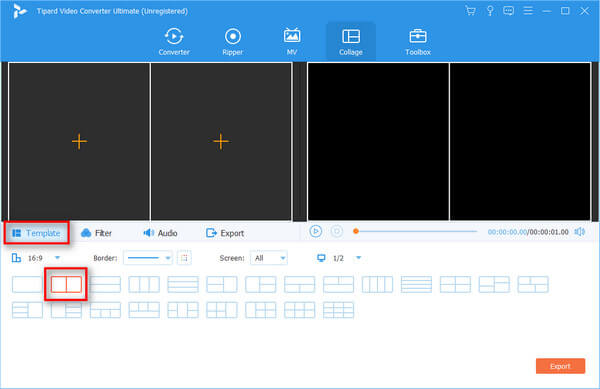 Step 2Many frequently-used templates are listed there for you to make a double screen video. You can select the right one based on your need. After that, you can click the Plus icon to import your videos.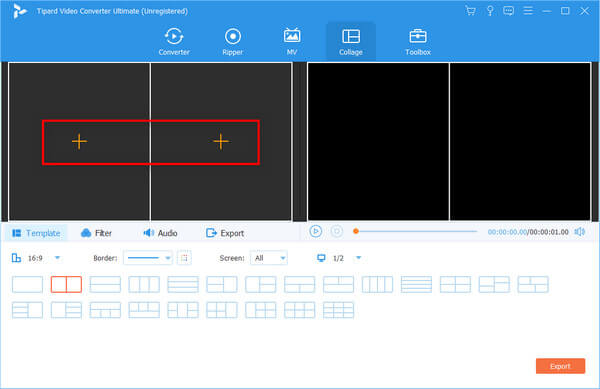 Step 3Edit video and adjust the image and sound effects. It is equipped with many editing features. You can cut video, merge video clips together, rotate and crop video, custom effects, enhance quality, add background music, add watermark, and more.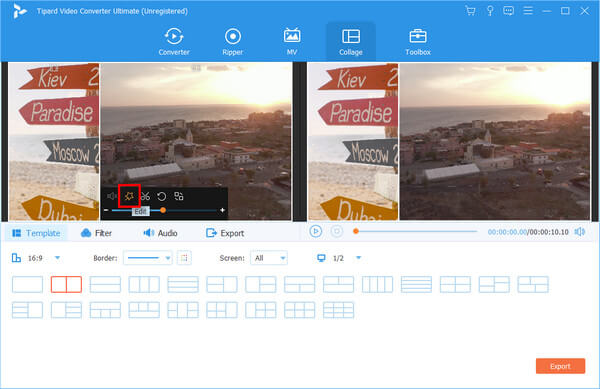 Step 4Select and apply filters to the video collage. Then follow the instructions to do more adjusting operations.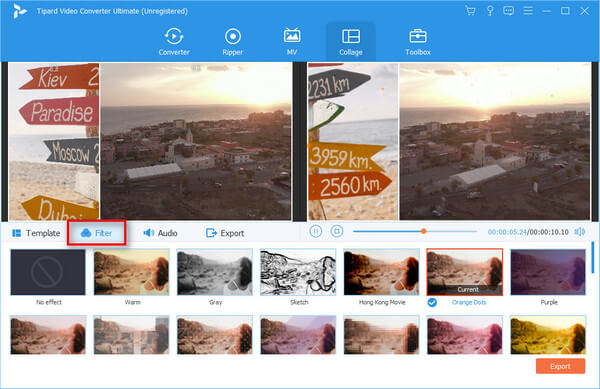 Step 5Click Export button to choose a suitable output format, frame rate, resolution, and quality. Then click on Start Export button to start making a split screen video for TikTok.
After that, you can directly go to the TikTok site on your computer, sign in your account and upload this video to TikTok.
Part 3. FAQs of How to Do Split Screen on TikTok
Question 1. How do I enable the split screen feature on TikTok?
Open TikTok app and tap the three-dots icon on the right to display more options. Locate the Duet feature to activate it.
Question 2. Should I allow duet on TikTok?
Yes. For some videos that you like to make them popular, you should allow duet. Duets and reactions are a great opportunity to add another dimension to your TikTok experience. Moreover, duet can help you make interactions with other users.
Question 3. What is stitch in TikTok?
Stitch is a new added editing feature in TikTok. It allows users to clip and use scenes from other videos in their own. All Stitch videos will link back to the original video and attribute creators in the new videos caption.
Conclusion
After reading this post, you can handily do split screen on TikTok. Moreover, you can get a powerful video collage maker to help you make more interesting or professional videos.