Learn How to Merge Snapchat Videos Into One on a Computer or iPhone
Snapchat is a popular social media application where you can take selfies, photos, and videos, and it even allows you to communicate with your friends. This app is downloadable on PlayStore and AppStore; therefore, you can use it on almost all media platforms. In addition to that, users also take videos on Snapchat to share them on other social media platforms, like Facebook, Instagram, or TikTok. However, you can only record 60 seconds long in a single video when you record on Snapchat. If you want a solution to merge multiple Snapchat videos, we have the solution. Read this write-up until the end to learn how to combine Snapchat videos together.

Part 1. Combine Snapchat Videos on Computer
You do not need to worry if you use a computer to merge Snapchat videos because many applications allow you to merge multiple videos. Also, most video merging apps for computers have advanced editing features you can use. We searched for the most popular video merging software applications, choose the best among them, and read this part to know the ultimate tools.
Tipard Video Converter Ultimate is the ultimate tool if you are searching for how to merge Snapchat videos into one. This offline video merger is available on all platforms, including Windows and Mac. Also, you can import any video formats that you want because it supports over 500+ file formats, such as MP4, MKV, MOV, FLV, AVI, M4V, WEBM, etc. Moreover, it has many editing features, like video trimmer, color correction, and more from the Toolbox. You also don't need to be anxious about the quality of your video because after you merge your Snapchat videos, it will not ruin the quality and save it in its original format. It is also a user-friendly tool because it has a straightforward user interface. So, if you are interested in using this software application, follow the steps below.
How to join Snapchat videos together using Tipard Video Converter Ultimate:
Step 1Download the Tipard Video Converter Ultimate on your computer by clicking the Download button below for Windows or Mac.
Step 2And then, on the software's main user interface, go to the Toolbox and select the Video Merger feature.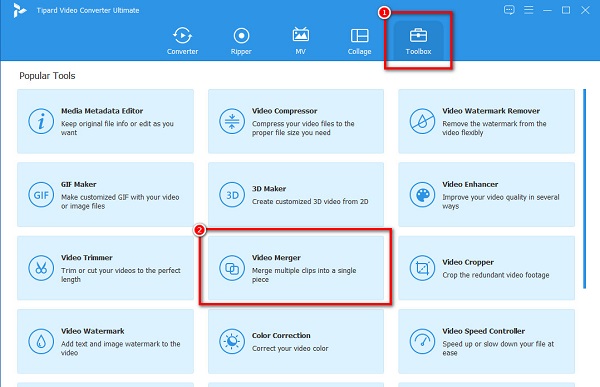 Step 3Click the + sign button to upload the first video you want to merge on the next interface. Another way to upload your video is by dragging and dropping your video to the + sign box.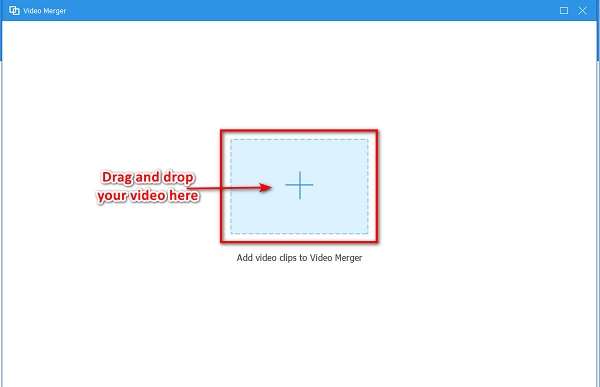 Step 4After uploading your first video, you will see a preview of it. And then, click the + sign button beside the first video to upload another Snapchat video to merge.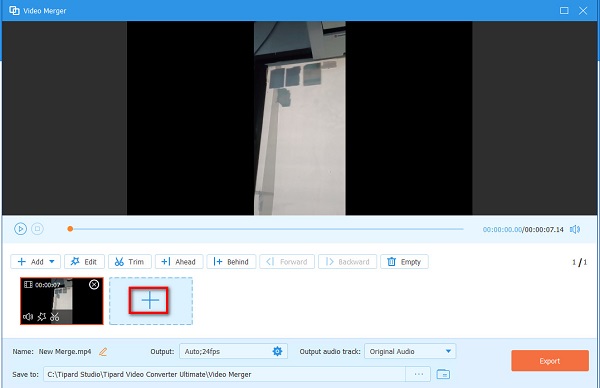 Step 5When you upload another video, it will automatically merge your videos. And if you are content with your video, click the Export button to save the video on your computer.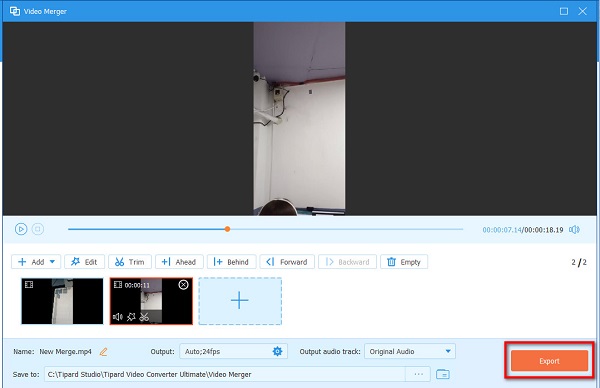 You can merge multiple Snapchat videos on your computer as easily as that.
Part 2. How to Combine Snapchat Videos on iPhone
There is no built-in app on the iPhone where you can merge videos. The iPhone's Photos app also does not have an editing feature to merge videos. We searched for the most used app on iPhone that enables you to merge multiple Snapchat videos.
iMovie is the most known video editing app that has many functions on the iPhone. This app can merge Snapchat videos and export them in a high-quality resolution. Furthermore, it has other features, like merging your videos, adding text to your videos, overlaying images on your video, and more. And you will not have a hard time using this app because it has an easy-to-use software interface. Moreover, it saves your video in MPEG 4, AVI, and MOV formats.
How to combine Snapchat videos on iPhone:
Step 1Download the iMovie app on your iPhone, and open the app. After opening the app, tap the Start New Project below the app's interface.
Step 2Next, tap the Movie option and select the first Snapchat video you like to merge. Then, tap the Create Movie option.
Step 3To upload another Snapchat video, tap the + button below the preview of your video. Select the second video you want to upload, and on the resulting options, tap the + sign button again.
Step 4And then, you will see that the videos will automatically merge. And if you are satisfied with your video, tap the Done button to save your output. Click here to learn how to combine videos on Android.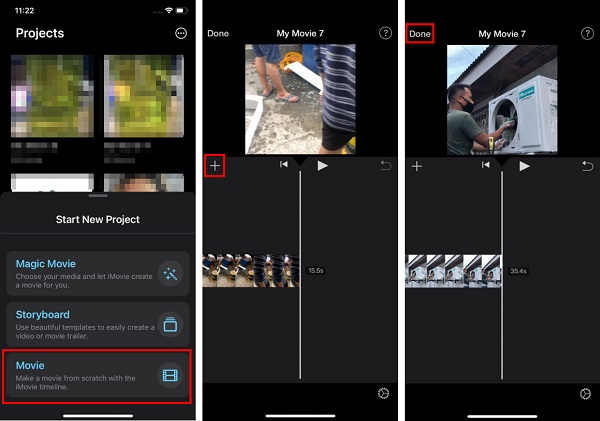 Part 3. How to Merge Snapchat Videos Using an Online Tool
If you want to use a more convenient tool, the best option is to use an online video merger. Luckily, there are many online Snapchat video mergers you can find on the internet. Read this part to learn about these online apps to merge your Snapchat videos.
Clideo is one of the most known tools for merging videos online. It has a simple software interface, making it a beginner-friendly tool. In addition, it supports most of the common file formats, like MP4, MOV, AVI, and MKV. It is also free and safe to use; therefore, you do not need to worry about the security of your files. Moreover, it enables you to add audio to your videos. However, you may experience a slow uploading process when your internet connection is slow.
How to link Snapchat videos together using Clideo video merger:
Step 1Open your browser, search Clideo, and go to the software's page. On the main user interface, click the Choose Files button.
Step 2Then, your video will be uploaded on the Timeline. Click the Add more videos option to upload the second video you want to merge to add another video.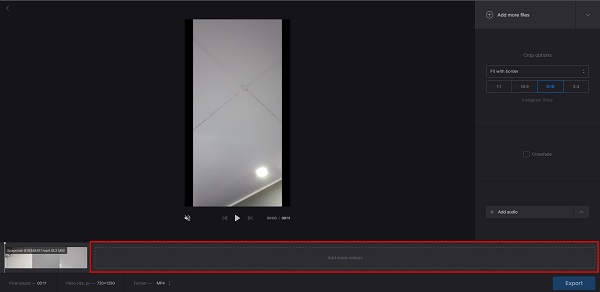 Step 3You can also adjust the border size of your video by choosing from the crop options.
Step 4If you are done merging your videos, click the Export button to save your video on your device.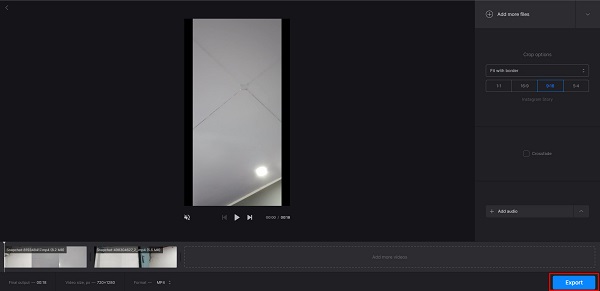 And that's it! As easy as 1-2-3, you can merge multiple Snapchat videos using an online software application. Click here to learn how to merge videos in Windows.
Part 4. FAQs about Combining Snapchat Videos
How long can you take a video on Snapchat?
You can record a video using Snapchat with a maximum duration of 60 seconds. After 60 seconds, it will record another video if you are still pressing the record button.
Can you trim Snapchat videos?
Yes. Many tools allow you to trim your videos. The gallery app on your Android device has an editing feature where you can trim your videos. But if you want a professional way to trim videos, use Tipard Video Converter Ultimate.
What video format does Snapchat use to export videos?
Snapchat exports and saves videos with a .mp4 extension. When you save Snapchat videos, you will see that the file format of your video is MP4.
Conclusion
There are many ways you can use it to merge your Snapchat. And now that your question about how to combine Snapchat videos together, you can now choose which among the methods or tools presented above you will use. However, many people recommend using Tipard Video Converter Ultimate because of its availability on media platforms.