3D Half vs Full SBS Movies: What are They and How to Convert Between Them
The moment you explore and poke around to see TV shows or new movies, whether on TV or on the Internet, you might find some sources with SBS 3D as their labels. You may know what a 3D is, for you might have seen one in the theater. In addition to that, all 3D formats are developed for 3D streaming on 3D screens, TVs, projectors, etc. But what does it mean when it is labeled as full SBS movies, and the other related make as half 3D SBS? Fortunately, a comprehensive answer and explanation for this subject are found in this article. To know the best way to convert such type of media, you will need to read the entire post and find more options for SBS streaming at home. So, without further adieu, let's start the learning by proceeding to the content below.

Part 1. What is SBS Video
SBS or Side-By-Side video pertains to a particular 3D format used for 3D viewing or what they call stereoscopic. An SBS video usually streams two separate videos, one video for each left and right eye being displayed within one frame but in a side-by-side position. Each video that is being streamed contains the same scene but with a slightly different perspective, imitating how human eyes recognize depth. This means that when the SBS video is viewed using a compatible display, such as a 3D-capable VR headset and TV, your right eye will see one half of the frame, while your left eye will see the other half. This kind of visual separation creates a depth illusion that produces a 3D effect without you needing special glasses with polarized lenses or different colors.
Part 2. Full SBS Format VS. Half SBS Format
The descriptive table below will define all about this half-SBS VS. full-SBS topic. This table will help you to fully understand the differences and similarities between the two types of SBS.
Full SBS
Half SBS
Resolution
It has a full horizontal image display resolution for each eye.
With 1920x1080 pixels for full HD.
It has a half-horizontal image resolution display for each eye.
With 960x1080 pixels for full HD.
Image Quality
It has a higher and more noticeable image quality on larger screens.
It has a slightly reduced image quality due to the lower resolution. And it is more suitable for smaller screens.
Data Size
It has a larger size of data since it has a higher resolution.
It is smaller, making it more suitable for online streaming and for devices with limited bandwidth.
Compatibility
It is supported by 3D-capable devices that specifically support full 3D SBS content. It is compatible with large screens.
Nearly all 3D-capable devices support it, but more on small screens.
Aspect Ratio
It maintains the original aspect ratio, which is typically 16:9.
It also maintains the original aspect ratio of the video content.
Part 3. Convert Between Full SBS and Half SBS
Yes, you can convert full SBS to half SBS and vice versa as long as you use the proper tool, such as the Tipard Video Converter Ultimate. This converter is a desktop software program available on Windows and Mac that enables you to create and customize a 3D side-by-side video. Furthermore, it allows the creation of a 3D anaglyph video, for it is part of the tool's features. Surprisingly, this Tipard Video Converter Ultimate supports hundreds of video and audio formats, where you can work on media files in MP4, WMV, MKV, FLV, MOV, AVI, WEBM, VOB, and 500+ more. With this offline software, you can also turn your 2D to 3D side-by-side video while customizing its format and quality output at the same time.
What's more, this 3D SBS converter provides you with many advanced editing tools and features that you can utilize for your 3D half SBS or full SBS. These tools include a video merger, GIF maker, color correction, video enhancer, movie maker, and more from the toolbox. Another impressive feature of this amazing software is that you can easily control the depth of your SBS video by simply dragging the particular slider. You will miss something great if you don't try Tipard Video Converter Ultimate by following the steps below.
Step 1Click the Download button below to initiate the software acquisition on your computer device. Note that you can acquire it both on desktop and macOS.
Step 2Once the acquisition takes place, launch it and click the Toolbox menu right away. Find the 3D Maker tool on the menu window and click it to open.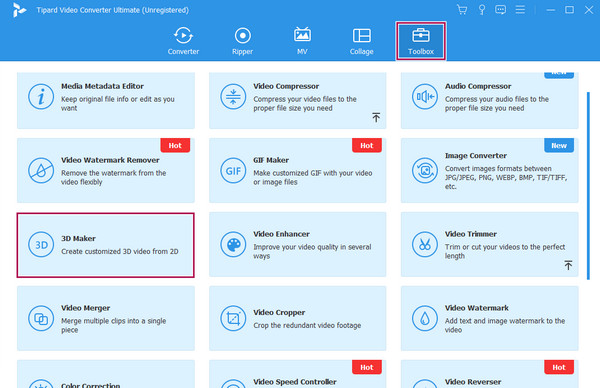 Step 3After clicking the said tool will bring you to a new window where you can click the Plus button. This will let you upload the SBS video you want to work on. Note that it nearly supports all video types of media formats, so no worries about the video you have.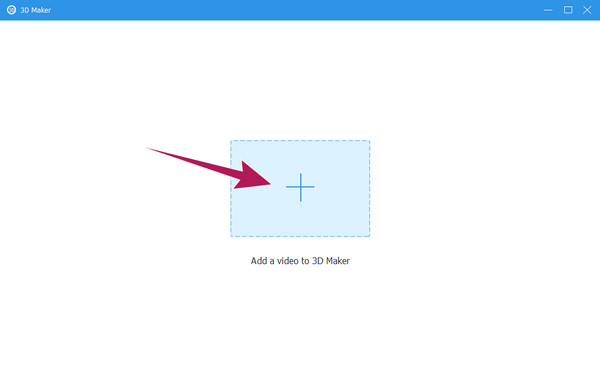 Step 4When your video is uploaded, you can start customizing. To convert full SBS to half SBS or vice versa, go to the Split Screen section and choose the type of SBS or side-by-side you want for your output. Also, you can choose your desired format and quality for your project.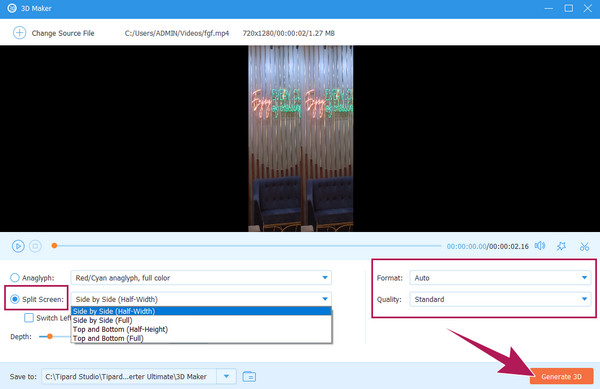 Step 5After that, you can hit the Generate 3D button, as seen in the photo above. Wait for the process to end, then check your newly converted SBS video.
Part 4. FAQs About 3D SBS
What is the difference between half SBS and half OU?
The half OU and half SBS are different formats of 3D. They have the same pitch of pixel but have different directions. The half OU video has a half vertical resolution or 1920x540, while the half SBS has a horizontal halved resolution or 960x1080.
How can I watch 3D movies on my TV?
If you want to watch 3D movies on your TV, you will need to connect and configure your player device to your TV. Prepare your 3D glasses, then load your 3D content to watch.
Where can I find anaglyph 3D movies?
You can watch anaglyph 3D movies from online video platforms, online retailers, 3D enthusiasts, and other digital websites. However, you have to note that due to the 3D technology advancements, it is less common today than in the past.
Conclusion
There you have it, the learnings about SBS movies with full definition. There are differences between the full and half SBS, but both have their own advantages. You see that working on SBS has been made easier due to some advanced programs available, like Tipard Video Converter Ultimate. This program is a big help for you to convert such SBS and have lossless output after the conversion.