Save iMovie as Video: Turn Your Movie Projects More Accessible
iMovie is one of the aces of Apple when it comes to video making and editing. However, as it seems perfect for us to utilize, there are also drawbacks that we can perceive. One of them is its unavailability on other platforms besides Apple's. Therefore, if you want to access the movie projects you created on other devices, you must save iMovie as a video with a universal format like MP4. But how will you do that if you are just a newbie to using it and video editing? Fortunately, we've got you covered! This post will present you with the simple steps you can easily follow for both Mac and iOS devices.

Part 1. How to Save iMovie on Mac
There are two ways to save the project on iMovie that you can use on Mac. The first and more accessible one is through the Share feature, and the second one is through the File menu. Hence, both can lead you to your purpose, and that is to treat an exported copy. Thus, here are the step-by-step guidelines for using both.
Use the Share Project
The Share project is what you easily see on the workplace of iMovie. It is located at the upper right corner of the interface and presented by an icon. Following the steps here allows you to save iMovie as MP4 successfully on Mac computers.
Step 1Launch the iMovie on your Mac and open the project you want to save by double-clicking it. Now, you see that the projects are automatically saved on iMovie. Does this mean they are also saved on your device? No. Therefore, you still need to proceed to the next step.
Step 2Check the project to see if there are still necessary changes. Otherwise, click the Share button and choose the Export File option.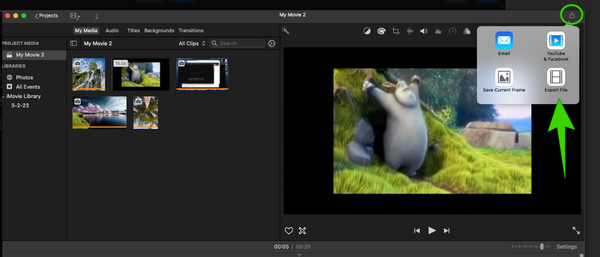 Step 3After that, a new small window will appear where you can edit the quality, compression, and resolution. Then, click the Next button to proceed.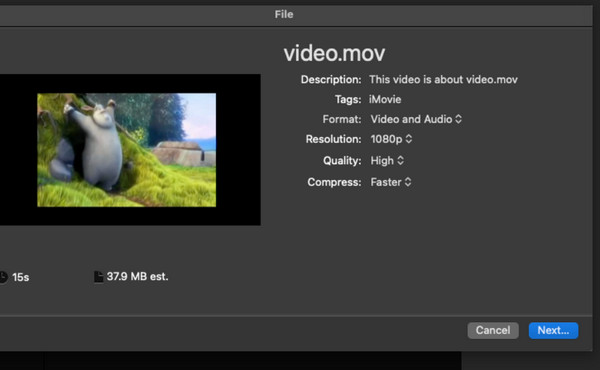 Step 4This is how to save iMovie as MP4, change the file's extension name, and make it .mp4 on the Save As section.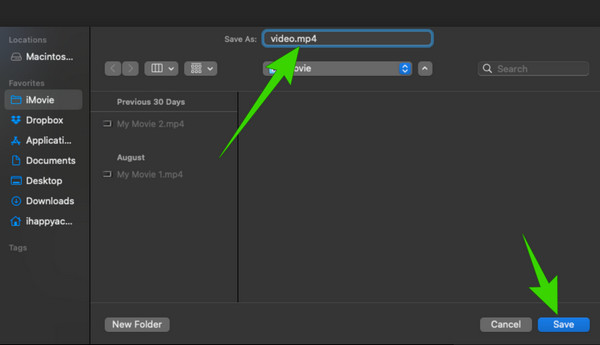 Use the File Menu
You can also use the File menu to save your project, as its name suggests.
Step 1Once you reach the workspace of iMovie and have opened the project you want to save, click the File tab menu.
Step 2Hit the Share button and select the File option. Then, the same window from the Share project will appear. Again, choose the Export File option and continue to export the video file on your Mac.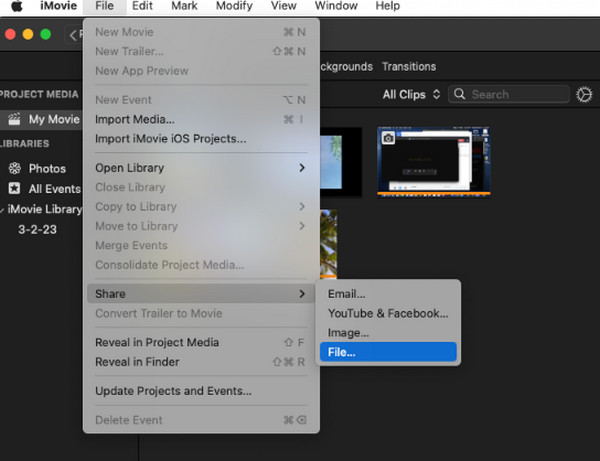 Part 2. How to Save iMovie on iOS
If you are using an iOS device like an iPad or iPhone, there are several steps to do to save the iMovie as an MP4. How? See the steps below.
Step 1On your mobile device, open the iMovie app. Then, open the video or the project you need to save
Step 2When the project is ready for exportation, tap the Done button at the upper left part of the screen.
Step 3After that, tap the Share button and choose the Save to File button to export.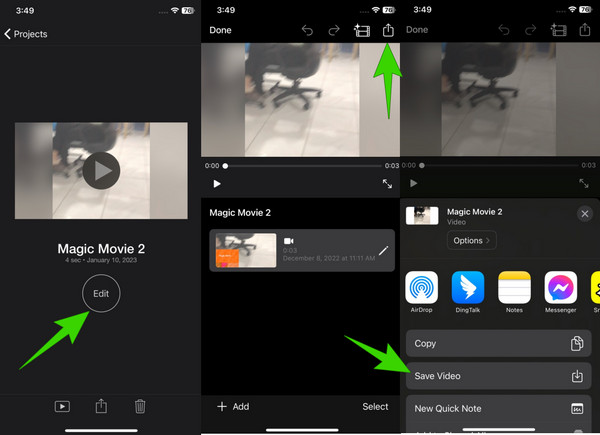 Part 3. How to Fix iMovie Not Saving Issue
If you experience some problems or issues when saving the iMovie, then here are some troubleshooting techniques to fix it.
1. Restart your iPhone or Mac as your initial fixation for the issue. This is also a good solution that every app uses.
2. Update the iMovie to have the latest version of the app. This way, you can get rid of any issues on the old version.
3. Check the necessary permission so that iMovie can access your storage. To do so, go to your settings, choose the iMovie app, and ensure the permission is enabled.
4. Contact the Apple support. When the problem still persists, it may be better to reach for the app's technical support to assist you.
Part 4. Best Alternative to iMovie
Now, suppose iMovie cannot save your project due to its unfixed issues. Or let's say you want to know how to save an iMovie to a desktop. In that case, it's time to meet this Tipard Video Converter Ultimate as its best alternative for Mac and Windows. This software has the same functions and features as iMovie. This program will provide excellent outputs, from movie creation to project editing, enhancement, and conversion. You will surely be amazed at how quick and easy it is, as seen by its clean and straightforward interface. Furthermore, it offers a quick exportation process that will let you save your projects without a hassle. For this reason, let the instructions below help you use it on your desktop.
Step 1Launch the software on your computer after grabbing it via the free download button above. Upon reaching its interface, you can quickly go to the MV feature and click the Plus button at the bottom to upload your media file for your movie.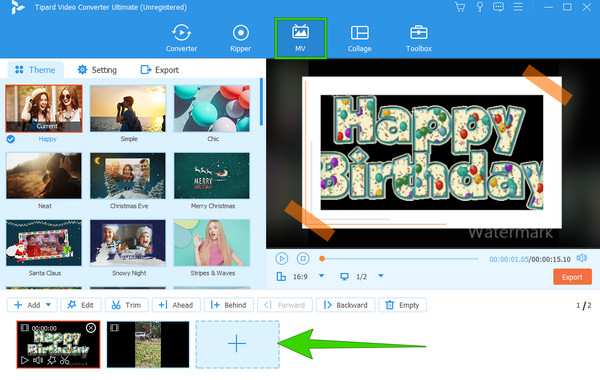 Step 2When the files are uploaded, choose a Theme that will add to the emotion of your project. Then, click the Edit button to access numerous options to customize your project.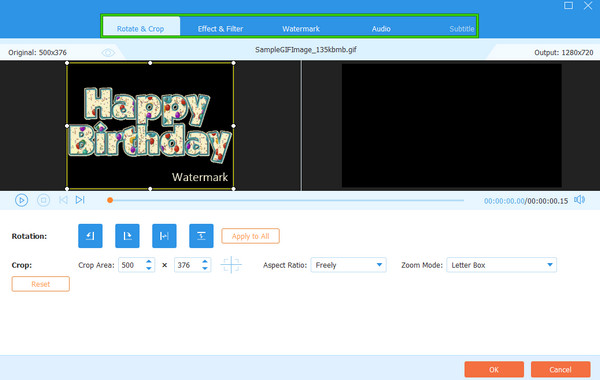 Step 3Afterward, you may proceed to the Settings tab menu to make more setting adjustments. From there, you can add an audio soundtrack and other effects. Otherwise, proceed to click the Start Export button to save your movie project easily.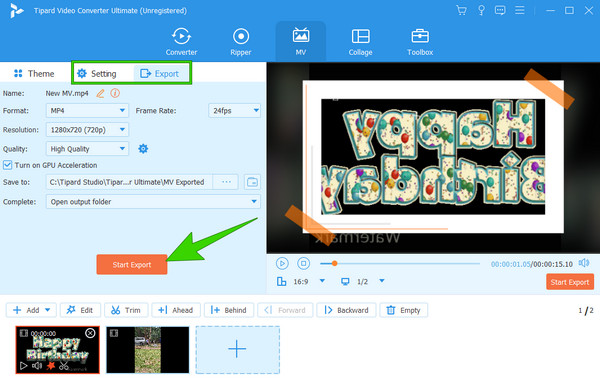 Part 5. FAQs Regarding Saving iMovie
Does iMovie automatically save?
Yes, iMovie automatically saves your project as it is one of its good features to maintain your current work. However, the projects will be maintained within the app not unless you export it to save it on your device.
Where does iMovie save?
The exact location where iMovie saved the files is usually /Movies/iMovie Library.imovielibrary. However, you can still choose to change the file location as you wish. To do so, you can choose a file location when you click the Share>Export File>Next buttons.
Can you save iMovie as MP3?
iMovie only exports the project as WAV, AU, and AIFF as audio-only. However, you can still save your iMovie project as MP3 if you use a third-party media converter like the Tipard Video Converter Ultimate.
Conclusion
You can now make your movie projects more accessible to any device since you just learned how to save iMovie. This article provides the steps for Mac and iPhone, and we added the best alternative to iMovie: the Tipard Video Converter Ultimate. With this program, you can now create great movies using a desktop beside a Mac, for it is a multi-platform software, unlike iMovie.