3 Foremost Ways to Denoise Video Using Tipard Video Converter Ultimate, Adobe Premiere and, Shotcut [2023]
It is impossible to record videos without background noise, mainly while recording in a chaotic area. In addition, video noise occurs because the microphone is extremely sensitive to ventilation noise, such as an urgent breath or any wind hums. There are methods for keeping the video sound clean and clear while recording a film. However, it is far preferable to denoise video rather than doing so. As more than just a result, to assist you and address your concerns, this post will educate you on three reliable denoising video methods. As a result, this piece will also recommend the three most common video noise reduction and audio noise reduction programs. For that reason, you can trust Tipard Video Converter Ultimate, Adobe Premiere, and Shotcut. And for a better understanding of how to manage them, this article will walk you through the process in sequential instructions.
Furthermore, we would encourage you to continue reading this text to thoroughly fix your problem by using the ways for how to denoise video clips.

Part 1. What is Denoise in Video Editing?
Video Denoise is the process of eliminating noise from a video stream. And for extra information. Do you know that there are three approaches to video denoising? First is the Spatial video denoising techniques. You can remove the noise of a picture to each frame separately. Another one is the Temporal video denoising techniques, which minimize noise between frames. In line with that, when combining pixels from many frames, you can use Motion Compensation to avoid motion blur effects. The third approach is the Spatial-temporal video denoising method, also known as 3D denoising, which combines spatial and temporal denoising
Part 2. 3 Best Ways to Denoise Video
How to Denoise Video in Tipard Video Converter Ultimate
Tipard Video Converter Ultimate is a video editing program that can adequately denoise video. This freeware is a fantastic video converter that supports over 500 video formats. It can also convert 8K/4K/HD films at up to 60X quicker conversion speeds. And, because video denoising is a concern of yours, we'd like to let you know that it includes a Toolbox with a Video Enhancer tool. This feature contains a Remove Video Noise tool for repairing video footage. You can also examine the software's key features below and follow the procedures to operate it correctly.
Main Features of Tipard Video Converter Ultimate
1. It can rip homemade DVD files.
2. It has a video editing tool such as cropping, rotating, merging, and more.
3. It supports GPU acceleration.
4. It can convert batch files without affecting the quality.
5. It is easy to use.
6. It is free from viruses and malware.
7. It offers a GIF and 3D maker.
Step 1First, open your browser and type Tipard Video Converter into the search bar. Then, go to the software's page and look for the free download option. Then, select the option that corresponds to your operating system. Launch it and connect it to your computer, then go to the Toolbox and select Video Enhancer.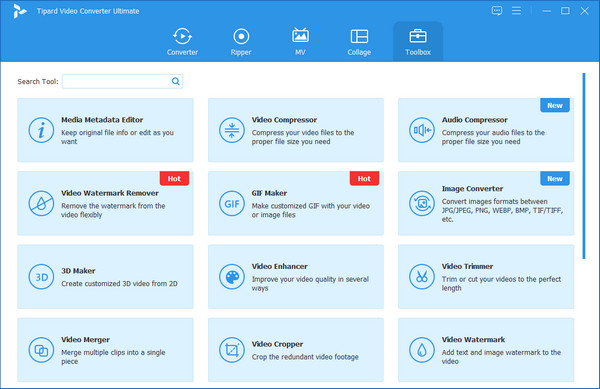 Step 2When you select the Video Enhancer tool, you will see a new screen with a (+) sign in the center. Please click it to add a video file to be denoised.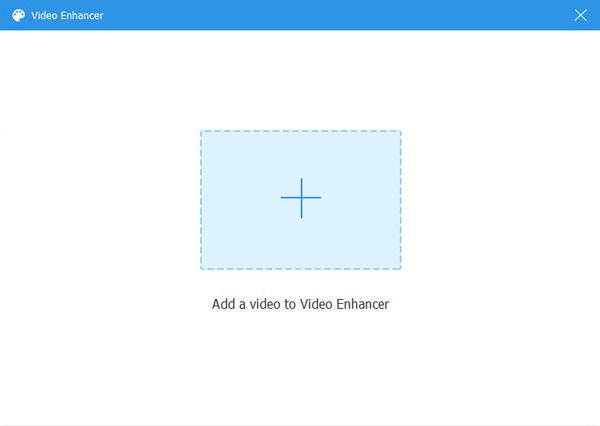 Step 3A new window with several options will appear when you upload a video file. Upscale Resolution, Reduce Video Shaking, Optimize Brightness and Contrast, and Reduce Video Noise will all be visible as a result. To effectively denoise video, check the box next to Reduce Video Noise.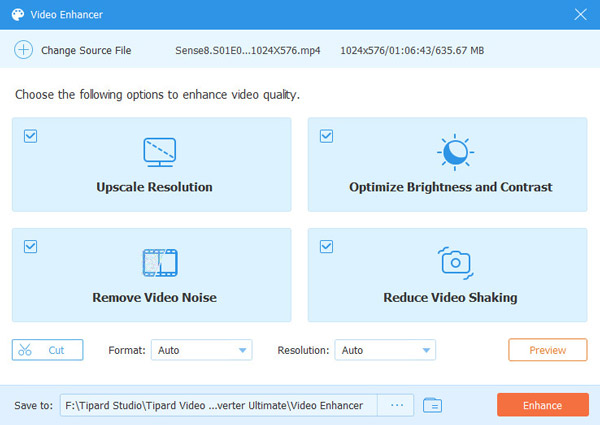 Step 4If you wish to discover if your video footage has undergone any modifications. By clicking the Preview button, you can ensure it. This option will allow you to see a sample of your new output. If it now seems enough to you, select a file location for the new production by clicking the Save to. Then lastly, click the Enhance option to have a new product
Step 5Lastly, you can now enjoy filming your video with clear and excellent quality.
How to Denoise Video in Adobe Premiere
Adobe Premiere is your next choice because it can also successfully denoise video. It is also an easy-to-use program that allows you to navigate it without trouble. It is available for free download and is compatible with both Windows and Mac systems. The good news is that you may effectively restore your video files by using Adobe Premiere denoiser video. Consequently, if you want to give this a try, this guide will show you the basic steps of how to do so.
Step 1Install and start Adobe Premiere on your PC. Then, create a new project to include a video file. Then, go on to the Effect setting.
Step 2Choose a video file after adding video clips. After that, double-click Audio Effects, then go to Noise Reduction or Restoration. After that, proceed to DeNoise.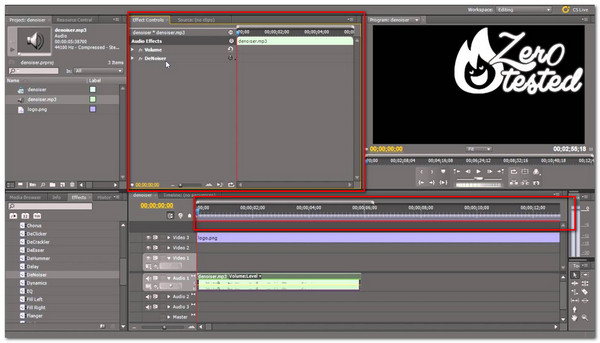 Step 3Finally, click Edit to bring up the Effect Controls window. You may then adjust the Reduction knob until it reads -10db. Take notice that all clips begin with a value of zero.
How to Denoise Video in Shotcut
Shotcut video and audio editing software is free and includes all of the functionality found in other editing programs. As a result, it enables you to do transition addition, trimming, keyframing, and other easy transitions. It also allows you to denoise your video by adjusting the Audio option. As a result, you can proceed as follows.
Step 1Launch and open Shortcut to your PC. Following that, it will take you to the main interface. On the top right corner of the screen, click the Open file button. Then select a video file to denoise.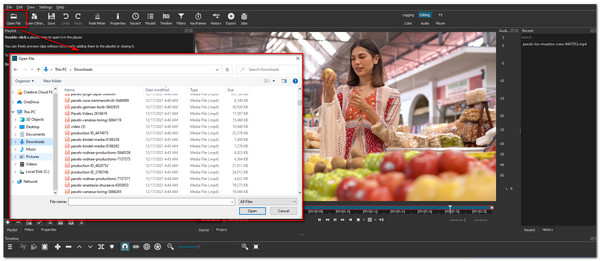 Step 2After adding a video file, go to the right side of the interface and select the Audio option. Audio sliders will then appear. As a result, you may tweak them to reduce noise in your video.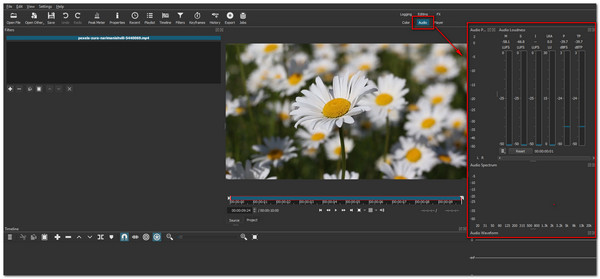 Part 3. FAQs of How to Denoise Video
What is the most reliable video denoiser?
We highly recommend Tipard Video Converter Ultimate. This one comes with a free download version that is suitable for Windows and Mac. This is trustworthy because it is free from viruses and malware. It can also denoise video with a few clicks, try it now.
How can I denoise a video on my Android phone?
Visit the Play Store to download the app on your Android device.
Touch "Mute Video" from its interface and choose the video from which you want to remove the background noise from your photo album. After uploading, tap the checkmark icon, and a screen will appear. Select Mute without trimming video, then OK, to save the video on your phone.
What exactly is a denoise photograph?
Image denoising removes noise from a noisy image to recover the actual print. However, because noise, edge, and texture are high-frequency components, they are challenging to differentiate throughout the denoising process. The denoised pictures will necessarily lose some information.
Conclusion
After reading this entire essay, we hope you fully understand the three methods to denoise video. To reiterate, Tipard Video Converter ensures the highest video and audio quality. Thus, it allows you to repair your media files without compromising their quality. You can also utilize the free download and upgrade to the premium version to get all its features. If you have any questions, please message or contact us.
Furthermore, please share this article to assist others in resolving their difficulties, particularly how to efficiently denoise video.