5 Best Ways of AI Upscaling Video on Windows and Mac OS X
Over the last decade, video and image upscaling, which is the process of turning a low-resolution video into a higher-resolution, has gone. Now, this technology is built into an array of customer devices, such as digital cameras, smart TVs, and more. On a computer, AI upscaling video is not a new concept, but it can turn a 1080p video into 4K or 8K using algorithmically transformation. This post identifies and shares the top 5 AI video enhancers.

Part 1: What Is AI Upscaling Video
AI video enhancement is the process of increasing the quality of a video using artificial intelligence technology. In the past, there are two ways to upscale video quality:
Convert videos with low resolution to higher resolution.
Increase bit rate and improve the quality of the video.
Now, artificial intelligence has improved video enhancement, making it possible to significantly enhance the quality of lower-resolution videos. Upscaling a 1080p video to 4K, for example, the AI will create additional pixels and fill the blank areas. The best AI video enhancers can even recover details, make video sharpen, reduce noise, and more.
Part 2: Top 5 AI Video Enhancers
Top 1: Tipard Video Converter Ultimate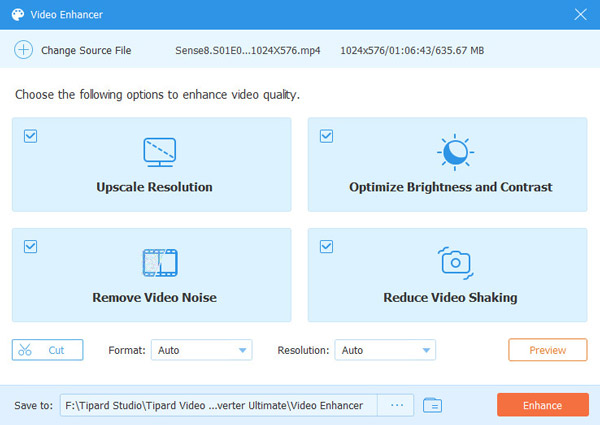 Tipard Video Converter Ultimate is one of the best AI upscaling video software. It is an all-in-one solution to enhance video quality using artificial intelligence. It can upscale DVD movies to UHD videos, retouch your videos, and more.
Pros
1. Upscale video quality using AI technology.
2. Support 8K/5K/4K/HD videos.
3. Work for almost all video formats.
4. Edit videos on the timeline.
5. Rip videos from DVD.
6. Available to PC and Mac.
Cons
1. It may take time to process large videos.
Top 2: AVCLabs Video Enhancer AI
AVCLabs Video Enhancer AI is the AI upscaling video software for PC users. It is powered by AI as the name suggests. The built-in strong algorithms help you enhance video quality after recognizing the lost pixels.
Pros
1. Upscale videos up to 8K.
2. Easy to use.
3. Provide flexible subscription plans.
4. Remove noise automatically.
Cons
1. It does not support older GPUs.
2. It can only save enhanced videos in MP4.
Top 3: Topaz Labs Video Enhance AI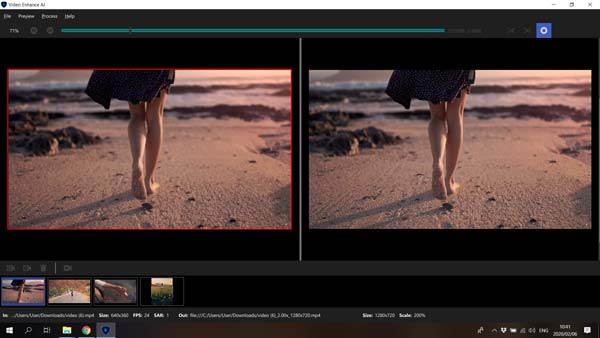 Topaz Labs is a professional visual studio. Now, it released the AI video enhancer to help people in sharpening, denoising and converting lower-resolution videos into higher-resolution. Moreover, it provides plenty of custom options.
Pros
1. Enhance videos to 8K.
2. Use AI models to upscale resolution.
3. Include custom options.
4. Support photo enhancement.
Cons
1. The hardware requirement is pretty high.
2. The interface is not intuitive.
Top 4: Video2X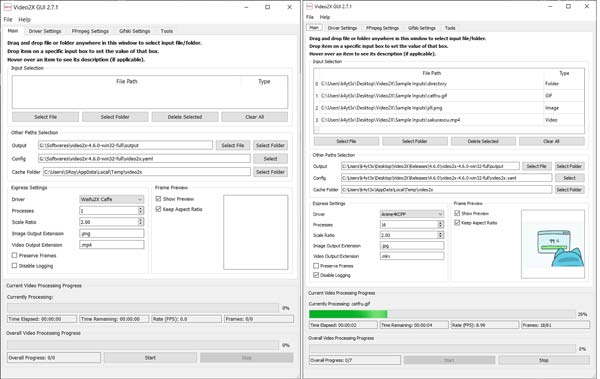 It is well-known that AI upscaling video software is expensive. Video2X, on the other hand, is a free tool to optimize videos since it is open-source. The software is based on Waifu2X, Anime4K, SRMD, and RealSR and is written in Python 3.
Pros
1. Increase resolution up to 4K.
2. Open-source and free to use.
3. Support MP4, MKV, and other formats.
4. Upscale photos and GIFs.
Cons
1. It lacks video editing features.
2. The interface looks messy.
Top 5: Cupscale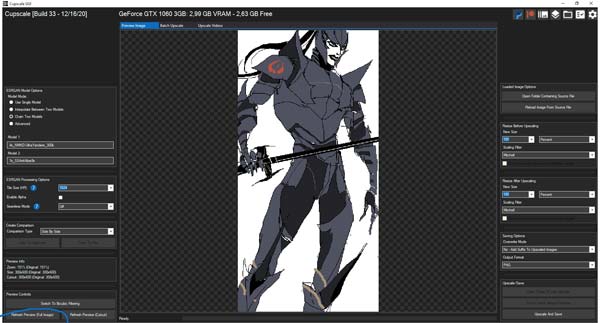 ESRGAN is a famous AI video upscaling algorithm. It is primarily used as an AI enhancer for photos, but it can do video upscaling too. Cupscale is the GUI of ESRGAN and works with a neural network.
Pros
1. Free of charge.
2. Enhance video to 8K.
3. Support MP4, JPG, and PNG.
4. Keep the video format.
Cons
1. This AI video enhancer is not stable.
Part 3: How to Enhance Video by AI on PCs
To beginners and average persons, AI is still a kind of obscure technology. Therefore, many people worry that it is difficult to upscale video quality using AI. In fact, some AI video enhancers are easy to use, such as Tipard Video Converter Ultimate. Here are the steps below.
Step 1Install AI video enhancer
Launch the best AI video enhancer software once you install it on your PC. It is compatible with Windows 10/8/7. There is another version for Mac. Switch to the Toolbox from the top ribbon, and choose Video Enhancer.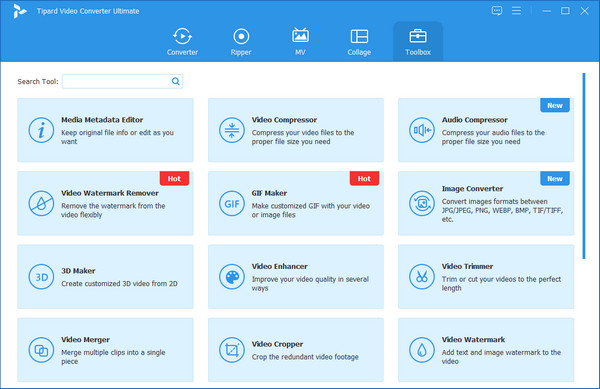 Step 2Add a video
There are two ways to add a video:
Click the + icon in the interface, find and select the target video, and click the Open button.
Fire up a File Explorer window, locate the target video, drag and drop it into the interface to add it.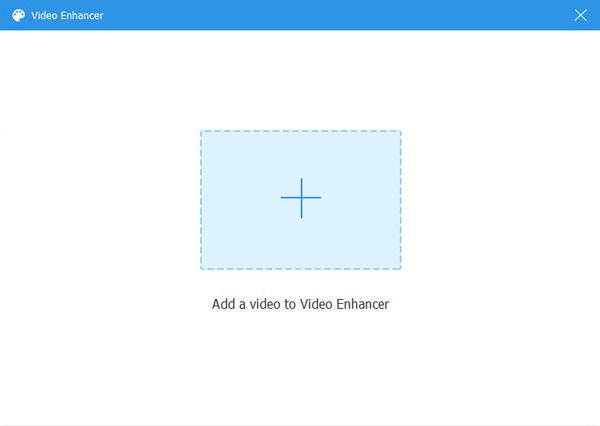 Step 3Upscale video quality
Now, you will be presented with four options, Upscale Resolution, Optimize Brightness and Contrast, Remove Video Noise, and Reduce Video Shaking. You can enable one or specific ones by checking the boxes. Click the Preview button and view the upscaled video. Next, set the Format, Resolution, and destination directory in Save to box. At last, click on the Enhance button to save the video.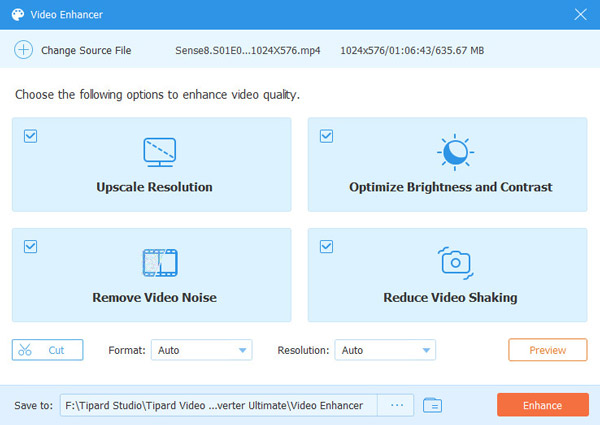 Part 4: FAQs about AI Video Enhancer
How to enhance videos with AI online?
There are some AI video enhancement services online, but they are expensive. Moreover, it is not safe to send your videos to online services. You'd better upscale videos by yourself.
How long does it take to upscale a video?
It depends on your hardware, software, and video. If you are using an old machine to process a large video, it takes several hours to days to upscale the quality.
Does 4K upscaling work?
Yes. Moreover, the SD and 1080p videos look pretty great when upscaled to 4K resolution either on your smart TVs or digital devices, like computers and handsets.
Conclusion
Now, you should master at least the top 5 best AI video upscaling software for Windows and Mac. Similar to other software, PC users have more options to enhance video quality using AI. Tipard Video Converter Ultimate is working on both Windows and Mac. Plus, it is pretty easy to use. If you have other questions or better recommendations, please feel free to leave a message below this post and we will reply with it as soon as possible.