The Most Complete Guide to Reset Yahoo Email Password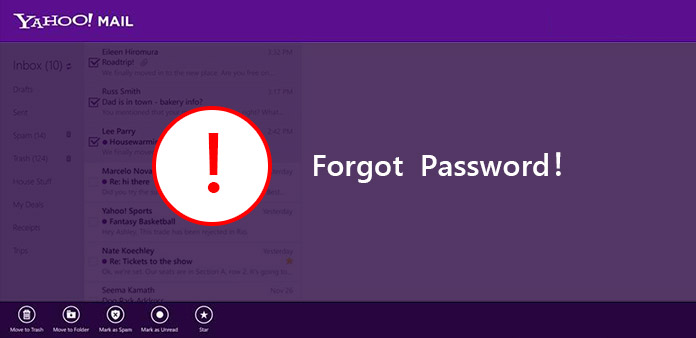 We are often used to set complex password for all accounts in order to make our information securer and prevent others accessing our accounts easily. However, this will also produce some unexpected results from time to time. For example, if you forget your Yahoo email password but you didn't make a backup of the password before, things will be difficult. If you are reading this post, you are in the right place. Here we will provide all possible solutions to solve the Yahoo mail forgot password problem.
Part 1. Yahoo Password Reset with ID
To reset a forgotten Yahoo password, the first and easiest way is to verify your identification in Yahoo! Sign-in Helper page. As long as you remember the phone number or alternate email address associated with the Yahoo account, you will receive an Account key for verification easily. Check the detailed operation steps below.
Step 1

Go to login.yahoo.com in your browser on any digital device. Press the link that said

Trouble signing in

? Go to Yahoo sign-in helper page.

Step 2

Yahoo will ask you to enter your

Recovery phone number

or

Recovery email address

in the field. After input the correct information, tap on Continue to go to the next page. If the CAPTCHA image appears, you have to enter the CAPTCHA code in the right place.

Step 3

Then you have to choose a way to receive Account Key. If you prefer to get the Account Key via SMS, select

Yes, text me an Account Key

. If you want to reset Yahoo password via email address, choose

Yes, send me an Account Key

.

Step 4

Enter the Account Key you got in the right field and click on

Verify

to confirm that you are the owner of this Yahoo account. After verification, you can select your Yahoo account and reset Yahoo password. Once it is successful, you can log in your Yahoo account with the new password.
Do not miss this post if you forget Microsoft password and want to reset it.
Part 2. Recover Yahoo Password with Security Questions
Yahoo usually requires users to set security questions and answers in order to enable users to recover Yahoo password through security questions. If you have set your security questions and remember the answers exactly, you can use them to reset your Yahoo mail password. So when you create the security questions, you'd better save the answers safely.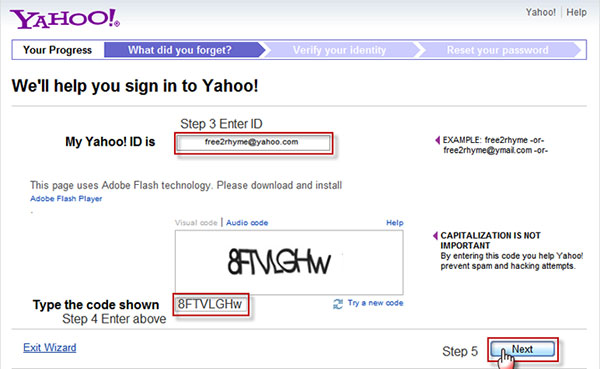 Step 1

Visit Yahoo help center website and choose

Password and sign

in option.

Step 2

Then you should select

Forget Password in Recommended Option

and input your Yahoo email address. Tap on

Submit

to continue after you entered the required information.

Step 3

Yahoo may show you a CAPTCHA picture. You need to type the CAPTCHA code into the right field and tap on

Next

button.

Step 4

In the next page, select Use my secret questions and drops the exact answer to each security question.

Step 5

When you answer all the security questions completely, Yahoo helper will direct you to Yahoo password reset page.

Step 6

Then you can input a new password and press Next button to complete the process.
So the security questions and answers are really important to Yahoo users. You should save such information safely. And when you cannot remember password, you can reset it through these security questions.
Part 3. Reset A Hacked Yahoo Password
Yahoo has reported that more than a billion Yahoo email accounts had been hacked. If you have a Yahoo account, you must want to know whether you have been hacked or your Yahoo account is in security. Yahoo has published the list of hacked accounts, you can open the link labeled Out notice to potentially affected users in log-in page to check it. If you confirm that your Yahoo account has been hacked, follow the guide below to reset a more complicated password.
Step 1

Log in your Yahoo account, open the gear shape settings menu on upper right corner.

Step 2

Choose Account info in the menu list and then go to Account security section. Press link titled Change password and drop the new password in the fields. Then tap on Continue to finish the process.

Step 3

If you cannot log into your Yahoo email account, you can try the methods introduced in Part 1 and Part 2.
A complicated password should contain numbers, character and symbols. You can design your Yahoo password and reset Yahoo password frequently to protect your Yahoo account. If you usually check email on a smartphone, you need to update the new password on your mobile phone.
Part 4. The Ultimate Method to Reset All Types of Windows Password
If you lose or forget password for Windows PC and have no other admin account to log in, or you buy a second-hand computer but is locked out of the admin password, the Windows Password Reset Ultimate can provide the easiest solution to solve your problem. Besides resetting Windows system password, it also enables you to create a new administrator account without logon. So that you can access the locked system by the new account.
Features:
• Reset and change Windows Administrator or other user password.
• Reset password with bootable CD/DVD or USB drive.
• Support almost all Windows Systems including Windows 10/8/7/XP/Vista and more.
• All Windows Workstations are supported.
How to reset Windows password
Step 1. Download the Windows password reset tool
Download and install Windows Password Reset Platinum on an accessible computer.
Step 2. Create password reset disk or USB drive
Insert the password reset device (CD/DVD or USB drive) to the accessible computer, then click "Burn CD/DVD" or "Burn USB". After burning finished, just click "OK" and close the interface.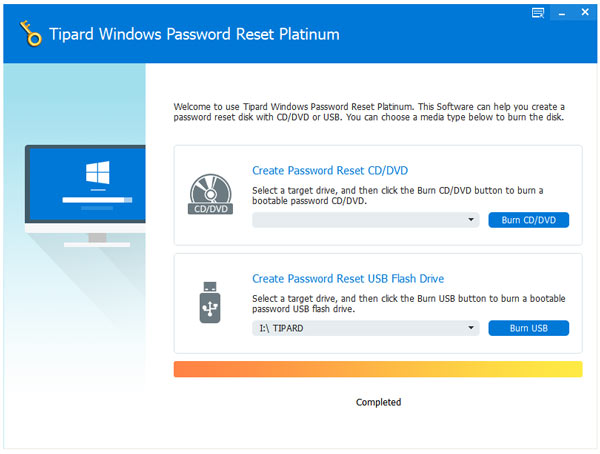 After burning finished, just click "OK" and close the interface.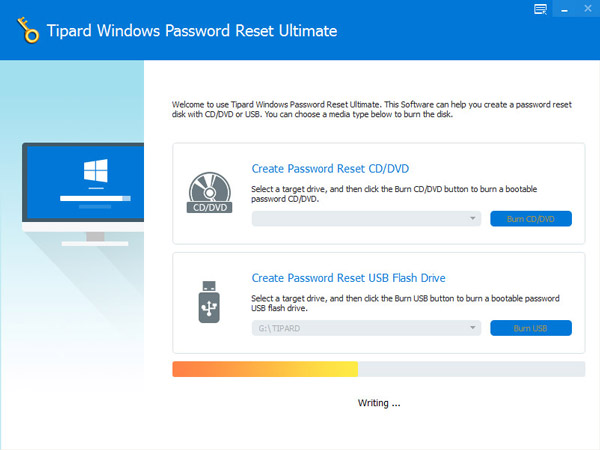 Step 3. Set the locked PC boot by bootable disk or USB drive
Take out of the CD/DVD or USB flash drive and insert it to your locked Windows computer. Enter the "Windows Preinstallation Environment" according to the prompt of computer starting. If you use CD or DVD, choose CD-ROM Drive on boot menu, otherwise choose USB.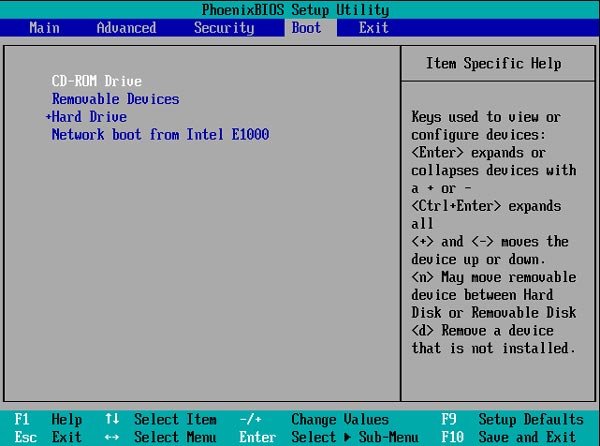 Step 4. Start to reset Windows password
The Windows Password Reset Platinum will launch automatically as below. Choose account and start to reset Windows password. After resetting your Windows password successfully, just eject the bootable disk or USB drive and restart your computer.
Conclusion
This article has introduced various methods to have Yahoo mail password reset in different situations. We also recommended a powerful tool to help you reset Windows password or add new administrator account easily if you have the need. However, the most useful and safest method to avoid forgetting all kinds of password is to write them down and make a backup of your passwords in case of any loss.