What to Do When Forgot Outlook Password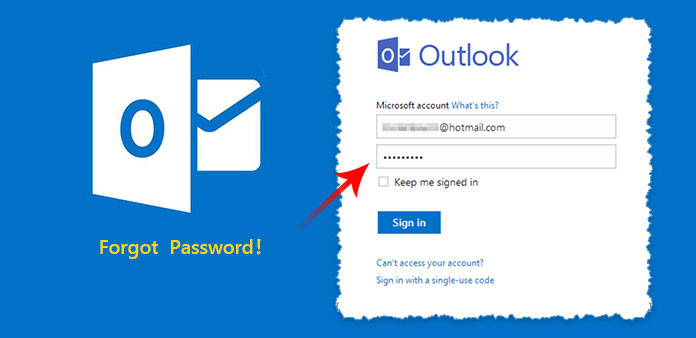 Just forgot Outlook password? I can understand your anxiety and trouble. Actually, you are not the only person facing such plight. Many people have followed the experts' suggestions and set a complicated password to their Outlook account. The result is that strangers cannot go to your Outlook account, and so are you. Don't worry! There are multiple ways to solve the problem when you lost Outlook password. One way is to reset Outlook password and then you can log in Outlook account with the new password. Another mothed is to recover your original Outlook password. Now we will check out the detail about these solutions.
Solution 1: Outlook password reset page
When you forgot or lost the Outlook password, the first reaction might be asking help to Microsoft. Microsoft provides Outlook password reset page. You can follow the instructions to reset a new passcode.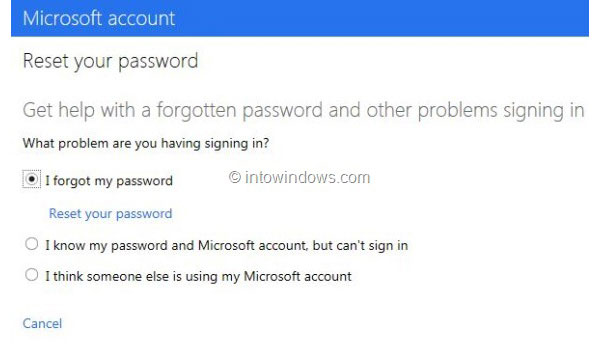 Step 1
Access outlook.com and go to password reset service. Or you can input account.live.com/password/reset in address bar and press Enter key to access the service.
Step 2
Choose I forgot my password option in the problem selection page and hit Reset you password link to continue the process.
Step 3
In Microsoft account page, you have to enter your account and the CAPTCHA code in the right fields. And then tap on Next to go to the next page. This way is available when you only forgot Outlook password but not account.
Step 4
Microsoft needs to verify you are the owner of this account through alternate email or verification phone number. You can select Email me a reset link or Send a code to my phone according to your situations; and click on Next to keep on. If you choose the former one, go to the fifth step. Otherwise skip to the sixth step.
Step 5
Go to your alternate email and open the letter from Microsoft. Once you hit the link in the letter, Outlook password reset page will pop up.
Step 6
When you receive the verification code, type it in the code box and tap on Submit button to go to password-reset page.
Then you can drop a new password and complete LOST Outlook password reset.
Solution 2: Reset Forgot Outlook password on Xbox One
If you have an Xbox One console, you can also reset lost Outlook password with it when you forgot outlook password. Xbox One is one of most popular consoles around the world. Microsoft allows you to access Xbox One with outlook password, phone number or alternative email. So you can go to this Microsoft console without password.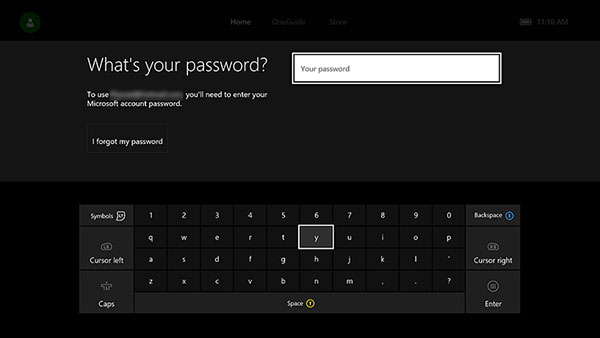 Step 1
Power on Xbox One console and hit I forgot my password in log in screen.
Step 2
In the next screen, type the CAPTCHA code shows on the image into the field.
Step 3
Xbox One will take you to the verification screen. If you are able to access any security contact information, including alternate email, authenticator app and phone number, hit Yes; otherwise press No.
Step 4
If you select Yes, you have to select a way to receive security code. We choose authenticator app here and click Next button to continue.
Step 5
When you receive the authentication code in your smartphone app, input the code into the field on Xbox One.
Step 6
Then you can pick a password and enter in the field. In the One more time scree, re-input the new password again to confirm it.
After password reset, you can log in your Outlook account with the new password and throw the trouble of forgot outlook password for Xbox One in ashbin.
Solution 3: Recover outlook password via Recovery Toolbox
Another way to solve the problem of forgetting Microsoft outlook password is password recovery. Outlook will save the password in PST files. However, we cannot open PST file directly. There are several programs are able to read PST files and help you to recover your outlook password, like Recovery Toolbox for Outlook Password. When it comes to details, you can follow the steps below.
Step 1
Download Recovery Toolbox for Outlook Password installation file from official website and install it on your computer.
Step 2
Run Recovery Toolbox for Outlook Password after installation.
Step 3
Choose your Outlook account on the middle panel. And then the password will be displayed on the right side.
After you get your forgot Mircosoft outlook password, you'd better reset a complicated Outlook password on Microsoft website instantly. Outlook password is not only the key to access Outlook and other email account, but also essential to use Microsoft services, like OneDrive, Office Online, Xbox One and more. So you have to keep Outlook password secure.
More ways of recovering Outlook password from official recommendations, please check it here.
Solution 4: Windows password reset
A complicated Outlook password can only protect the data in Outlook. If you want to protect all the documents and data on your computer, you need a powerful tool to help you manage and reset Windows password. Tipard Windows Password Reset Platinum is a good choice. With Windows Password Reset Platinum, you can reset Windows password before enter operating system. That is the safest way to reset password for the forgot outlook password.
How to create a bootable disc
Users could make a bootable DVD or a bootable USB drive with Windows Password Reset Platinum. We use bootable DVD here. The workflow of making bootable USB drive is similar.
Step 1
Install and run Windows Password Reset Platinum on a computer accessible and insert a new DVD.
Step 2
Tap on Burn CD/DVD button in the interface to make a bootable DVD.
Step 3
When the bootable DVD is done, click on OK button and remove the bootable DVD.
Finally, you should unlock your iPhone or iPad and log in your new iCloud passcode.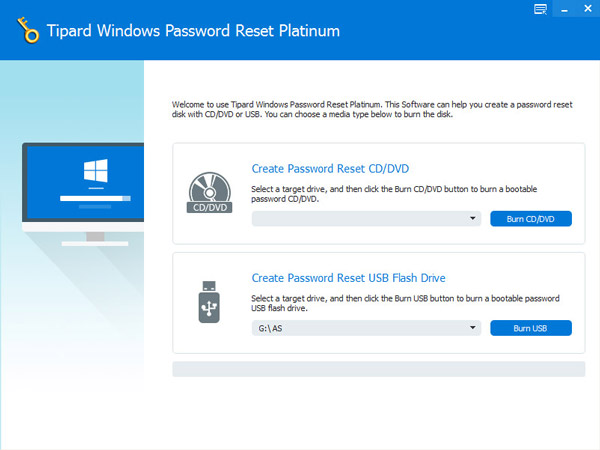 How to reset password
Step 1
When you forget passcode or need to reset password, insert the bootable DVD that you created with Windows Password Reset Platinum and restart your computer.
Step 2
In Windows pre-installation environment, the password manager screen pops up automatically.
Step 3
Choose the account you want to reset and tap on Reset Password button to continue.
Step 4
In the resetting dialog, pick a new password and press OK to finish password reset.
Step 5
Then you can remove the bootable DVD and start your computer as normal.
The whole process just need a few minutes and several simple steps, so ordinary people could use Windows Password Reset Platinum easily.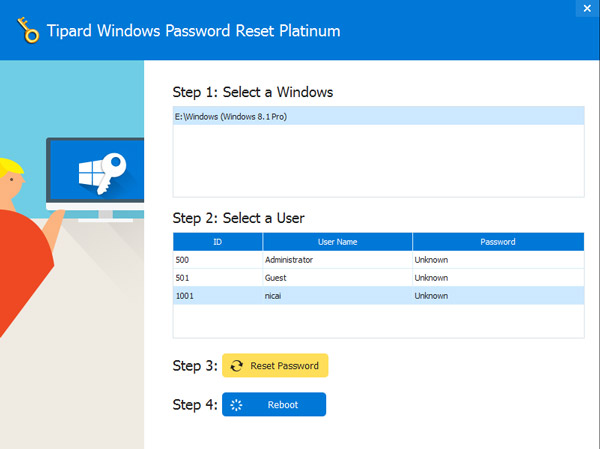 Conclusion
When you forgot Outlook password or your Outlook account is hacked, you need an effective way to reset or recover the passcode. This article introduced the best solutions. If you reset Outlook password, you can go to the Microsoft Outlook password reset page. With alternative email or photo number, you can reset Outlook password easily. Another way to reset Outlook password is Xbox One console. Besides alternative email or photo number, Xbox One also allows you to use authenticator app to reset passcode. On the other hand, there are some Outlook password recovery tools on market. You can try to recover passcode with one such recovery tools.
Finally, we introduced a solution to protect your computer, including Outlook password. Tipard Windows Password Reset Platinum is useful when you forgot Windows password or needed to reset Windows passcode before go to operating system. If you have any query about the solutions to retrieve the forgot Microsoft Outlook password, you can feel free to let us know in the comments.