How to Create Windows 7 Recovery Disk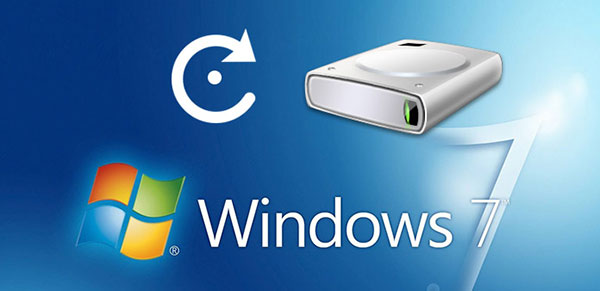 Although Windows provides many tools to troubleshoot and fix malfunctions on PCs, not many people grasp these tools. A system repair disk or recovery disc is the ultimate solution to recover Windows operating systems. A Windows 7 recovery disk is a bootable disk that Windows users created on an accessible PC. And when a PC crashes or encounters any error, you can use it to fix the problem and recover the operating system. Considering how to create Windows 7 recovery disk is still a challenge to ordinary people, we will introduce the workflow in details.
Part 1. Create a Windows 7 recovery disk
If you cannot find the Windows 7 recovery free download, you can create a disk by yourself. You only have to prepare a new DVD and an accessible Windows 7 PC with CD-ROM drive.
Step 1

Power on the accessible Windows 7 PC and go to ,

Start

menu.

Step 2

Locate to

All Programs

and then

Maintenance

. Click on

Create a System Repair Disc

to open the creating window. Or you can go to C:\Windows\System32 and run recdisc.exe directly.

Step 3

In the create a system repair disc window, choose the optical disc drive from the drop-down list of

Drive

. And then insert a blank CD or DVD into the CD-ROM drive. Once click on

Create disc

button, Windows 7 will start creating the System Repair Disc.

Step 4

When the Windows 7 recovery disc is done, the PC will pop up a dialog. You can simply close it by clicking on

Close

button.

Step 5

: Finally, click on

OK

button on the create a system repair disc window to finish Windows 7 repair disc creation. Then you can remove the Windows 7 recovery disk from PC and keep it in safe location.
Part 2. Make a Windows 7 recovery USB memory stick
Some people prefer to use USB flash drive, because it is removable and recyclable. So we offer a method the put recovery tools on a USB flash drive.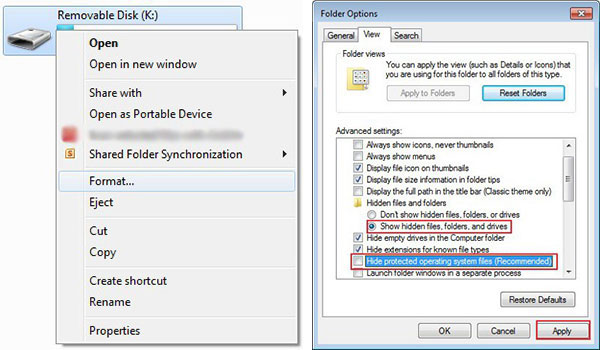 Step 1

You should prepare a large enough USB drive and format it on your computer. After plug the USB drive on your PC, right-click on the USB drive and choose Format in the menu list. In format removable disk dialog, select NTFS in the drop-down list of File system and hit Start button to format the USB flash and prepare to make a Window 7 recovery disk.

Step 2

After formatted, you need to create two folders titled boot and sources in the USB flash.

Step 3

Then you need to put system repair tools in the USB flash. Some tools may be hided, so you need to go to Folder Options and select Show hidden files, folders and drives to see all the tools.

Step 4

Search for boot.sdi in C: and copy it to boot folder of USB flash. Search for Winre.wim and copy it to sources folder in USB flash; and rename Winre.wim to boot.wim.
Go to C:\Windows\Boot\DVD\PCAT and copy BCD file to boot folder in USB.
Locate to C:\Windows\Boot\DVD\PCAT\en-US and copy bootfix.bin and paste to boot folder.
Copy the bootmgr file from C:\Windows\Boot\PCAT to the root of USB flash.
Part 3. Build a Windows 8 recovery USB
When you create a system repair disc, you will find out that Create a system repair disc is not available on Window 8. But we still could build a Windows 8/8.1 recovery drive on USB memory stick.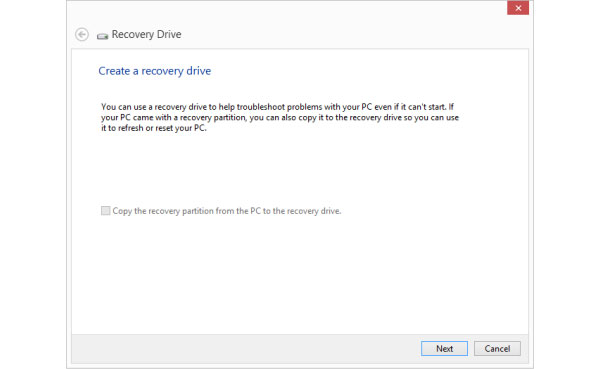 Step 1

Input recovery in Search bar on Windows 8/8.1 and choose

Create a recovery drive

in the result. When the user account control window pop up, click on

Yes

to start

Recovery Media Creator

window.

Step 2

Plug a formatted USB flash drive in your PC. In the Recovery Media Creator window, if you want to copy the recovery partition to the recovery drive, you can check the box of

Copy the recovery partition from the PC to the recovery drive

and click on

Next

button to continue.

Step 3

Then you can select the USB flash drive to save the recovery tools and tap on

Next

.

Step 4

When you are ready to create Windows 8 recovery USB, click on

Create

button on the warning message dialog.

Step 5

When the Windows 8 recovery drive is done, click on Finish to complete the process.
The next time your Windows 8/8.1 crashes, you can use the Windows 8 recovery USB to troubleshoot.
Part 4. Fix uncertain Problems with Windows password reset
Windows recovery disc could fix a lot of problems; however, it is the ultimate solution. When you forgot Windows login password, Windows recovery disk seems to be overkill and a waste of time. Tipard Windows Password Reset is a better way to reset login password. Firstly, Windows Password Reset also has the ability to reset Windows password in pre-installation environment. Moreover, Windows Password Reset is easier to use and faster compared to Windows 7 recovery disc.
How to create a Windows 7 recovery bootable disk
Windows Password Reset allows user to make a bootable DVD or a bootable USB. The process and usage of both are the same. You can make a decision according to your situations. We use bootable USB as the example.
Step 1

Launch Windows Password Reset on an accessible PC and plug a formatted USB flash drive.

Step 2

Once you click on

Burn USB

button, Windows Password Reset will start making the bootable USB.

Step 3

When the bootable USB is ready, tap on

OK

button and remove it.
How to reset password
When you forgot Windows password or suspend your PC is hacked, you can use the bootable USB to reset Windows password in Windows Pre-installation Environment.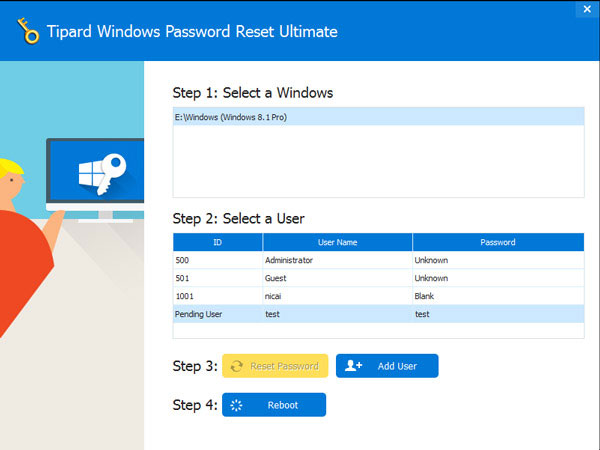 Step 1

Plug the bootable USB and reboot your PC. Before go to operating system, the password manager screen will pop up automatically.

Step 2

Choose the account to password reset and tap on

Reset Password

button.

Step 3

In the reset dialog, pick a new password and press

OK

.

Step 4

Then you can remove the bootable USB and restart your computer as normal.
The workflow is simpler and faster than Windows operating system recovery.
Conclusion
Based on the introductions above, you might grasp the various ways to make Windows 7 recovery disk and Windows 8 recovery USB. These methods could help you to build an external Windows PC recovery tools. And when your PC has any troubles, you can use the recovery tools to fix the operating system. It is useful when an operating system crashes during update and other problems. However, if you just forgot Windows login password and locked out of your PC, you can try Tipard Windows Password Reset. It is faster way to help you recover Windows password.