How to Speed up Windows 7 with a Good Performance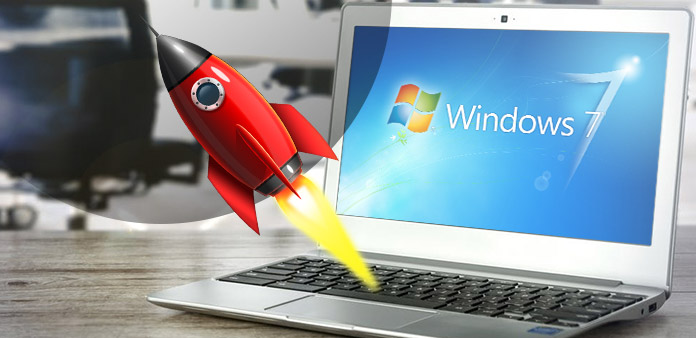 The biggest disadvantage of Windows 7 is speed, from boot to shut down. Considering there are still many people that prefer to Windows 7 and refuse to upgrade, they must want to know how to speed up Windows 7. It cannot be denied that a slow PC is an annoyance and sometimes even an affliction. Although Windows 7 is slow, it has really good performance. And some Windows 7 users have complaint that Windows 7 would slower over time. Therefore, we will discuss how to boost my Windows 7 and keep its good performance at the same time.
Clean up your PC
All your actions on PC will produce some footprints, like cookies, and Windows 7 will save these footprints on hard drive. So you might feel that your PC become slower as time gone. To speed up Windows 7, you can use the built-in feature to erase temporary files and other useless data.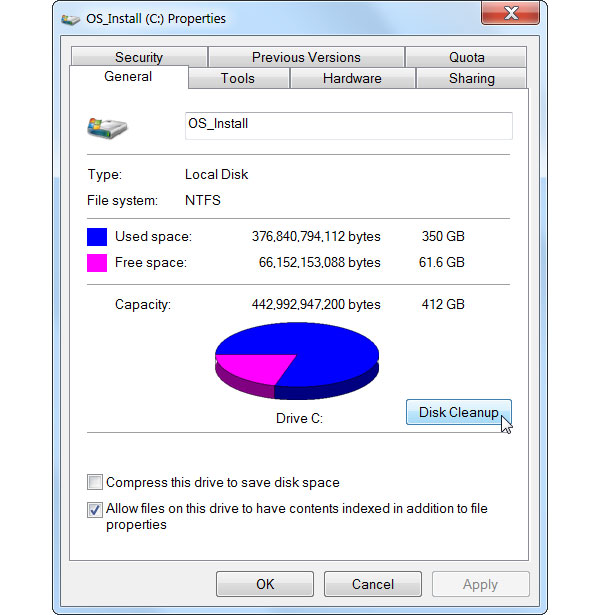 Step 1
Right-click one of your hard drives and select Properties option.
Step 2
Choose General tab in properties window and tap on Disk Cleanup button.
Step 3
Then check the file types to clean up in Files to delete list and click on OK button to start cleanup the hard drive. The whole process will spend a few minutes to an hour.
Remove the unnecessary startups
One of the reasons that Windows 7 spends more time to boot is redundant start-up. Besides the operating system, many programs will automatically start by default when your PC startup. That will extend startup process as well. So we should remove the unnecessary startup items and speed up Windows 7.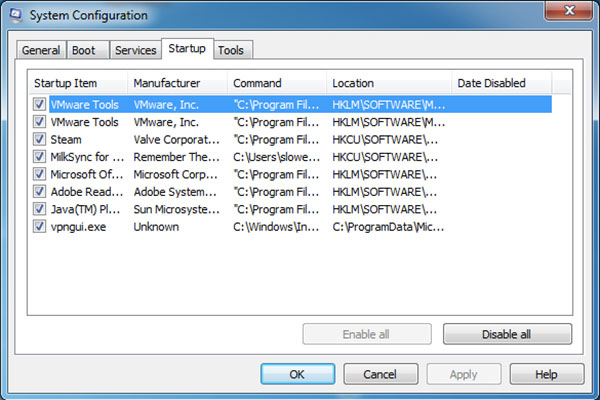 Step 1
Press Start menu and open Run dialog.
Step 2
Type msconfig in Run box and press Enter key.
Step 3
Tap on Startup tab and uncheck the unnecessary items. You should be careful and do not disable the necessary items. If you are not sure, you can ask for technology support.
Many PC vendors will pre-install several utilities. Some utilities are useful; but others are useless, like the program that reminds you the vender's name. These programs are usually running in the background. They occupy CPU and make our PC responding slower. You'd better to clean these useless programs to accelerate Windows 7 PC.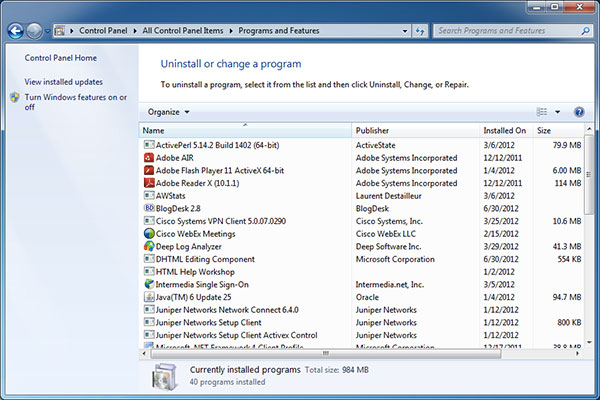 Step 1
Tap on Start menu and open Control Panel option.
Step 2
Go to Programs and Features window.
Step 3
Choose the program you'd like to remove, right-click on it and select Uninstall. Windows 7 will become faster after you uninstall useless programs.
Reduce animations
Windows 7 is a graphic operating system. Microsoft developed a few animations to polish Windows 7. These animations make Windows 7 beautiful; however, animations also delay the response of our PC. You can disable animations to exchange better performance.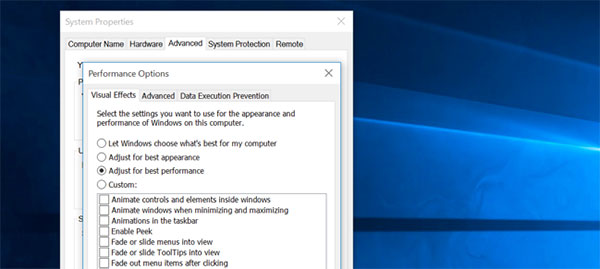 Step 1
Hold down Win + X and choose System option.
Step 2
Tap on Advanced System Settings tab and then Settings button.
Step 3
Choose Adjust for best performance in Visual Effects tab. If you are advanced user, you can choose Custom and check the options in the list.
Keep your eyes on malware and adware
When you surf online, malware and adware are targeting you and your PC. Once there is a chance, malware or adware will infect your PC or interfere your browser quietly. Worse still, some malware or adware will spread virus. You'd better to use an anti-virus program to scan your PC regularly. There are many anti-virus programs in market, like Kaspersky Lab, Norton Security, Avira and more. You can choose one to speed up Windows 7 computer.
Close the programs running in the background
Some applications will run in the background. If you do not check the system tray or notification area, you will not notice these applications. That is because these applications are designed to shrink in the system tray but not close after you press the Close button. To accelerate Windows 7, you can check your system tray and notification area frequently. If you find some applications hidden there, you can reset the applications.

Change Regedit
Regedit is Windows 7 Registry Editor, which record all activities and changes about your computer. You can speed up Windows 7 through changing Regedit.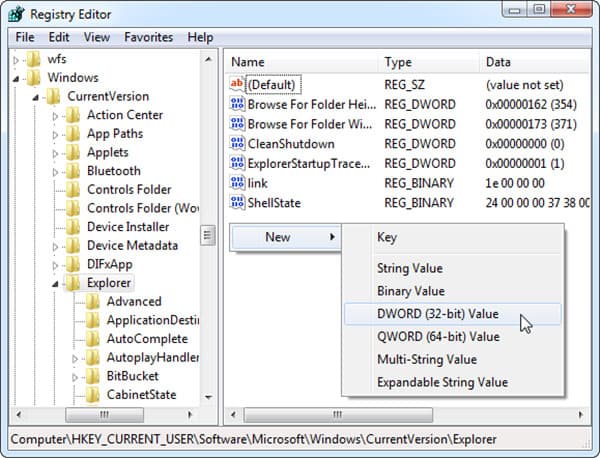 Step 1
Open Start menu and select Run dialog.
Step 2
In Run dialog, enter regedit and press Enter key to open Registry Editor.
Step 3
Then you can disable low disk space check and balloon notifications, increase aero peek speed and more through changing Registry. If you want to grasp details, you can read our related article.
Make power settings to maximum performance
This is the easy way to accelerate Windows 7. You can customize Windows 7's power plans. Windows 7 usually balance performance and power savings automatically. But sometimes the operating system will save power and abandon performance. So, custom favor performance settings will speed up Windows 7 in some cases.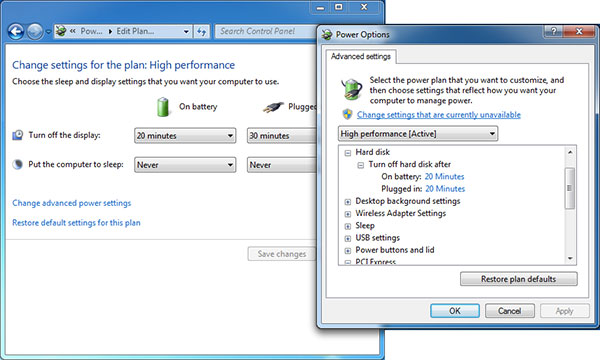 Step 1
Navigate to Start menu and select Control Panel.
Step 2
In Control Panel screen, open Power Options.
Step 3
Select High performance option in Advanced settings dialog. After reset Windows 7 will always take performance as priority.
Performance Troubleshoot
If your Windows 7 PC still runs slower and slower, you can ask help to troubleshooting application.
Step 1
Go to Start menu and open Control Panel option.
Step 2
In Control Panel screen, choose Find and Fix problems in the System and Security section.
Step 3
Tap on View all link on the left side to show all options that can be diagnosed. Then you can troubleshoot whether an option has errors and fasten Windows 7 PC.
Reset You PC
The finally step to speed up Windows 7 is to factory reset your computer. That means your operating system will restore on your PC and all your data will be clean up. Actually, after update several times, operating system will become a bloat-system. So factory reset your PC could help operating system to lose weight and accelerate its reaction. You can make a Windows 7 bootable disc and use it to reset your Windows 7 desktop computer or laptop.
Conclusion
Based on the suggestions above, you can speed up Windows 7 system. Windows 7 is still an attractive operating system. Microsoft put many efforts on this operating system. So if you do not like to upgrade your PC to Windows 8 or 10, you can try the suggestions above to make your PC faster. The processes of these actions are simple than you thought. Everyone could learn the details from this post and improve the performance of their Windows 7 system.