How to Rent Movie on iTunes with Several Easy Steps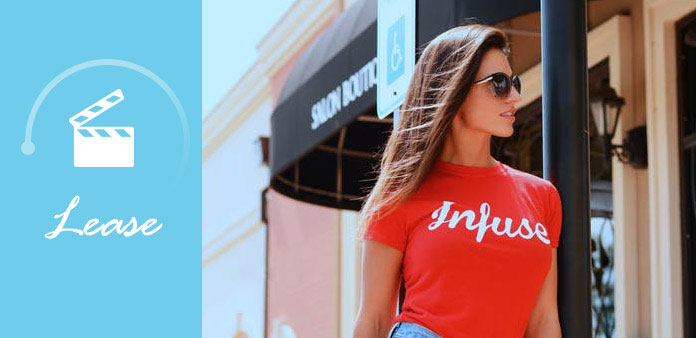 Apple users always like watching movies on iPhone, iPad, iPod and Apple TV. And there comes to where the movies from? Some people may choose to buy them from iTunes or Amazon. And most people will choose to rent movie from iTunes. After all, the latter is much cheaper than the former. And today we introduce some methods to rent movies on iTunes through your Apple devices. Moreover, you also need to know about how to watch rented movies online, how to download movies from iTunes, how long does an iTunes rental last, and how to delete a movie from iTunes once you've watched it. What's more, you must want to know if there has method to transfer the movie file to other devices. Check out the solutions for the questions from the article now.
Methods to rent movie from iTunes
One thing you should keep in mind is that the rented movies can only available on a single device because of DRM protection. That is to say, if you rent movie on your computer, you can sync it to your iPhone or iPad, but it will disappear on computer. Besides, if you want to playback the movie on IOS devices and Mac, you may need Airplay to watch them on Apple TV. Therefore the most efficient way to rent movie is renting it directly from the device you want to watch the movie on. If you want to rent a movie and watch offline on your Apple TV, you can just rent it directly from your set-top box.
1. How to Rent Movies from iTunes on Your Mac or PC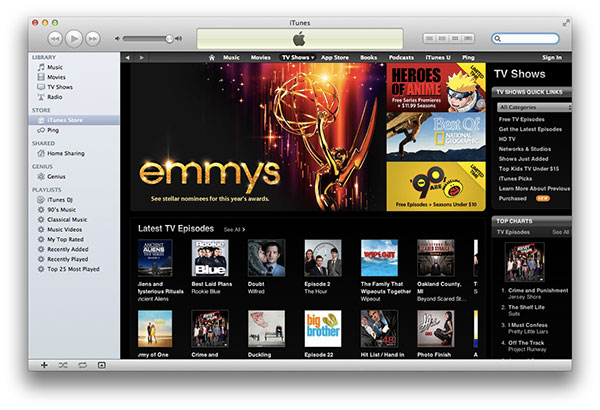 Step 1
Open the latest version of iTunes and find the movie you want in iTunes store.
Step 2
Click on the movie after you find a movie you'd like to rent. Then click the rental price and enter your Apple ID password. After you pay for it, you can enjoy it on your computer.
And sometime the movie you want may be not available to rent. If it is available, the option will appear under the option to buy when you click on it. Additionally, the movies can only be on one device at a time.
Step 3
Following renting process guide you to finish renting movie until it is downloaded to your computer.
2. How to Rent a Movie from iTunes on Apple TV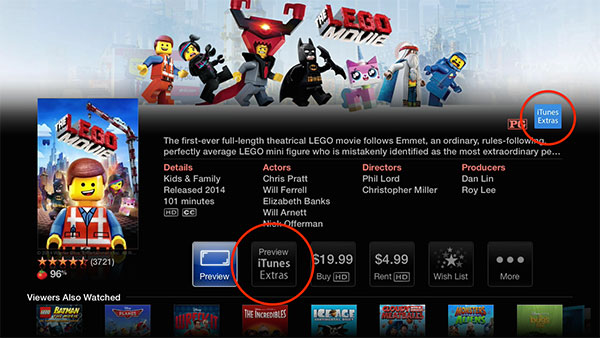 Step 1
Open iTunes Movies App to find a movie you want to rent. You can only rent movie.
Step 2
If the movie is available to rent, you may see two options. And tap rent. Then enter your Apple ID password to verify the Apple TV movie rental.
Step 3
Following renting process guide you to finish renting the movie until it is downloaded to your devices.
3. How to Rent a Movie from iTunes on iPhone, iPad or iPod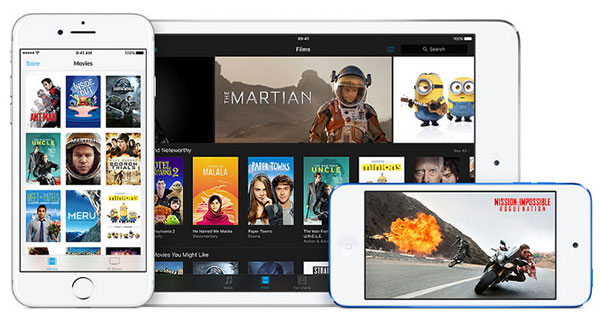 Step 1
Open iTunes store app and find the movies you want once you launch the iTunes program on your device.
Step 2
Tap rent and enter your iTunes Store password.
Step 3
Following renting process guide you to finish renting the movie until it is downloaded to your devices.
Tips about renting movies on iTunes
How Long Can You Rent a Movie on iTunes? If they remain unplayed, the rented movie will stay on your devices for 30 days. And once you begin to watch it, you are allowed to watch them in 24 hours (in the US) or in 48 hours (elsewhere). And when the time is over, the rented movie will disappear.
4. How to use rent movies for all devices
Just as mentioned, when you purchased the rent movie, you can only use for Apple TV, Mac or iPhone only. If you want to transfer the movie to your mobile devices, such as Android tablet or PC, the rent movie does not work at all. It is because of the DRM from the rental.
What should you do to turn the rent movies on iTunes or other movie rental parties to a DRM free movie? Thus, today, I want to share you useful DRM Removal software - Tipard Video Converter Ultimate that turn the rent movies into a DRM free one. Just check more detail about the splendid features of the program as below.
Step 1
Remove the DRM protection for the rent movies online, from YouTube, iTunes, Google Movie or others.
Step 2
Download movies from YouTube, Facebook, Vimeo Metacafe and more sites.
Step 3
Convert video files to any popular video/audio formats so that you can watch rent movies offline.
Step 4
What's more, it supports external audio track and multi-audio track to help you enjoy the movies.
Step 5
The built-in video editor can rotate video and enhance the video quality and customize the video files.
5. How to turn rent movies into a DRM free file
Step 1
Load rented movie to the DRM remover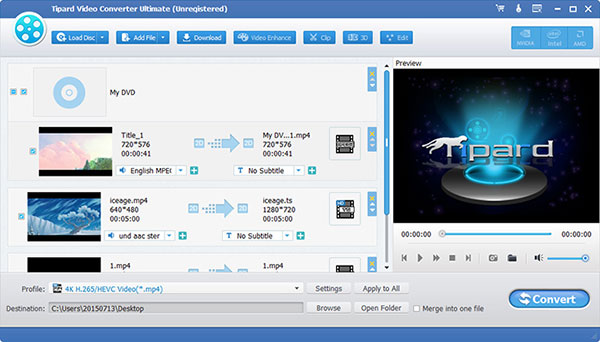 Click Add File button to load video files of the rented movie to the program. Playback the movie to make sure it works.
Step 2
Choose the output format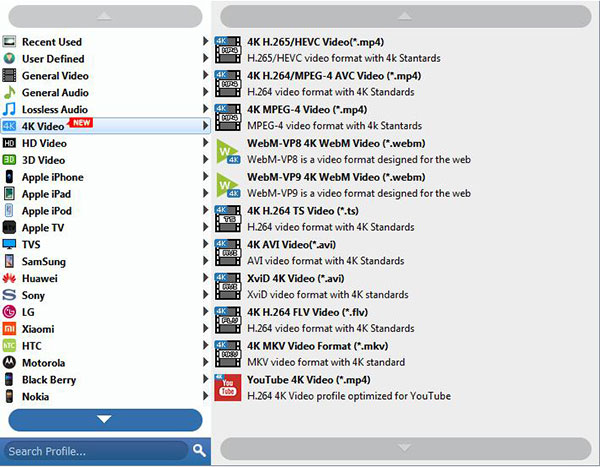 Select a video file and click the Profile button. You can select the format you want in the drop-down menu. Use Apply to All button to convert all the imported video files to the same format. Or you can choose different formats.
Step 3
Start conversion with DRM removal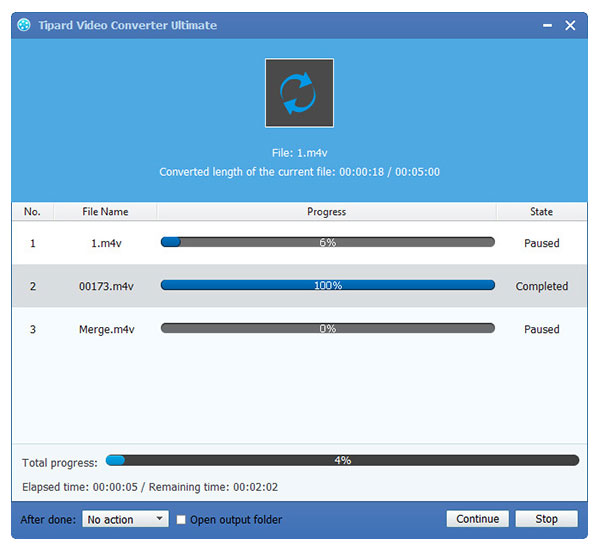 Once you click the Convert Button, the program will start to remove the DRM protection and convert the rent movie on iTunes to the corresponding video format according to your requirements.
Conclusion
Renting movie from iTunes is a basic skill in our daily lives. And the DRM removal software also plays an important role in it. Thus, we should learn more about the information and methods of renting movies in iTunes. Moreover, knowing good software for removing DRM is another gain. Tipard Video Converter Ultimate not only help you remove the DRM, but also offer lots of tools like editing, changing formats, merging, and so on. All in all, what you learn here can help you watch your favorite in your phone, TV and other devices you like. I hope you can enjoy it. If you have any query about renting movies, you can share more information in the comments.

Click here to join the discussion and share your comments
How to Rent Movie on iTunes with Several Easy Steps