How to Unsecure a PDF In the Easiest Way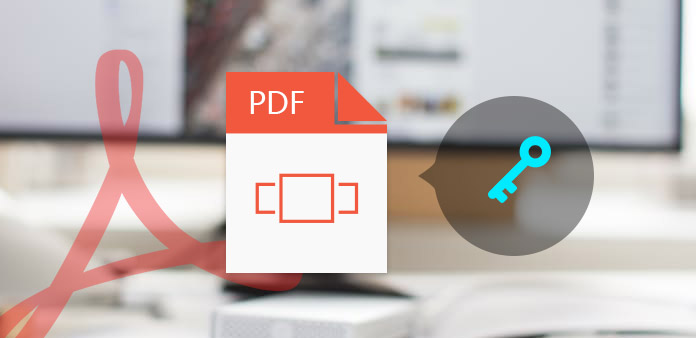 Many people decide to set a passcode for PDF files to prevent others from editing or copying the content. However, when you lost the passcode or you download such password protect PDF file, you must feel very upset. Is there any solution to unsecure a PDF file? The answer is yes. Before learn how to unsecure a pdf file, you should know that PDF passcodes have two types, the pdf user password and owner password. The former will lock you out the pdf file and the latter will prevent you from editing. In this post, we will introduce some solutions to unsecure a PDF effectively.
Part 1. Unsecure A PDF for Printing via Chrome
If you downloaded a pdf file with an owner password and you cannot edit it, you can use the print function of Chrome to unsecure PDF online. Chrome will create a new editable pdf file for you.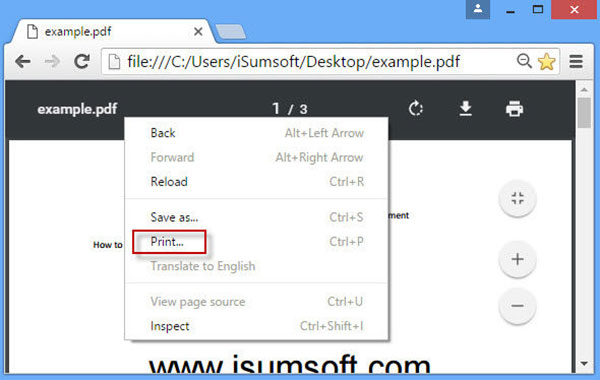 Step 1

Locate to the folder saved the password protect pdf that you want to unsecure. Right-click on the pdf file and open it within Chrome. Or you can open Chrome and drag-and-drop the pdf file into Chrome.

Step 2

Right click on the tab of your pdf document and choose Print option from the menu list.

Step 3

Click on

Change

button in the

Destination

area in Print page and then choose

Save as PDF

or

Adobe PDF

.

Step 4

Tap on

Save

or

Print

button to open Save AS dialog. Choose a folder and input a file name in Save AS dialog. And then click on

Save

button to store the output.
Then you can open the printed pdf document and edit or copy the content.
Part 2. Crack a PDF Online with PDF Unlock
If you forgot the user password of a pdf file, Chrome and print function is unavailable. PDF Unlock is a dedicated online service for unlocking a pdf. It not only could remove owner password from a pdf document, but also could handle pdf file with user password.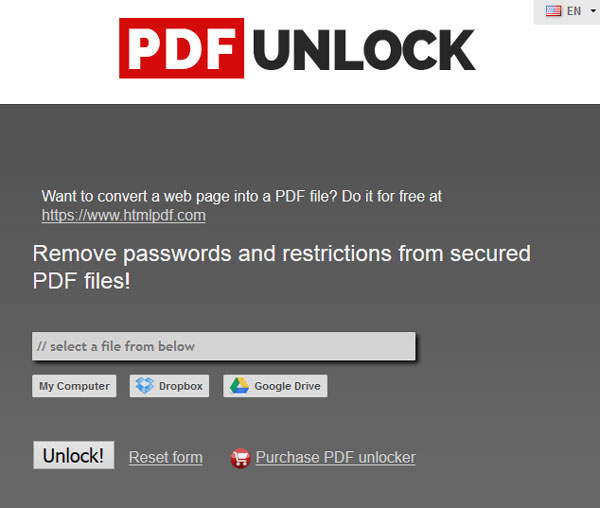 Step 1

Type www.pdfunlock.com in the address bar and press Enter key to access PDF Unlock.

Step 2

On the home page, you can upload the pdf file you want to unsecure by clicking on

My Computer

button. PDF Unlock also supports to import locked pdf file from Dropbox or Google Drive.

Step 3

After the pdf uploaded successfully, click on the

Unlock

! button to start unsecure pdf files.

Step 4

PDF Unlock will detect the constraints and remove all passwords automatically. Then you can download the unlocked pdf to local hard drive. PDF Unlock is a free service with 5 MB limit. If you want to unsecure a larger PDF document, you have to purchase its desktop application.
Part 3. Remove A PDF password with Online Converter
Another way to crack a password protected pdf online and unsecure a PDF is Online Converter. It could deal with both user password and owner password. And the mechanism to crack pdf password is interesting. You can get an unsecure pdf through converting the password protected one to a new pdf document.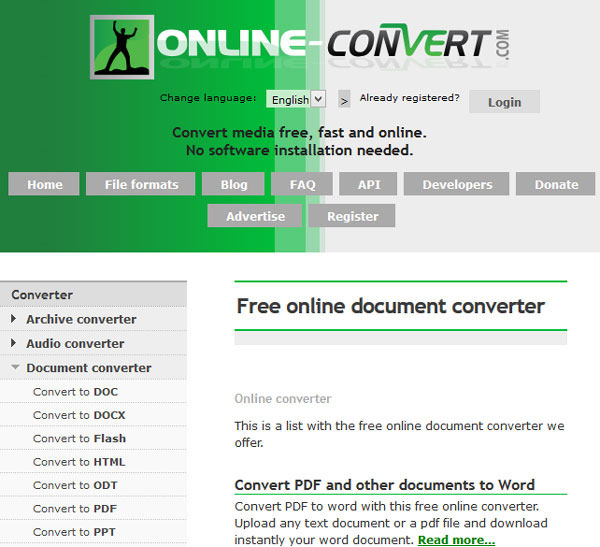 Step 1

Go to Online Converter in any browser or visit www.online-convert.com directly.

Step 2

In home page, locate to

Document Converter

section and click on the square Go button to continue.

Step 3

Focus on the left side menu and choose

Convert to PDF

to go to pdf converter page.

Step 4

Click on

Browse

button and import the pdf file you'd like to unsecure.

Step 5

After uploaded, click on

Convert

file button to activate the transformation process.
When pdf convert is done, you can save the output on your computer. If you open the converted pdf document, you will find that the program has already cracked the PDF passwords.
Part 4. Recover the PDF password through PDFCrack
PDFCrack is one of the best tools to crack password protect PDF files. It could recover complicated PDF password in a few minutes but not remove the password. And this PDF unsecure tool is an open source program and completely free to charge. PDFCrack supports Windows and Linux.
Step 1

After download PDFCrack installation file from official website, you can follow the instructions to install it on your PC.

Step 2

When you prepare to unsecure a PDF, go to PDFCrack and type the command below:
root@kali:~# pdfcrack –f [file.pdf]

Step 3

Once you press Enter key, PDFCrack will start cracking the password of this PDF file.
Based on our test, PDFCrack recover a 4-digit owner password in two minutes. Although PDFCrack is not a graphic PDF password recovery tool, the commands is easy to use. If you prefer to graphic software, you can try GuaPDF Demo, PDF Password Remover and other PDF password recovery applications.
Part 5. Tipard Windows Password Reset
When you unsecure a PDF, it may lead to some dangers to your PC. Some hackers included virus and malware in the password protect PDF and pick an attractive name. When you unsecure the PDF, the virus or malware will infect your computer and lock your computer for hijack. At this time, you need a powerful tool, like Windows Password Reset, to help you reset Windows password before go into the operating system. The biggest advantage of Windows Password Reset is to reset Windows password in pre-installation environment.
1. Create a bootable disc with Windows Password Reset
Step 1

Open Windows Password Reset on an accessible computer, and then insert a new DVD into CD-ROM drive. Windows Password Reset is able to create bootable USB as well. The steps are the same with bootable disc.

Step 2

Tap on Burn CD/DVD button to create bootable DVD.

Step 3

When the bootable DVD is done, click on OK button and remove the bootable DVD.
2. Reset Windows password
Step 1

Insert the bootable DVD in your computer and reboot.

Step 2

When the password reset screen pops up, choose an account to reset and click on Reset Password button.

Step 3

In the password reset dialog, pick a new password and press OK to save the changes.

Step 4

Then you can remove the bootable DVD and start your computer as usual.
Although the workflow to reset passcode with Windows Password Reset is very simple, it could protect your computer effectively.
Conclusion
We introduced different methods to unsecure a pdf in this article. As you can see, there are several ways to crack, recover or remove password from PDF files. If you prepare to simply remove the owner password from a PDF, you can try Chrome's print feature. If you do not have Chrome, you could use PDFUnlock and Online Converter. They both have the ability to remove any kind of password from PDF online. Some programs are able to unsecure a pdf online as well, like PDFCrack.
On the other hand, unsecure a pdf could lead to some uncertainty results, like digital hijack or virus infection. In this digital era, you need an effective way to protect your computer, like Tipard Windows Password Reset.