Mac DVD Player Not Working - Top 6 DVD Player Software for MacBook Pro
To watch a DVD movie on Mac, you need an external DVD drive which you can purchase on Best Buy, for there is no built-in DVD Player on Mac. Another thing you should do is to download professional DVD Player software on your Mac.
To help you select among the countless Mac DVD Player app on the market, here we picked the Top 5 free DVD Player software for your MacBook Pro after an all-around review. Just read the following contents carefully and choose one that best suits you.

Part 1: Top 6 DVD Player Software for Mac
Top 1: Blu-ray Player for Mac - Best Mac DVD Player
Tipard Blu-ray Player for Mac is a versatile DVD playing software through which you can play DVDs and Blu-ray discs on your Mac. If your QuickTime DVD Player can't work on Mac, just throw your DVD video into this app, then you can enjoy the 1080p HD images. Moreover, you can also control the DVD playback and capture the screenshot you like at will.
1. Enjoy the 1080p HD videos with a widescreen.
2. Adjust video and audio settings for a better experience.
3. Fast forward or step back to your targeted plot freely.
4. Capture your favorite screenshot during the playing process.
5. Easy to use with and high quality a clean interface.
Step 1Load DVD movie
Launch Tipard Blu-ray Player for Mac on your computer after installation. Select the Open Disc to load your DVD.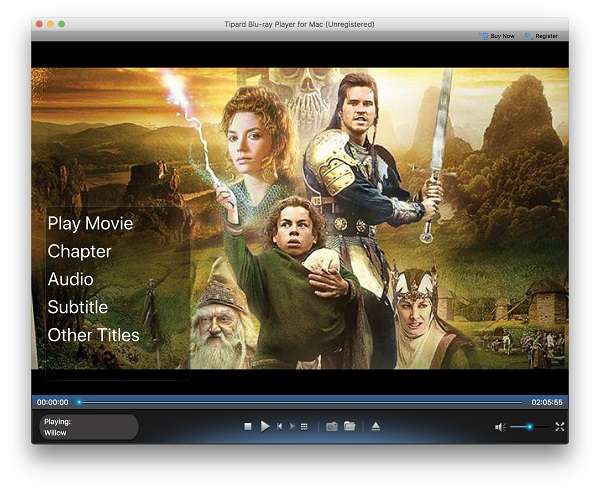 Step 2Adjust the playing settings
Choose the chapter you want to watch. Then you can select a desired audio track and subtitle at will. Moreover, you can disable the audio track and subtitle if necessary.
Step 3Play DVD movies
After you finished all the settings, just click the Play Movie button to start playing your DVD movies.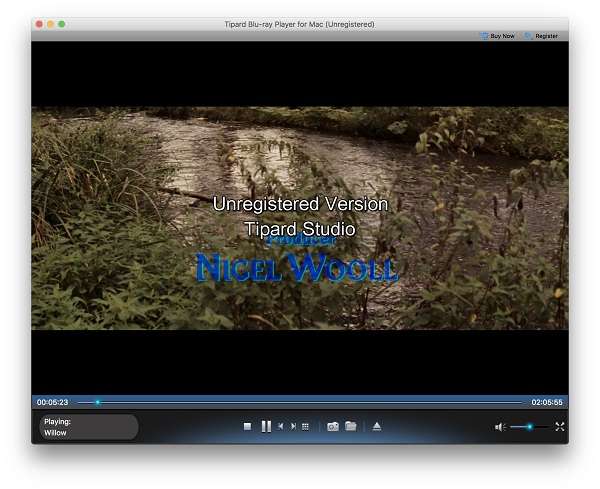 Top 2: Free Mac Blu-ray Player - Full-featured Mac DVD Player
Free Mac Blu-ray Player is a full-featured Mac DVD Player to play videos, DVDs, and Blu-ray discs. If you download this app as your DVD Player on Mac, you can enjoy various commercial DVDs, homemade DVDs, Blu-Ray discs, etc.
1. Offer screen modes such as full, half, normal, and double.
2. Capture favorite images while you watch the video files.
3. Support Blu-Ray, DVDs, HD videos, video, and audio formats.
4. Deliver a comfortable watching experience with high quality.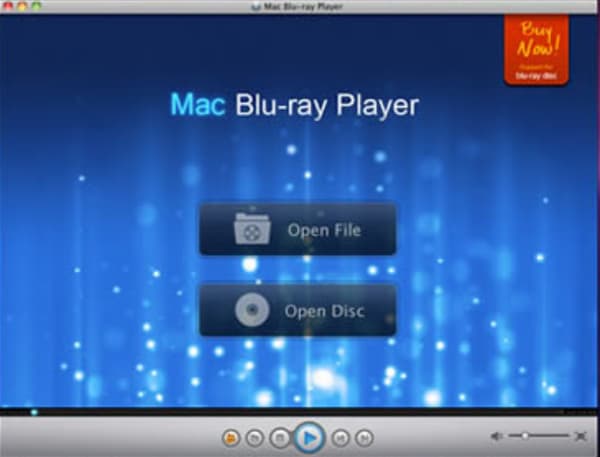 Top 3: VLC Media Player - Free and Open-source Mac DVD Player
As a free and open-source Mac DVD Player, Windows Media Player, and other platforms, VLC Media Player can play DVD, CD, VCD, general video, and audio files. You can customize it by adding skins, creating skins with VLC skin editor as well as installing extensions.
1. Provide beautiful skins, themes, plugins, and more.
2. Possess hardware decoding on most platforms.
3. No spyware, advertisements, and user tracking.
4. Provide a basic and clean user interface.
Note: One thing you should pay attention to is that when you play a DVD with VLC, there will be VLC not working on your Mac and other related issues.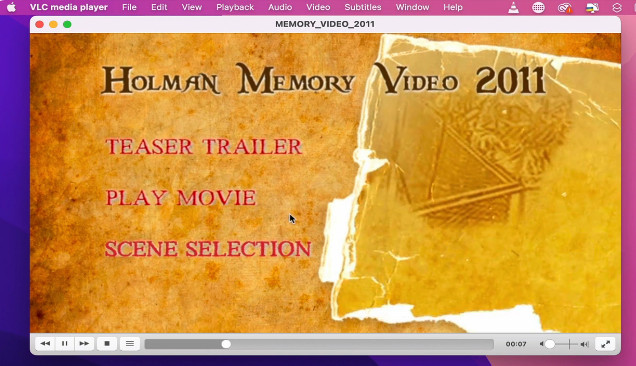 Top 4: QuickTime - Built-in Mac DVD Player
QuickTime is the default DVD Player on Mac devices through which you can play DVDs on your Macbook Pro. Being one of the best options for Mac users, it supports commonly used video and audio formats. There are also bonus functions such as video and music recording, editing, and streaming.
1. Handle multiple pictures, video, audio formats.
2. Compatible with all files you purchased from iTunes/Apple TV.
3. Unload directly to various social channels.
4. Easy to use with a clean and intuitive interface.
Note: The support video formats are very limited and you need to upgrade them frequently. And you may failed to open MP4 on QuickTime player.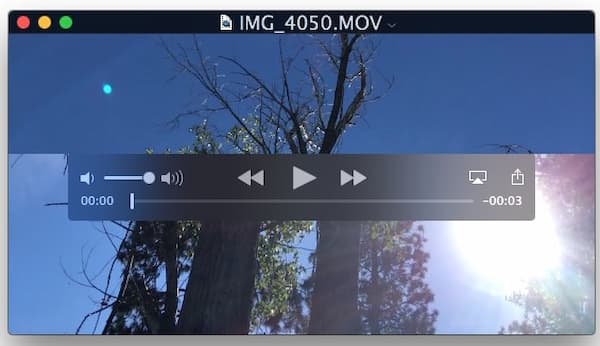 Top 5: Mac Media Player - HD Mac DVD Player
Mac Media Player is an all-in-one free media player. It supports playing almost all types of media formats. As an excellent Mac DVD player freeware, it can accelerate the hardware. Featuring a high definition of up to 1080p and DTS5.1 audio system, the Mac DVD Player can play DVD and other formats on Apple Mac with amazing quality.
1. Play HD DVD movies directly as DVD Player for Mac devices.
2. Playback position recording and resuming.
3. Share movies or video information anywhere and anytime.
4. High-Definition video player with hardware acceleration.
Note: It may use up plenty of your system resources when you play a DVD on Mac.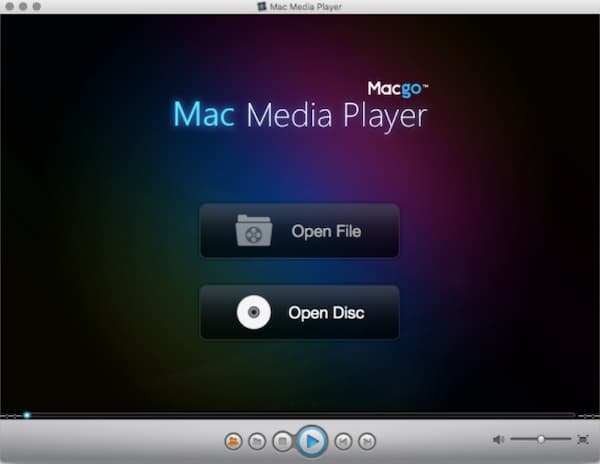 Top 6: Apple DVD Player - Default Mac DVD Player
Apple DVD Player is also a default DVD player in Mac OS X. It not only supports all standard DVD features like multiple audios, video, and subtitle tracks but also be compatible with DVDs authored by DVD Studio Pro and iDVD.
1. Provide navigation buttons to make the control easy.
2. Provide all kinds of standard DVD features.
3. Change the DVD subtitles and skip the unwanted chapters.
4. Compatible with DVDs authored by DVD Studio Pro and iDVD.
Note: The free DVD player for Mac will be restricted by DVD region codes and encryption techs.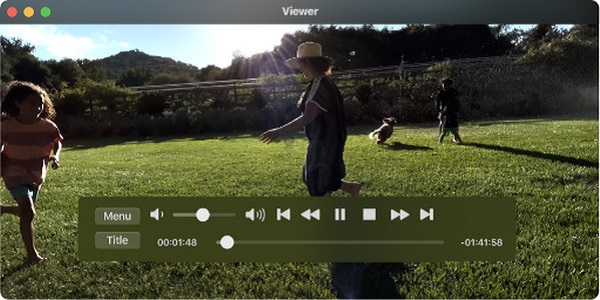 Part 2: FAQs of DVD Player Software for Mac
1. Why can't my Mac DVD Player show videos?
Well, this is not a solution for the built-in DVD player app on Mac, but it will allow you to play DVDs and other video files properly with 64-bit mode. You can use the 64-bit version of VLC which can be downloaded from its website, and it will play a DVD just fine.
2. What can I do when my audio is OK but nothing visible except a black screen on Mac Media Player?
To solve your Mac DVD Player not working with the black screen issue, you can try to reset the PRAM and SMC first. It would rule some settings issues out to bring things back to normal.
3. Why can't my MacBook Pro SuperDrive read DVD?
Sometimes, the reason for MacBook Pro DVD drive not working or the iMac DVD player not working could be that there is too much dust on the lens. This problem can be easily fixed without re-purchasing the replacement of Superdrive: just apply a special CD lens cleaner or a minute brush to clean the left side of the DVD drive.
Conclusion
If you are looking for reliable DVD Player software for your Mac, then the above-mentioned Top 5 Mac DVD Player software, as well as the Blu-ray Player for Mac should be your first choice. You can use it to play 4K Blu-ray movies. With these handy Mac DVD Players, you can enjoy a majority of blockbuster DVD movies freely. If you have any questions, you can leave a message on the website.