What to Do When Forgot Google Password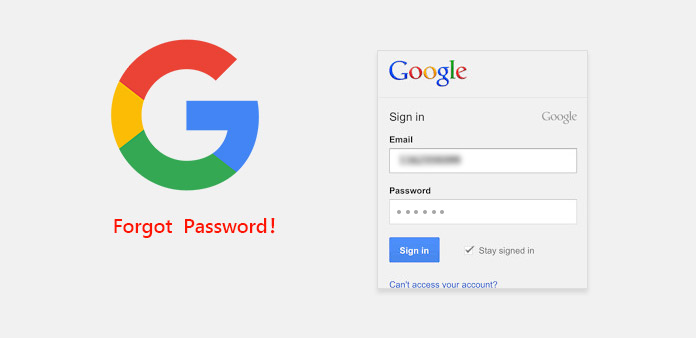 It is annoying when forgot Google password. To facilitate users, Google allows users to log in all Google services with one account. That means your Google password is the key to go to Chrome, Gmail, Google Play Store, YouTube, Google Photo, Google Drive, and so on. If someone lost or forgot Google passcode, he cannot use any Google services. So it is necessary to learn an effective solution to handle Google password problems. Google has realized that users may need to recover forgotten Google password and provided solutions to help users to retrieve lost Google passcode. We will introduce these solutions in details below.
Part 1. Recover Lost Google Password via PC Password
As you can see, when you recover your lost Google password, browsers will ask you to enter your PC password to verify your identity. If you cannot remember your PC password, you cannot recover Google password as well. So, you need a powerful tool to help you manage your PC password, like Tipard Windows Password Reset.
How to create a bootable disc
Step 1
Access Windows Password Reset and plug formatted USB flashes drive into your computer. You can also use DVD to create a bootable disc.
Step 2
Tap on Burn USB button to start producing a bootable USB.
Step 3
The status bar will show you the process in real time.
Step 4
When bootable USB is done, tap on OK button and remove your bootable USB drive.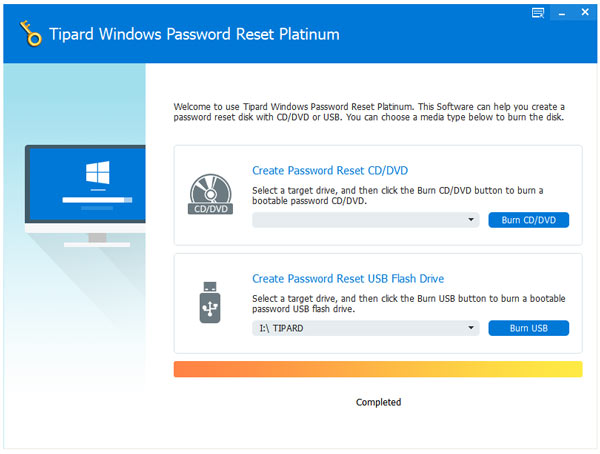 How to reset password
Step 1
Plug the bootable USB that you made with Windows Password Reset and reboot your computer.
Step 2
Then the password reset screen will appear automatically.
Step 3
Tap on Reset Password button and reset your PC password.
Step 4
After resetting, you can remove the bootable USB and restart your computer. Then you are able to log into your PC with the new password.
Part 2. Retrieve Google Password from Account Recovery Page
Google has released account recovery channel. If you forgot Google account, you can go to account recovery help page and retrieve your Google password.
How to use Account Recovery page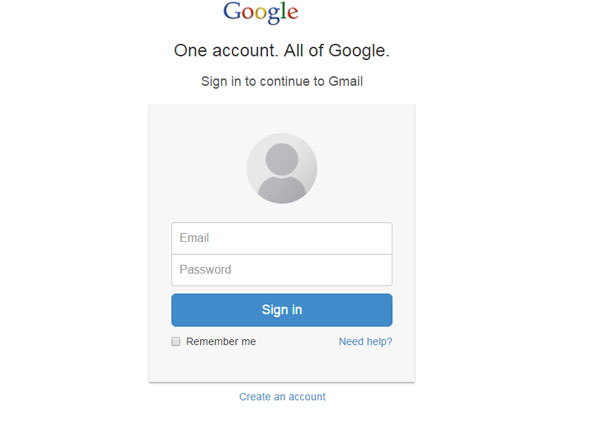 Step 1
Go to Gmail and tap on Need help? link to sign-in page to open the Google account recovery page. Or you can enter google.com/accounts/recovery/ in the address bar and visit recovery page directly.
Step 2
Choose I don't know my password option and drop your Google account in the Email address box. Tap on Continue button to go to the next page.
Step 3
Then Google may request you to type in the last password you can remember. This could be any Google account password that you have used recently. If you forget all historical passwords, tap on I don't know. Otherwise, click on Continue after entering.
Step 4
You are able to verify forgot Google account through various methods, like verification code, recovery email and security questions. If you choose Get verification code on my phone here, you need to enter your phone number.
Step 5
Then you should choose to get verification code trough a text message or an automated phone call. Then press Continue to go on.
Step 6
After you receive the verification code, type it in the code field and tap on Continue to go to the password reset page.
Then you can create a new password and log in any Google service with your account and the new password.
Part 3. Recover Google Password through Outlook
If you usually log into Google account in Outlook, Outlook will save your username and password in PST files. We cannot open and read PST files directly, for security issues. But you can rely on some dedicated programs, like Outlook Password. Outlook Password is an easy-to-use Outlook password recovery application and helpful when you forgot Google password.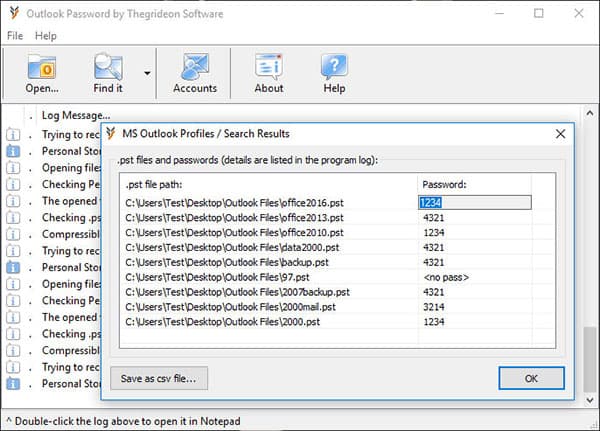 How to recover Google password through Outlook
Step 1
Download and install Outlook Password from official website; and then open Outlook Password application on your computer.
Step 2
Tap on Accounts menu in the interface; Outlook Password will open the recent PST file and show all accounts recoverable.
Step 3
You can search for your Google account and recover Google password.
Step 4
If you cannot find your forgotten Google account, you can pick up List your MS Outlook Profiles option in Find it menu. Then you can check all PST files available.
After you recover Google password in Outlook Password, you'd better to reset it instantly. Although you can regain your forgotten Google password with Outlook Password easily, Outlook Password is a third party program. We cannot deny that there are cybersecurity risks to use Outlook Password.
Part 4. Find out Forgotten Google Password via Browsers
Many people prefer to log into Google services in browsers. Almost all browsers provide the quick access feature. If you have permitted your browser to remember your forgotten Google password, you can find it in your browser.
How to find Google password in Safari
Step 1
Launch Safari browser on your Mac computer and locate to Preferences menu.
Step 2
Select Password tab in the preference dialog and go to the account list.
Step 3
You can look at all accounts and services in Safari's password list; while the passwords are hidden by default.
Step 4
If you forgot Google password and need to reset it, you have to highlight your Google account and enable the option of Show passwords for selected websites on the bottom left corner.
Safari may ask you to enter your Apple password to verify your identity before display Google password.
How to regain Google password in Chrome
Step 1
Go to Chrome browser and open menu icon in the upper right corner.
Step 2
Choose Settings option to open settings page. Or you can type chrome://settings in address bar and press Enter key to open settings page directly.
Step 3
Tap on the link titled Show advanced settings and navigate to Passwords and forms area.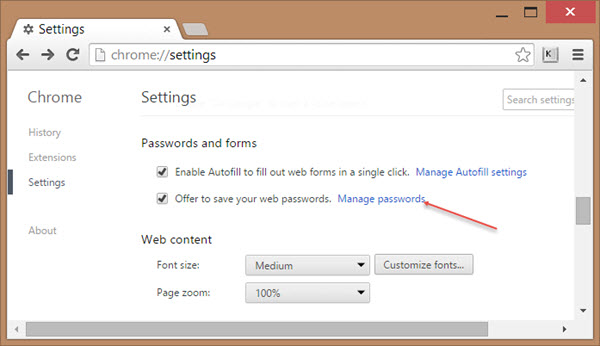 Step 4
Click on Manage passwords option and open Chrome password list. And then you need to tap on the Show button to transform star marks to real passwords.
Step 5
Finally, you can find out your forgotten Google passcode in the password list.
In order to protect your personal information, Chrome will require you to sign in your Windows password or Apple password before show your Google password.
Conclusion
This article has introduced multiple ways to recover your forgotten Google password. Considering Google account could log in multiple services, you'd better to choose the official recovery channel to reset your Google password. If the official recovery channel is unavailable, you can try other solutions depending on the way you accessed Google account. If you usually log into Google account in Outlook, you can use Outlook recovery tool to regain your Google password. Then, you should reset Google password instantly.
Another way to recover Google password is browsers' quick access feature. This feature will record all accounts that you have accessed within your browser. And to protect your personal information, browser will ask you to input PC password to verify you are the owner of this computer. So we also introduced a useful PC password manager, Tipard Windows Password Reset.
If you cannot recover your lost Google passcode with the methods above, you have to contact the Google customer service.
What to Do When Forgot Google Password