How to Convert MOV into GIF on Windows/Mac/iPhone/Android
This guide will talk about how to convert MOV into GIF on digital devices. Today, it is popular to send short animated GIF images on social media, forums, blogs, or messages. You might see oceans of GIFs on the internet. Can you create animated GIFs out of video, such as MOV files? The answer is yes and you can do it easily on computer and mobile if you follow our step by step guide.

Part 1. How to Convert MOV to GIF on Windows
Tipard Video Converter Ultimate is one of the best GIF maker software. In addition to turn MOV video into GIF, you can get tons of bonus features from this single program. More importantly, it is pretty easy to use and does not require technical knowledge.
Main Features of the Best GIF Maker
1. Convert MOV vide into animated GIF easily.
2. Preview the GIF image with built-in media player.
3. Include custom options, like output size.
4. Offer bonus tools, like rotate, crop and more.
Step 1Install GIF maker
Launch the best video converter software once you install it on your PC. There is another version for Mac users. Then go to the Toolbox tab from the top of the home interface, and choose the GIF Maker. Then you will be presented with the main interface.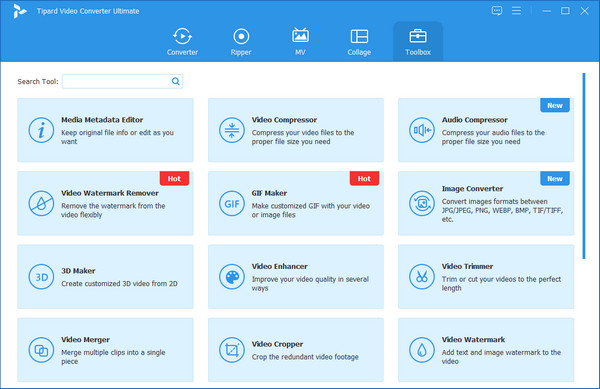 Step 2Open MOV
Click the + icon in the Video to GIF section and open the MOV video you want to convert. Or you can drag and drop the MOV video into the main interface to open it.
Step 3Create GIF from MOV
Click the Cut button and remove unwanted parts from the video. The maximum duration of GIF is 15 seconds. You can also rotate, flip or decorate the GIF by hitting the Edit button. Customize Output Size and other options. Click the Folder icon at the bottom and set the location directory. At last, click on the Create GIF button to begin converting MOV to GIF.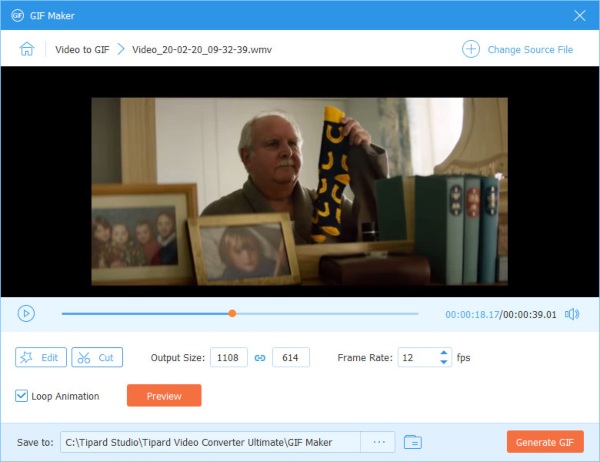 Part 2. How to Convert MOV to GIF on Mac
There is no feature on Mac capable to convert MOV to GIF. Fortunately, Photoshop and some video converters have such capacity. Here we show you how to turn MOV to GIF on Mac using Photoshop CC.
Step 1Open the professional video editor, go to the File menu, select Import and then Video Frames to Layers. Select the target MOV file and click Open.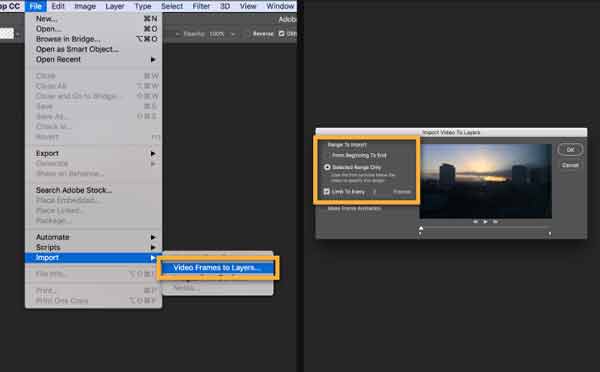 Tip: Photoshop is only able to import limited amount of frames.
Step 2Set the options on the Import Video To Layers dialog according to your need, and click OK. Then each frame in MOV will be opened as a picture.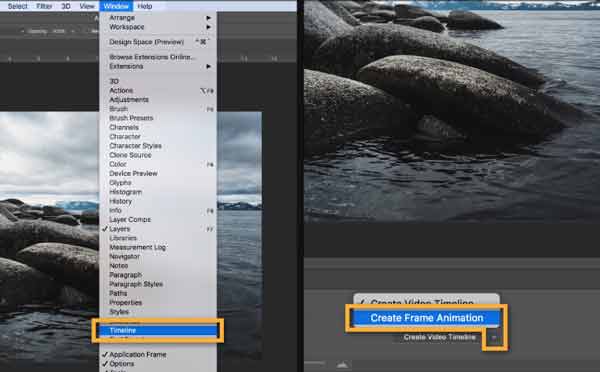 Step 3Go to the Window menu and choose Timeline to display the Timeline panel. Click the arrow icon and select Create Frame Animation. Hit the button to create a new animation.
Step 4Next, press the menu icon at the upper right corner on the timeline panel. Choose Make Frames From Layers to convert all layers into animation.
Step 5Now, you can preview the animation on the timeline to check if you are satisfied. If it plays in reverse, click the menu icon and choose Reverse Frames.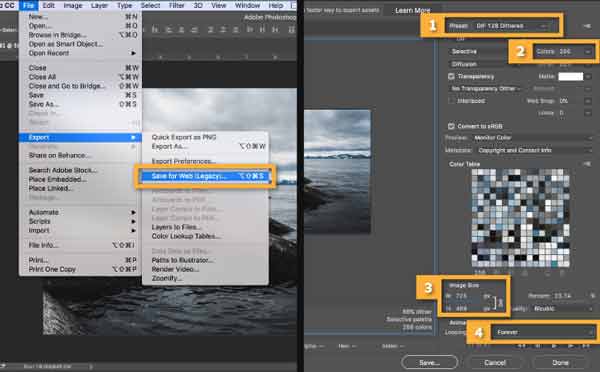 Step 6Go to the File menu, select Export and then Save for Web. Pull down the Preset list and select GIF 128 Dithered. Then select 256 from the Colors option. Next, you can reset the image size, loop and other options on the popup dialog.
Step 7Finally, click on the Save button and select a destination on Mac for the animated GIF.
Part 3. How to Convert MOV to GIF on iPhone/Android
How to Convert MOV to GIF on iPhone
Similar to Mac, you cannot get pre-installed features related to convert MOV to GIF on iPhone. Fortunately, the Shortcuts app can meet your need.
Step 1Run the Shortcuts app from your home screen. On iOS 11 or older, install the Workflow app instead.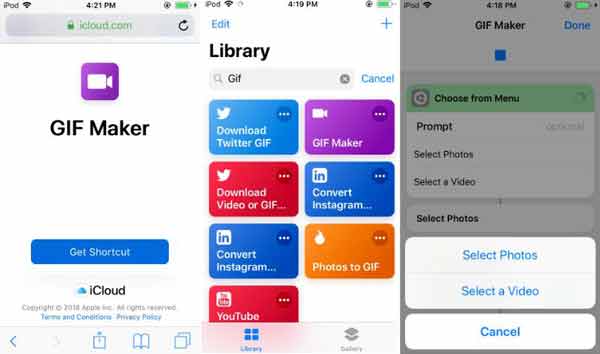 Step 2Get this GIF maker in Shortcuts app and run it. When prompted, tap Select a Video and open the MOV from your Camera Roll.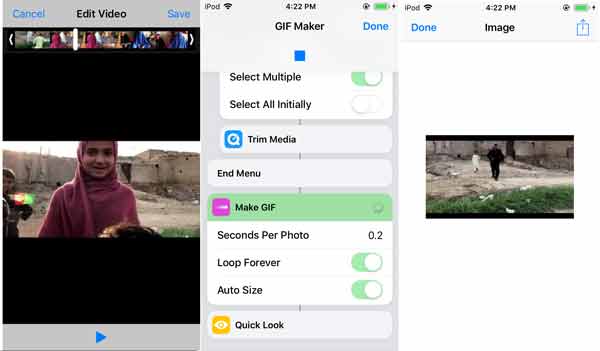 Step 3You can trim the video if needed. Next, preview the video and tap Done. Tap the Share icon, and save the GIF to your Camera Roll or share it to social media directly.
How to Make GIF from MOV on Android
To convert MOV to GIF on Android, you also need a third-party GIF maker app. Giphy Cam, for example, is a GIF maker app released by GIF community, Giphy.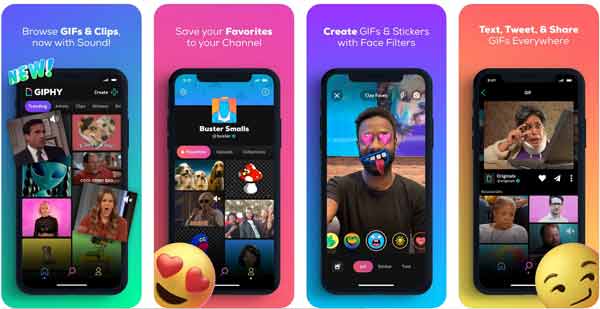 Step 1Run the GIF maker app on your Android phone. Then you can open a MOV video from your Gallery or record a video for GIF making.
Step 2Adjust the duration of the GIF. Next, add filter, effect, stickers, and text to the GIF. View the GIF and tap the Next button if you are satisfied.
Step 3Then tap the Save GIF button to export the animated GIF image to your Gallery. The app also allows you to share the image to your friends by messages.
Part 4. How to Convert MOV to GIF Online
The web GIF converter app, such as EZGIF, is one of the easiest way to convert your MOV to GIF. It allows you to upload a MOV video less than 100MB. Then you can convert it into animated GIF image without installing any software. Moreover, it is free to use.
Step 1Visit https://ezgif.com/video-to-gif in your browser when you intend to convert a MOV to GIF.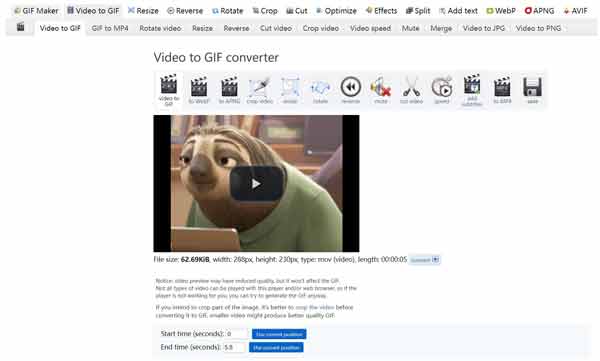 Step 2Click the Browse button and open the target MOV on your disk. Or paste the video address into the URL box to import an online MOV. Click the Upload video button to upload the MOV.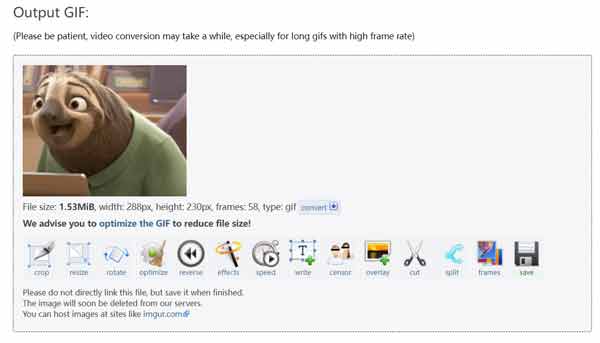 Step 3Now, enter the beginning position in the Start time field and set the End time too. Adjust the Size, Frame rate, and other options.
Step 4Click the Convert GIF button to initiate converting MOV to GIF online. When it is done, click the save icon to download the animated image.
Part 5. FAQs about Converting MOV to GIF
Can I convert an MP4 video to GIF?
Some online apps are able to convert MP4 to GIF. Or You can try the above-mentioned Tipard Video Converter Ultimate to create GIFs from your MOV videos.
How to insert a GIF in PDF?
PDF is a document format, and you can insert a GIF into the document similar to other still image formats. The animated GIFs in PDF will turn to still images.
How to turn Live Photos to GIF?
You can convert Live Photos to GIF in iPhone Photos app directly.
Conclusion
This guide has told you five ways to convert MOV to animated GIF image on Windows, Mac, online, iPhone and Android. You can pick the proper tool according to your condition and follow our steps to get what you want easily. Tipard Video Converter Ultimate is able to produce the best output quality when making GIF from video or pictures. That is why we recommended it in this post.