Top 5 Smart TVs to Enjoy Movies with Your Family from Different Channels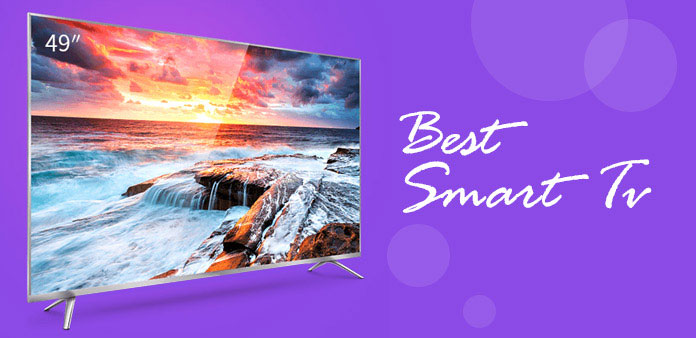 Why buy a smart TV? Before you make a decision, you can learn more detail about some advantages of the different TV types. Firstly, once you have a smart TV, you can have more choices than the scheduled TV programs. It also brings the power of the Internet to your TV. So you can surf the Internet and choose whatever you want. Secondly, they have beautiful HD picture quality as well as modern web features. And some smart TVs have a capability of files streaming. If you have any query about the type of TV you want, you can read the article to learn more detail about the best brands of Smart TVs you should take into consideration.
1. Samsung Smart TV - Samsung H7150
Samsung first introduced the smart TV for viewers to receive information and download the apps. And you can also watch conventional television programming by the Internet. Compared to other brands, Samsung has the best system for conducting manual searches. As a famous smart TV brand, Samsung has a lot of ports for connecting extra devices, and it has four HDMI ports, which puts it among the best TVs. It also has multiple USB ports for multimedia devices like flash drives containing pictures and videos and an Ethernet port for Internet.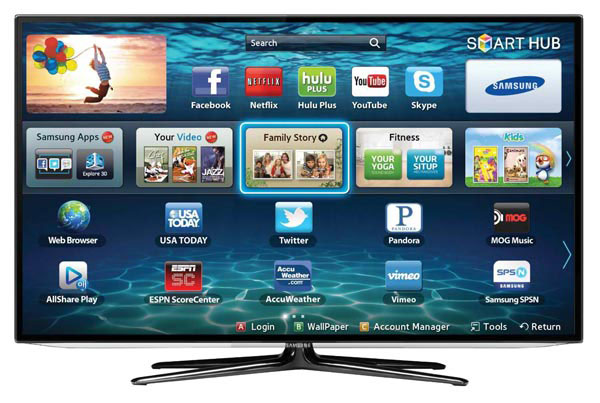 The Samsung H7150 is the most popular series. It has one of the best pictures on the market. And the smart TV Samsung has one of the best smart hub interfaces among smart TVs. Moreover, it supports the Wi-Fi, and you can surf the Internet. This smart TV has loaded the most popular web apps. Furthermore, it can learn your preferences and recommend TV shows or movies you may like. You can mirror your phone or tablet screen on the TV with your Wi-Fi. And also it allows you to view your photos and media in your phone on TV. Besides, you can use the voice interaction can control the volume.
2. Sony Smart TV - Sony W950B
Sony is such a famous brand on TV, as we all know, it has the amazing display quality. And it also has a handy History option that can help you find your inputs and programs you have watched most recently. Sony's free TV app for phones and tablets is one of its superiority. But, it is disappointed that it still does not support voice and gesture controls. On the market, The Sony Triluminous display is the best.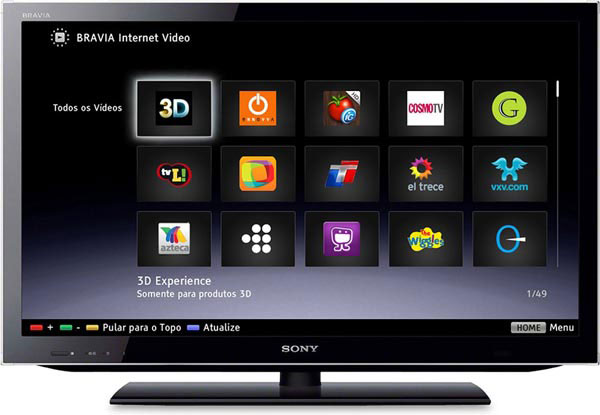 Sony W950B is one of the smart TV series. It has the excellent display ability and one of the most extensive smart app lists on the market. You can connect it either freely with the built-in Wi-Fi feature or to a hard line with an Ethernet cable. After connecting to the Internet, you can enjoy what is the fun of smart TV. The Sony W950B has one of the most extensive collections of preloaded apps among smart TVs. You can access the popular apps to stay connection with your friends. With the SEN (Sony Entertainment Network, a system designed by Sony using on the smart TV), you can access and download other types of content. You can share content across Sony products. What's more, it features passive 3D technology and you can play any 3D content.
3. Panasonic Smart TV - Panasonic AS series
Panasonic has the newest and most original design among those smart TV brands. Having the design cues from LG and Samsung, it has the unique design on its interface. Generally, most smart TVs only have has TV Home Screen, Lifestyle Screen and Info Screen, but the Panasonic TV doesn't go with the tide. With the Home Screen, numerous can be created with different layouts. And you can use the free text entry to edit it.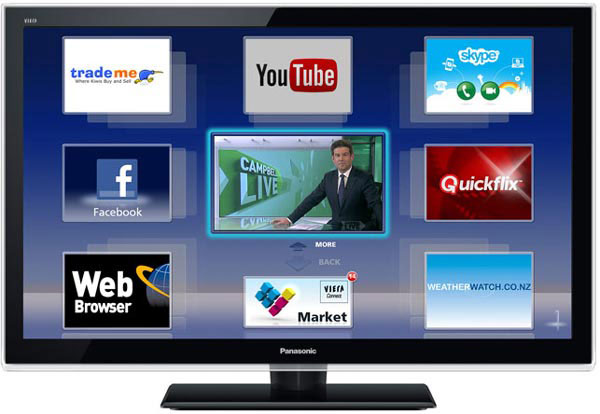 The Panasonic AS series is highly awarded by its excellence in design, usability and feature set. It has best value on market due to its outstanding picture quality and a large collection of features. When you turn on the TV, it will tell you the current channel about weather, news and so on. Besides, you can customize this screen to add some apps you like. The smart Panasonic TV has lots of applications.
4. LG Smart TV - LG LB6300
LG Smart TV is at it user-friendly best. Its simple design helps it get the high evaluation. So LG is such a trustworthy brand and continually push out a series of great product such as LG LB6300. This LG smart TV has a clear HD picture and comes with more features. It offers full web browsing and some pre-loaded apps. It's sure that you can download more apps from the app store. And most of them are for free. You can point your cursor to the apps you want to open instead of clicking through icons.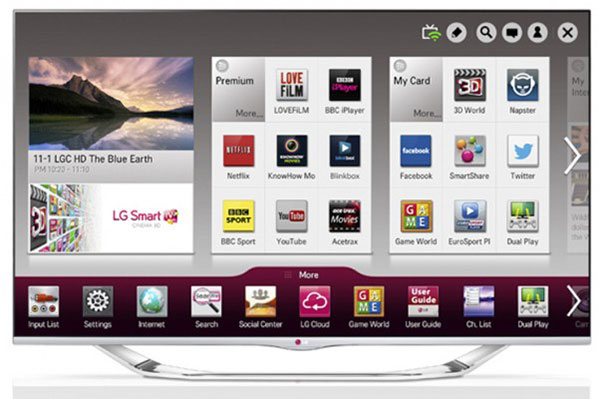 Furthermore, this LG smart TV remote also has Voice Mate, which you can make voice commands to do some easy adjustments like volume control or channel surfing and can also open the apps. You can either watch 3D content or playing 3D games that bring much fun to users. And users can enjoy Dual Play mode, each players wearing 3D glasses to see their own screen and it allows each players to use one screen for gaming. But the only downside of this series is that it only sports three HDMI ports. It will be better if it has four ports.
5. Vizio Smart TV - Vizio M-Series
Vizio, known as a budget brand, raised the quality of its products and built a solid reputation for service. The Vizio M-Series has a great value thanks to its remarkable picture quality and smart TV features. And there is no doubt the M series is the represent of its top products no matter on its quality and reliability. And its price is generally lower than other famous brands. Vizio M- Series has preloaded some apps. It also comes with Pandora, Spotify and iHeart Radio for music.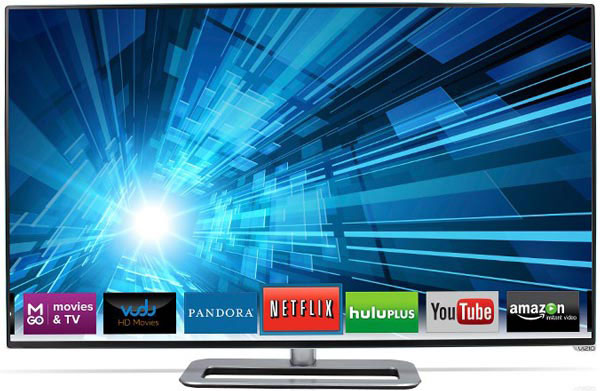 Moreover, it has app stores where offers thousands of apps for you to download. You can connect to the Internet either wirelessly with the built-in Wi-Fi feature or to a hard line with an Ethernet port. And Vizio smart TV has four HDMI ports. But unfortunately, this series no longer supports the 3D content. Smart TV becomes more and more popular, and Vizio tells us smart TVs are not on behalf of the expensive expenditure. This M-Series is one of the best options.
How to Stream iTunes Video to Smart TV?
Just as mentioned, Smart TV is famous for ability to view videos from different channels. But Apple TV movies are protected by DRM protection, which you cannot get the purchased iTunes movies for Smart TV directly. Tipard Video Converter Ultimate should be the best program to turn the iTunes movies into DRM free files. Here are some other features of the excellent video converter to go with any type of smart TV. Just download the program to have a try now.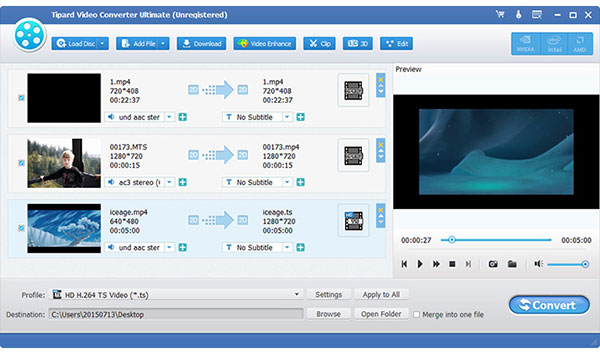 1. Convert DVD files, iTunes Videos and other DRM protected files into the DRM free items in high quality.
2. Support external audio track and multiple audio track, which enables you localize the foreign movies with family.
3. What is more, you can also enhance the video quality as well as editing the video files according to your requirements.

When you want to choose the best Smart TV, you can choose any type from the above brands. And then take full advantage of them to get the desired TV program from different channels. If you cannot get iTunes movies or other channels, you can also use the best Smart TV program to download and convert video files for you with few clicks.