Top 10 Android Music Equalizer to Get the Best Out of Audio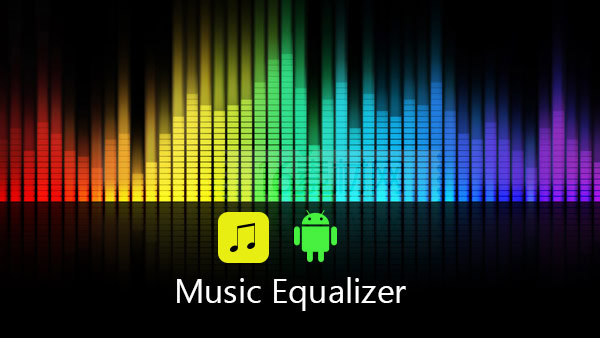 When enjoying the songs of your favorite singer, you would like to get the best out of Android audio. Sound is produced across a board spectrum of frequencies ranging from Bass (the lowest) to Treble (the highest). In order to adjust the sound wave, you can use the music equalizer to get the desired audio. Just learn more detail about the top 10 android music equalizers from the article.
Top 1: Music Volume EQ
Powered By: K&K Design
Price: Free
Music Volume EQ is one of the most popular music equalizer of Android. You can get the standard 5 band equalizer, 9 equalizer presets, bass boost, virtualize settings, and volume controls. In addition, this equalizer enables you to put widgets on your screen for easier and quick access to its main functions As an entirely free music equalizer without ads and premium version, it is the one of the most important reason that the program is so popular. Music Volume EQ also works with Android Music Player, Winamp, Google Music, MixZing, Poweramp and other Android music applications.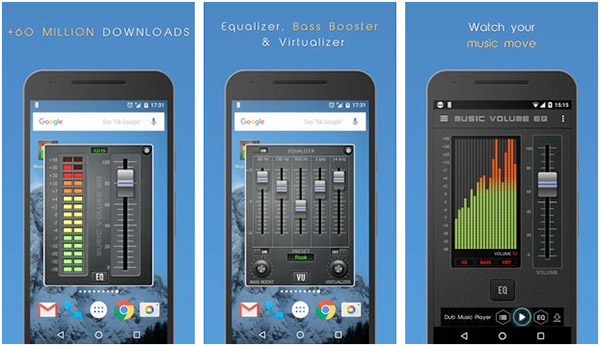 Top 2: Equalizer Music Player Booster
Powered By: DJiT
Price: Free
Equalizer Music Player Booster or Equalizer+ has more than 15 million downloads and voted best app of the year 2014 by Google Play. Different from the other music equalizer, Equalizer Music Player Booster is a 3-in-one application, MP3 player, music equalizer and bass booster. 5 bands equalizer, Audio player, 10 equalizer presets based on music genres, local Music sharing network, compatible with Android TV, background play mode and multiple other features. Equalizer+ is the new must have to listen to your songs and playlist!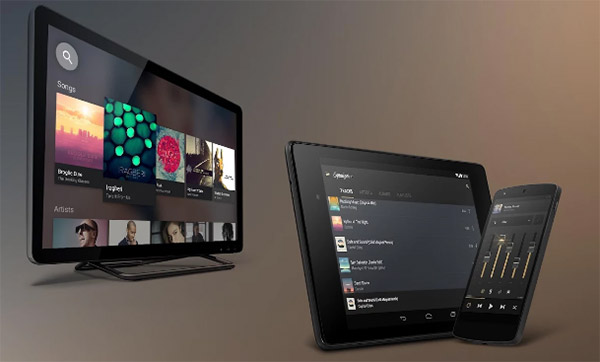 Top 3: Equalizer & Bass Booster
Powered By: Coocent
Price: Free /US$1.52
Equalizer & Bass Booster is a volume slider with live music stereo led VU meter and five band music equalizer with Bass Booster and Virtualizer effects. The program works with most music player, video player and radio FM. There are 10 equalizer presets and 3D surround sound to help you to improve the sound quality of your android device. You only have to adjust sound effect levels so that you get the best out of your Music or Audio coming out of your phone.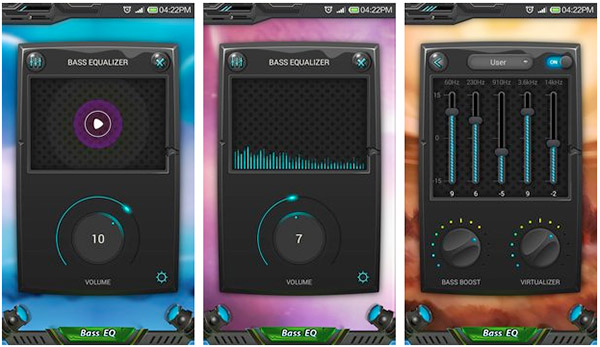 Top 4: Bass Booster
Powered By: Desaxed Studios
Price: Free
Just as the name of the music equalizer app, Bass Booster is featured for its abilities to boost volume by +10dB and improve quality of the audio files. When you use the latest version of Bass Booster, it works on all devices with Google Play music and Spotify now. There are 5 Brands Equalizer and more than 20 presets where you can choose from. What is more, you are also able to customize presets with the music equalizer app. The application also has an on-screen widget that is 2 × 1, plus a plugin support and of course, a music visualizer.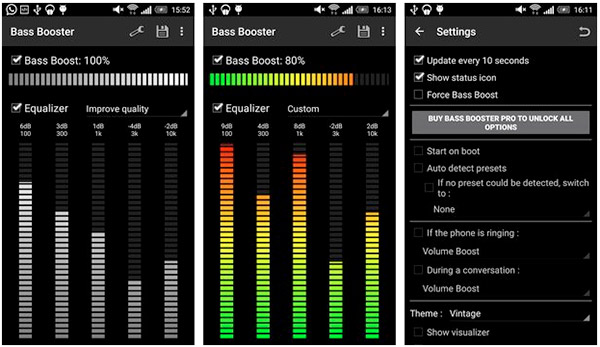 Top 5: Equalizer
Powered By: Smart Android Apps, LLC
Price: Free / US$1.69
Equalizer help you adjust sound effect levels to get the best out of music or audio out of your phone. The music equalizer offers 5 band equalizer, Bass boost, Surround sound (stereo width), and a volume boost. And the app also has a preset auto detect feature, which allows it to scan ID3 tags of songs in your playlist and automatically pick a music equalizer preset for each song that comes on. The paid version is riddled with ads and empowers you to save custom presets.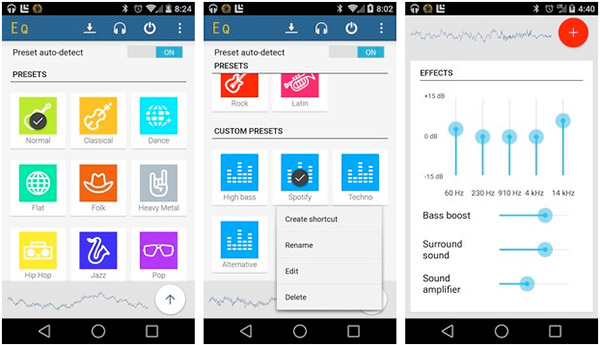 Top 6: Equalizer Music Player
Powered By: MooboSoft
Price: Free
Just as the other music equalizer, you Equalizer Music Player has Equalizer, Bass Booster, Virtualizer and Visualizer. It supports the music and video perfectly and realise high-fidelity playback for more than 20 formats. Here are two splendid features, the SHAKE IT feature, which gives your phone a shake to play next song. The other is headset support, you can use one button or multiple buttons headsets to enjoy the 3D surround sound or the 17 types of equalizer presets. Use with headphones for the best results of Android phone.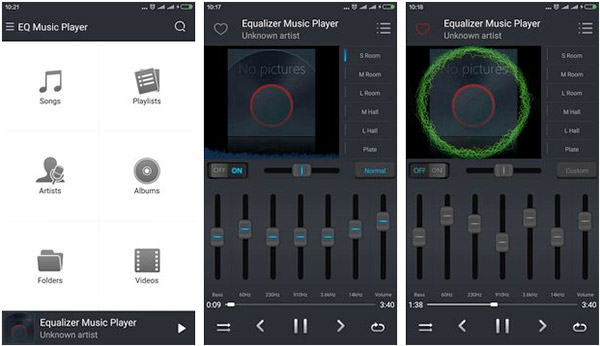 Top 7: Music Equalizer
Powered By: PerfectionHolic Apps
Price: Free
Music Equalizer is the first Android equalizer with volume slider with slide capabilities for a 5-band equalizer, bass booster and virtualizer. Music equalizer comes with nine preset equalizer profiles, which cover the most popular genres. You can also customize your own presets and lock music volume. Music Equalizer is a simple program that does everything exactly as claimed. There is a slim ad at the bottom of the music equalizer app, but there does not have any premium version to get rid of the ads.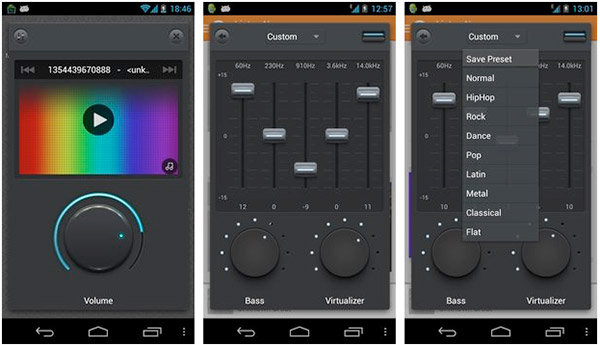 Top 8: Equalizer FX
Powered By: Devdnua
Price: Free/ US$1.48
Equalizer FX improves the sound quality for Android and let you get more enjoy of listening music. The music equalizer also includes 6 bands EQ, bass boost, virtualization, loudness enhancer, multiple presets and Equalizer Widgets for your home screen. The most important feature of Equalizer FX should be the abilities to create and save their own presets in the free version. When you are not satisfied with the music equalizer free version, you can also upgrade to the paid version with US$1.00 to get rid of the ads.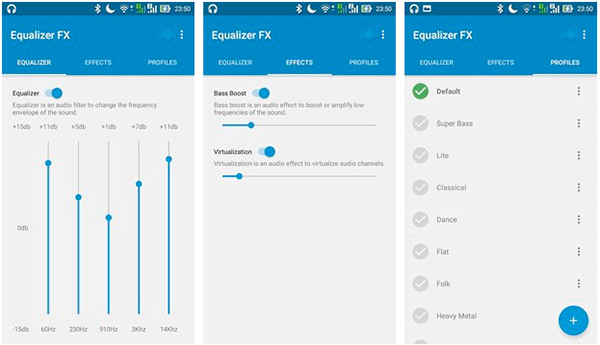 Top 9: Music Equalizer EQ
Powered By: SettleApps
Price: Free
Music Equalizer EQ is another all-in-one application with Music Equalizer, Bass Booster and Music Player features. There is five-band equalizer to adjust your sound tracks as well as10 equalizer presets based on music genres. You can adjust the equalizer, boost the bass and control the surround virualizer to improve your audio quality to the best. It is your music paradise to let you enjoy the best sounds and music. Just download the program from Google Play to enjoy the best Android audio and music.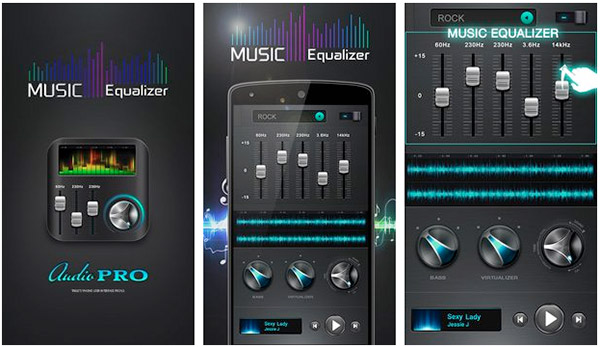 Top 10: AUVIO EQ
Powered By: Expona Global Sourcing
Price: Free
For AUVIO EQ is a music equalizer designed to work with AUVIO brand headphones or standard music device. It has a pretty simple interface and enables you to customize your equalizer settings. The music equalizer app lets you customize your equalizer settings. Save and customize up to 3 presets for your favorite equalizer settings. When you have the related device, you can control music at a touch of the in-line remote or customize key sequence for controlling various music playback functions.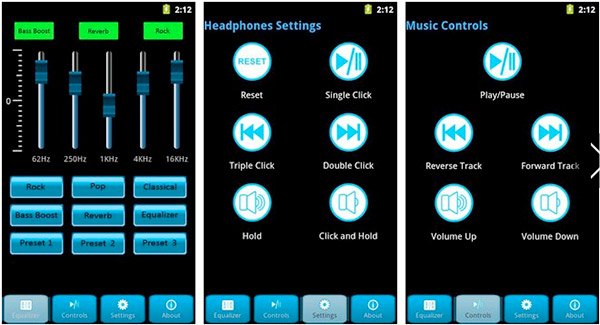 The Versatile Music Download and Management Program - Tipard Video Converter Ultimate
Tipard Video Converter Ultimate is the best audio & video converter software to convert music files you have downloaded. What is more important, you can change the music to formats compatible with your Android music equalizer on Samsung, HTC and other analog Android devices. Here are the main features for your reference.
1. Extract any audio file like MP3 from MP4 or online video stream.
2. Convert audio/music to MP3 or other formats with zero-loss on PC and Mac.
3. Adjust audio settings and merge/ trim audio length.
4. The user-friendly experience and easiest operation to achieve the result with ease.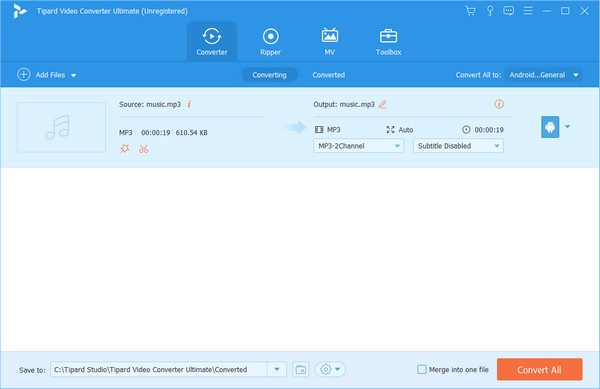 Besides the above features, you can also experience the high-speed conversion with 60X faster speed than other audio converter app with the high quality. It also provides the preview or pre-listen MP3 audio or YouTube video before conversion.