ZD Soft Screen Recorder and Its Alternative Recommends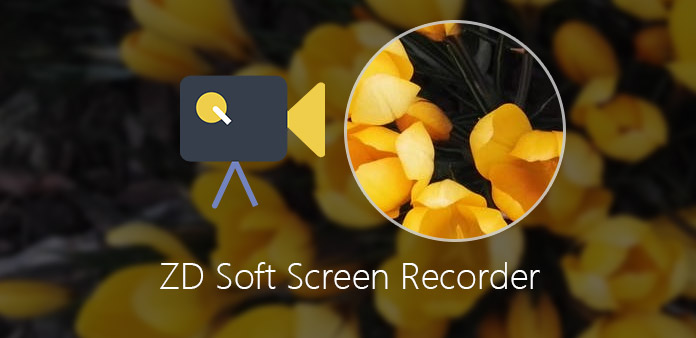 ZD Soft Screen Recorder has been released for over 10 years, which aims at screen recording. As for situations, there are many cases for you consider. You can use the screen recorder to show people latest software using tutorials, download streaming videos online, share gameplay and make live streams. Or you can also regard the Windows screen record as special downloader, which can save all movements on your desktop in high quality. What's more, there are also other ZD Soft Screen Recorder alternative software for people to choose, in easier operation and well-designed interface. Therefore, you can read and compare, to pick out your perfect desktop screen recording software.
ZD Soft Screen Recorder
Equipped with GDI screen capture method and GPU accelerated screen recording technology, your Windows computer will get less system lags and low CPU usage It means ZD Soft Screen Recorder Windows program will not take too much of space of limited OS space. The capable of capturing DirectX/ OpenGL game screen support users catch gameplay without black screen problems. In addition, it takes the H.264 & AAC codecs for users to catch videos and audios, to improve duration capability.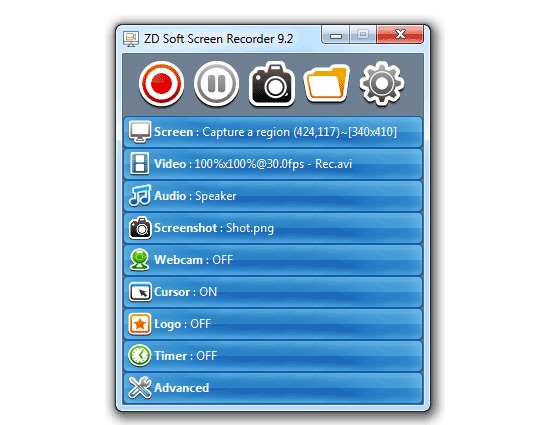 The Screen means you can customize recording screen in free size. The Video and Audio icons mean you can set specific desktop streaming media record inputs and other settings below. Screenshot indicates that you can catch any screenshot during recorded video, to get accurate living images. The Webcam, Cursor, Logo and Timer four options are designed as on and off switch, you can adjust by turning on and off. At last, you are able to save the output video and audio files in several formats.
Instead of the above Windows media recorder, there are other good screen capture programs you can get. With similar or even better output quality and interface to run. If you are not satisfied with the above Windows media recorder, then you can turn to Tipard Screen Capture and Snagit to seek better solutions.
1. Tipard Screen Capture
Tipard Screen Capture is the desktop recorder, which can output users 100% original quality media files. Being the ZD Soft Screen Recorder alternative software, Tipard Screen Capture can give users easier and cleaner interface to apply. All icons are easy to find. As for screen capture tools here, you can get many free space to operate. The 4K UHD video formats, 4K UHD encoding, HD video, SD video and audio formats here varies in wide range. You can also output recorded videos and audios in popular types, in several choices.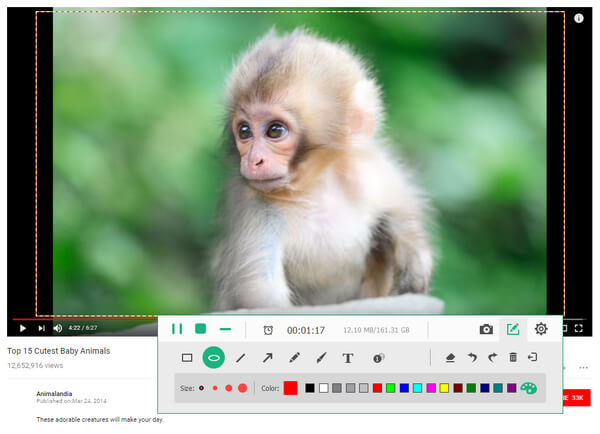 For people who need to capture videos from social video sharing platform, Tipard Screen Capture has gathered many online media websites. Before using the alternative ZD Soft Screen Recorder software, you can customize screen capture size, whether to be full screen, or set by length and width accurately. The various cursor effects allow teachers or others to record tutorials with better expressing methods. The capture timer enables people to grab audio and video in undesirable easy way. As for automatic preview feature, it is a nice way to check your output artwork, right?
You can download and upload recorded videos to different locations, or to use as normal phone ring. Being the ZD Soft Screen Recorder serial Windows alternative, Tipard Screen Capture save people from noise influence during media recordation. Thus, Windows users can download free version of the best alternative to experience.
2. Snagit
Snagit offers fast and smart way to record screen captures on Windows and Mac. With developed screenshot enhance filetrs, Snagit can make up every recorded images in professional way. Moreover, you can even convert recorded videos online and then convert it as animated GIF. Therefore, Snagit from TechSmith is a good desktop recording program. What's more, if you need to edit and create videos in high quality, TechSmith has another representative video editor, which is Camtasia. You can combine them together to get better output media files.
Snagit has powerful image and video capture feature, which names All-in-One Capture. It is really a creative feature among ZD Soft Screen Recorder download versions. Users can grab any video and webpage just by pressing one single hotkey, or your mouse. For Image Capture, dragging anywhere you want, and then you can save screenshots. As for Video Capture, you can record, narrate and trim demos, reviews and more. Then the Mobile Capture enables people to capture videos and images directly on iPhone and Android. After that, you can send from your smart phone to Snagit editor for second editing.
The Panoramic Capture is the method people merge pictures together, which contains different part of one object. You can see it on many photo editors. Sometimes the whole webpage is long, therefore, you can scroll down to grab the whole page. The Snagit stamps, annotate screen grabs gives users large space to edit screenshots on desktop. Of course, you can do simple video and image edit processes with Snagit screen capture program.
For other ZD Soft Screen Recorder full download serials, Snagit create new way for people to share video recording files. You can download and send emails in common way. Or you can also get a short URL of every recording to share with anyone.
Conclusion
After reading the ZD Soft Screen Recorder and alternative overviews, you can get fundamental impression of video recordings, including audio grabbing. To shorten installation processes, if you do not have high requirements towards screen capture filters, using ZD Soft Screen Recorder online freeware may be better. Or you can install Chrome plugin and Firefox add-ons, to catch screenshots in more convenient method. To record videos smart phone, you can also install screen recorder app on Android and iPhone, to capture application tutorials by smart phone versions.

Click here to join the discussion and share your comments
ZD Soft Screen Recorder and Its Alternative Recommends