Top 3 Methods to Record Roblox Videos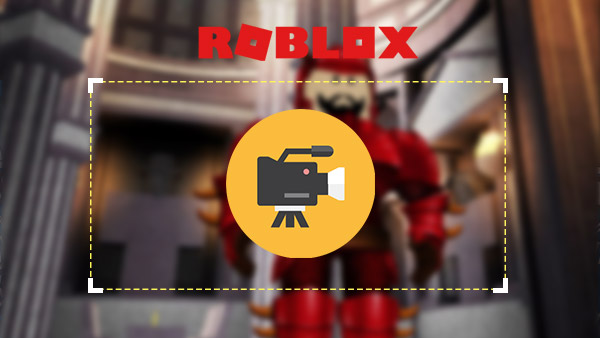 Do you want to make Roblox video for YouTube or Vimeo? When you want to share your achievements in building the virtual game world, you can record Roblox videos first. And then upload to YouTube and other social media. The Roblox gameplay tips and tricks in the video will attract lots of friends and fans. The section explains the different methods to record Roblox videos online. You can keep reading to find the desired solution to share the videos to others with ease. If there is any query for this, you can share your opinion in the comments.
Part 1. Build-in Roblox Recorder
When you want to keep a memory of Roblox, Roblox provides a build-in recorder, which is able to capture Roblox video for you accordingly. Roblox recorder will lag up your 1GB iPad 4 and 512MB other devices when you type and read at the same time. Just learn more detail about the process as below.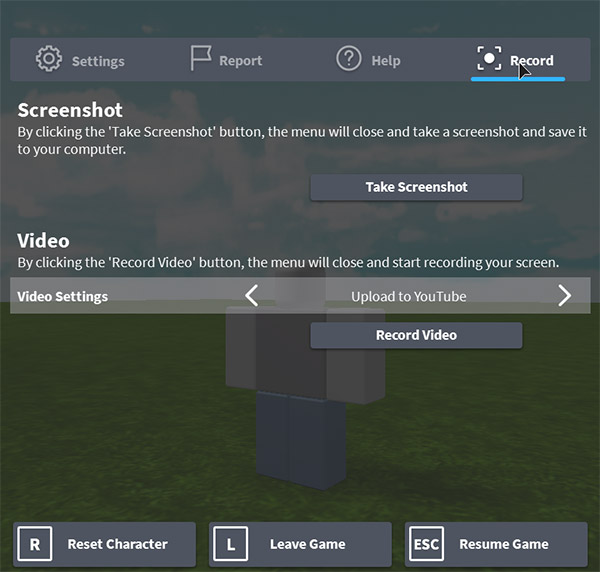 1. Once you enter the game, you can click the menu button in the upper-left corner.
2. And then in the game menu, click the

Record

tab.
3. Choose from the Video Settings option to decide what to do when you are done recording.

Save to Disk

will save the video to your computer.

Upload to YouTube

will automatically upload the Roblox video to YouTube.
4. Once you want to start recording, you can click the

Record Video

button. When you get everything done, you can click upper-left button to stop Roblox video recording.
5. You can view the Roblox vide now, click the My Videos link in the popup window.
The build-in Roblox Recorder works with the screen recording only. But if you want to use a microphone for game commentary, it might not be a good solution to record Roblox videos. And the build-in only allows you record and stop, but you cannot find the option for pausing. There are other restrictions, such as the custom frame or mouser cursor.
Part 2. Capture Roblox Video with OBS
In order to record Roblox videos in high quality, OBS (Open Broadcasting software) is another option. The first thing you should do is downloading and installing Open Broadcaster software on your computer. The program supports Windows, Mac and Linux. It is a popular Roblox video recorder, but in order to save the video in high quality, you have to learn the basic encode knowledge.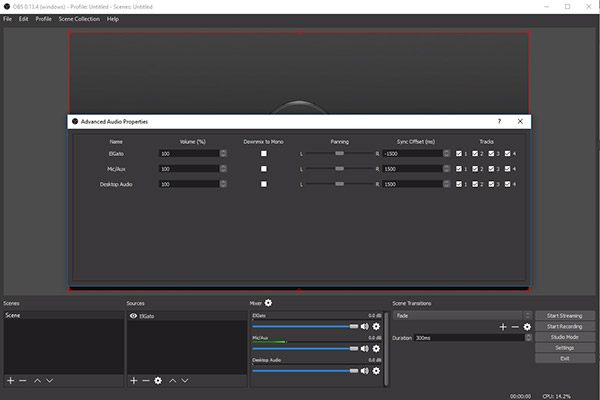 1. And then you can open OBS and access to Roblox gameplay. Go to the Roblox game first when you need to record Roblox videos with high quality.
2. Next thing you go to do is going to

Scenes

, right click to

Add Scenes

and rename is as Roblox video.
3. Go to

Sources

, right click

Add > Game Capture

to choose the desired Application. And then click

OK

to continue.
4. Click the

Preview Stream

button to access the recorded Roblox videos. Once you complete the recording, you can access the file with

File > Open Recordings Folder

.
In order to take advantage of the program in high quality, you should open up your settings, and go to general to record Roblox videos. Choose the language; make sure you are on your video recording profile. And then set encode as follows.
• Uncheck CBR.
• Quality Balance = 10
• Max Bitrate = Make it somewhere between 8000-15000
• Audio Codec = AAC
• Format = 44.1kHz
• Bitrate = 128
• Channel = stereo
Part 3. Record HD Roblox Video via Tipard Screen Capture
Tipard Screen Capture should be the best software to record video on Roblox. It is the easiest tool to capture Roblox videos and audios in the high quality. The software is able to record every movements and actions of the Roblox gameplay easily. Besides the high quality features, you can learn more detail about other functions of Tipard Screen Capture as below.
1. Select the area size of video screen before capturing.
2. Save the video recordings as MP4 or WMV for easy playback.
3. Record audio files on PC like system audio and microphone voice.
4. Set capture time and cursor to help you set recording time.
5. Once you complete recording Roblox videos, you can preview your video after finishing capturing.
How to Record Roblox Video with Tipard Screen Capture
Before you record Roblox video, you can launch the Roblox gameplay first. If you need to add your game commentary, you should adjust the microphone as well. Just learn more detail about the process to capture Roblox video with Tipard Screen Capture.
1. Choose the capture size of your screen
When you need to capture Roblox videos or other video tutorials, you should determine the capture size first. You can choose the full screen or customize the gameplay window.
2. Capture the screen in high quality
And then you can click the REC to start recording Roblox videos. And then move your cursor and choose the size of screen to start your Roblox gameplay process.
3. Finishing and preview the screen capture
Once you complete the capturing process, you can click the REC to stop the capture. Just preview the video automatically and save the Roblox video on your computer.
4. Set the audio source or microphone voice
If you need to have game commentary, choose the system audio or microphone audio, or select them both according to your needs.
After that you can upload the high quality Roblox videos to YouTube and other social media with ease. The high quality video will attract more fans for you in the social media sites.
Conclusion
When you need to record Roblox video, you can use the build-in recorder of the program first. The build-in program has limited functions and lack of high quality video files. OBS is another choice for capturing video of Roblox gameplay. You have to set the high quality video with some codec knowledge. Tipard Screen Capture is one of the best solutions to have Roblox video in high quality with ease. Not only for Roblox videos in high quality, you can also add your own commentary to the video. If there is anything related to download Roblox video on your computer, you can share your detail in the comments.