Top 4 Dxtory Free Alternatives to Record Game in 2023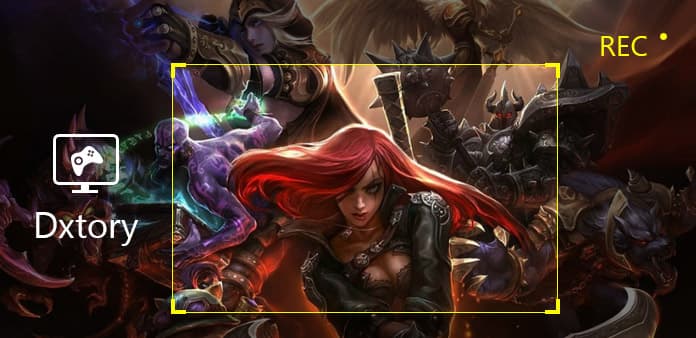 For every gamer or broadcaster, recoding epic gameplay in high resolution is the essential skill for a good video recorder. Moreover, if the screen game capturer offers video editing tools to highlight and edit recorded gameplay will be better. To get perfect game recording program, here is the gameplay recording review you can refer. What's more, every screen game recorder can work as Dxtory free version, to offer people good recording experience.
Dxtory
Dxtory is the movie capture with high speed. Usesr can record gameplay in lossless color and smooth operation. It means you can rediscover the great game playing experience without any influence. Moreover, the Dxtory free license file has clear interface, with which you can watch all your desktop work. All digital equipment will display on Dxtory interface, with many settings below. Therefore, using free Dxtory Mac and Windows version can record HD gameplay in real mode.
With so many gameplay desktop recording features to apply, you can capture screenshots by pressing hot key. Or you can manage and edit gameplay just like using a magic mirror, which plays similar role like Dxtory free full version. Recording epic gameplay is an easy job for most people.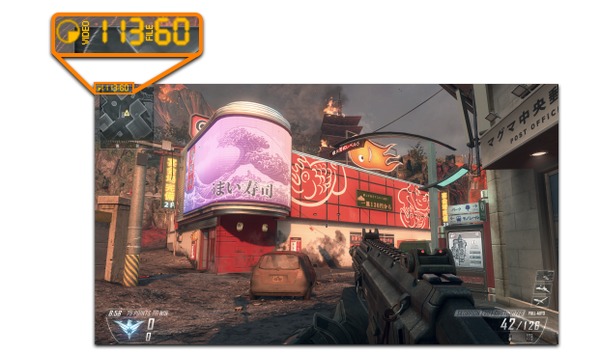 • The high-bitrates capture can improve your data saving. Therefore, Dxotry gameplay recorder will not influence original desktop game playing. If you use Dxtory paid version, the operating experience will be more smoothly.
• Accept multiple audio sources, during gameplay recording. You can set audio source numbers and record sound methods under audio settings, with adjustable volume.
• Support third party VFW codecs. Users can choose from codec library on Dxtory free gameplay recoder with many choices.
• Choose output modes and file formats. You can decide whether to use file output or directshow output. Or you are able to choose use AVI or RawCap file format to save as.
• Use broadcasting mode to share during recording. Moreover, you can select screenshot formats in 4 image formats.
The codec of Dxtory aims for lossless recording. Therefore, your gameplay recorded videos will be as clear and colorful as real games.
1. Tipard Screen Capture
Tipard Screen Capture is the Windows only screen capture software. You can get 100% video and audio original quality by the game recording application. With easy to use interface, Tipard Screen Capture has divided multimedia recording into two aspects, by video and audio. Or you can capture video ad audio simultaneously, with flexible media recording settings.
1. Customize screen capture size. There is fixed screen area size, which is 1280 x 720, or you can drag your mouse to set gameplay recording area by yourself.
2. Record both system audio and microphone audio on Audio Recorder menu. You can turn it off to capture game video without sound, or choose the audio source before recording.
3. Set capture time to record desktop video automatically. There is no record time limitation in Tipard Screen Capture, which can be Dxtory free trail replace software.
4. Add cursor effects to highlight and strengthen your operation more clearly. There are many cursor effects you can use during recording gameplay, like show cursor, change cursor color and more.
5. Preview after recording directly. After that, you can adjust volume, add location and do other video enhance processes.
As for saving gameplay recording videos, you can pick several output video formats on Tipard Screen Capture Windows recording software. In addition, it is also available to use webcam to record additional objects.
2. Action
Action is the professional live streaming, with which you can share gameplay to viewers from all over the world. To get latest gameplay recording, broadcasters and viewers can share the same feeling simultaneously. You do not need to worry whether video recording will influence your game playing, Action will keep your smooth desktop live streaming in HD mode, similar with Dxtory free alternative. After that, Action support you upload recorded videos to many video sharing platform, like Facebook, YouTube and etc.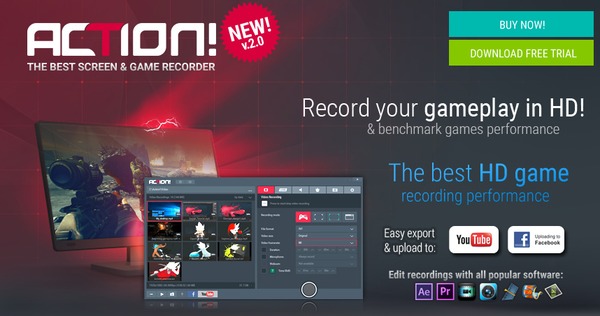 1. Record gameplay smoothly in real-time display. And you can add live audio commentary and slow motion effects to your gameplay recordings.
2. Capture all your desktop activities in HD desktop recording mode. No matter you capture gameplay in video or audio way, Action will not influence your original gameplay operating fluency.
3. Continuous Windows desktop recording permit. It means even if you turn off or switch from Windows desktop to full screen gameplay, your recording video will only be one file.
4. Record external gameplay screen as normal. You can capture gameplay on PC, TV, webcam or other displays as usual. In addition, Action will give you Greenscreen mode without external camera prepare.
5. Output your Windows desktop gameplay in MP4 automatically. Moreover, you can add other images and webcam to your live streaming video to record.
3. Bandicam
With 3 screen recording modes, Bandicam has achieved something on desktop recording. The three screen capture modes are game recording mode, screen recording mode and device recording mode. For broadcasters and gamers, game playing mode is more important and attractive. You can capture 4K UHD video and up to 120 FPS videos. Just like Dextory free desktop version, you are able to download free Bandicam gameplay recording software and upload to Facebook or YouTube.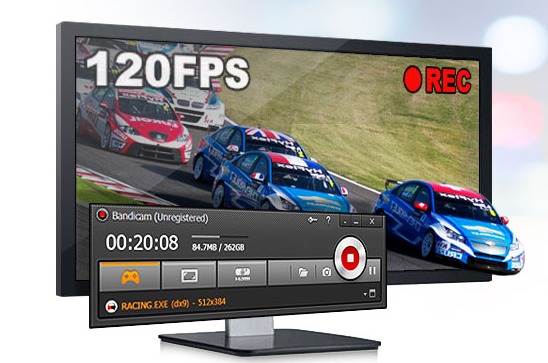 1. Record 2D/3D games, videos, iTunes, Windows Media Player, HDTV capture cards in Game Recording mode.
2. Capture and share online streaming game program in 720p/1080p full HD video mode to YouTube.
3. Capture gameplay video over 24 hours in small storage space. You can watch FPS numbers and frame rate during recording desktop games.
4. Webcam overlay and add your own voices. You can add watermarks on gameplay record videos. Moreover, there are video drawing tools, with which you can emphasis and draw real-time on gameplay recprding program, as Dxtory free alternative trial.
To record high resolution gameplay on your PC, Bandicam has simplify easy operations. However, you can still get wonderful video recording services by the comprehensive screen capture software.
4. PlayClaw
PlayClaw offers clean operating interface, including smooth recording and fast speed game running. You can use hardware to record videos of gameplay as well. Compares with other desktop video capturing programs, PlayClaw may not have gorgeous icons. However, you can get similar free user recording service like free Dxtory desktop version.

1. Cool overlays supported by graphics. You can view record, GPU, FPS, webcam and voice overlay during recording your streaming game.
2. Online streaming services allow people to add webcam and other graphics elements. Therefore, you can manage your broadcast with more control.
3. Encode games from local devices. You can capture real time video gameplay using H.264/AVC MPEG-4 or MJPEG of different hardware accelerated.
4. Chroma key effect for your webcam feed, to pretend a pro.
5. Record game program without FPS limit in smooth way.
6. Capture up to 16 audio sources simultaneously. You can add cover music, bakcgorund music and other music to mix your audios.
PlayClaw allow everyone to download fully functional trial version without time limit. As a result, you can run free desktop recorder on Windows computers to capture game work smoothly without any other charges.