How to Download Videos from Viki on Windows and Mac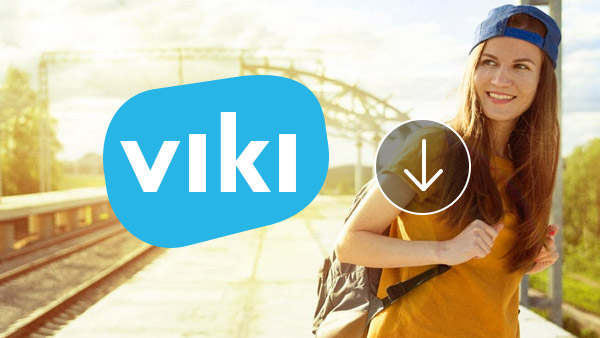 Viki.com is a popular video streaming website, which is a collection of TV programs from all over the world and personal shows. It has millions of fans around the world after launched in 2011. The reasons that it grows fast are plentiful contents and quick posting. Viki Premium licensed content in the similar way with Hulu. After a video content uploaded and distributed in a channel, community volunteers will subtitle it with funny words. It is the fastest platform for sharing video contents. Moreover, every member could enjoy extensive video contents on Viki, including the latest TV programs and personal shows. Unfortunately, it does not allow people to download videos to digital devices. But you can learn how to grab the video contents in this post. Just pick up the desire solution according to your requirements.
1

: Record Viki videos on Windows

2

: Capture Viki video contents on Mac computer

3

: Grab Viki video via online video downloader
1. Record Viki videos on Windows
If you want to download Viki videos to your Windows computer, Tipard Screen Capture is one of the easiest screen recorders to get the high quality video files and audio files. The biggest benefit of Screen Capture is to capture the Viki videos in the best quality. You do not need to worry about the issues about frames missing or images blurred. It supports to record the audio along with the video content as well. Moreover, you can set the duration time, and let Screen Capture work alone. Another advantage of this Viki recorder is easy to use.
How to record Viki videos with Screen Capture
Before you recording Viki videos with Tipard Screen Capture, you can download and install the program on your computer first. And then follow the process to capture the video from Viki.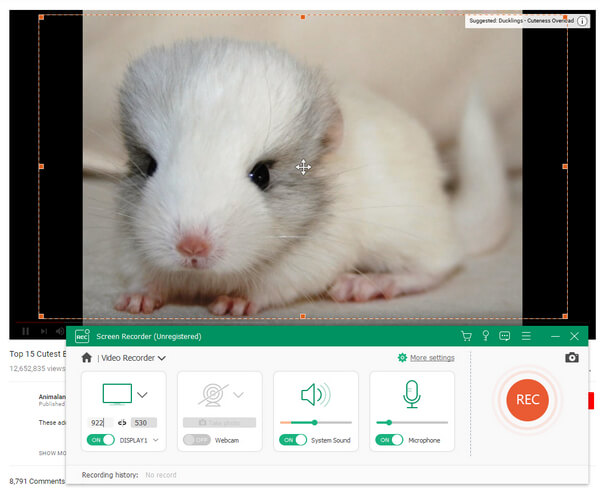 Step 1

: Play the video to record on Viki in your browser and open Screen Capture on your computer.

Step 2

: Click on Custom in SelectRecording Area. Then move the control points to decide the appropriate screen recording size. If you play the video in full screen mode, you can select Full screen to capture the entire scree.

Step 3

: This Viki video recorder has the ability to record the sound from system and microphone. We need to enable System Audio and disable Microph Audio at the same time. Then it will capture the sound from the video only.

Step 4

: If you want to capture the video automatically, you can set Duration according to the length of the video. When the video ends, Screen Capture will stop recording spontaneously.

Step 5

: After settings, click on REC button.

Step 6

: When it finished, you can save the recorded video in high quality video formats, like 4K videos or HD videos.

Step 7

: Finally, click on Save to store the video to a folder on your computer.
2. Capture Viki video contents on Mac computer
Open Broadcaster Software is an open source video recording program. It is available on Mac OS, so you can use it to capture Viki videos on Mac computer. Although it is free to charge, you have to download this software from official website or trustable source. Besides free, OBS provides more opportunities to control the recording for users. You can reset various parameters related to video and audio. The settings seem a little complicated, you can follow the steps below.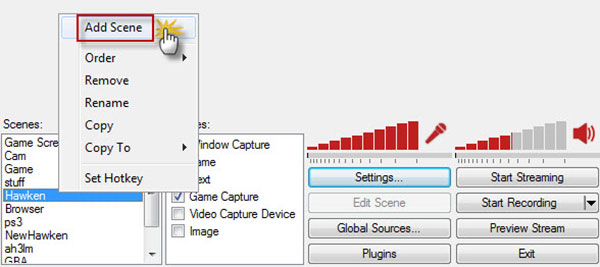 How to download Viki video contents with OBS
Step 1

: Visit OBS official website; download and install the right version on your Mac computer.

Step 2

: Launch this Viki recorder in Applications folder and click on Settings.contacts and make calls within Vodburner for Mac.

Step 3

: Select Broadcast Settings option on the left side ribbon to open the settings window.

Step 4

: Shift Live Stream to File Output Only in Mode option. Click on Browse and choose a destination to save the output. Then click on OK button to confirm the settings.

Step 5

: Select Encoding option on the left side to go to settings window. Then you can reset the parameters about video and audio.

Step 6

: After settings, back to scenes box. Right click and select Add Scene. You can drop a name for the scene.

Step 7

: Click on Source Box; tap on Add and then check Window Capture. After that, click on OK.

Step 8

: Open Safari or other browsers and play the video to capture on Viki.

Step 9

: Turn to OBS and click on Start Recording button to start shooting.

Step 10

: When the video ends, click on Stop Recording to complete the process.
3. Grab Viki video via online video downloader
If you do not like to install software on your computer, you can try online video downloaders. Once you enter the key words of video downloader in Google, you can get dozens of results. Remember that not all the online video downloaders support Viki. Moreover, the online download is not as stable as desktop programs. Sometimes they will crash and the download will fail. The benefit is they are usually simple to operate. Set Tubeoffline as an example.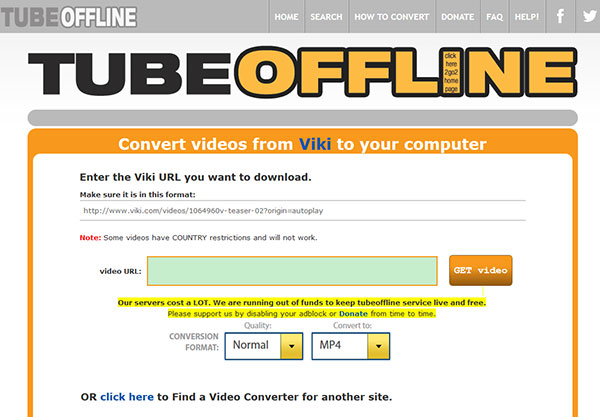 How to grab Viki video via Tubeoffline
Step 1

: Open your browser and access Viki website.

Step 2

: Search for your favorite video contents and open the video within browser.

Step 3

: Copy the address of the webpage contains the video to download.

Step 4

: Open a new tab in your browser and enter www.tubeoffline.com in address bar.

Step 5

: Scroll down and find out Viki in Convert from Other Site section.

Step 6

: Click the link labeled Viki to open Viki downloader.

Step 7

: Paste the address in URL box. There are two changeable options, quality and video format. You can select the parameter from the drop-down list. I select Normal in Quality and MP4 in Convert to.

Step 8

: Then click on GET Video button next to the URL box to complete the process.

Step 9

: Finally, you can save the Viki video on your computer.
Conclusion
This article has introduced how to download video content from Viki on Windows, Mac and online. Based on the introductions, you might discover that downloading video streams from Viki is easy than you thought. That is partly because we use powerful tools. Open Broadcaster Software is an excellent video recorder. It is not only free for charge, but also a flexibility program. Although there are some security concerns about OBS, you can download it from official source. Online downloader is another convenient choice to download Viki videos and enjoy them offline. The reason that online downloaders attract so many people is portable. You can grab Viki videos on any computers without installing anything. Tipard Screen Capture is the ultimate solution capture Viki videos. It allows users to enjoy the high quality videos safely.