Best 5 Alternatives of Camstudio to Capture Screen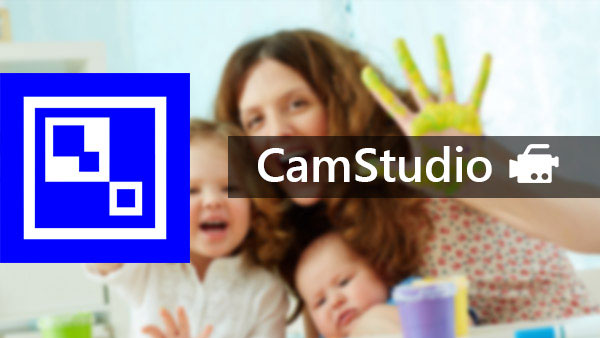 Sometimes a video is valuable than an image of a screen. Game strategy, for example, needs videos to show a sequence of actions. Some inexpensive screen recorders could meet such requirements, like CamStudio. It is an open source screen recorder, so everyone could use it for free. After recording, it will save the video as an AVI file. The biggest advantage of this software is to convert the original videos to Flash files. This screen recording program allows you to adjust the parameters, like frame rate. Or it will pre-set them according to the situations. However, there are some negative reviews around this program. Therefore, this article will test it and introduce some best alternatives.
Part 1. Camstudio Review: Pros and cons
This part is about the review of Camstudio.
Pros
1. It is totally free to charge and easy to use.
2. Camstudio permits users to control the codec, quality, time lapse and other parameters.
3. This screen recorder supports to capture the sound from system and microphone.
4. Users could add high quality captions on the recorded videos.
5. It will not limit the recording time.
6. It has embedded a help file, so beginners could search for guidance here.
7. It has the ability to capture almost all actions on your screen; no matter they are static or dynamic.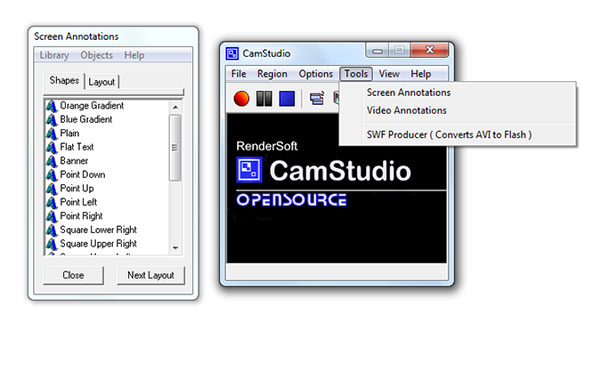 Cons
1. Some users have reported that this program distributed harmful viruses. That is an unavoidable problem to open source programs.
2. It is only compatible with Windows.
3. It has not integrated any editing features.
4. It could record the sound from microphone or system, not both at the same time.
5. This screen recorder is not very stable and its recording feature is not very reliable.
Part 2. The best alternatives of Camstudio
As you've found out that Camstudio has its disadvantages, and here, we'd like to show you Camstudio alternative software.
1. Tipard Screen Capture
Tipard Screen Capture is one of the best desktop alternatives of Camstudio. Firstly, users do not need to worry about the security problems, for you can download this screen recorder from its official website. Another advantage is to record the screenshots with the highest quality. Screen Capture users would not face the issues about quality, like frames missing or images blurring, because Screen Capture has integrated excellent algorithm.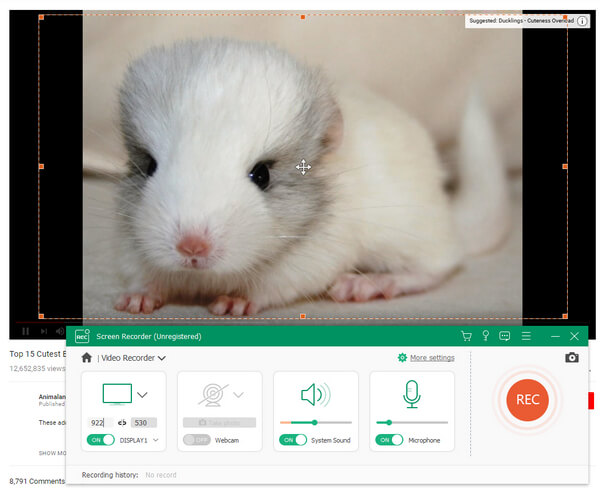 Here are the other impressive features of Screen Capture include:
1. It supports most Windows system, including Windows 10.
2. Users could record the audio files along with videos simultaneously and enjoy 100% original quality.
3. You can capture the sound from system and microphone at the same time.
4. The Duration option is useful when you need Screen Capture to work alone. It will stop recording automatically after setting.
5. Before saving the screenshot, you could preview the recorded videos within Screen Capture.
6. This Camstudio alternative allows users to save the recorded videos as high quality formats, like 4K videos and HD videos.
2. ScreenVirtuoso PRO
As a desktop program, the skin of ScreenVirtuoso PRO seems a little simple. But it is still one of the best alternatives of Camstudio. Besides the basic features about screencast, ScreenVirtuoso PRO has a function called Scheduler. It permits you to set timers to activate screen recording automatically. I believe most game players will love this function.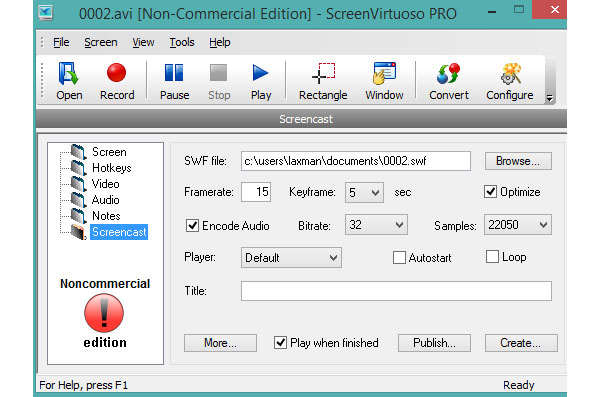 The useful features of ScreenVirtuoso PRO include:
1. You can take snapshots during screen recording, so you can save some important parts of the screenshot video.
2. It has the ability to add annotations in screenshot videos during recording.
3. Users could use hot keys to control ScreenVirtuoso PRO.
4. ScreenVirtuoso PRO allows you to control the quality of the output through customizing multiple parameters, like frame rate, samples, bit rate and more.
5. You can preview the recorded video within the built-in player.
6. It is free to charge without ads.
3. oCam
oCam is another best CamStudio alternative. As a free screen recording program, oCam does not have extensive features. But this simplest and handy screen recorder is popular among gamers, for everyone could use it without any difficulties. Once you start to record, oCam will run in the background without any interference.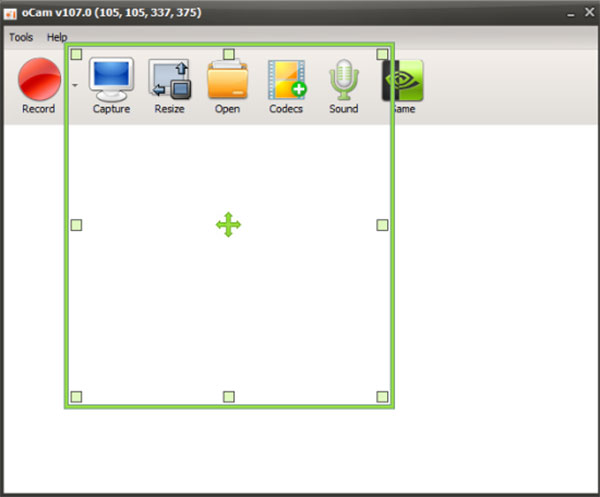 The basic features of oCam include:
1. It has a straightforward interface and is easy to navigate.
2. Users could set time duration. Then oCam will stop recording and save the screencast automatically.
3. It has the ability to add image as watermark on your screencasts.
4. You can customize the recording area by resize feature.
5. The built-in codecs could save the screencast as various formats, like MOV, MP4, AVI and more.
6. You can record the audio along with the images or grab the images separately.
7. If you need to capture the sound from system and microphone, you can pre-set the sound feature.
4. JScreenRecorder
One reason that JScreenRecorder appears in this list is it permits users to hide cursor when recording screens. It is annoying that the cursor interferes during screen recording. Sometimes the cursor may even cover the important part of the screenshots. But only several screen recorders has the ability to hide cursor, like JScreenRecorder.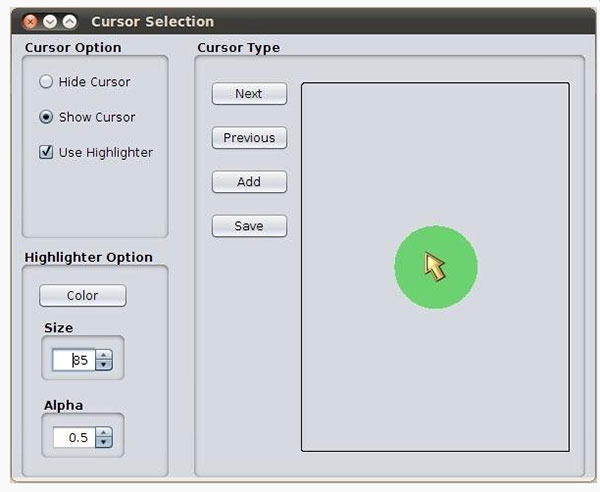 Other essential features of JScreenRecorder include:
1. This Camstudio alternative is a free screen recording program.
2. JScreenRecorder allows user to capture the entire screen or selected screen area.
3. Besides hiding cursor, it embedded a set of 128 stylish cursors. You can customize your cursor during recording.
4. It has the ability to create custom text watermark and add it on the recorded video.
5. Before recording, you can pre-set some parameters, like frame rate.
6. It will save the recorded videos as MP4 files.
5. Icecream Screen Recorder
Icecream Screen Recorder is also a popular screen recorder. With this CamStudio alternative, you can capture videos or take a screenshot. It has embedded an editing tool—— Drawing Panel provides multiple useful editing features. If you need to record screen frequently, the Project History feature will be helpful to find the screen recording quickly.
Other principal features of Icecream Screen Recorder include:
1. Once you open the program, the two favors of Icecream Screen Recorder, capture video and screenshot, will appear in the interface. You can select one to continue depending on your demands.
2. It alternative has extensive annotation tools, like text, graphics and free hand draw. So you can add diversity annotations on the videos.
3. Icecream Screen Recorder is one program of a set of software. After saving the video as MKV file, you can edit it in other Icecream programs.
Conclusion
This article tested CamStudio and posted its reviews. Although there are some cons, it still a good screen recording program. But if you are looking for an alternative, this article provided some best choices. ScreenVirtuoso PRO could start to record your screen automatically. oCam is the simplest alternative with all necessary screen recording features. JScreenRecorder permits users to customize their cursors or even hide it. Icecream Screen Recorder is a great CamStudio alternative for eLearning. And if you want to a security alternative with powerful features, you can try Tipard Screen Capture.