5 Best Action Screen Recorder Alternatives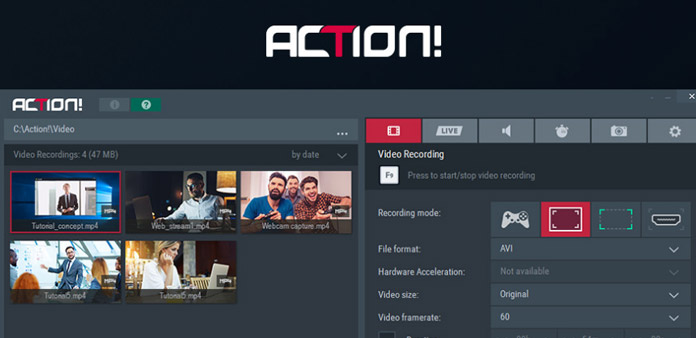 Action screen recorder is excellent gameplay screen recorder developed by Mirillis. The Action Game recorder is the most prevalent game recording software in market. Many Windows PC gamers utilize Action to capture games in real time. One reason that game players prefer to Action screen recorder is the smooth recording experience. Besides gamers, bloggers also use Action to create tutorials. The high quality output is another benefit of Action screen recorder. The intuitive interface makes Action to be one of the most user friendly screen recorders. However, if you are looking for the alternatives, you can learn some best solutions in this article.
Action screen recorder review
Action is a versatile screen recorder with extensive features. It has the ability to capture all actions on your screen, including action games, videos,  and even windows switch. When you are recording, Action screen recorder will show you the current framerate and average framerate. The program could capture all sounds inside and outside your PC, like game sounds and your voice. We summarize the pros and cons of Action based on testing.
Pros & Cons
Pros
1. Action has a friendly-user interface.
2. Its video capture feature is powerful.
3. This screen recorder supports live streaming and screenshots as well.
4. Users could get HD videos.
5. Action uses low CPU.
Cons
1. Users cannot set framerate manually
2. Video bitrate adjusting is unavailable.
3. Action does not provide video editing features.
4. It is a paid screen recorder.
If you just want to take simple screen recording task, Action seems too expensive. The section also provides some Action screen recorder alternatives that can record screen and gameplay as profession.
1. Tipard Screen Capture
Tipard Screen Capture is one of most powerful screen recorders. Similar to Action screen recorder, Tipard Screen Capture supports to capture all activities on your screen and produce HD videos. Moreover, Screen Capture is a CPU-light program. Gamers even cannot feel it, when recording gameplay. On the other hand, Screen Capture is more straightforward than Action. Everyone could use Screen Capture without guidance. Here are the other impressive features of Screen Capture.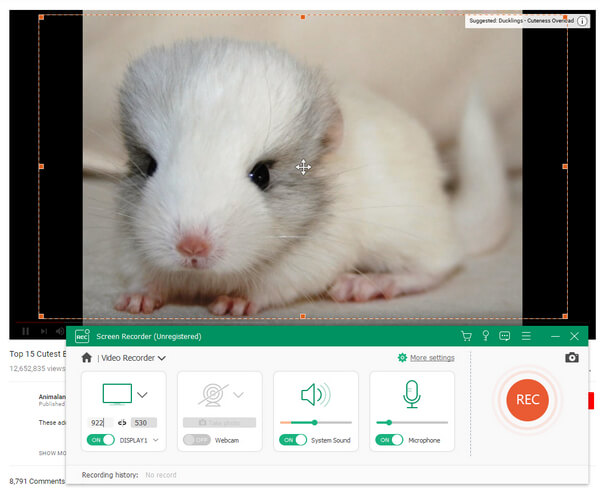 1. It could record the sound along with the video images and give you 100% original quality.
2. Tipard Screen Capture could blend system audio and your voice from microphone naturally of your gameplay.
3. The duration feature is useful. You can set duration and let Screen Capture work alone. It will stop recording automatically.
4. This screen recorder is compatible with most Windows systems, including Windows 10.
5. Screen Capture supports to export the output to high quality video formats, like 4K videos and HD videos.
2. Dxtory
Dxtory is another dedicated action game recorder as the Action screen recorder alternative. It is popular among game players, for Dxtory could capture DirectX and OpenGL video data from surface memory. And users could enjoy the fast and lossless recording experience. Another powerful feature is that Dxtory has high frame rate, up to 120 fps. So, game players could use Dxtory to record fantastic video games to high quality videos.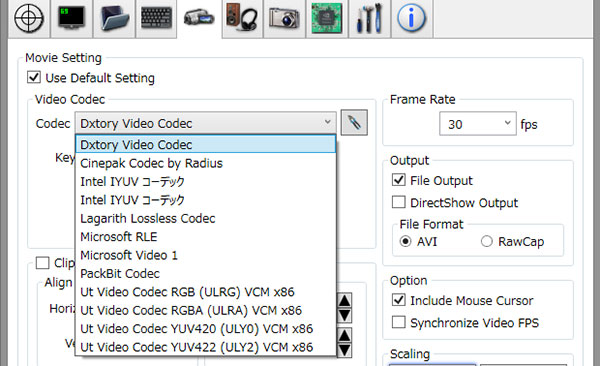 1. Unlike Action screen recorder, Dxtory provides plentiful custom features. Users could navigate to Global, Advanced, Screenshot, Hotkey, Folder, and other settings to adjust various parameters.
2. Advanced users could edit configurations in Profiles menu.
3. When it comes to screencasts, it permits you to customize margin, scaling, clipping and more options.
4. Its outputs could be sourced to many video editors.
5. You can export the game videos in AVI format.
Unfortunately, Dxtory is also a paid screen recorder. And this Action screen recorder seems more suitable for advanced uses, because the custom settings are too complicated to beginners.
3. Fraps
Fraps is another famous game recording application. And a lot of game players used or are using it. Fraps could help game players to take screenshots when they play games. And the great screenshot made by Fraps could display all the details in high quality. Sometimes game players prefer to discuss their game experiences or display a new skill on social media. With the high quality screencasts made by Fraps, you can get the attention from audience easily.
1. This Action screen recorder alternative could capture a wide range of games, including DirectX and OpenGL.
2. Users could target to a clip based on the timestamps and counters that Fraps adds on the recordings.
3. Fraps could be controlled by extensive hot keys to control when recording.
4. This screen recorder also has plentiful custom features related to screen capture, including screen size, frame rates, audio and so on.
5. After recording, Fraps will save the game videos in AVI files.
Fraps has free trial version, which only permits users to record 30 seconds video.
4. Camtasia Studio
Camtasia Studio is a suit of screen recorder and video editor. Compare to Action screen recorder, Camtasia Studio provides plentiful video editing tools. So, if you prefer to polish the videos captured by screen recorder, Camtasia Studio is the best alternative of Action screen recorder.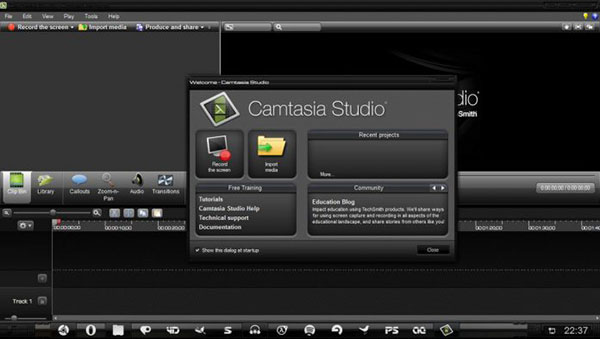 1. Camtasia Recorder could capture everything on your screen, including video games, background music, your voice, Google Hangouts, and so on.
2. This Action screen recorder alternative supports to capture images and sounds from multiple input sources.
3. You can customize multiple parameters depending on your requirements.
4. After recording, you can edit the video within Camtasia Studio. Besides the basic editing features, like crop and text, Camtasia Studio also offers special effects, transitions, animations, and other professional video and audio editing functions.
5. Camtasia Studio supports to export the video as MP4, WMV, MOV, AVI and M4V.
Although Camtasia Studio embedded so many features, its interface is quite friendly.
5. CamStudio
Freeware is always attractive and valuable. If you are looking for a free-to-charge Action alternative, CamStudio is your best choice. CamStudio is an open source screen recorder; however, it is as powerful as paid screen recorders. Compared to Action, CamStudio's interface is much simpler. But CamStudio allows users to adjust various pre-settings, including frame rate.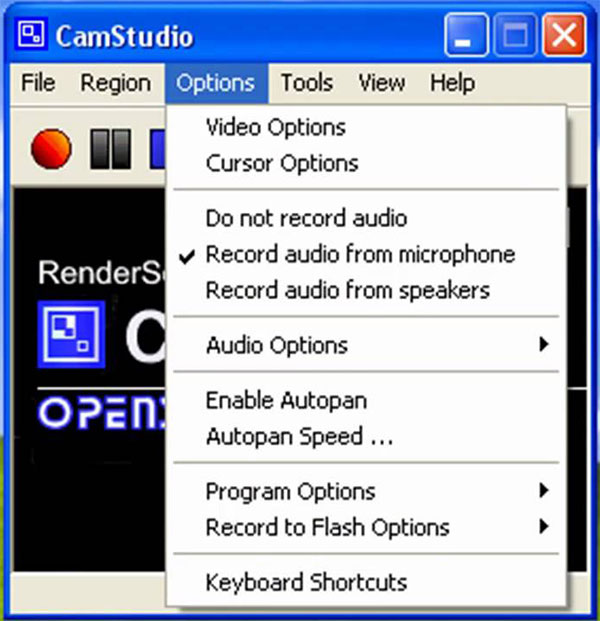 You can control all aspects of your screen recordings, like codec, quality, time lapse and other settings.
1. CamStudio supports to capture videos from multiple input sources, including computer system, microphone and webcam.
2. It permits you to add captions on the recordings.
3. It has no limit on recording time.
4. After shooting, CamStudio will save videos in AVI files. And this screen recorder could convert the output to flash format.
All you need to do is install CamStudio on your computer and you can start enjoy its free services.
Conclusion
This article has reviewed Action screen recorder. Action is apparently a good game video creator. However, Action also has shortcomings for many users. Some gamers, for example, reported that Action did not allow them to adjust frame rate and other parameters. So we displayed some best Action screen recorder alternatives based on Action's cons. Dxtory is the best alternative for advanced users, because Dxtory permits users to adjust plentiful parameters. Fraps is a good choice for video game fans, for Fraps could record a wider range of PC games. Camtasia Studio could meet the demands on video recording and editing. Tipard Screen Capture is a smart choice to achieve screen recordings.