How to Convert PDF to Text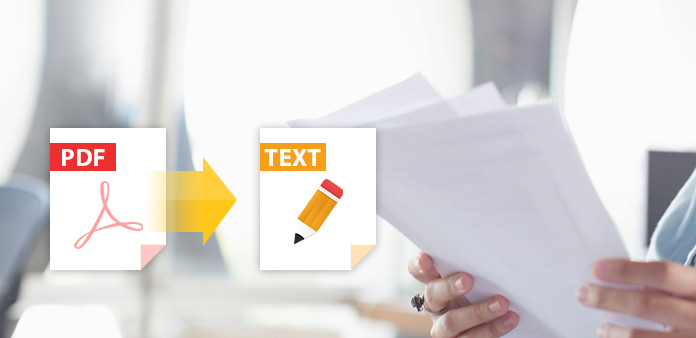 Since the birth of PDF file format, almost all important business documents are created and exchanged in PDF format for preserving the authenticity and originality of the file. Simply speaking, PDF file can prevent the information contained in file to be tampered with. However, sometimes, its merit might be its disadvantage. A PDF file might not be edited as simply as editing a text file. And more importantly, a professional PDF reader is required to read the PDF file. Therefore, converting PDF to Text is so basic to business these days, how could we convert PDF to plain text file? And is there any simple and reliable PDF to Text converter which enables us to convert .pdf file to .txt file fast and accurately.
Actually, there are lots of options to convert PDF to Text. Most of them are online applications, like PDF to TXT by ZAMZAR, Online-Convert.com, Online OCR, Convert online free and more. All of them require users to upload their PDF to website or enter URL of the PDF file they want convert on the search bar in the application. Then, users can choose source language and OCR and enter their email address for receiving converted .txt file. Finally, click Convert to convert their PDF to text file on line. Now, I expect that you might choose to convert PDF to text free online. However, have you thought about the safety of your PDF file? It is free and online. How would you make sure it is reliable and safe? In fact, they are not reliable as they have claimed to be. There is a risk in converting your important PDF file into a text file though free online PDF converting application. If so, how could we convert PDF file into editable text free and reliable? Here is how.
How to Convert PDF to Text free and reliably
PDF to Text Converter by Tipard is the very professional PDF converter you are looking for. It is so powerful to help you convert PDF file into Text document with high output quality. It is reliable and easy to use. You will not worry about that the information in PDF file is leaked or you cannot use this application. It also enables users to convert more PDF files to Text file at the same time. You can preview and select a converting page range of the PDF file you want to convert. Plus, this powerful PDF Converter also supports to convert PDF to other file formats, such as Microsoft Word (.doc/.docx), Excel (.xls/xlsx), PPT (.pptx), ePub (.epb), HTML (.html) etc. And at last, if you do not mind the watermark on your converted Text files, the whole converting with Tipard PDF to Text Converter is totally free to you.
Step 1
Download and install the free version of PDF to Text Converter on your computer.
Step 2
Launch the application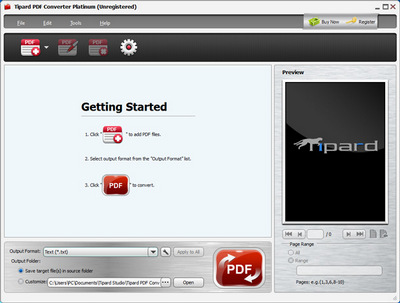 Step 3
Add PDF files or folder to application
After adding PDF files you want to convert, you can preview, remove, and rename them.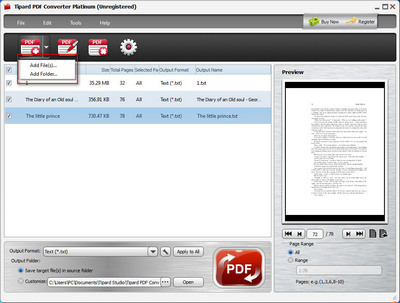 Step 4
Set the preferences
Here, two location options and three OCR modes to choose. You can directly save the converted .txt file to source file folder, or customize a location place on your PC. Three OCR modes are Accuracy Mode, Balanced Mode, and Speed Mode.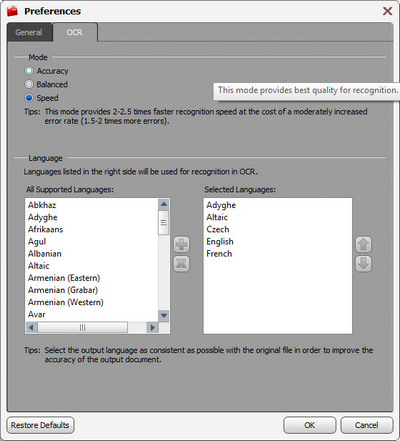 Step 5
Convert PDF file into Text document
Preview your added PDF file from the preview window, tick All to convert the whole .pdf file, or set a page range to convert part of the file. Then click the Converter button to start your PDF to Text conversion.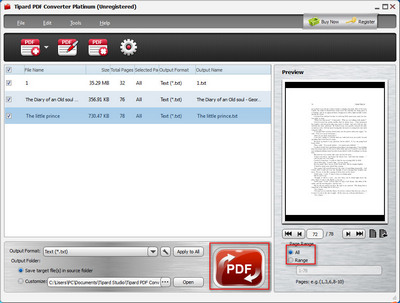 It should be mentioned that the output .txt file converted by Tipard PDF to Text Converter free version has watermark on each page of your file and you have only 15 days to use it free. If you need a clear and long-use of this program, you'd better use the pro version of PDF to Text Converter.
PDF vs. Text
PDF (short for Portable Document Format) is a file format developed by Adobe to present and exchange documents reliably. A PDF file is independent of software, hardware and operating system. It can contain links, audio, video, pictures, tables and more formats to present information. While Text file format is an older format than PDF file format. It only contains plain text without any format. With its small file size, it is easier to place or read it on portable device, such MP3 player, MP4 player, phone and other portable device. And it is also easier to edit a .txt file. Moreover, it supports all platforms and operating system.
You May Like the Hot Software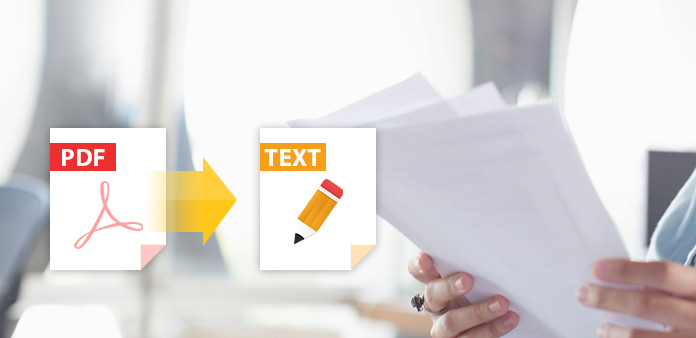 Convert PDF to Text/Word/Excel/ePub/HTML/PPT/Images
Accuracy Guarantee with OCR Tech support
100% safe and virus-free
User-customized page range
Fast conversion speed