Verizon Backup and The Best Alternative to Backup Contacts for iPhone/Android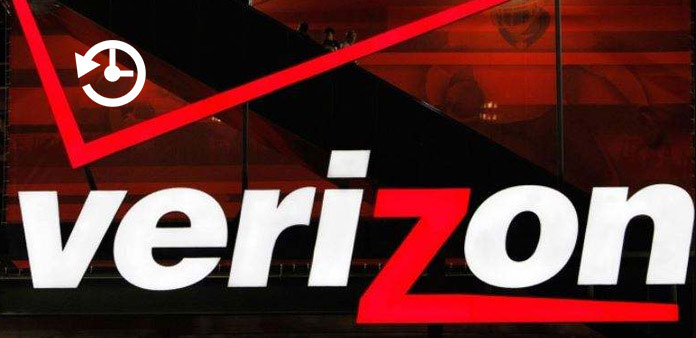 For smartphone users, a powerful backup tool is always necessary. Sometimes, we may delete some important data for mistakes, such as contacts, apps and more. System crash and failed update could lead to personal data loss too. Backup is an important source to restore deleted data easily. If you are using a Verizon phone, you are lucky, because Verizon backup assistant is a powerful tool to backup and transfer data and files from smartphone to another device. Do you want to learn Verizon backup assistant and how to use it on your smartphone? Read our guides, you can grasp all necessary knowledge about Verizon backup assistant.
Part 1. What is Verizon Backup Assistant
Verizon Backup Assistant is provided by Verizon Wireless for Verizon subscribers. This service is able to save your contacts to a secure website. And you can download the copy of your contacts to anther device. Currently, each Verizon subscriber has a Windows Phone, BlackBerry or iPhone could enjoy 2GB free storage to backup contacts.
To meet users' demands, Verizon has released a more powerful backup tool, Verizon Cloud. As the new Verizon backup tool, it offers 2GB storage to sync pictures, music, videos, contacts, SMS and other data for free. Verizon Cloud is available to both iPhone and Android phone.
In a word, Verizon subscribers could enjoy the traditional or new Verizon backup tool without paying a penny, no matter you are using iPhone, Android phone, Windows phone or BlackBerry.
Part 2. Use Verizon Backup Assistant on iPhone
Step 1: If Verizon Backup Assistant or Backup Assistant Plus is not on your iPhone, you can download it in App Store.
Step 2: Open Backup Assistant app once installation is done. Tap on "Backup Now" to perform contacts backup manually.
Step 3: Verizon will ask you to enter your phone number to verify you are a subscriber and receive the access code.
Step 4: Tap on the "Next" button to go to next screen and enter the access code in the text message. Then Verizon Backup Assistant will backup contacts automatically.
Step 5: When the screen shows "Congratulations", it means contacts backup completes. Then it will ask you to set how often would you like to receive a reminder, like Once a Day, Once a Week, Once a Month or Never.
If you want to download iPhone contacts to another device, you can go to Verizon backup service and use your phone number to access the backup. And when you upgrade to a new iPhone, you can restore your contacts using Verizon Backup Assistant directly.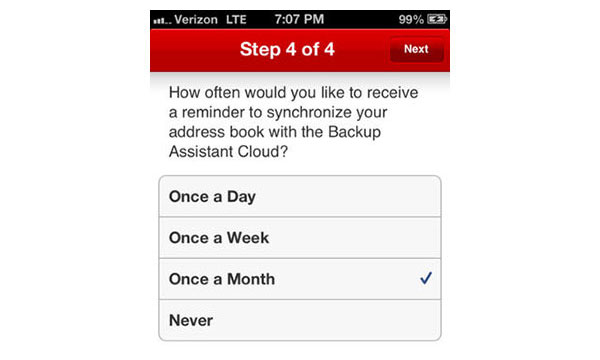 Part 3. Use Verizon backup tool on Android
Compared to Verizon Backup Assistant, Verizon Cloud offer more storage capacity plans and supports extensive data types. It is available to iPhone and Android smartphones.
1. How to install Verizon backup tool to Android phone
Step 1: Search for Verizon Cloud in Play Store, download and install it to your Android phone.
Tip: Generally speaking, Verizon Cloud is available to all subscribers. If you are not sure, you can go to Verizon Wireless website and verify whether your phone model is supported in Support page.
Step 2: Launch Verizon Cloud app and log in with the same user ID and password. If you want to upgrade your storage, you can go to the "Manage Your Products" screen and select a storage plan. Tap on "Upgrade" to confirm it.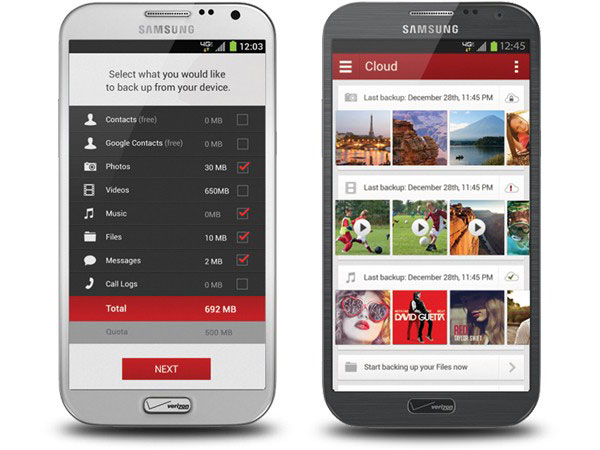 2. How to backup data to Verizon Cloud
Step 1: Open Verizon Cloud and tap on the "Menu" icon at upper left corner.
Step 2: Choose "Settings" on the menu list and then tap on the "Backup" option.
Step 3: Then Verizon backup option dialog will pop up. Here you can select the data types to sync by tricking each checkbox, like Photos, Videos and more.
Step 4: Once your tap on the OK button, the selected data types will save in Verizon Cloud.
After backup, you can access the files in mobile app or web app. If you want to transfer the backup to your computer, you can visit Verizon Cloud web, sign in your Verizon account and find the files in categories.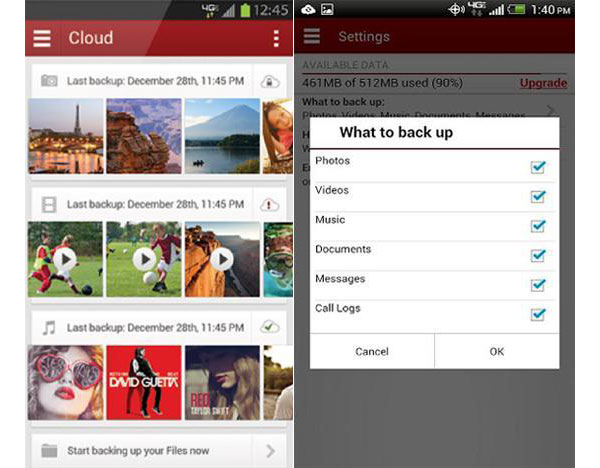 3. How to restore backup to another phone
Step 1: Install Verizon Cloud on the new phone and sign in your Verizon user ID and password.
Tip: If you have use the Verizon Cloud on the old Android phone, it will ask you to input your PIN when you use Verizon Cloud on the new phone. You can find your PIN in Verizon Cloud web->Settings-> View PIN.
Step 2: Unfold the "Menu" list with three horizontal lines at upper left corner of screen and choose a data type to download, such as "Photos".
Step 3: Tap on the photo you want to store to the new phone to open the photo info screen. Then hit the "Download" icon to download it to your new phone.
Step 4: Repeat step 3 to download other files and data to the new phone.

Part 4. The Best Verizon Backup Alternative
As you can see, it is a waste of time to download files one by one within Verizon Cloud app. Plus, it only works for subscribers. If you want to transfer personal data from old phone to your new phone in one click, you should try Tipard Phone Transfer. It supports to transfer data between Android phones, iPhone and Android phone, or two iDevices.
How to transfer data in one click
Step 1: Install Phone Transfer on an accessible computer. And connect two mobile phones to the PC with cables.
Step 2: Launch Phone Transfer, it will detect the two devices automatically. Make sure the old phone is in "Source Device" field and the new one is in "Target Device" field. Otherwise, click on the "Switch" button to correct them.
Step 3: Choose the data type you want to transfer by tricking the checkboxes of Contacts, Photos or Media.
Step 4: Click on the "Start to copy" button to let Phone Transfer do its job.
Conclusion
Verizon Wireless is the largest telecommunications provider in United States. Every year, it co-works with major smartphone brands and releases a large amount of smartphone models. To help Verizon subscribers experience their smartphone seamlessly, it offers several useful tools, including Verizon Backup Assistant, Verizon Cloud for backup and transfers. The former one is a simple tool to backup contacts and the latter one is a cloud service for backup various data categories. If you want to use Verizon backup tools on your smartphone, you will find our guides are useful. If you want to transfer data between two mobile devices in one click, you should try Tipard Phone Transfer.

Click here to join the discussion and share your comments