Top 5 Tools of iPhone Backup Extractor for Mac/PC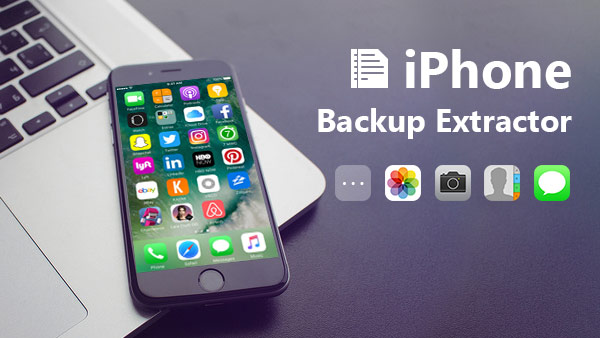 You may lose your important files due to damage or lost your iPhone device accidentally, and maybe you are looking forward to get them from iTunes or iCloud backup. Under this circumstance, you need some powerful iPhone Backup Extractor tools to help you extract data from iPhone backup files easily. This article collects top 5 iPhone backup extracting tools for all iOS users.
Top 1: Tipard iPhone Backup Extractor – easily extract data from iPhone backup
The easiest-to-use iPhone Backup Extractor not only can extract 20+ files from any iPhone backup, but also is available for iPad and iPod backup extracting. It also has two versions: Windows and Mac. You can use it to extract your needed iPhone file such as contacts, messages, photos and more from iTunes/iCloud backup. With the powerful function, it is more than one iPhone Backup Extractor tool, it can also help you recover iPhone, iPad and iPod data. For example, if your iPhone contacts gone, you can use this powerful iPhone Backup Extractor to restore them with several clicks.
The main pros:
1, Easily extract iPhone/iPad/iPod file from any iCloud/iTunes backup.
2, This iPhone Backup Extractor can scan and preview all data free before extracting your iPhone Backup and choose what you want to extract carefully.
3, It is easy to use and extract iPhone backup comprehensively.
4, It can recover lost or deleted data from iPhone, iTunes and iCloud backup directly.
5, Support any Mac and Windows computer.
Cons:
It will take few minutes to scan all the iPhone Backup.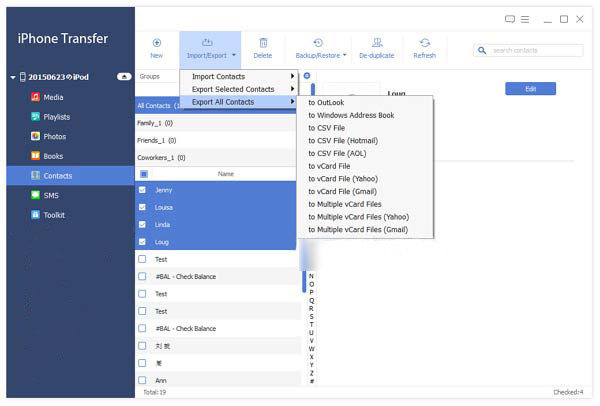 Top 2: A tool named iPhone Backup Extractor
This software is named "iPhone Backup Extractor", and it also compatible with Win and Mac. You can also use it to regain the iPhone backup files on your computer.
Pros:
1, Had two version: Win and Mac
2, It can extracts iPhone data from iTunes, iCloud backup
3, Also can recover iOS devices' data
Cons:
1, It may take a long time to scan your data and can't scan your iPhone data fully
2, When you use this iPhone Backup Extractor to extract iPhone backup, you can't preview your needed file before extracting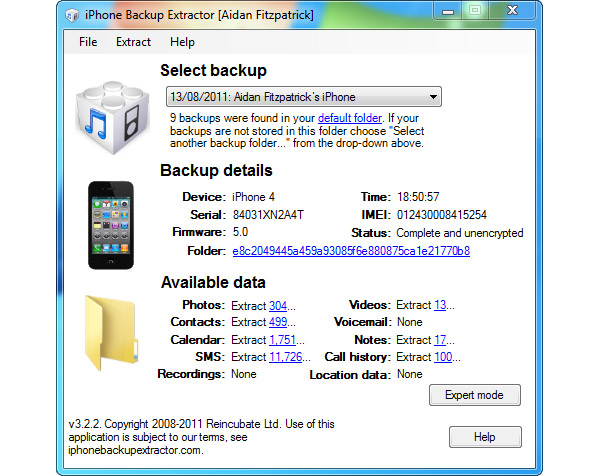 Top 3: iBackup Extractor - extract data from iTunes backups of iPhone/iPad/iPod
This Extractor can explore and restore lost data from your iTunes backups. iBackup Extractor can also finds all iPhone backups on your computer and help you recover these files with ease.
Pros:
1, This software can extract files from iTunes backup of iPhone
2, It also supports Windows and Mac computer
3, You can retrieve deleted iPhone data with it
Cons:
1, It just can extract iPhone backup from iTunes, and can't extract data from iCloud backup
2, It may can't fully scan iTunes backup
3, It is available with few export formats
Top 4: iBackup Viewer – extract data from iPhone backups
iBackup Viewer is the free iPhone Backup Extractor to export personal data from iPhone backups. It can extract contacts, call history, messages, photos and more. You can also scan and view data on your iTunes backup on computer.
Pros:
1, All iPhone backups can be found on computer
2, It is easy to use and has simple interface
3, Extract data from iTunes backup directly
Cons:
1, Can't support iCloud backup
2, You can't preview encrypted iPhone backup if you use the free version of this iPhone Backup Extractor
3, Sometimes, it can't scan iTunes backup fully which will has big influence on extracting iPhone Backup
Top 5: Easus MobiSaver – Manage and recover iPhone backup
It can help you extract iPhone data from your iTunes and iCloud backup. You can select what to extract easily including contacts, messages and photos.
Pros:
1, It has intuitive interface and easy to use
2, You can preview your extracted iPhone backup files before retrieving them
3, It has free version of iPhone Backup Extractor to try
Cons:
1, You need to pay for it to achieve complete version to extract your iPhone backup
2, It may need a long time to extract your iPhone backup files
These iPhone Backup Extractor all have their specific features, you can choose the most favorable one to help you finish extracting iPhone backup.
You May Like the Hot Software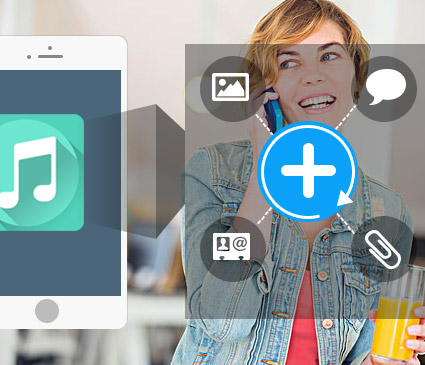 Easy to use and extract iPhone backup from iTunes/iCloud
It can also recover contacts, photos, music and more data from iPhone, iPad and iPod directly
Support all modes of iPhone, iPad, iPod like iPhone SE, iPhone 6s/6s plus/6/6 plus, iPad Pro/mini 4