How to Back Up Samsung Contacts Photos & Messages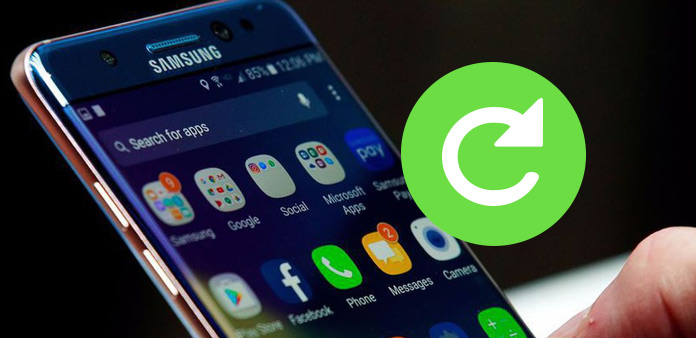 Smartphone should be the first choice to store important data now. We communicate with others, take photos and send messages with smartphone for our social life. As the Samsung Galaxy S6/S5/S4 users, do you ever considered to back up Samsung contacts, photos, messages or other data for any emergency? The article will guide you to store important Samsung data, such as the contacts, photos and messages in some easy ways. Just lean more detail and get what you want.
Part 1: How to back up Samsung data with Samsung Account
As the Samsung users, Samsung has already pre-installed some applications to back up Samsung contacts, photos and messages. You just need to use the build-in Samsung account to back up these files. It should be the easiest way to backup Samsung data, you do not have to install extra applications with the method.
1. Launch your Samsung phone, and then tap on the "Settings" option.
2. Scroll down to choose the "Accounts and sync" option.
3. If it is the first time you use Samsung account, tap the "Add account" option to create an account with Email and password.
4. When you sign into Samsung account, you can tap the "Device backup" option to choose the messages or other files for backing up from your Samsung devices.
5. Then, you can tap "Back up now" to store the data to Samsung cloud.
6. If you choose the "Auto back up" option, the Samsung contacts, photos and messages will be back up automatically once a day.
Supported Format: You can backup the log, Calendar, Contacts, Internet, Memo and other important data of Samsung smartphone with Samsung account as the default method.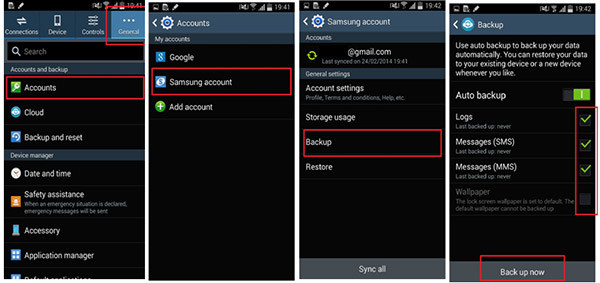 Part 2: How to back up Samsung data with Google Account
When you have some Android devices other than Samsung, you might not able to transfer Samsung contacts and other information with Samsung account. In order to make sure all the other Android devices can share the information of Samsung smartphone, you can back up Samsung data with Google Account instead.
1. Tap the "Settings" icon from the launched Samsung phone.
2. And then choose the "Accounts " option under "User and backup".
3. Scroll down to click the "Google" account from the list.
4. Sign in the Google account with email and password.
5. Choose the formats of Samsung device to sync the Samsung data to your Google account.
6. And then tap the "Sync Now" button to backup Samsung contacts, photos and messages to Google account accordingly.
Supported Format: For the Google account does not support all the files of Samsung device, you can backup the App Data, Calendar, Contacts, Doc and driver information.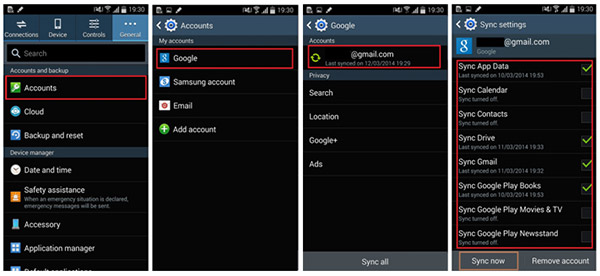 Part 3: How to back up Samsung data with Dropbox
If you are using multiple devices with different operation systems, back up Samsung data with Google Account might still be a nice option. But it is recommended that you can use Dropbox to back up Samsung data with different operation systems as well. Dropbox should be an easy method to transfer Samsung data with different devices.
1. Choose the "Dropbox" application from your app list.
2. Tap the "+" option on the lower right to add the files from Samsung smartphone.
3. And then select the "Upload files" option.
4. Select either "Photos or videos" or "Other files" to upload the Samsung data to Dropbox accordingly.
5. Once you select the desired photos and video files, you can click the "UPLOAD" button to backup the Samsung files now.
6. When the Samsung data is uploaded to Dropbox, you can find the snapshot of the photo or video in Dropbox.
Supported Format: The logic of the dropbox might not suit for the messages or contacts well. It is recommended that you can save the file with large size of Samsung to Dropbox.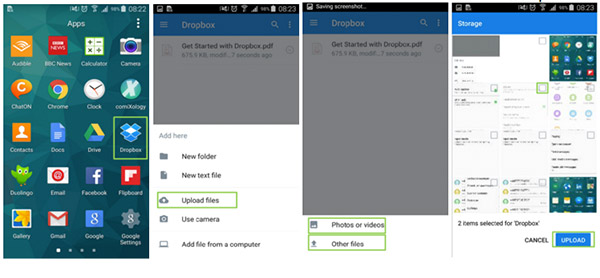 Planning ahead should always be a great method to avoid any damage to the Samsung device. You can always recover deleted contacts from Samsung phone easily back even if the Samsung smartphone is damaged or lost.
But what should you do if you have not backed up the Android contacts and other data? It will be difficult to restore the files back with Samsung device only. You should need some hot software to find the data from Android phone internal Memory. Tipard Android Data Recovery should be the best solution for your problem.