3 Methods to Restore Deleted Contacts from Android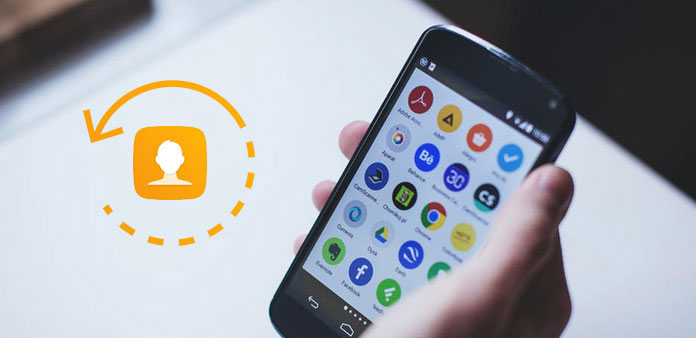 Have you ever deleted your important contacts by mistake? Imagine if you lose all your vital contacts and have no idea to restore them, it is really an annoying thing. Actually, here are some simple ways you can use to restore deleted contacts. If you are looking for these ways exactly, this article can give you a lot of help and show you these methods. Keep reading and learn the way to restore your deleted contacts from Android.
Method 1: Restore Deleted Contacts with Tipard Android Data Recovery
If you are finding the best software to restore deleted contacts from Android, Tipard Android Data Recovery is strongly recommended to you. It is a kind of easy software you can use to recover the deleted or lost data from your Android devices. Not only you can restore deleted contacts, messages, but also recover photos, call logs and so many data from your Android.
What's more, it also supports all kinds of Android OS versions between 2.1 and 5.0. Of course, it is easy to use so that every user can use it to restore contacts and other files. Just follow the next steps and restore deleted contacts using Tipard Android Data Recovery.
Step 1
Download Android Data Recovery
Download Tipard Android Data Recovery from the official website. Then install it on your computer according to the instructions.
Step 2
Connect Device to Computer
When you successfully finish the installation, you are allowed to launch Android Data Recovery on your computer. And you will see a window which request you to connect your device. Then connect your Android device where you want to restore contacts to our computer via a USB cable. It will take some time to detect your Android device.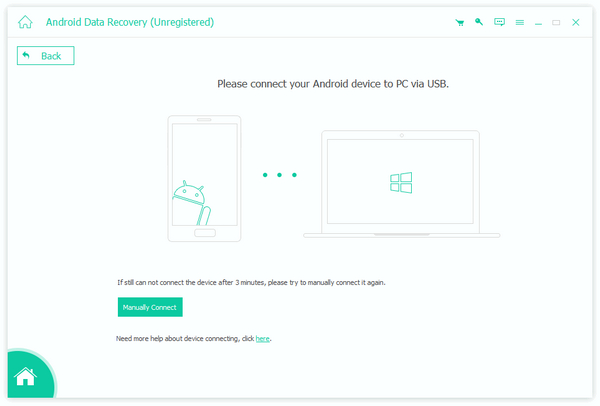 Step 3
Open USB debugging mode
If you can't open the debugging mode on your Android device, Android Data Recovery will prompt you to enable the USB debugging on your Android phone. This software just detects your Android version and shows the way how you can open the USB debugging mode. So don't worry about the safety.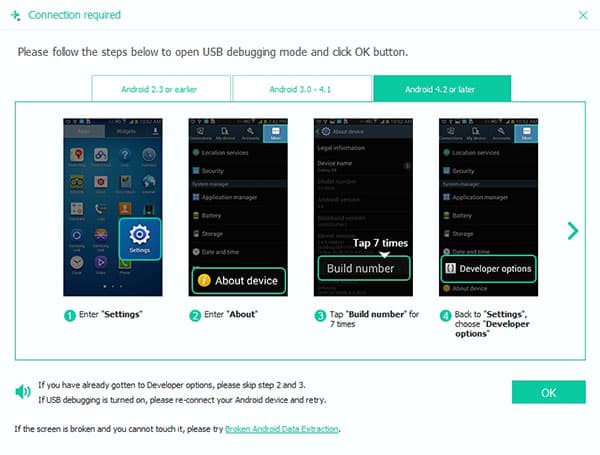 Step 4
Choose contact to recover
When you done all things, all the file types you can recover will be showed in the interface. Just choose what you want to recover and check the box, then click "Next" to begin the process. Here you need to choose Contacts.
Step 5
Begin restoring deleted contacts
After you click "Next", this software will scan the data on your Android device, and the scanning process will take you some time. When the scanning process is finished, the files type will be showed in the left list and the files saved in the file type you choose will be listed in the main window. Preview the data and select what you want to recover. Just click "Recover" to start restoring deleted contacts.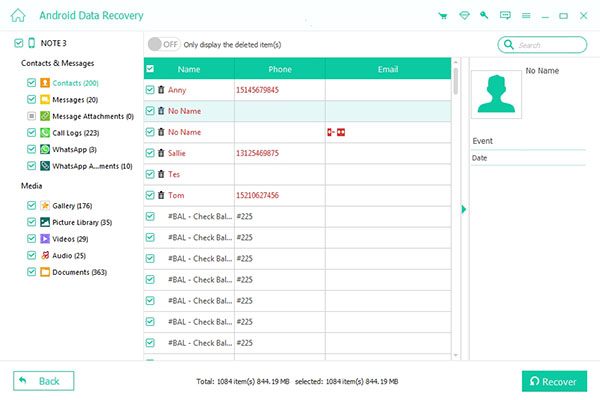 Method 2: Restore Deleted Contacts Using MobiKin Doctor for Android
You may worry about any quality loss or data errors happen during the recovering process. But if you are using MobiKin Doctor for Android, there is no need to worry about this problem. Because MobiKin Doctor of Android is a totally read-only program and won't damage, delete or modify any of your data or your device. And with this software, you can preview all the contacts information so that you can choose what you want, and then restore deleted contacts selectively. Here are the detailed steps you can follow.
Step 1: Download MobiKin Doctor for Android
Find the official website and download MobiKin Doctor for Android to your computer. Then install it following the installation guide.
Step 2: Connect device to computer
Launch this program on your computer. And then connect your Android device to your computer with a USB cable. And don't forget to open the USB debugging on your device. Before your Android device is connected successfully to this software, it will detect your device first.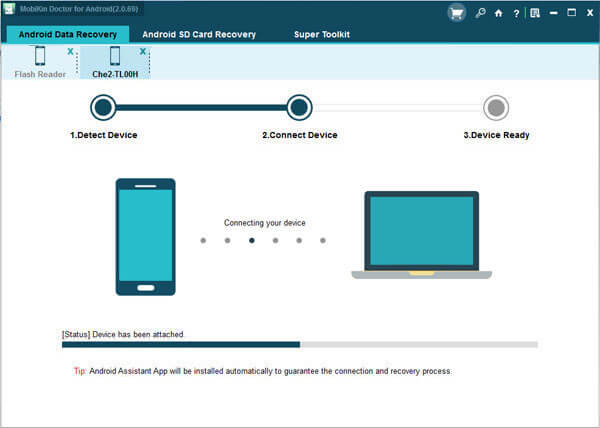 Step 3: Scan your Android device
After enabling debugging on your Android device, this program will detect your phone and show the information in the main interface. It may take some time, just wait for a little while. And then all you contacts will be analyzed and shown in the interface directly, including the lost and existing contacts.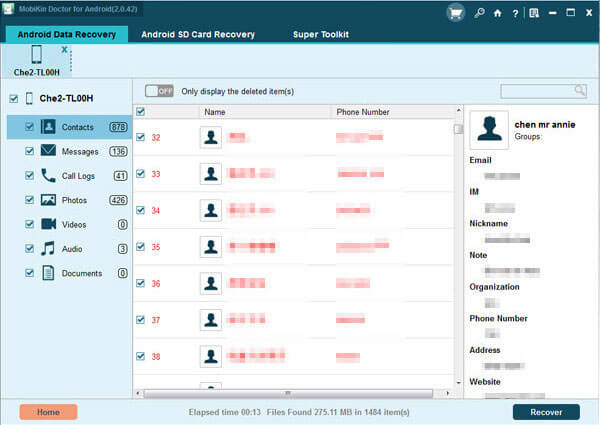 Step 4: Restore deleted contacts
You are allowed to preview the contacts by clicking "Contacts" button. Including the telephone number and contact name, address and so on. And then select the deleted contacts you want to recover and export them to your computer by clicking "Recover".
Method 3: Restore Deleted Contacts from Gmail
For many Android users, you need a Google account to use many applications on play store, Gmail and others. What's more, your Google account can help you restore deleted contacts.
If your Android device is synced with your Google account, it is possible to recover the deleted contacts. Gmail has a nifty function, which allows you to restore the backup of all your contacts in 30 days. Once you are satisfied with this condition, you can re-sync your Android device with your Google account and restore your deleted contacts. It is very convenient to restore contacts from Gmail, but first of all, you need to have a Google account.
Step 1: Log in Gmail
Log in Gmail with your Google account first. Then find the Contact option from the top left dropdown menu. Just like the picture we show to you. Once you see the list of your contacts, you can click on "More" to get the dropdown menu. And in there you need to select the option "Restore contacts" to do your job.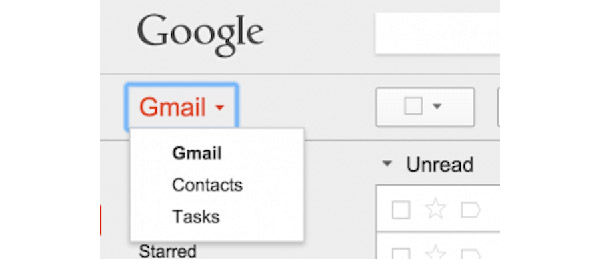 Step 2: Restore deleted contacts
A new window will open on your screen and ask you to select a time to restore your deleted contacts. Then click "Restore" button to restore contacts with your Google account.

Conclusion
Here we list three methods for you to help you restore deleted contacts from your Android device. Just choose the most suitable one to restore contacts by yourself. If you have more thoughts, you can share them in comments. And if you like this article, don't forget to share it with your friends.