How to Reinstall iTunes without Any Losing
If you are experiencing problems with your iTunes installation, such as the installation file for iTunes is deleted or changed, it will have big influence on some software which can't work normally. The solution you thought first is that reinstall it to resolve these problems. This article describes the steps you need to take to reinstall iTunes without any losing.
Part 1: Backup your Files before Reinstalling iTunes
Before reinstalling Apple iTunes, the best thing you do first is that backup needed files to your computer. Or those data files would be deleted when you uninstall previous iTunes with wrong methods.
How to backup iTunes files to computer smoothly with transfer software?
Step 1
Install and run this software
Run the software and connect your iPhone/iPad/iPod to this software. And it will scan your device automatically.
Step 2
Backup files on computer
Check the files which you want to transfer and then click "Export to". Choose "Export to PC" to transfer all files to computer. At the same time, you can choose the path of saving. Then you can find your files on your computer easily by save path.
The file transferring will be completed in very short time. When the files transfer is finished, you can start to reinstall the previous iTunes from your computer. The iTunes uninstall is also easy to be done.
Part 2: Uninstall iTunes and Related Components
1, Find your control panel and removing iTunes file.
2, Find iTunes in the program and double click to uninstall. And uninstall the iTunes related components as well. Or it will cause untended affects.
After uninstalling iTunes, you can reinstall a new iTunes on your computer.
Part 3: Reinstall new iTunes on your Computer
1, Go to Apple iTunes download web page and download iTunes installer file. Double click to download it.
2, After downloading, run the installer on your computer. Follow the installation process and the iTunes will be installed onto your computer.
After reinstall the iTunes onto your computer, you can back up files on iTunes. The steps come as follow:
Part 4: Import files and Backup into iTunes
1, Launch iTunes on your computer, and check the file library. If these files are already in the library, it means that you didn't lose any files when reinstalling iTunes. But if the library is empty, you can get the file back in seconds.
2, Click "File" button at the upper left corner, then choose "Add file to library", a window will pop up for you to choose files, and then import them into iTunes. iTunes will finish the files transfer in seconds.
When all part you have done, you can get all files back after reinstalling iTunes on your computer.
Besides, you can reinstall iTunes without losing any data in simple clicks by backing up the music files with Tipard iPhone Transfer.
You May Like the Hot Software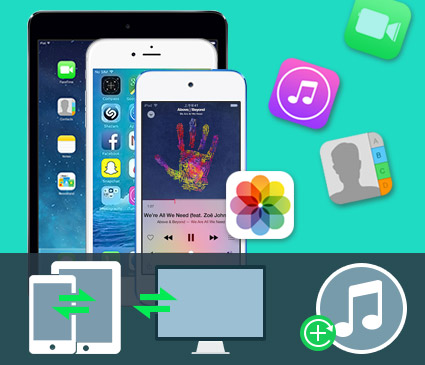 It can help you backup files from iPhone/iPod/iPad to iTunes after reinstalling new iTunes.
Besides syncing files to iTunes, it can transfer files including music, contacts, photos and more among iOS device and computer.