Top 6 Solutions to Fix Voicemail Not working on iPhone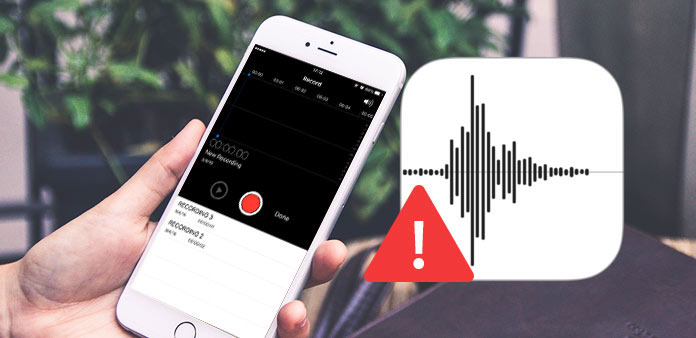 "I haven't used my iPhone voicemail for about a week. Then I cannot listen to any messages l this time I open the iPhone voicemail. I have no idea. What should I do to fix Voicemail not working on iPhone 7?" --A question from Apple Support Communities
If you go through the similar problem, when iPhone voicemail not working after updating to iOS 15, you might feel anxious because there could be someone left important message. There are many reasons that cause the voicemail not working on iPhone. What should be the best solutions to fix these problems? According to different problems you have got. Whether it is because of updating, carriers, or network, things can be fixed finally. Here in this article, we are going to discuss about some useful solutions from the article.
Solution 1: Hard Reset to fix Voicemail not working
It is a solution to fix most of the voicemail issues. When you hard reset iPhone, you can launch the iPhone again to check whether the iPhone voicemail not working problem has already been fixed.
Step 1: Press and hold the "Sleep/Wake" button until the red slider appears.
Step 2: Drag the red slider to turn off your iPhone completely.
Step 3: Press and hold the "Sleep/Wake" button again, after turning off your phone until you see the Apple logo to restart.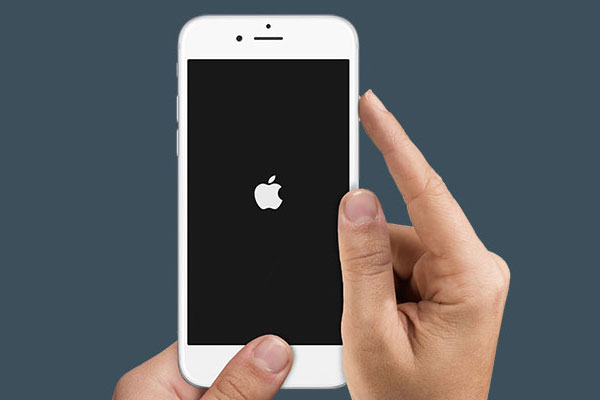 Solution 2: Check and Update Carrier Settings to solve Voicemail does not work
Whether you carrier is T-Mobile, Sprint, Verizon or others, you can update the network and related settings in order to improve cellular network connectivity and performance or add support for features. If you didn't update your carrier setting in time, your iPhone voicemail may not working.
Step 1: Connect your iPhone to a Wi-Fi or cellular network.
Step 2: Go to "Settings" > "General" > "About". If an update is available, you'll see an option to update your carrier settings.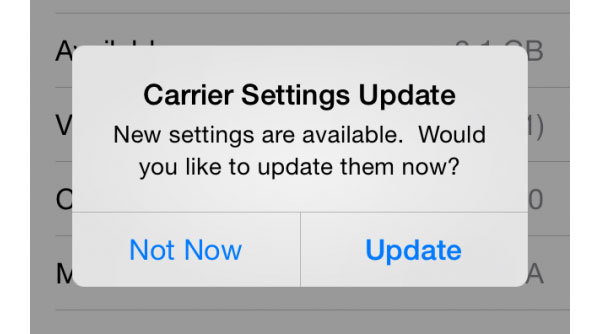 Solution 3: Check Adequate Cellular Service to fix iPhone Voicemail Not working
When you get a notification for a voicemail it may not play, the reason might be the visual voicemail cannot access the voicemail through the limited service. And then you need to wait a few more minutes for the adequate cellular service return to normal.
You will find your iPhone voicemail not working if your phone has very low coverage or spotty coverage or is out of coverage area with a "no service" indicator. In that case, you should go to an area with a better cellular coverage or a better signal.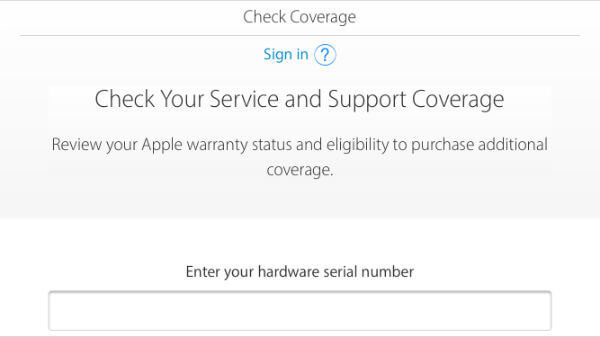 Solution 4: Fix iPhone Voicemail Not working by Resetting your Network Settings
If you have gone to a better cellular coverage area, then you may have to reset your network settings to solve iPhone voicemail not working problem.
Step 1: Launch Settings App
Tap your iPhone "Home" button to open your apps and tap on the "Settings" option, It's a gray app on your home screen. Then tap on the "General".
Step 2: Reset Network Settings
Tap "Reset" in the "General" selection. Now locate and click the "Reset Network Settings" in the "Reset" selection.
Step 3: Restart iPhone to fix the problem
Reconfigure your network settings and restart your iPhone. Then you can go straight to your voicemail to check whether the voicemail are working on iPhone now.
Notes: Your iPhone network will be deleted and restored to their default state. And all the saved Wi-Fi passwords will be deleted after network settings reset and you will need to re-add them next time you connect to Wi-Fi.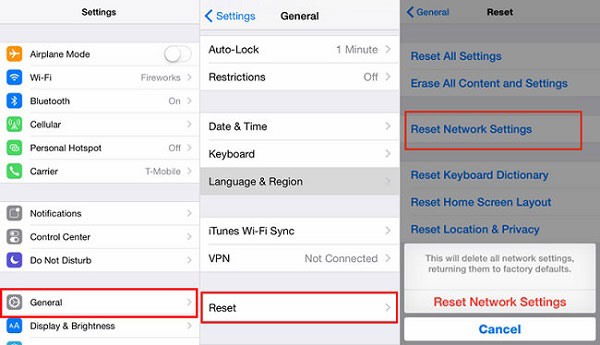 Solution 5: Fix iPhone Voicemail Not working by Reset your voicemail password
Sometime, you only need to reset voicemail password to get rid of iPhone Voicemail not working problem. You can follow below steps to change the password and set a memorable one.
Step 1: Go to Setting. Tap on "phone". Then tap on "Change Voicemail Password".
Step 2: Enter the existing voicemail password and tap "Done".
Step 3: Enter a new password and tap on "Done". Re-enter the new password and again tap on "Done".
You can also set your iPhone to default state. In that case, you don't have to enter password when you are checking from your phone. But usually you will be asked to re-enter your password for the security of your account. But if you forget your old voicemail password, contact your wireless carrier to reset your password.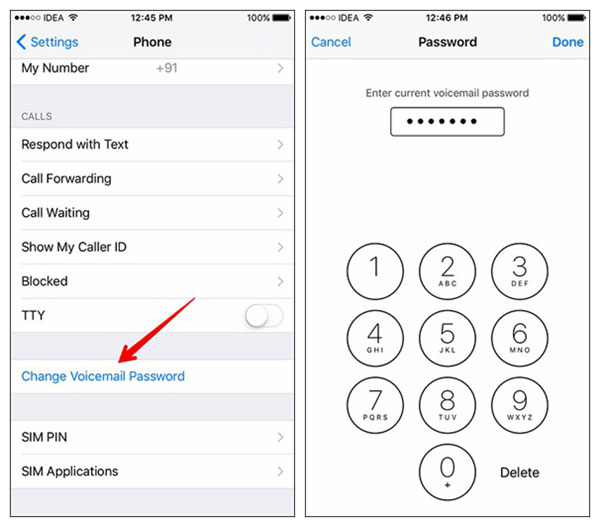 Solution 6: Recover Data for Fixing iPhone Voicemail Not working
When you fix the iPhone voicemail not working problem with hard reset or even clean up iPhone, your might lost or missing voicemail messages. What should you do to avoid this kind of stress and heartbreaks, it's always advisable to have a backup plan or extract iPhone voicemail to computer. Tipard iOS Data Recovery, should be the best choice for you. It also can help you transfer other contents to computer for backup including Media Contents and Text Contents from iOS device.
Step 1
Download and install the program
Download and install Tipard iOS Data Recovery on your computer. After you launch the program, you can see that the program has three recovery modes. The default one is Choose from iOS Device.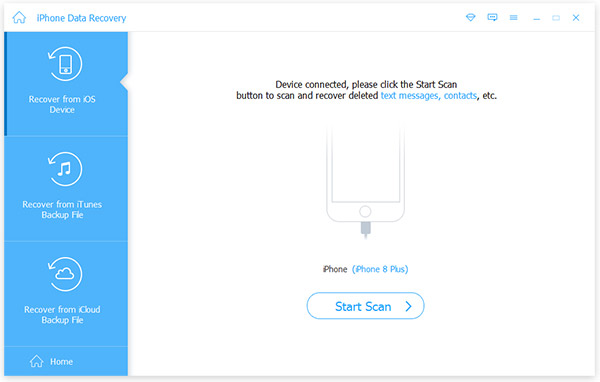 Step 2
Connect your iPhone to computer
Connect your iPhone to computer via USB cable. After it is detected, click "Start Scan" and the program will start to scan your phone.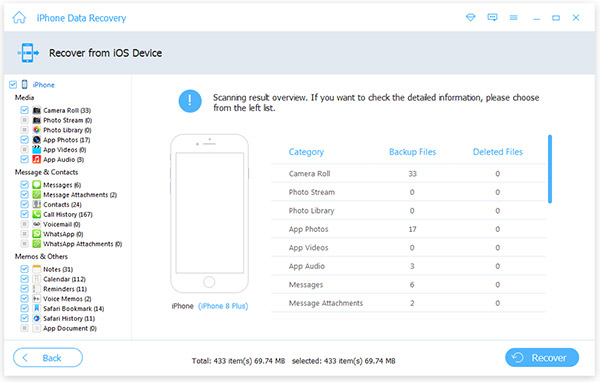 Step 3
Retrieve data of iPhone voicemail
Preview the retrieve data in the main interface. Then choose "voicemail" in the selection of "Message & Contacts". And select what voicemail exactly that you want to recover. After that, click "Recover to start".
Conclusion
Voicemail is not working on your iPhone? Now I am sure you have some ideas to solve it. Reasons can be from carriers setting, network connection or password etc. But here we really recommend you backup your iPhone voicemail in advance. And Tipard iOS Data Recovery should be a great tool, whether to retrieve the lost data or back up the files. Just check out the solutions to get the voicemail not working on iPhone fixed.