Top 4 Methods to Fix iPhone Touch Screen Not Working Properly
If your iPhone got stuck, with iPhone touch screen not working and cannot turn off, what will you do? It seems that there is nothing you can do, with the unresponsive iPhone touch screen. And sometimes your iPhone touch screen just not working randomly. There must be something wrong with your iPhone, no matter hardware issue, software crash or your improper operations. Here are some easy to operation solutions, to solve iPhone touch screen not working properly.
Prepare: iPhone Touch Screen Stop Working Causes and Situations
To start with, check whether your iPhone has socked into water, got random crashes, or you just wear gloves even though they are really thin. Do not forget to clean your finger and iPhone screen.
It always occurs when you update iPhone to iOS10/10.1/10.2. And the related issues will lead to iPhone screen unresponsive on iPhone 7/6s/6/5s/5. The iPhone screen fails to responsive any instructions while receiving phone calls. And no matter you swipe or tap iPhone touch screen, nothing will change. If the above circumstances are excluded, and your unresponsive iPhone is just in the state described, then move to following iPhone touch screen stop working issues.
Solution 1: Force Restart to Fix iPhone Touch Screen Not Working
I have to say that restart digital device is the foremost and powerful solution, to fix and test most common issues. It can fix iPhone not working touch screen by restart in some cases. And restart iPhone to fix iPhone touch screen not working in any cases, like unresponsive during charging, get cracked, replace iPhone screen and others. There is nothing difficult you need to operate, no additional charges, and no extra third party application to install.
Step 1: Hold and press Sleep button for few minutes.
Step 2: Move the slider to the right side, to slider to power off.
Step 3: Wait few minutes and turn on iPhone again.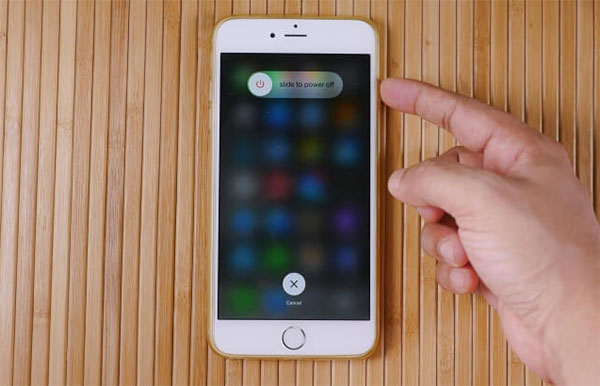 You can try to restart iPhone for a few seconds, or to wait for 5 minutes and then turn it on, to give a break to long time working battery of iPhone.
Solution 2: Adjust 3D Touch Sensitivity to Fix iPhone Touch Screen Unresponsive
As it has been mentioned in the first solution, restart iPhone is the powerful but not the only or versatile method, to enable iPhone touch screen accessible again. If iPhone restart fails to fix iPhone screen, then check your iPhone 3D Touch Sensitivity will be the nice replacement.
Step 1: Locate Settings to click General and Accessibility in order.
Step 2: Scroll down to click 3D Touch option.
Step 3: Turn on or off 3D Touch as you like.
There is the 3D Touch Sensitivity slider, to adjust 3D effect from light, medium to firm, if you turn 3D Touch on.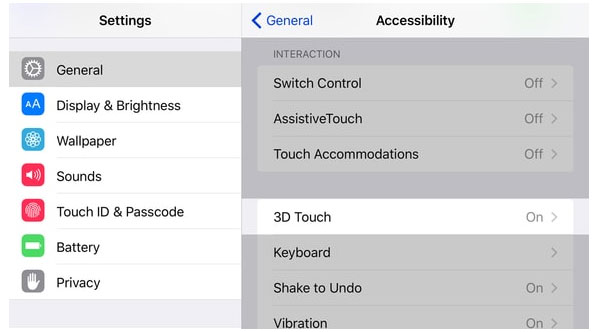 3D Touch is the effect, to make objected shot in photos to be more vividly. Sometimes it is just the 3D Touch effect got stuck, which cause iPhone touch screen not working.
Solution 3: Factory Reset iPhone to Repair iPhone Touch Screen Not Working
Factory reset is the method, to delete all media and data on iPhone, the previous settings will be removed either. Well, no third party iPhone screen fix applications need to be installed, to get iPhone touch screen unresponsive issue fixed.
Step 1: Choose Settings first, and then hit General and Reset options.
Step 2: Hit Erase All Content and Settings under Reset menu.
Step 3: Enter your Apple ID and password to sign in, and click Erase iPhone to move on.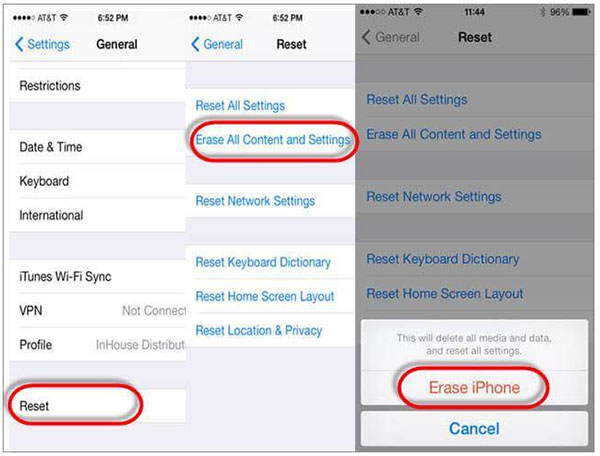 After factory resetting, the potential spyware or other programs may cause crashes will be erased totally. Back up important iOS data in advance.
Solution 4: Restore to Fix Unresponsive Touch Screen on iPhone
Restore iPhone is the two-side method, which may solve iPhone touch screen not working all the time and under other situations, but your partial iPhone will be erased, and date back to the safe mode in some degree. If your iTunes backup file has been long time ago, then it may be not so proper to fix iPhone screen not working.
Step 1: Connect iPhone to computer with USB cable.
Step 2: Find Summary menu under Device, to click This Computer and Back Up Now.
Step 3: Hit Restore iPhone button and wait for iPhone restore.
Note: Make sure your iTunes has been updated into the latest version before restoring.
Bottom Line
With all above methods to enable iPhone touch screen accessible, you can choose and compare, to find the most suitable iPhone screen stop working fix solutions, though there are certain disadvantages existed. If your iPhone got cracked, dropped into water or similar hardware damages, you may need to change the part of your iPhone, to enable touch screen.