Top 5 Voice Memo Apps on iPhone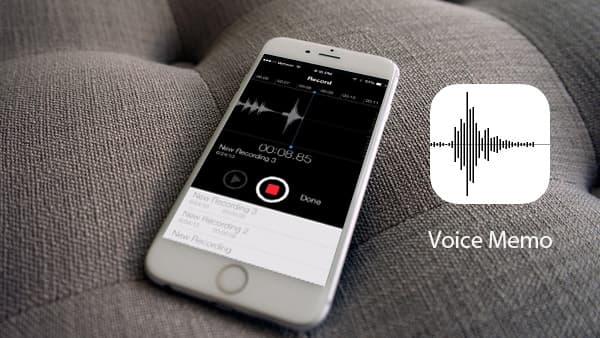 Today, the smartphone is not only a tool to make call, but also the closest friend and helpful assistant for users. Business men use handsets to record meetings; students use smartphones to record lectures; costumers utilize mobile phone to record the chat with customer services. So a powerful voice memo on iPhone is really important for every iPhone users. There are many voice recorder apps in App Store. iPhone users can not try every app to identify the suitable one. Therefore, this article will recommend some excellent voice memos iPhone and their features for iPhone users.
1. Recorder Plus
Recorder Plus is one of the professional voice memos for iPhone users. It is free in App Store; while if you need more features, you have to pay in app. Although the interface of this iPhone voice memo app seems a little chaos; that will not bother you to record voice easily.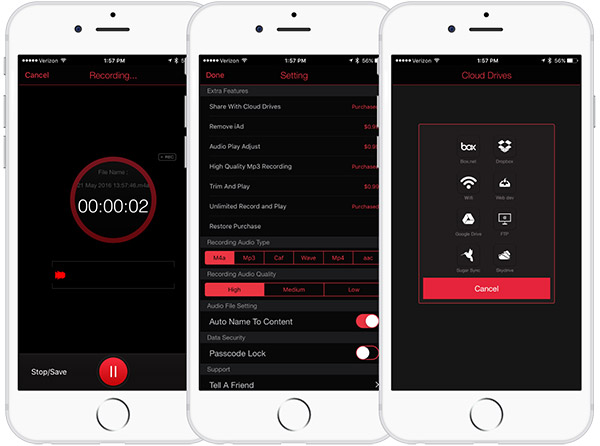 The basic features of this voice memo app include:
1. It supports most audio formats, like MP3, MP4, CAF, WAV, M4A and AAC.
2. iPhone users could record high-quality audio with Recorder Plus. So if you need to record voice in noisy environment, Recorder Plus could help you.
3. This voice memo app will not limit the length of the recording, as well.
4. After recording, you can share the iPhone voice memo with multiple methods directly, like Google Drive, Dropbox, Wi-Fi, email, Share Sheet, and so on.
5. It also supports external Bluetooth voice devices to record or broadcast the iPhone voice memo.
2. Voice Recorder Free
If you need a free iPhone voice memo app to replace the build-in voice memo on iPhone, Voice Recorder Free is one of the best choices. One advantage of Voice Recorder Free is free thoroughly. Users could not only download it from App Store freely, but also enjoy all the features freely.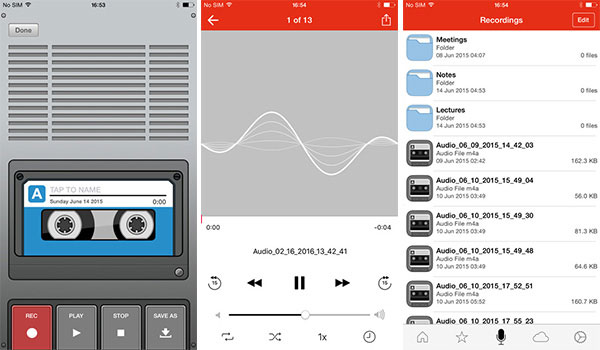 Other attractive features include:
1. The simple interface makes navigation easier and experience smoother.
2. Users could use this voice memo app to record AAC, MP4, CAF, AIFF and WAV files.
3. You can transfer the voice memo with Wi-Fi or email within app.
4. When you play the iPhone voice memo in Voice Recorder Free, you can tap the waveform to jump between the tags. That is an important function to many voice memo users, especially when they play the longer memo.
5. Voice Recorder Free will protect your iPhone voice memo with password.
3. Smart Record
The reason to recommend Smart Record is that it supports the latest features of iOS, like 3D Touch. That means you can record iPhone voice memo from home screen. Of course Smart Record also offers other awesome features. You can find the details below.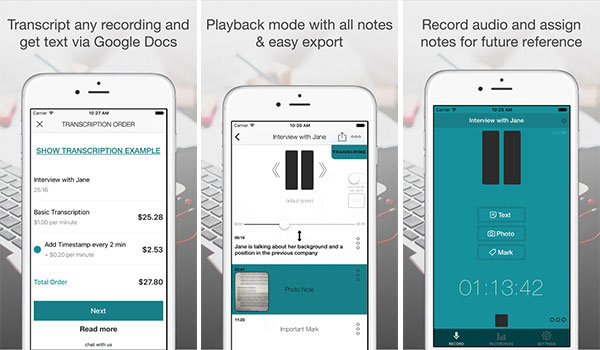 1. This voice memo app could remind you to record in time after setting. For instance, if you need to record a meeting tomorrow morning, you can set a reminder within the app. And it will remind you and begin to record. That is a useful feature to many busy people.
2. After recording, Smart Record allows users to add text, images and markers in the iPhone voice memo. Set the meeting memo for example, you can take photos during the meeting and copy the photos inside the voice memo iPhone. Then you can see the time stamps with the relevant photos.
3. You can enjoy these basic features freely. While if you want to explore more fantastic features, you have to pay within app.
4. Voice Recorder HD
Although Voice Recorder HD is a paid app, the single price is just $1.99. It allows you to control your iPhone voice memo totally, like the quality of record, the name of voice memo on iPhone. If you want to explore more features of this voice memo app, you can read the details below.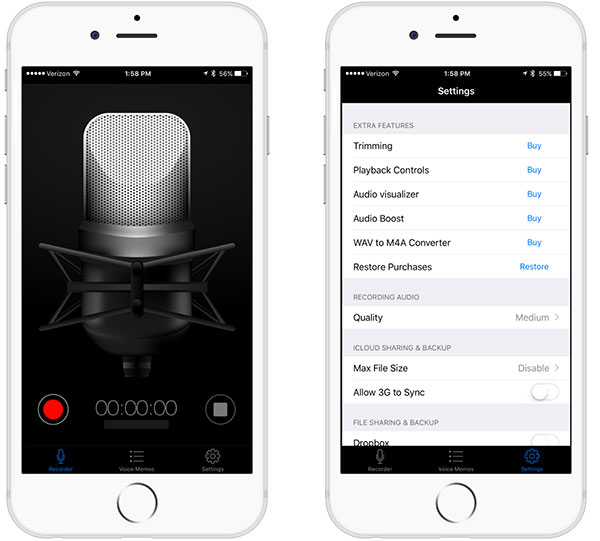 1. Voice Recorder HD supports iPads, iPhone and Apple Watch. So it is a good choice for the users that have multiple Apple devices.
2. This iPhone voice memo will record the voice as a WAV file and allows you to decide the quality.
3. After recording, you can share the audio files to Dropbox within the app.
4. The most useful feature is Audio Boost. This feature will help users to reduce the background noise and adjust the voices smartly.
5. PCM Recorder Lite
It is the easiest voice memo app for iPhone users. The simplicity interface can be understood by all users in a few seconds. Although it does not provide plentiful functions, the users that do not like complicated features will be attracted by this iPhone voice memo app.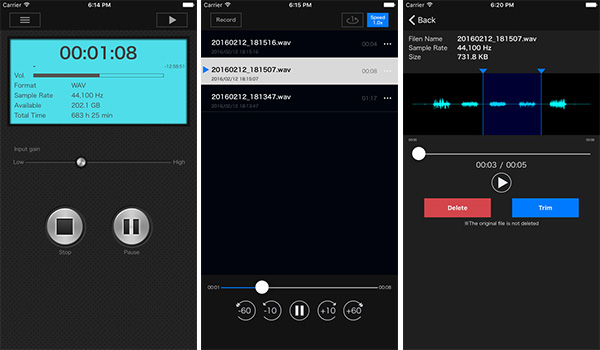 The simple features include:
1. There are only three options on interface: Start, Pause and Done.
2. The voice file can be saved in prevalent formats.
3. Users could set the bit rate of the voice memo iPhone.
4. This voice memo app could record and play in background.
5. Totally free without in-app purchases.
Conclusion
All these iPhone voice memo apps have their unique features. And you can choose anyone according to your situation. Recorder Plus is good at recording voice in noisy circumstance. Voice Recorder Free allows users to set password to protect their privacy. Smart Record has the ability to add images inside the voice memo. Voice Recorder HD could support diverse Apple devices, including Apple Watch. And PCM Recorder Lite is the easiest voice memo app.