How to Enter/Exit DFU Mode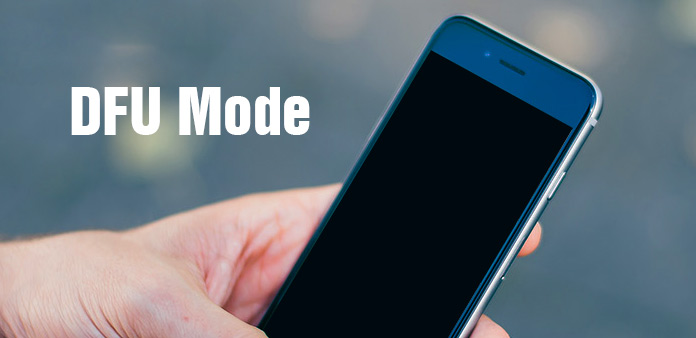 If you get your iPhone into jail breaking ever, you must hear DFU mode and tried to put your iPhone in DFU mode.
What is DFU Mode
DFU stands for Device Firmware Update. You can put your iPhone or other iOS device into DFU mode to interact with iTunes on windows or Mac and don't need to load the OS operating system or boot loader.
What is the DFU Mode Used for
DFU mode allows you to choose the firmware to install onto your iPhone/iPad/iPod, upgrade or downgrade firmware/ iOS version. It can also help you jailbreak your iPhone or unlock your SIM. Or you just want to recovery your iDevice when nothing is working, do a DFU restore. But in DFU mode, any operation to iDevice is useless.
How to enter DFU mode (Take iPhone for example)
1, Connect your iPhone to computer. At the same time, keep your iTunes running.
2, Switch off your iPhone by pressing and hold down the Power button. And then Slide to power off to turn off it.
3, Press and hold the power button for 3 seconds.
4, Then hold the Home button and don't release the Power button at same time. Hold them for 10 seconds.
5, Release the Power button and keep holding the Home button. Press it about 5 seconds.
6, Proceed to this step, the screen of iPhone should be staying black. And the iTunes should remind you that it has detected your iPhone and it need to be restored before being used with iTunes. Then you are in DFU mode.
Note: If you use iPad or iPod touch, it has the same steps as iPhone to get them in to DFU mode.
If you see Apple logo appears or other prompt on device, you may be in Recovery Mode. You must hold down the two buttons for too long or has other reasons to affect it, then you need to start the process again to access DFU mode.
After putting your iPhone/iPad/iPod touch into DFU mode and finishing your needed setting successfully. Or you stuck in DFU (Device Firmware Update) mode and want to be out of it, you must consider - how to get out of DFU mode.
How to exit DFU mode
There are two methods provides for you.
Method 1: Get out of DFU directly
Hold the Power button and Home button at the same time until there is an Apple logo appears on the screen.
Method 2: Exit DFU Mode with iOS Data Recovery
iOS Data Recovery not only can help you get out of DFU Mode, it can also help you recover data without loss.
1, Launch this program and connect your iPhone, iPad or iPod to computer
2, Get out of DFU Mode
When your device connects to this program, it will show you the interface which guides you exit this mode automatically.
Press Power and Home button at the same time to return to normal mode.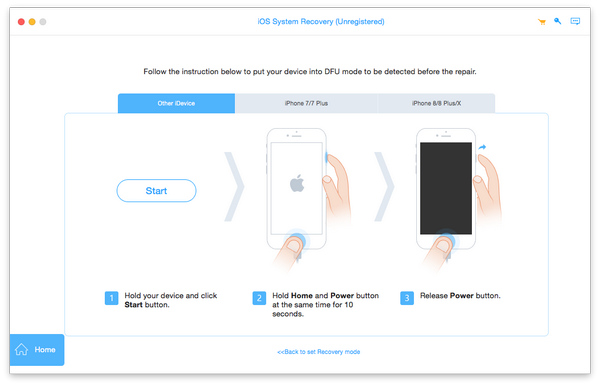 Once your device comes back to normal state, you can use this Recovery software to restore your lost or deleted data continually.
If you want to know how to recover lost/deleted data, please read how to restore iPhone data.
That's all, you can follow above guides to enter or exit DFU Mode easily.
You May Like the Hot Software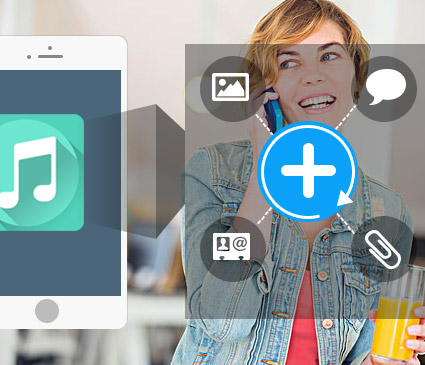 Help you get out of DFU mode easily
Recover data from iPhone SE, iPhone 6s/6s plus/6/6 plus/5s/5/4s/4, iPad Pro/Air/Mini, iPod, etc.
Restore lost or deleted contacts, messages, photos, videos, audio file, call logs and more data.

Click here to join the discussion and share your comments
How to Enter/Exit DFU Mode