Top 4 Methods to Delete Photos from iPhone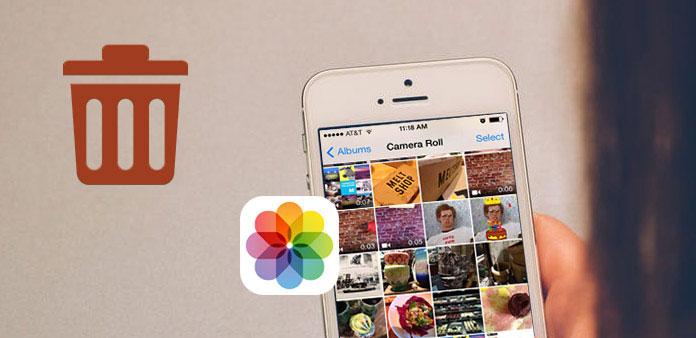 I have run out of my 64G iPhone 6, and I think it is because I saved too much images on iPhone directly. Maybe there are over 3,000 pictures existed in Photo Library, and some of them maybe duplicates … In a word, I wanna to organize my iPhone to delete unnecessary images. - Jennifer
I fail to find to Select All option to delete all photos, but there are so many images need to be deleted, my iPhone is running out of space so it is hurry, any photo eraser can help? -Lora
Obviously, photos are the main element, to occupy your iPhone storage space, because of duplicate photos, unwanted images or to erase certain picture on iPhone. Erasing iPhone photos sounds easy, but there will be all kinds of questions appear, to obstruct you from removing photos from iPhone. Considering most people's photo deleting necessaries, I sort out some representative solutions, to help you get rid of photos from iPhone and errors messages to remind your iPhone is running out of space. So, let's start to delete photos from iPhone now.
Part 1: Best way to delete iPhone photos quickly and safely
The versatile Tipard iPhone Eraser is your ultimate solutions to delete everything from iPhone and other iOS devices. You are able to remove music, photos, videos, contacts, messages and all iOS data out of iPhone permanently. As a result, it is just a piece of cake to delete photos from iPhone. No potential damages of your personal information divulgation. Image your iPhone can be wiped as clean as the new one, so it will be safer to resale iPhone on eBay. If your iDevices are all running out of space, then connect to PC to erase iOS files simultaneously, the iPhone Eraser software support users to delete more than one iOS device. If you feel hard to understand what can the iPhone Eraser can do on earth, just read the following describing features.
Main features of iPhone Eraser
1. Wipe all iOS data permanently and overwrite the storage space, including latest iDevices.
2. Delete all iOS files and settings, including photos, videos, music, contacts, messages, call history, ringtones, apps and etc.
3. Protect your privacy after iPhone resetting, to clear iPhone files to be unrecoverable.
4. Erase more then one iOS device at once, to turn your Apple device to be new again.
How to delete photos from iPhone/iPad/iPod on your computer
Step 1
Install Tipard iPhone Eraser on desktop
Download and install iPhone Eraser, to delete photos from iPhone permanently. Later, connect your iPhone to computer, which will be detected automatically.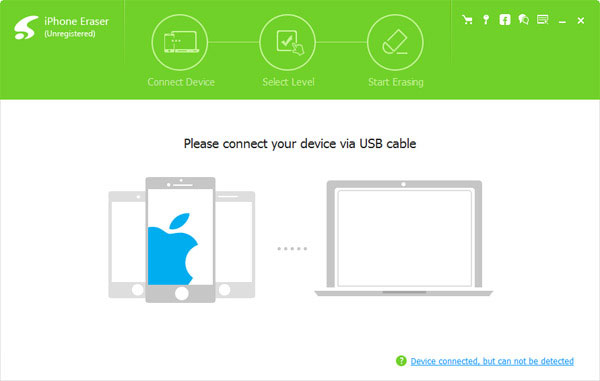 Step 2
Set iPhone photo erasing level.
There will be Low level, Medium level and high level options, which related to overwrite data once, twice and three times. For people who wanna to delete photos from iPhone on computer, Low level is enough.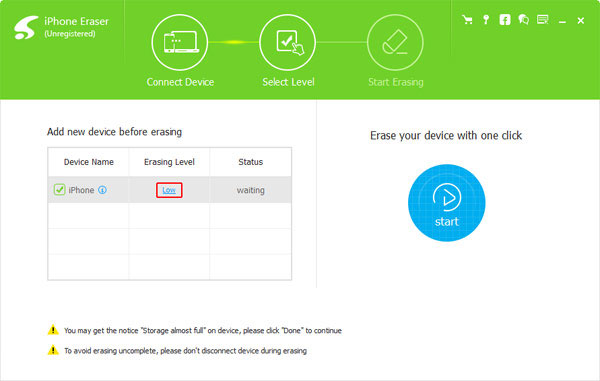 Step 3
Erase photos from iPhone permanently
Choose Start option, to remove all photos from iPhone. You can check the progress bar to see the estimate time.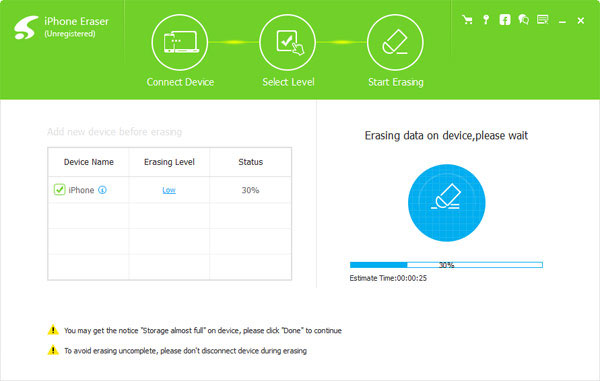 And now, the annoying iPhone images will be removed, none other iPhone data recovery software can retrieve erased images. Therefore, think twice before using iPhone Eraser to delete photos from iPhone.
Part 2: Remove multiple photos from iPhone after importing
Photos is the stable gallery for people to store and organize iPhone, it is more lightweight and have similar operation of deleting images in iPhoto. For new importing images, it is the good way to turn to.
Step 1
Connect iPhone to Computer
Use USB cable to connect iPhone with computer, and launch Photos software.
Step 2
Choose images to delete with.
Find Import menu in the sidebar if it has not been selected.
Step 3
Delete photos from iPhone after importing.
Tick Delete items box first, later, choose Import new option, all new imported images will be removed automatically from your iPhone.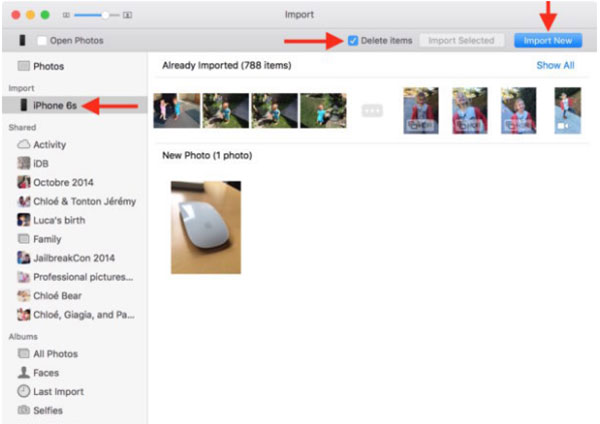 It is the method, which can be applied to other iPhone item deletions. So if you just upload something disappointing, try this way to erase photos from iPhone after importing.
Part 3: Delete duplicate photos on iPhone
There is one method to remove photoduplicates manually, without outside support. Though it is kind of time costing if you have a large collection of images, but there will be lower iPhone data losing damage, and you can find target duplicates easier.
For iOS 9 or later: Open Photos app on your iPhone, and then you will see the camera roll option. Click it to select duplicates. And finally, hit delete button on the bottom, to delete images from iPhone of duplicates.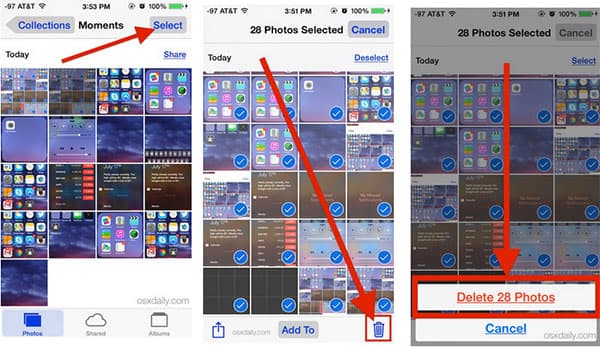 For iOS7/8: Operate as the above has mentioned, to delete iPhone photos. When you select delete items, the green check mark will appear, hit the Trash can after you have choose multiple duplicate photos.
For iOS 5/6: Well, for deleting multiple photos from iPhone, open Photos app, find duplicates and choose Trash Can to remove at last.
Part 4: Erase all photos from iPhone
It is one of the fastest ways to delete all photos from iPhone, with Image Capture on Mac. You are able to remove hundreds of images simultaneously and cost less time than other methods.
Step 1
Connect iPhone with computer.
Use USB cable for connection. Launch Image Capture software to detect your iDevice.
Step 2
Choose images to delete from iOS device.
Make sure your iPhone has appeared on the Devices list already. Later, press Command and + options together, to select all images to remove from iPhone if you want to.
Step 3
Delete all photos from iPhone.
Choose the little black stop button on the bottom, choose Delete when you receive the window to announce you it is the final request before deleting iPhone images permanently.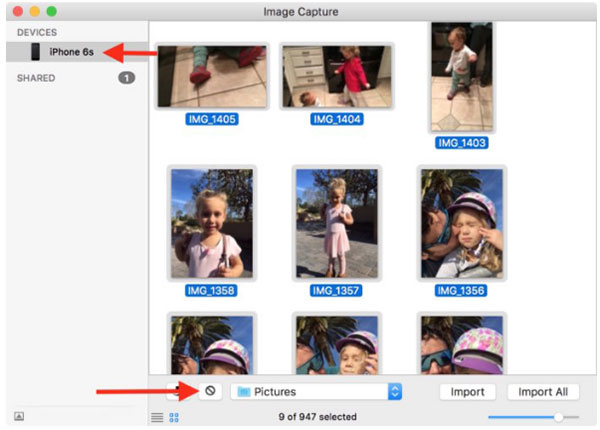 Your deleted photos from iPhone with Image Capture are unrecoverable. So be careful before iPhone images removing.
Conclusion
Deleting pictures from iPhone regularly is the good method to keep iPhone storage and organize photo albums as well. Through iPhone images deletion, people can get better iPhone using experience and treasure good moments timely. Thus, just follow the above steps to clean your iPhone and iPad right now.

Click here to join the discussion and share your comments