How to Buy More iCloud Storage for iPhone With Ease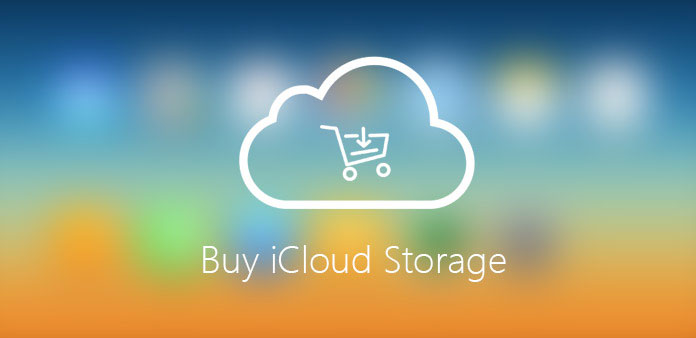 iCloud only provides 5GB storage for iPhone users. You might only upload hundreds of photos and few videos to the iCloud for backup. As for the case, you have to purchase more iCloud storage instead. Some folks find it to be well worth the money, while others adamantly refuse to pay Apple a single dime for more storage. However, the storage is not enough as time goes by, and how to buy iCloud storage or what can we do to solve this problem if we don't have the extra iCloud storage? Here are some tips from the article for you.
Part 1: How to buy more iCloud storage on iPhone and iPad
You can buy more iCloud storage online from your iPhone, iPad, iPod touch, Mac, or PC with iTunes card or iTunes gift cards. When you choose a new storage plan, your existing plan will be cancelled and you are charged the prorated cost of the larger plan (the cost of the higher-tier plan minus the prorated cost of the previous plan). Your plan is upgraded immediately, and the new monthly payment date is updated to reflect the purchase date for the new plan. You will be billed every month for your storage plan. You get an email each month to remind you of your upcoming payment.
Step 1: Go to the home screen of your iPhone, tap the setting icon, and then click "iCloud Settings", you will see the storage icon and click it.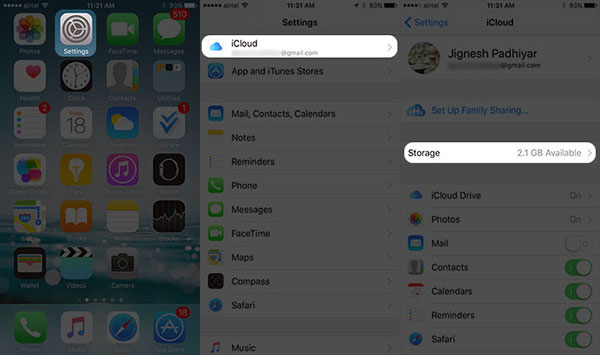 Step 2: Tap Buy More Storage or Change Storage Plan, select the plan you would like to change and enter your Apple ID. You can buy iCloud storage on your iPhone or iPad easily by this method.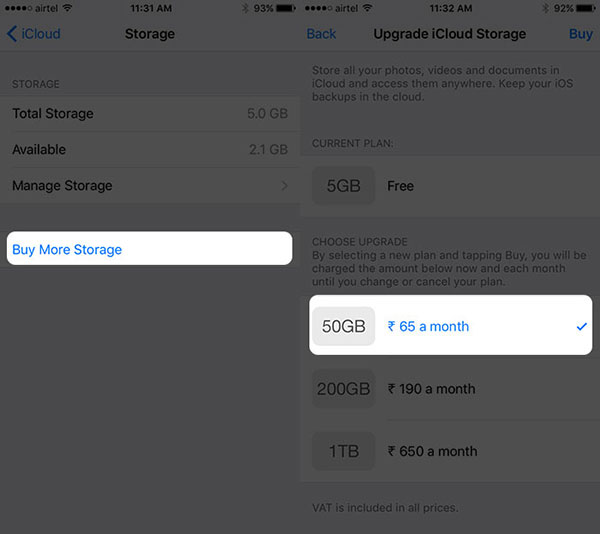 Part 2: How to buy the upgrade iCloud Storage Plan on Mac
As we know, the hard driver of Mac has enough space to store most of file formats. But you may have some important files or projects which you don't want to lose on formatting the system sometimes. You may want to store these files in your iCloud account. As for Mac, 5GB of free space is almost negligible, that's another reason you need to buy iCloud storage. So here's how you can buy the upgrade iCloud storage plan.
Step 1: Go to the desktop of Mac, then Open the Apple Menu and click on "System Preferences".
Step 2: Click on "iCloud" icon.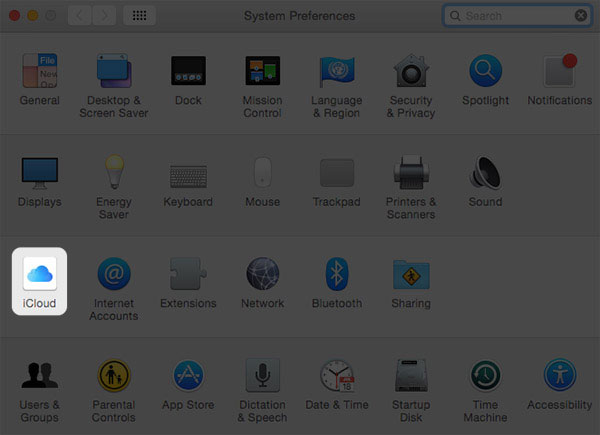 Step 3: Click on "Manage" option.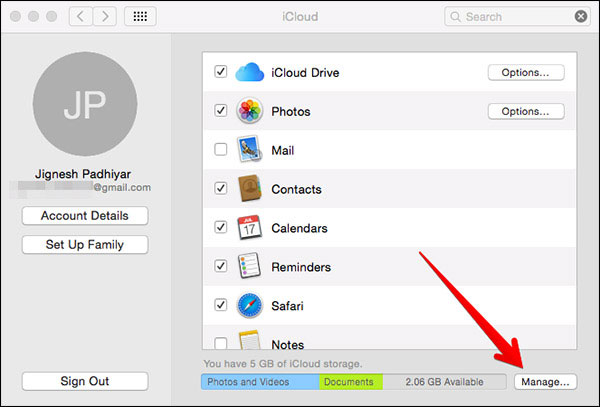 Step 4: And then click on the "Buy More Storage" to purchase the new iCloud storage plan.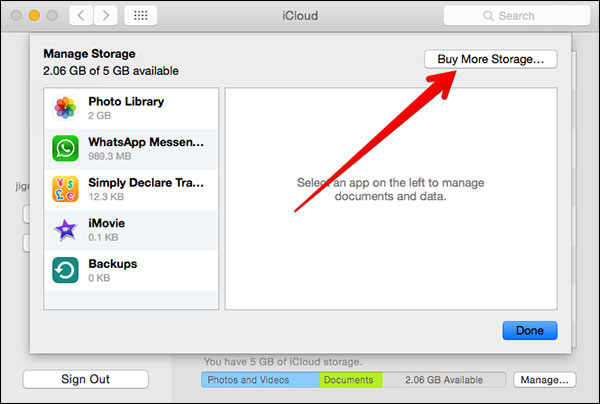 Step 5: Select your plan you want, enter your Apple ID password. Your Mac book is all set to upgrade its cloud storage space.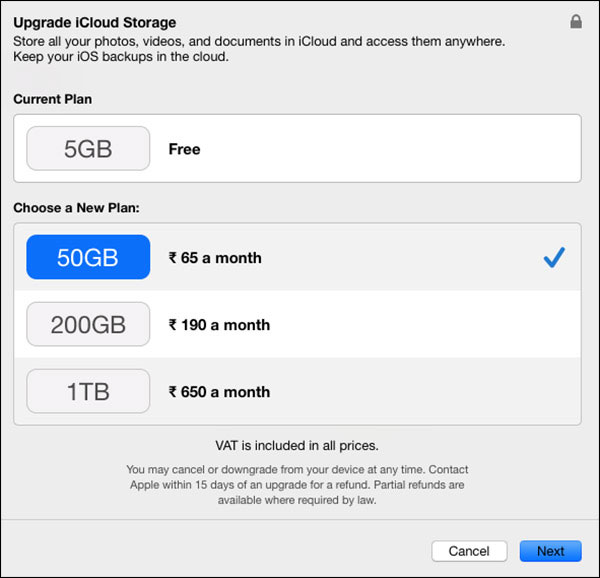 Part 3: How to buy a new iCloud Storage Plan on Windows PC
The situations and the need of more space for PC go hand in hand with Mac. There might be many reasons to upgrade the storage plan from person to person. So let's see how you can do that on your Windows PC. Before moving ahead, you need to download iCloud for Windows on your PC.
Step 1: Open iCloud on Windows PC and sign into you account, then click on "Storage" icon.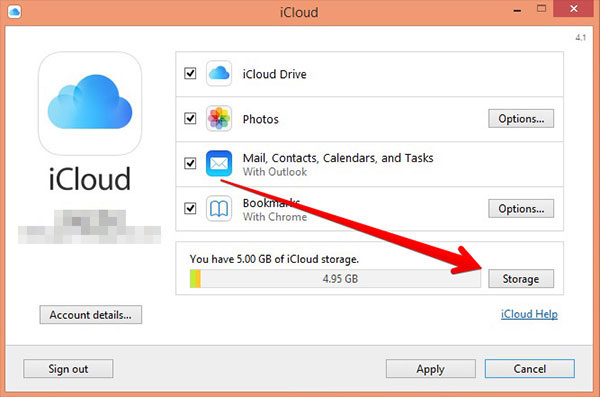 Step 2: Click on the "Buy More Storage" button at the top-right corner.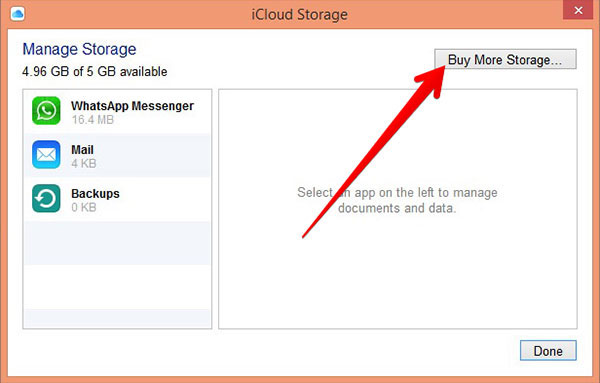 Step 3: Select the option "Change Storage Plan" that suit your need and click on "Next". The pop-up will appear asking you ID and Password, enter them and click on "Buy" button to buy iCloud storage.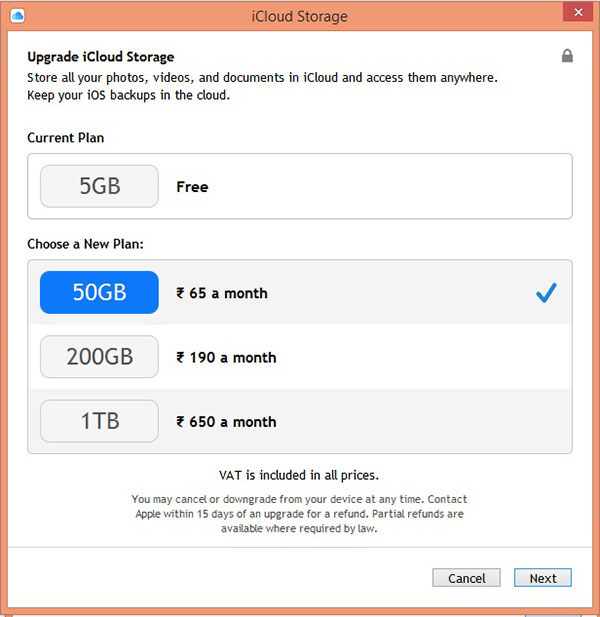 Whether you buy iCloud storage on iPhone, iPad, Mac or PC, you can upload more files to iCloud for backup. And then sync the iCloud files to different devices with ease. Just as mentioned, get more space for iCloud can only be accepted for a part of Mac users. Is there any alternative solution for purchasing iCloud storage plan? Check out more detail as below.
Part 4: Best alternative solution for buying iCloud storage
Buying more iCloud storage, changing your account plan is not the only way to make sure you can backup all your personal information. You can also use the Tipard iPhone Eraser to clear the junk files so that you can release your storage. Tipard iPhone Eraser is the best iOS data erasing software which can help you erase all contents including Music, Photos, Messages, Contacts, as well as junk files, Apps, phone settings and all personal information permanently from iPhone, iPad and iPod touch with only one click.
How to clear more space for backup
Step 1
Download and install Tipard iPhone Eraser on your computer
Download and install iPhone Eraser. Launch the program and then connect your devices to the computer via USB cables. They will be automatically detected.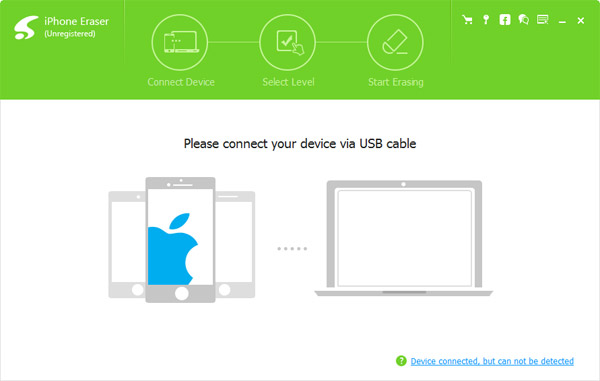 Step 2
Set erasing level
Select data erasing level at your will. You can choose to erase your iPhone at "Low level", which overwrite data once. Choose "Medium level" to overwrite data twice, or "High level" that overwrite data for three times.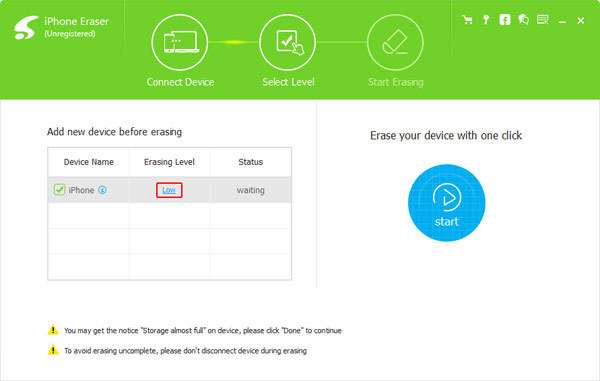 Step 3
Start to erase iPhone data
Click "Start" button to erase all contents and settings from your iDevice. Instead of buying more iCloud storage, you can optimize iPhone to remove the cache files.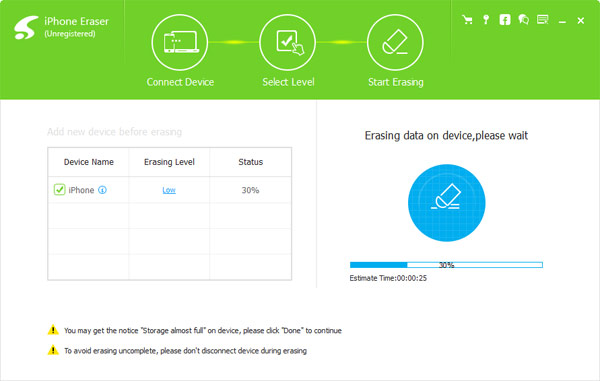 Conclusion
The article introduces 3 different methods to buy more iCloud storage. And you can also use the excellent iPhone cleaner Tipard iPhone Eraser to clear the junk files instead of buying more storage. If you have any question about buying iCloud storage, you can feel free to leave a comment in the article.

Click here to join the discussion and share your comments
How to Buy More iCloud Storage for iPhone With Ease