10 Best App Organizers for Your Android Table/Phone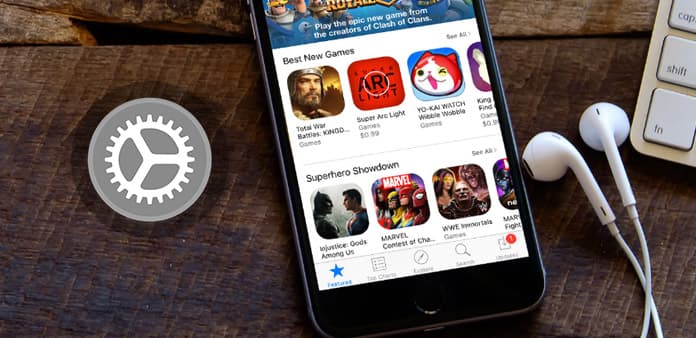 Currently, with the development of science and technology, people have been surrounded by an increasing number of mobile products. Most of them are Android users, here comes the trouble, how do you manage dozens of applications on Android phone? Therefore, it is a must to have the best app organizer for Android for you. In a way, they can help you organize many unnecessary and unwanted apps. Here are 10 best app organizers you should know.
Top 1: Auto App Organizer Free
As the name indicates, Auto App Organizer Free is a totally app free of charge. It is also very efficient and effective to follow the mainstream of usage of a wide variety of apps. So when you are confronted with the challenging situation, why not consider choosing it as a premium app organizer? Auto App Organizer Free can deal with chaos in your Android devices. Having a quick app search and customized icons, it can make you feel more comfortable and easy to use. The dominant feature is that it can monitor your apps closely and remind you of the information about them.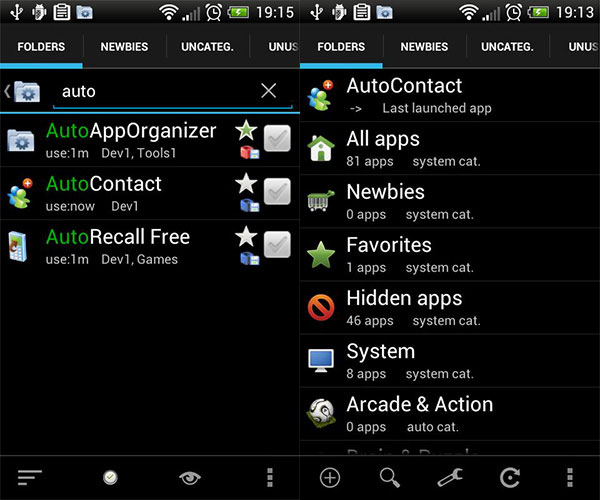 Top 2: Folder Organizer Lite
Folder Organizer Lite allows you to divide your messy apps into some groups. Group items according to labels and create fully customizable folders and widgets. You can organize apps, bookmarks, contacts and shortcuts. And it has two versions, one is ad-supported version and the other is full version. You can choose one you like. It is said to be another fabulous app organizer for Android.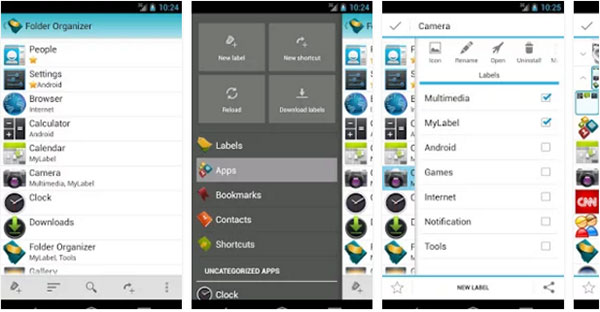 Top 3: GoToApp App Organizer
GoToApp is also a practical app organizer tool for Android devices. Applications can be organized in a variety of folders. It appears that folders will become tabs inside GoToApp. It would be easy for users once they are familiar with the menu options and settings. Apps will be distributed according to their names, install date or sequence. Besides, this application allows you to set up infinite folders.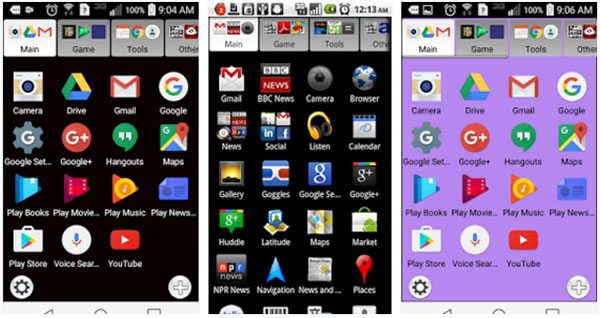 Top 4: Apps Organizer
Using a form of labels to organize the apps, Apps Organizer may be another suitable app organizer to meet your demands. You see, it is a free Android app and is of great convenience to manage stuff in your Android device. It owns a number of dominant features, such as combing one or more labels with every Android application and using a customized icon to create a label shortcut or a widget, etc. Making creating and having easy access to a number of apps, contacts as well as bookmarks much easier.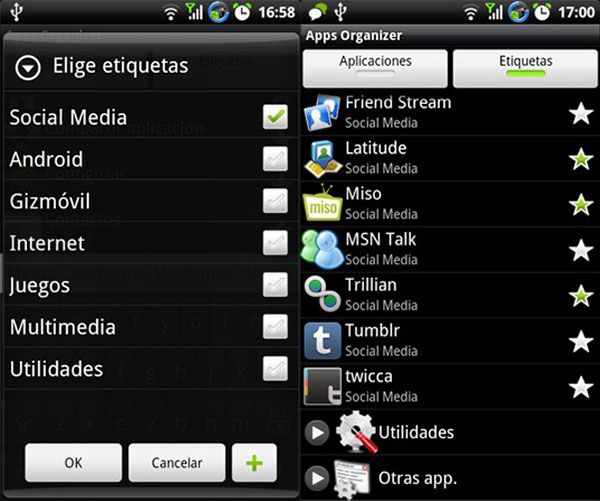 Top 5: vLauncher
Regarded as a fast, cool, powerful and useful app organizer, it mainly focuses on keeping apps with diverse pages on home screen. To give Android users better experience, vLauncher offers you a number of wonderful looks to choose. Without shortcuts on home screen, it removes you a lot of trouble. It also contains varieties of features. Android users can customize rows and columns and icon size based on their preference.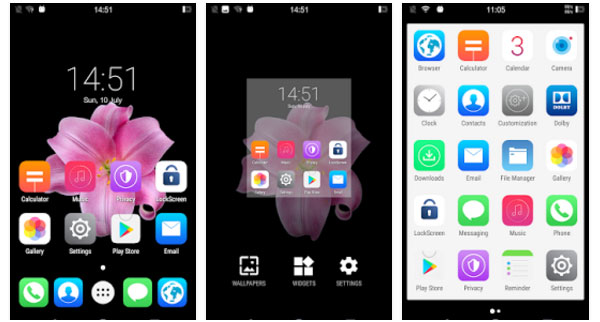 Top 6: AppMgr III (App 2 SD)
AppMgr III is a novel app organizer that is filled with a lot of special features. The main purpose of AppMgr III is to install and uninstall applications within your Android phones and tablets. It can help you move apps so that internal or external storage of your Android devices can be released greatly. Also, you may be worried about your CPU and memory resources. This practical tool can assist you to hide and freeze apps, thus making it easy for you to run other apps smoothly.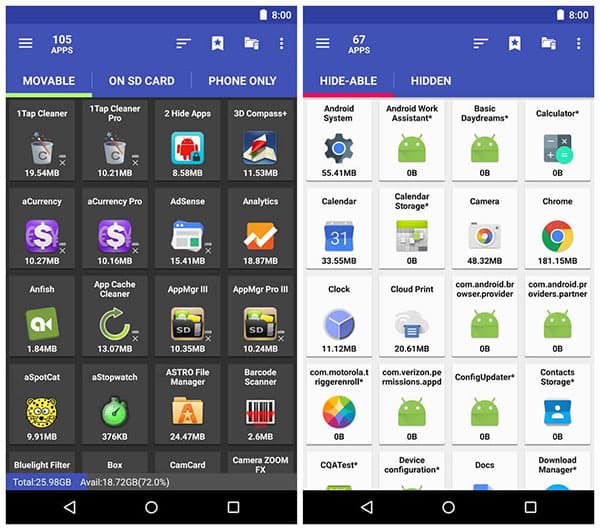 Top 7: App2SD &App Manager-Save Space
App2SD &App Manager-Save Space is another powerful app organizer when supported by your Android. Moving apps to external storage and helping you release a lot of space of your internal storage, this application is very functional. By listing all installed or system apps, you will have a clear sight of your apps of your device. You are able to transfer applications to SD with ease. It can help to clear unnecessary app caches. When you are interested in some of the apps, you are allowed to share with your friends.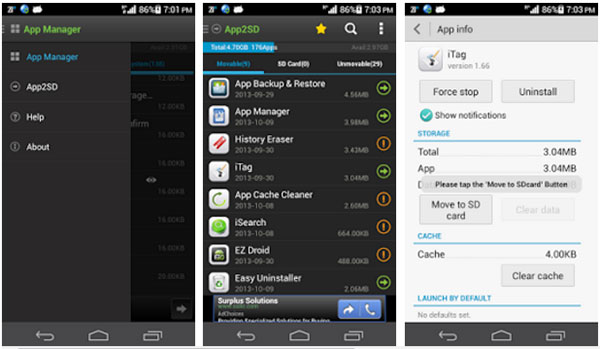 Top 8: AppMonster Free Backup Restore
AppMonster Free Backup Restore is a cool app organizer, which is suitable to any installed Android apps. Possessing a simple and easy interface, it aims at providing convenience for user. When you are hasted to find an app, you can rely on it that it can offer the wonderful service like quickly apps searching, sorting apps by their names or size, etc. You will have a good time managing, backing up and restoring your app. Moreover, it supports seven languages, including English, Spanish, German, Russian, Polish and Japanese.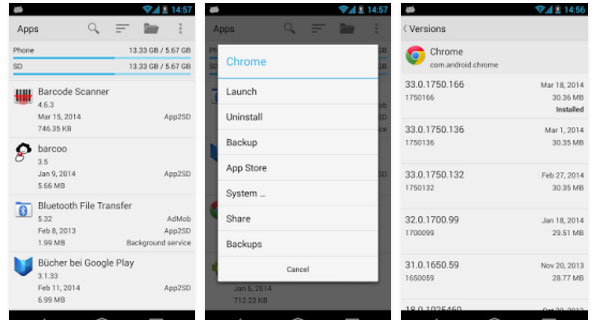 Top 9: Apk Manager
As a simple tool, Apk Manager is a totally free organizer APK for Android. You are allowed manage applications installed or uninstalled on your Android devices. It can make backup copies of all your apps in the APK files, thus making it easy for you to install them when you are taking advantage of the same files. Without ads and other third party interrupting your use, it is secure and cozy for Android users to download and install.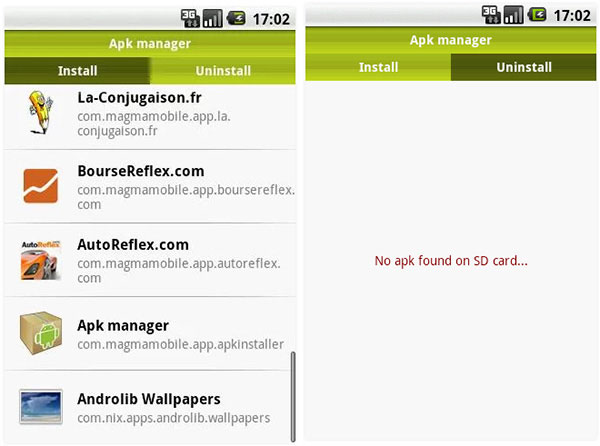 Top 10: App Info
With this app organizer, you can have the capacity of sorting out installed according to their names, dates or version information. Also, App Info can list all permissions with their name or group name. When you desire to hunt for an installed application, you can definitely find it based on its version information and permissions. The dominant feature of App Info lies in that it is easy to use. With no ad or permissions, you will fall in love with it.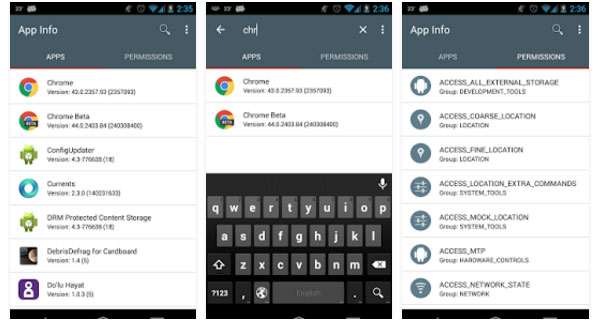 More: Best desktop app to organize Your apps for Android
You may be worried about losing your important data or other things while organizing your apps. So here comes a practical and useful application named Tipard Phone Transfer, which may be the most suitable app organizer for your Android phone. It can meet people's needs that have deep worries about the above apps. Utilizing the way of transmission, you can also organize apps better.
You know, apps you spend some money on must have an advantage over other free apps. Also, it offers other exciting features to assist you to manage your stuff. You can rely on it. Firstly, it is good at transferring data between Android and Apple products. Secondly, syncing to a new iOS device without losing data, it will ensure your safety. In addition, it supports diverse Android and iOS devices.
Conclusion
The top 10 app organizers mentioned above are suitable for Android. They offer different forms of organizing, which make it much easier for us to manage various apps in our Android device. Confronted with a wide range of apps available in your Android phone, you have to contemplate deeply how to sort out your data or any other significant stuffs better in order to provide you Android users a better experience. If you need to organize App from desktop, Tipard Phone Transfer should always be the first choice to manage files between Android and computer with ease.

Click here to join the discussion and share your comments
10 Best App Organizers for Your Android Table/Phone