5 Best Free Talk and Text Apps for Android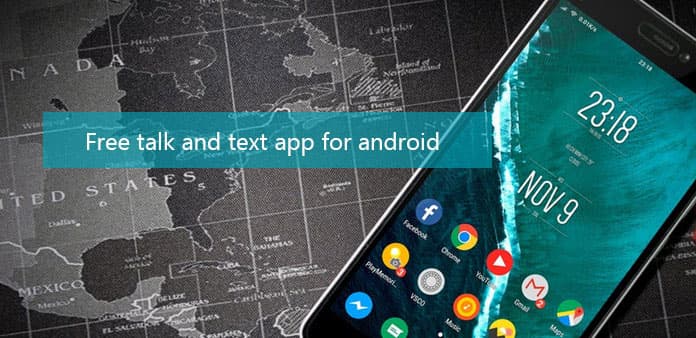 Nowadays, more and more people are using talk and text Apps. In this way, people can send messages and talk to friends without any cost. On the Android App store, you can find and download many Apps for free calls and messages. But not all Apps are available without extra payment. Now let me tell you some Applications of the top 5 free talk and text App for Android. Just learn more detail about the features and pick up the desired one accordingly.
App 1: TextPlus –Free SMS Texts and Calls
TextPlus is a free talk and text App that help you to send free text and make free calls to anyone of your friends. The application supports you to send SMS text to anyone in the US or Canada and call worldwide. And you can also send and receive group messages.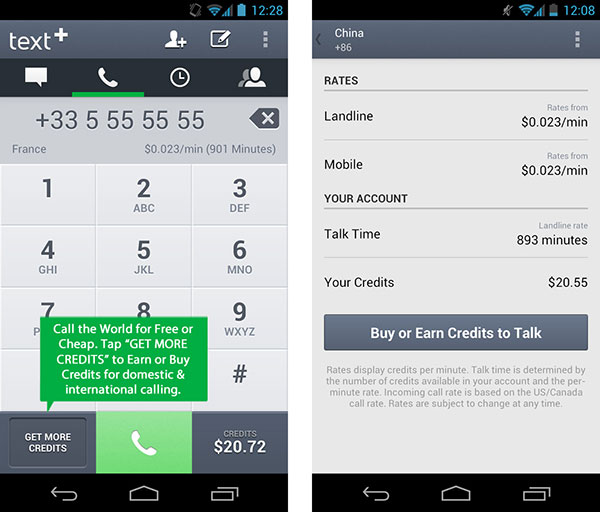 Pros
• Let you use unlimited free voicemail and save thousands of dollars every year.
• You can create and receive group chats with any friend even if they don't use the free text and call App.
• Receive and send pictures, GIFs or other media, even you do not have Wi-Fi.
• Allow me to keep the same number registered before and the call quality is very good.
Cons
• It can't support to send messages worldwide.
• It needs $0.02 per minute when you call outbound.
App 2: NextPlus – Free SMS Texts + Calls
The NextPlus, free talk and text App for Android provides complete phone service packed into an app that is free to download and fun to use. The program does not have contracts, commitments, phone purchase and hidden fees. The limitation is that you cannot receive any cellular service when you are outside of Wi-Fi.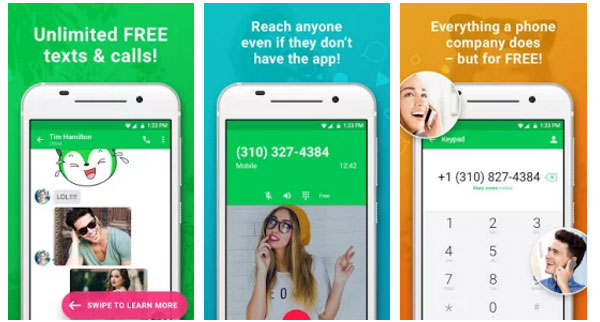 Pros
• Enjoy unlimited calling and sending text with a free number within the free text and call App.
• Supports free 4G LTE SIM card and don't have any contract and hidden fees.
• Send emojis, stickers, animated GIFs, voice notes and other files for free.
Cons
• It costs some small fees to deliver texts and calls charged from your friend's phone company.
• It exists a few banner ads and some quick video.
• Removing advertising needs to pay some money.
App 3: Talkatone – Free Mobile VoIP Calls and Texts
Talkatone enables you make free calls and send messages to anyone in the world via Wi-Fi or cellular data. You can communicate with anyone even if they don't have Android devices. And you can also receive unlimited incoming calls as the other calls and texts Apps on Android.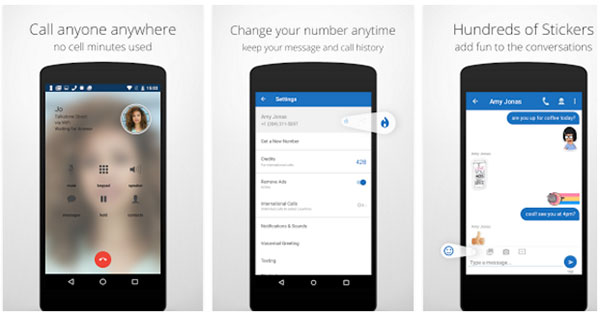 Pros
• When you make calls, you can earn credits on the free talk and text App for Android.
• You can pay less money when making international calls.
• You can send free messages, pictures, music files and etc.
Cons
• Call drop happens sometimes.
• Free calls and texts only limited to Wi-Fi and cellular data environment.
• You don't have unlimited free call like other Apps.
App 4: TextNow - Unlimited Text + Call without Wi-Fi
TextNow is the first all-IP of the world. It is a cloud-based mobile phone carrier that offers competitive service pricing and device discounts. The free calls and texts app has an enticing pack that you can enjoy free texts and calls without Wi-Fi.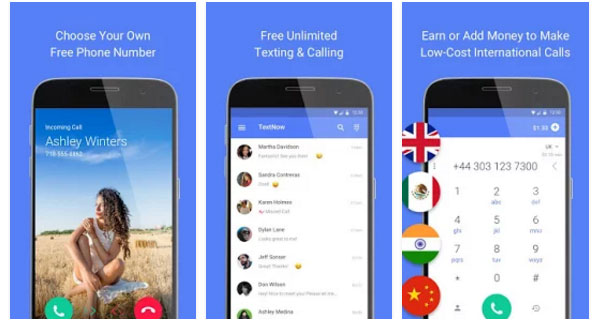 Pros
• You can enjoy the unlimited texts and calls without monthly or annually subscription charge.
• Not only use for Android phone, but also work on your iPod Touch, iPad and iPhone.
• Use the free talks and texts application to make unlimited free calls to any number in the US and Canada.
• Have free SMS texting, picture messages and voicemails for free.
Cons
• There exists some advertising and you need to purchase a subscription to remove them.
• You need to pay some money if you make international calls.
App 5: TextFree – Free Text + Call
TextFree is the free alternative to traditional carrier plan that you can make free calls and messages. You can also send texts, picture messages and voicemail. What is more, the free talks and texts App has a virtue number to call and send messages to your significant people.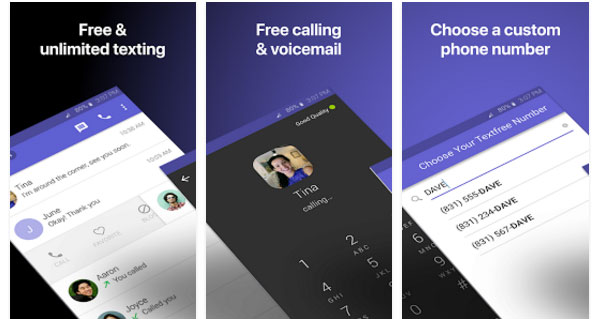 Pros
• The texts and calls Application for Android has a great quality for calls.
• You have free unlimited calling and unlimited SMS messages to all Americans and Canadians.
• Making international calls through this App is relatively cheaper than other Apps.
Cons
• It needs some money to pay international calls.
• One of its backwards is that it uses internet connection only you are in a Wi-Fi situation.
Conclusion
When you need to install the some free talks and texts apps, these 5 apps provides the best quality and free calls and texts. With the different service, you might need Wi-Fi or cellular to make calls, or even pay for International calls. You can choose one of the free calls and text applications for Android to help you save more money and time. If you have any query about these programs, you can feel free to make some comments.