5 Best WebP to GIF Converters to Make GIFs from WebP Images
After you browse and download some images saved in WebP format from Google Chrome, you may want to create GIFs with these WebP pictures. Do you know how to convert WebP to GIF?

Considering your need, this post recommends 5 WebP to GIF converters for you to create animated GIFs with WebP pictures. You can learn the key features of each GIF converter and then choose your preferred one to change WebP to GIF with ease.
Part 1. Top 5 WebP to GIF Converters
To help you quickly find the best WebP to GIF converter, this part gives you a full review of 5 recommended image to GIF converting tools. Whether you want to directly convert WebP to GIF online or search for a professional GIF maker, you can easily find what you need.
Video Converter Ultimate
Video Converter Ultimate is a professional video, audio and image converter that can help you easily convert WebP to GIF with high quality. Besides, it enables you to create animated GIFs out of images in other formats like JPG, JPEG, PNG, HEIC, BMP, SVG, and more. As a GIF converter, it also allows you to convert any video clip to GIF.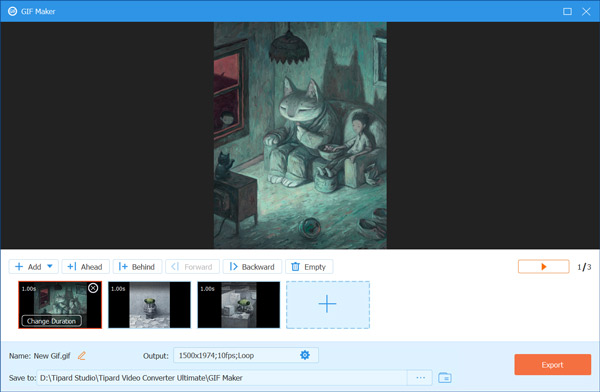 This recommended WebP to GIF converter is designed with a separate GIF Maker for you to quickly change WebP images to animated GIFs. Moreover, it is equipped with many useful GIF editing functions, including cut, merge, crop, rotate, resize, add text and image watermark, custom GIF resolution, quality, set loop animation, and more. When you use it to convert WebP to GIF, you can freely arrange the file order of your added WebP images and change duration. It has a built-in player for you to preview the created GIF effect, edit GIF, and make changes. This WebP to GIF converter won't add any watermark to GIF.
ZAMZAR WEBP to GIF
ZAMZAR is a famous online video, audio, image, and document converting tool. It offers an individual WEBP to GIF page for you to convert WebP to GIF directly on web browsers like Chrome, IE, Safari, and Firefox. The max file size of your uploaded image is limited to 50MB. Besides the downloaded WebP pictures on the local hard drive, it also enables you to convert an online WebP file through its URL.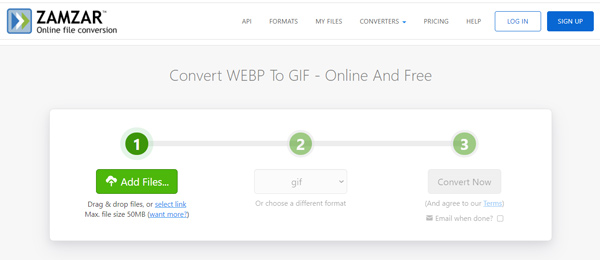 ZAMZAR WEBP to GIF converter only allows you to convert WebP to GIF separately. You can't turn multiple WebP pictures into one animated GIF file. Instead, you will get several GIF files after the conversion. What's worse, you are limited to converting 2 files per day. You need to create and sign in to a ZAMZAR account to break the limitation.
Adobe Photoshop
Adobe Photoshop can be the most powerful image editor, which carries many useful image editing features. It supports the WebP format and enables you to convert one or several WebP images to GIF. As a professional WebP to GIF converter, it is designed with almost all functions you need to edit WebP pictures and export to GIF.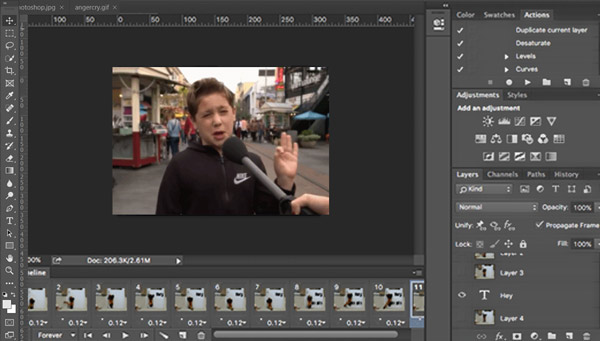 Photoshop offers a free trial of 30 days. After that, it will be a very expensive image editor. It's quite complex to convert WebP to GIF using Photoshop, especially when you are a new user. Check more information about how to make a GIF in Photoshop.
Ezgif Animated GIF Maker
Ezgif is a free online video and image to GIF converter that allows you to convert WebP to GIF. It provides you with an Animated GIF Maker tool to easily change image or video clips to animated GIF. It highly supports GIF, JPG, PNG, APNG, HEIC, MNG, FLIF, AVIF, WebP or other images. It is able to create GIF with one or more WebP images.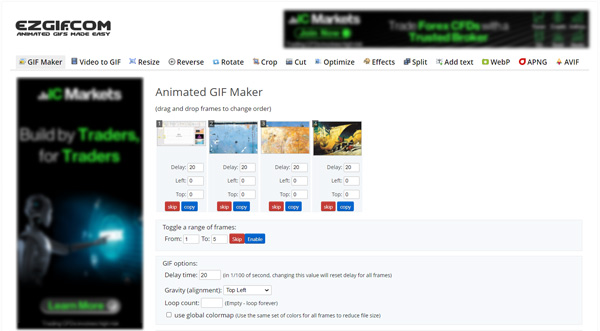 The max file size is 6MB each or 100MB in total. You don't need to sign up or sign in any account to use this WebP to GIF converter. What's more, it carries many GIF editing functions like trim, resize, reverse, rotate, crop, optimize, add effects, text, and split. After uploading all your WebP files, Ezgif enables you to resize and edit these images, and then custom various settings for better creating GIF. You will see many ads while using this online GIF converter.
imgflip Animated GIF Maker
imgflip Animated GIF Maker is another popular online GIF maker that can convert videos or images to GIFs. When it works as an image to GIF converter, it supports many commonly-used image formats including WebP, JPG, and PNG. You are also allowed to upload online WebP file by pasting its URL. You will see many ads in its site.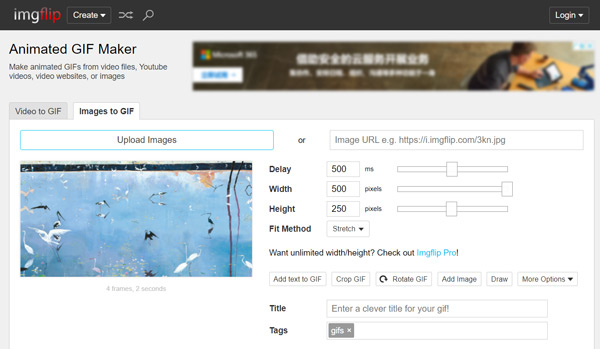 Besides converting photos to animated GIFs, imgflip has the capability to make GIFs from YouTube, Vimeo, Giphy, and many other video-sharing sites. This animated GIF maker is designed with many editing features for you to custom the output GIF effect. For instance, you can crop GIF, rotate GIF, add text/image to GIF, draw on GIF, and do other operations. One thing you should know is that, your converted GIF will be inserted with a watermark. You need to upgrade to a Pro version to remove that.
Part 2. How to Convert WebP to GIF with High Quality
This part takes the recommended WebP to GIF converting software, Video Converter Ultimate, as an example to show you how to quickly turn WebP images into animated GIF.
Step 1Double click on the download button to free install and run this WebP to GIF converter on your computer. After you open it, click Toolbox and then use GIF Maker to make animated GIF from WebP images.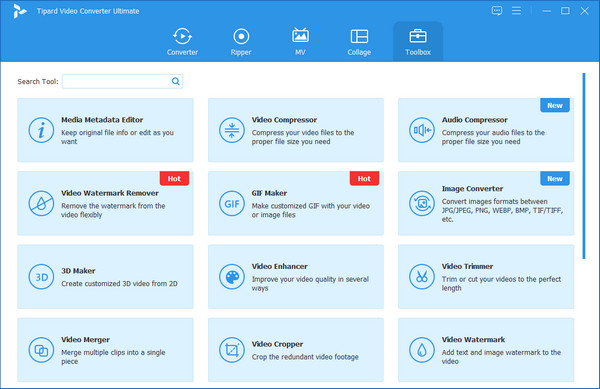 Step 2You have 2 GIF converting options, Video to GIF and Photo to GIF. Here you can select the second one to add your WebP files.
Step 3A pop-up Output Settings window will appear on the screen for you to custom various GIF settings. Adjust these settings based on your need, and then click the OK button to save your changes.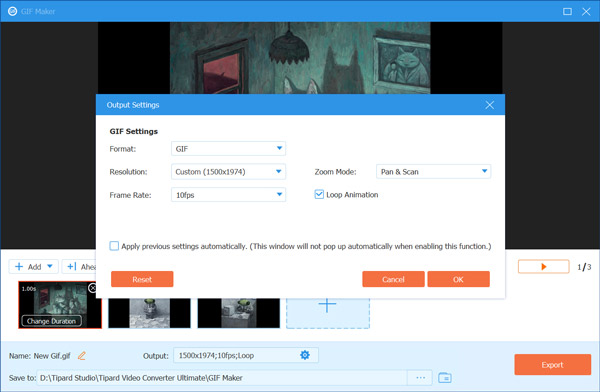 Step 4Now you can preview the created GIF. You can add or delete WebP files, arrange image order, and check changes through the built-in player.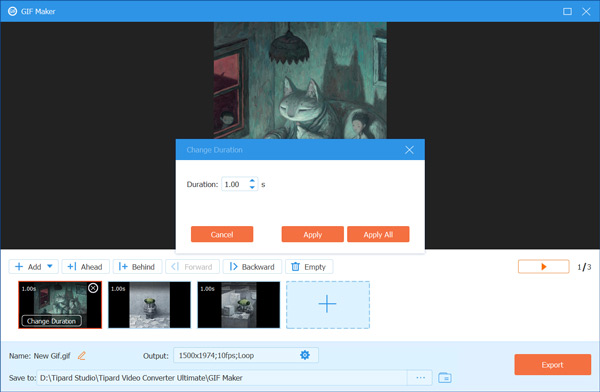 Step 5Click the Export button to start converting all your added WebP pictures to an animated GIF file. After that, you will see a The GIF making process is completed promptly.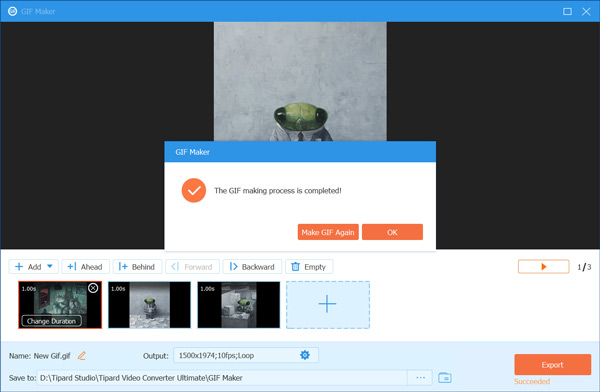 Part 3. WEBP VS GIF
WebP is an image format developed by Google that is mainly designed to carry some image quality with smaller file sizes. It can employ both lossy and lossless compression and support animation and alpha transparency. Compared with JPEG, PNG, and GIF image formats, WebP can offer a higher quality of the same size.
GIF (Graphical Interchange Format) is an image format that can contain a series of static images or soundless video. A GIF file is usually set to loop continuously by default. It is originally designed to animate images with the smallest file size. In general, a GIF file carries a low-sized image animation and only has the file length of a few seconds.
Both WebP and GIF images can be supported and opened by most web browsers like Chrome, Firefox, Opera, and Edge. But many picture viewer or editor tools can't open WebP files.
Part 4. FAQs of WebP to GIF
Question 1. Can I convert a WebP picture to GIF in Photoshop?
Yes. As mentioned above, Adobe Photoshop supports the WebP format and enables you to edit and convert WebP to GIF. After the WebP image editing, you can click File, click the Export As option, and then select GIF as the output format.
Question 2. Why do GIFs save as WebP?
Google claims that WebP can reduce the image file size significantly in comparison to JPG and PNG. Many web designers choose to serve images in WebP format because they're smaller than JPEG, so they load faster and use less of your bandwidth. So when you download images from your browser, you may easily get GIFs and other pictures saved as WebP.
Question 3. How do I stop Chrome from saving images in WebP?
To stop Chrome from saving images in WebP format, you can rely on some extension to help you download pictures in other image formats like JPG and PNG. You can also use an extension like User-Agent Switcher for Chrome to disguise Chrome as other browsers that don't support WebP. To save images from Chrome in another format, you can choose to directly take a screenshot.
Conclusion
How to convert WebP to GIF? Here in this post, you can get 5 WebP to GIF converters to help you create animated GIFs from WebP pictures. If you have any better method to make the WebP to GIF converting, please share it in the comment with other readers.