5 Methods to Convert Webpage to PDF on Chrome/ Safari/ Firefox/ Internet Explorer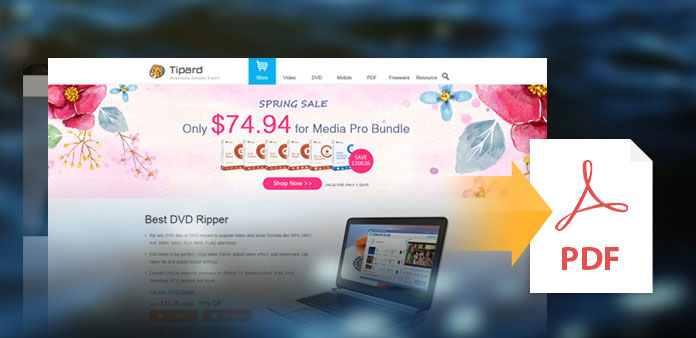 You may want to save the webpage to read or as reference for further usage, or just to share and send to a printer. The lazy way is to cut the selected area of the certain webpage in PNG or JPEG, which can convey the meaning as well. But it is more suitable during online chatting. In formal occasions, PDF file format is always the first choice for people to apply. You want to know why? The main reason is that PDF files can restore most media elements like the original web page, like images, inks, image maps and etc. Thus, converting webpage to PDF is the best idea to duplicate webpages in high quality. Considering there are quite much browsers, here I have listed frequently used browsers, and you can choose to apply.
Part 1. Something about The Webpage to PDF Conversion You Should Know
1. If there are something GIFs or changeable, the PDF file you download depends on the moment you convert.
2. For Chrome and Safari users, there are built-in PDF converters already, but there are limitations as well. Once you print webpage to a PDF, the links cannot work as usual.
3. To catch the full webpage to PDF, using third party PDF converter will be better. As Chrome and Safari are only able to convert currently viewing pages to PDFs without help.
Part 2: Convert A Webpage to PDF in Chrome
Solution 1: Create a PDF of Webpage in Chrome without Third Party Installation
Open the Chrome webpage as usual, and then click the Menu button on the top right corner, to select Print from it. You will see the print window later, which will tell you destination, pages and layouts. Click Change button and pick Save as PDF in the Local Destinations section. And then you can change other PDF output settings of Layout, Headers and footers and Background graphics before creating PDFs. At last, hit Save icon in blue to convert webpage to PDF free in Chrome.
Solution 2: Use Adobe Acrobat to Convert Part of A Webpage or Multiple Webpages to PDF
After you install Adobe Acrobat on PC already, open the Customize menu to find Settings, click Extensions on the left pane, and then enable Adobe Acrobat to hit Create PDF extension to save the whole webpage into PDF format.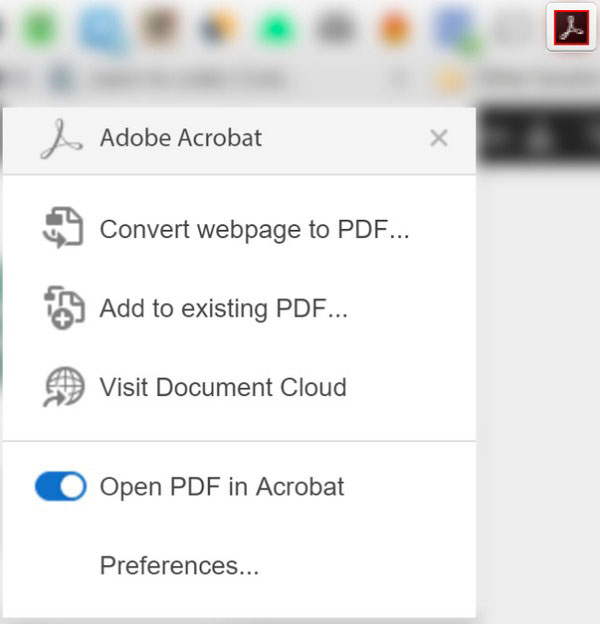 Part 3: Save A Webpage to PDF in Safari
It is the way to export a webpage to PDF in Safari for free. Browse the webpage as usual, when you decide to convert to PDF, tap File first, to find Export as PDF option, for OS X10.9 or later users. If you do not update your Mac yet, then your choice is Save As option instead. You need to repeat operations similar with Chrome webpage PDF conversion, to set location, file name, page size and many other settings in customizable way.
Part 4: Download A Webpage to PDF in Firefox
Solution 1: Run CutePDF to Change A Webpage to PDF
Because of no built-in PDF creator, Firefox users need to install additional software, to change entire webpages to PDF, and CutePDF Writer is one good choice. You can get the free PDF converter version from its official site. During the CutePDF installation, click Cancel in the first order, and choose Skip this and all remaining offers option, to prevent additional useless browser toolbars install. Start the webpage to PDF converter, and open the Firefox to save the webpage need to be converted into PDF files. Press Ctrl and P together, to open its Print window quickly. Open the Name drop-down menu, to select CutePDF Writer inside. Hit Print ad OK in order, to store Firefox webpage to PDF.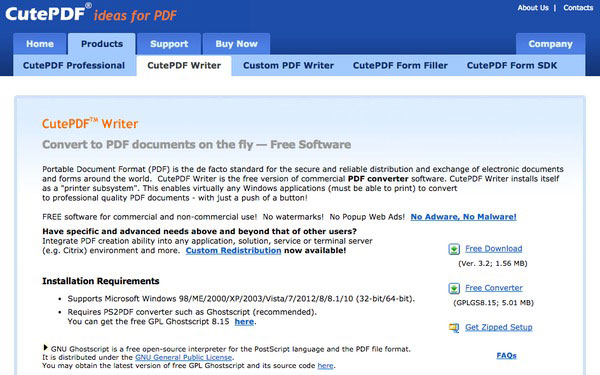 Solution 2: Use Mozilla FireFox to Get PDF from Webpage
And Mozilla is another good tool to turn webpage into PDF with Firefox, you can install it in normal way. After that, select Print under File list, or you can start by pressing Ctrl and P simultaneously. When you see the Printer section, select novaPDF from the drop-down menu. Before the real webpage to PDF conversion start, open Preferences to set personal settings. At last, hit OK to get converted PDF files of Firefox webpage.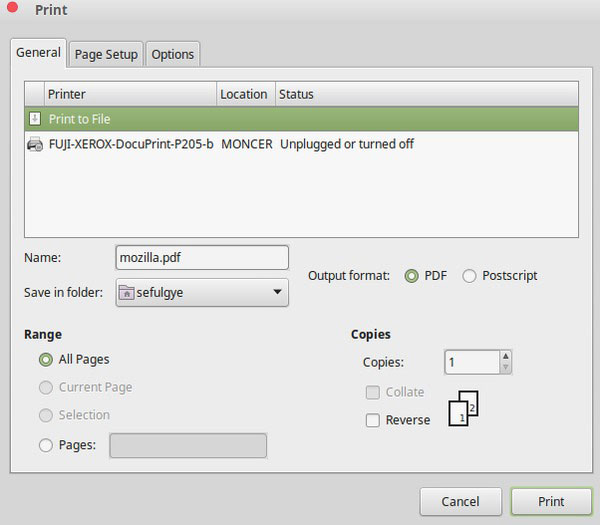 Part 5: Change A Webpage to PDF in Internet Explorer
No built-in webpage to PDF converter with Internet Explorer either. Therefore, you need to apply Adobe Acrobat, which can deal with all webpage to PDF conversion without too much clicks. After installation, you can choose find the Acrobat tool by choosing View first, and then click Toolbars and Adobe Acrobat Create PDF Toolbar, to check whether Adobe Acrobat has opened or not. To create a new PDF, you need to select Convert Web Page to Adobe PDF option first. Later, accurate detail settings of webpage PDF conversion, to output PDF files.
Part 6: Convert A Webpage to PDF Online
In spite of above software to convert webpage to PDF in offline way, there are also online PDF creators actually, to record the site you view in lightning status. And here I want to recommend you several online web to PDF converters, with which you can save webpages easily.
1. Webpage to PDF (Free):
No additional filters, there is just one blank, for you to fill in URL or a web page, after you hit red Convert button, the output PDF files will appear with the small window, to announce PDF page download.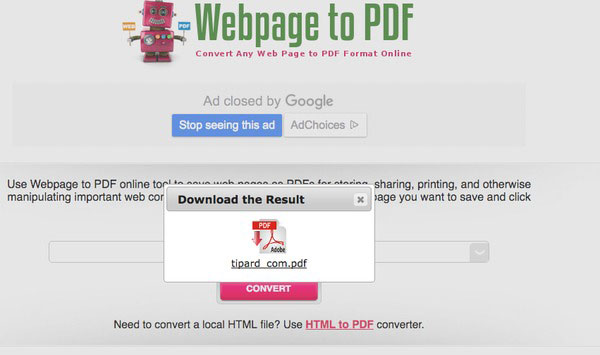 2. PDFmyURL (Paid):
The HTML to PDF API tech enables users to get high quality PDF outputs, with different layouts, headers and footers. In addition, there is one thing special you can experience here is converted PDF link. Therefore, no more heavy PDF files, the lightweight URL can work in the same way too. The main process is to paste URL and convert into PDFs. To be specific, I have to say that the paid online webpage to PDF converter offers a detail PDF setting list, for you adjust every detail.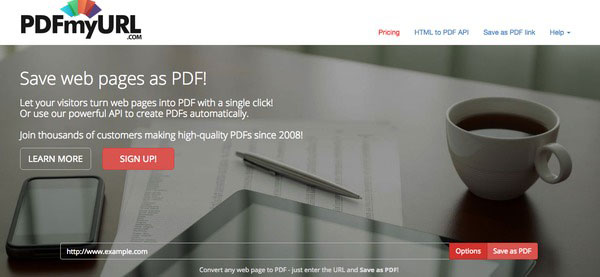 Part 7: Best PDF to Webpage Converter
On the contrary, when you have a PDF file, you may need to convert it to a webpage file instead. If so, what you need is a reliable PDF converter, something like Tipard PDF Converter Platinum. With this converter, you can convert PDF to HTML, Word, Excel, PowerPoint, image and more. It also allows you to batch convert PDF file with one click. Before converting, you can even preview any pages as you like.
1. Turn PDF files to Word, Excel, PPT, EPUB, HTML, image, etc.
2. Guarantee high accuracy with the advanced OCR technology.
3. Maintain the original quality after converting PDF files.
4. Customize the output page ranges according to your need.