Discussion about FixThePhoto and Its Post Production Services
Many people like taking photos with their smartphones or cameras. But when photos they take are not satisfactory, the majority of them are not good at photos' post production at all. Indeed, Photoshop is a professional program to edit pictures, and many people do not have time to learn how to use it. Hence, after choosing carefully, I found out the Post Production Services offered by FixThePhoto and decided to write a review. I hope that this article can help you work out your trouble.

Part 1. What is FixThePhoto?
Since 2003, FixThePhoto has applied itself to the post production service career for nearly twenty years. In the early phase, FixThePhoto majored in portrait photo editing and provided some basic picture retouching services. While, nowadays, after its growth and expansion, FixThePhoto can offer vast professional post production services, such as family photography post production services, background changing of photos, and more.
When you need the post production service for your photos, you can directly go to the page of Post Production Services. Making a general survey of this page, you can know two order-making ways, specific post production services FixThePhoto provides, and prices for these services. And the interface of this page is clear in buttons setting and comprehensive in content supplied. So, you can click the Create Order button to select services for your photos and submit them. Or you can tab the Get Free Quote button to get free suggestions from FixThePhoto if you have no idea how to retouch your photos. In addition, you also can choose the time limit of your orders if they are very urgent.

Part 2. Post Production Services
1.Wedding Post Production
Wedding post production involves correcting the color of photos, fixing the digital makeup, retouching the skin of figures in photos, and more services, making your wedding picture more scintillating.
2.Portrait Post Production
You can purchase portrait post production to beautify the human face in detail, like removing minor facial defects, whitening teeth, getting rid of flyaway hairs, etc. Later, your portrait photos will become more exquisite.
3.Body Correction
Some people might want to post their photos after working out in the gym on their SNS accounts and wish they could look better. The body correction service can meet these people's needs. It can enhance curves, add muscles, remove cellulite, and so on.
4.Newborn Post Production Photo Editing
A newborn baby is very cute and grows very fast, and parents cannot help taking pictures to record the baby. This service can let photos of newborn babies be stored with better effects. Improving tone and skin color, enhancing background, removing redundant items, and more can be achieved.
5.Product Post Production
Making your product like jewelry and real estate look fancier than others in photos, replacing the background, defining borders, even changing the color of your product are frequently-used ways. And this service can apply all of these even more to your photos. What's more, FixThePhoto can edit gems, fix blinks of the jewelry, and rotate the real estate horizontally or flip it vertically.
6.Photo Montage & Manipulation
If you feel like enabling your photos to become amazing, you can buy this service to add various effects or stylized elements to your images. For instance, this photo manipulation service can change your photos into cartoons or make a collage using these images.
Here are five plans offered by FixThePhoto you can choose to order: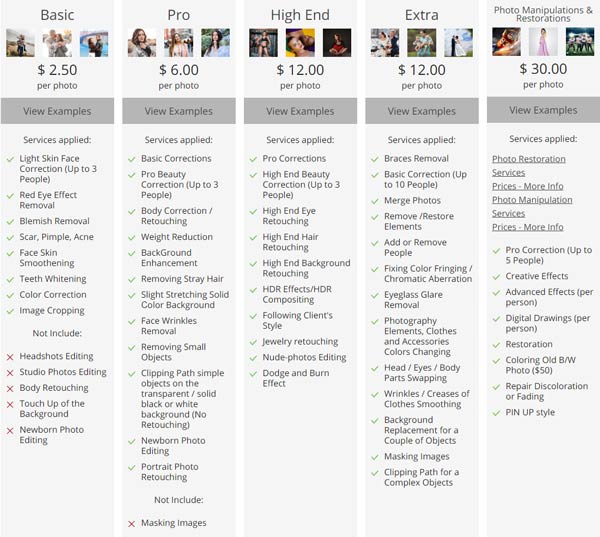 Pros
1) Provide many kinds of post-production services.
2) Offer both practical and gorgeous post production services.
3) High efficiency of post-production.
4) Support customizing needs for editing photos.
5) Support fixing and restoring old pictures.
6) Good and careful services from FixThePhoto and its customer service staff.
7) Different plans are to be chosen based on your needs.
Cons
1) Some changes might not totally achieve customers' desired effect.
2) Editing may be too much sometimes.
Part 3. FAQs about Post Production
What is Post Production?
Post production contains all stages of production after shooting and recording as part of the course of photography, video making, and audio production.
Why is post production important in photography?
Photographers can fix errors, add effects, enhance quality to make pictures perfect after taking pictures. Besides, for photographers, post production is a process of secondary creation that enables images to live up to their expectations.
Is FixThePhoto trustworthy?
Of course. FixThePhoto is graded 4.8 out of 5 stars by 55 customers, indicating that it is satisfactory for most users. Thus, FixThePhoto is trustworthy.
Conclusion
This review mainly argued what FixThePhoto is, what post production services FixThePhoto offers, how much these services cost, advantages and disadvantages. You can add it to your list of photos post production tools and decide to use it or not based on your needs and this article. If you have any other questions and advice about FixThePhoto, you can leave them under this post!